How Peyton Manning Stacks Up with the QB Options of the Teams Chasing Him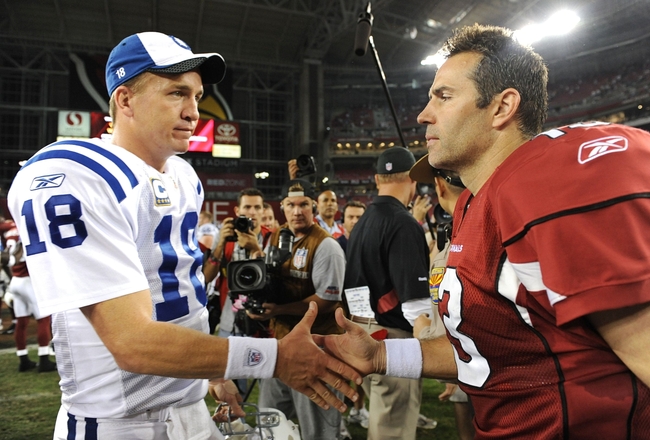 Harry How/Getty Images
For good reason, there have been plenty of teams interested in former Indianapolis Colts and current free-agent quarterback Peyton Manning.
Manning is a star quarterback who has proven himself as one of the best ever to play the game over the past decade and more. Now that he is a free agent, he has met with a few teams while others are still hoping to attract his attention.
Those teams include the Tennessee Titans, Denver Broncos, Miami Dolphins and Arizona Cardinals.
Each of those teams already have quarterbacks on their roster, but none stack up to Manning when they're on the field.
The first thing you have to do is grade out Manning as a quarterback. Manning didn't play last year, so his ratings will be based on the previous years he spent on the Colts roster.
Intelligence/Experience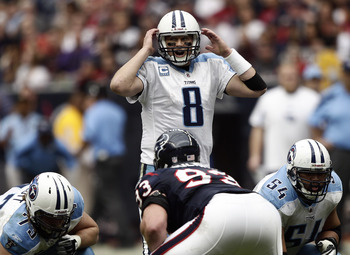 Bob Levey/Getty Images
Peyton Manning: 100/100
Nobody studies the game more than Peyton Manning, and nobody breaks down defenses as well as him. Manning literally makes the game feel like a game of chess.
Competitors:
Matt Hasselbeck: 80
Hasselbeck is a veteran who has brought the Seattle Seahawks to a Super Bowl in the past. He has seen everything the league can show him at this point in his career.
Matt Moore: 68
Moore showed a lot of comfort and good decision-making with the Dolphins last year; however, he remains an inexperienced player at the position for the most part.
Tim Tebow: 66
For all of his flaws throwing the ball, Tebow hasn't really had that much exposure to breaking down zone defenses or understanding blitzes because of the offense he plays in.
John Skelton: 65
Skelton gets the nod ahead of Kevin Kolb after showing about as much last year. The problem is, Skelton threw 14 interceptions to 11 touchdowns.
Accuracy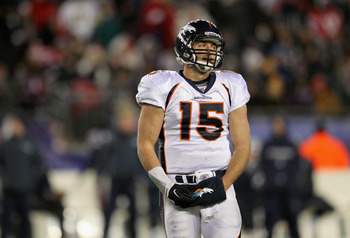 Jim Rogash/Getty Images
Peyton Manning: 94/100
Manning's career completion percentage is above 64 percent. He can fit the ball into any windows with velocity and has had no issues in the past throwing timing routes expertly.
Competitors:
Matt Hasselbeck: 78
Hasselbeck has a career completion percent of over 60. His accuracy on short routes is particularly pleasing, while his deep ball is respectable.
Matt Moore: 70
Moore can throw some incredible passes, but his consistency costs him in comparison to Manning.
John Skelton: 60
Can be erratic at times and doesn't place the ball well on a consistent basis.
Tim Tebow: 45
Tebow literally can't throw short passes or sustain drives with even intermediate throws. Unless his receiver is wide open, he doesn't hit him.
Arm Strength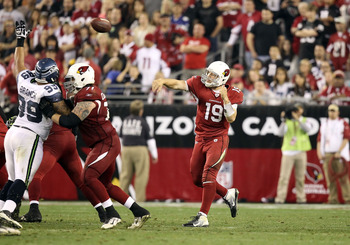 Christian Petersen/Getty Images
Peyton Manning: 90
Manning doesn't have the biggest arm in the NFL, but he has the strength to throw every pass in the game.
Competitors:
John Skelton: 85
Can really sling it whether it is to the outside or vertically down the field. If other parts of his game can be refined, Skelton has starter potential based simply on his arm strength.
Matt Hasselbeck: 74
Hasselbeck is better suited to sustaining drives with shorter throws, but he is capable of finding receivers deep down the field.
Matt Moore: 70
Most of Moore's success last season came with shorter and intermediate routes. The velocity on his shorter throws is fantastic, but that doesn't carry through down the field.
Tim Tebow: 66
He can get the ball to anywhere on the field, but defenders in the area will have a chance to make a play on the ball.
Athleticism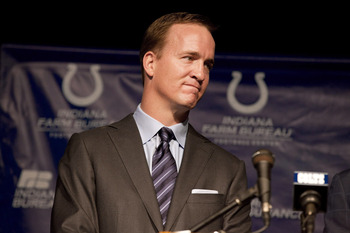 Joey Foley/Getty Images
Peyton Manning: 65/100
Manning can move around the pocket, but not much else.
Competitors:
Tim Tebow: 92
Tebow is huge and can overrun most players once he breaks into the secondary. His speed is above average, if not on the Michael Vick or Robert Griffin III level.
Matt Moore: 80
Moore is very fleet-footed. He may not run for huge yardage, but he can avoid the rush and slide out to make throws outside of the pocket.
John Skelton: 68
Skelton is a very big quarterback; he doesn't move that well, but he won't kill you either.
Matt Hasselbeck: 65
Hasselbeck relies on his intelligence and awareness to avoid rushers more than his agility or speed.
Clutch/Leadership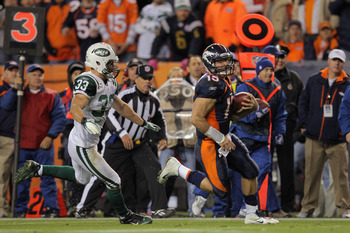 Doug Pensinger/Getty Images
Peyton Manning: 90/100
Most players are delighted to win one Super Bowl. Peyton Manning is so good that people knock him for only having one. Just think about that, who else on this list has a ring?
Competitors:
Tim Tebow: 88
You can't deny that he gets it done in the fourth quarter and his teammates love him, but when he was asked to be clutch in the playoffs and carry the team as the defense struggled in New England, he faltered. He is only clutch when his defense allows him to be.
Matt Hasselbeck: 72
Hasselbeck has played in a Super Bowl and led the Seahawks to a huge victory over the Saints a few years ago.
Matt Moore: 70
Having not played in the playoffs, it is still very hard to judge Moore's clutch abilities.
John Skelton: 70
(Read Matt Moore) Regular-season comebacks are fine, but the playoffs are the real test.
Keep Reading