Why the Washington Redskins Should Steer Clear of the RGIII Ransom
March 21, 2017
Sarah Glenn/Getty Images
In an effort for complete transparency, this is not an article claiming that the Washington Redskins should not draft Robert Griffin III.  
It is quite the opposite.  
Griffin would be a great move for the organization that would pump much-needed life into the fanbase and give the team a franchise QB to build around.  With the Capitals in self-destruct mode, the Wizards continuing to be the Wizards (just in new uniforms) and the Nationals getting closer and closer to consistently playing .500 ball, Robert Griffin III would be the biggest draw in town.  
But that doesn't mean we should handicap the 2012, 2013 and possibly the 2014 draft to move up four spots to draft RGIII.
While the fans are desperate for a long-term option at quarterback, the team brass is twice as desperate and has all of the control to make the move.  One of the things that makes Daniel Snyder unique as an owner is that he is a fan first and owner second.  His passion for the team has led him to make numerous short-sighted moves that have held the team back for years.  
I could go into a long diatribe about all of the tremendously terrible trades and acquisitions that Danny-boy has made, but I think this one move sums it up entirely: in 2000 Snyder sighed Deion Sanders to a seven-year/$56 million contract with an $8 million signing bonus.  
I'll take a moment to let that repressed memory crawl back into the spider hole it has been kept in for so long.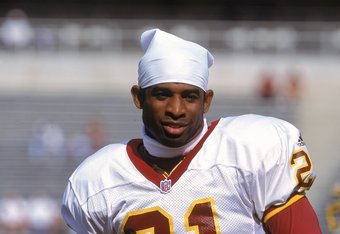 Jonathan Ferrey/Getty Images
Over a decade later, Snyder is chomping at the bit and willing to open up Fort Knox for either Peyton Manning or Robert Griffin III.  But these two options present two completely different scenarios that could place the franchise on completely different trajectories.  
With Manning, the arms race will be a one-of-a-kind bidding war that the Redskins should be no part of.  Fool us once with McNabb, shame on us for thinking we can get rich quick.  Fool us twice with Manning, shame on us for letting this happen again.  Sure, Manning could be great.  So far he's proven that he can throw a football still while wearing a helmet.  But Manning is one unfortunate play away from being in the same position he was last season, on the sidelines.  
Then there's the matter of money.  It kept Peyton from staying with the Indianapolis Colts but would it be the deciding factor in him coming to DC?  The 'Skins have maintained their new-found budget consciousness since Mike Shanahan and Bruce Allen took over and they now find themselves with over $35 million in cap room.  
But just because you saved the money responsibly, should you go out and blow it right away or invest it?  Snyder finds himself in the same position that many high schoolers do after having spent all summer working a job and saving their money.  The difference is high schoolers have parents to oversee their foolish spending wishes and protect them from themselves. 
I don't think Mike Shanahan or President Obama, for that matter, can protect Dan Snyder from himself.
Not to mention, the window with Manning is infinitely smaller than it is with Robert Griffin III.  If the 'Skins draft RGIII, we could be looking at a decade of relevance as opposed to the last two of mediocrity.  But is it worth giving up a Ricky Williams-like ransom for Griffin and could they get the QB without moving up?
Right now the media and the St. Louis Rams are parading around the No. 2 draft pick as if it were the new iPad.  Clearly it is in the Rams' best interest to stockpile picks if they hope to keep Sam Bradford upright and healthy.  But is this a case of the Rams overplaying their hand?  
The Cleveland Browns have reportedly taken the No. 22 pick off the table in a potential trade with the Rams.  They are also in the running for soon-to-be free-agent QB Matt Flynn.  Pairing Flynn with a top pick offensive weapon such as Trent Richardson or Justin Blackmon would provide a much better Week 1 option for the Browns.  It also leaves them with the 22nd overall pick plus seven other picks.  
So if the Browns are out of the RGIII sweepstakes hypothetically, who else poses a threat to the Redskins?  Minnesota at three and Tampa Bay at five are not threats to draft a QB leaving only a team below the 'Skins to have to trade up to take Griffin before the sixth pick.  
If you watched any Jaguars' games in 2011, you may be willing to give up on Blaine Gabbert already, but new head coach Mike Mularkey and new owner Shahid Khan may not be.  Gabbert's contract isn't huge, but would the team be willing to give up on the 10th overall draft pick from last year after only one season?
Would the Miami Dolphins at No. 8 overall want to trade with the team who took their top coaching candidate?  And don't forget, Miami is currently in the running for Peyton Manning.  
After the Dolphins, it would take a team like the Saints in 1999 trading away almost all of this year's draft plus a first-and-second-rounder next year.  The Rams GM Les Snead isn't trying to contain any of the speculation around the Rams trade demands.  As of yesterday, Snead intimated to Rich Eisen that the ransom for the second overall pick is now three first-round picks in return.  
This ridiculous eBay-like escalation in bidding is eventually going to burst like a mid-major's bubble on Selection Sunday.  As the Manning and Flynn dominoes fall along with the rest of a stellar free agency class, the king's ransom should be reduced approaching the 2012 draft.  
The Redskins find themselves in a difficult position but should exercise patience.  My advice to the 'Skins' brain trust: let the other owners eager to sell tickets drive up the price for Peyton Manning's services, let the Browns overpay for Flynn and all the while stand firm in your convictions.  You're building—hopefully—a long-term winner that will compete year in and year out.   
RGB III can fall to the Redskins at the sixth overall pick. It is not unrealistic, but if the powers that be don't learn a better poker face, the team could mortgage their entire future on the shoulders of one player.  
For more by Scott and his cohorts, check out The Recap and follow him on Twitter @scott_i.