2012 NFL Mock Draft: Analyzing Wes Bunting's AFC East Picks in His Latest Mock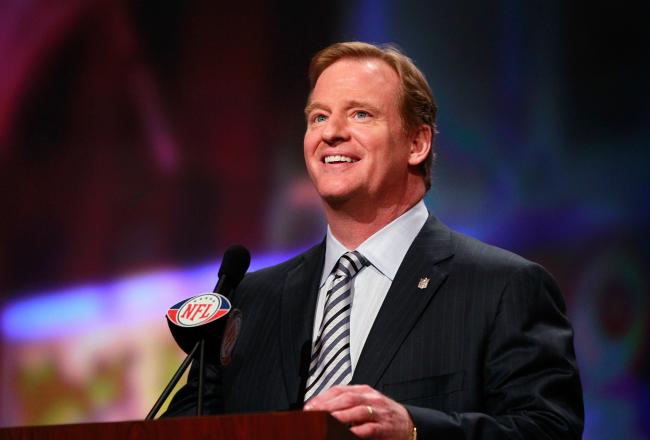 Chris Trotman/Getty Images
The NFL draft is about to get a big shake-up depending on where free agent quarterback Peyton Manning lands.
Mock drafters can only work with the info they have, though, as does Wes Bunting of the National Football Post in his latest mock.
Let's take a look at how he sees things shaking out in the AFC East.
8. Miami Dolphins: Ryan Tannehill, Quarterback, Texas A&M
Wes says: "The Dolphins have received pretty average quarterback play over the past couple seasons and adding a talent like Tannehill who has the skill set to mature into a franchise QB could be too good to pass up at eight."
My slant: "Pretty average" is being really nice. Sixteen starting quarterbacks have been in and out since Dan Marino retired in 2000, the most in the NFL. The Dolphins have to keep throwing darts at the board aiming for a bulls eye.
A year with Matt Moore wouldn't be the end of the world, but you're kidding yourself if you think he's a quarterback who can lead a team into the future.
Is Tannehill? Bunting thinks so, and he's not the only one.
10. Buffalo Bills: Melvin Ingram, Defensive End, South Carolina
Wes says: "Finding a pass rusher off the edge is the pressing need for the Bills and Ingram has the ability to reach the QB in a number of ways. He looks like a versatile pass rusher as well, capable of creating plays in both a 34 and 43 front, and seems like a good match for Buffalo."
My slant: The Bills logged just 29 sacks as a team in 2011; that number has to improve in 2012, and the Bills took the first step to that measure with a switch to the 4-3 defense.
Only one problem: They have no true 4-3 defensive ends. Even if the team switches linebacker Shawne Merriman to a hand-in-the-ground role, they will still need to find another pass rusher to solidify the front four.
Ingram is an explosive end with big play potential. His short arms have been a knock when it comes to his transition to the NFL, and that may have fans worried about a Vernon Gholston-esque reach in the top 10. Can he get it done week-in and week-out against enormous tackles like Sebastian Vollmer, Nate Solder, D'Brickashaw Ferguson and others?
16. New York Jets: Courtney Upshaw, Outside Linebacker, Alabama
Wes says: "Upshaw is a thick, powerful kid who can line up all over the Jets 34 front and get after the passer. He's got the power to win consistently on contact vs. both the run and pass game and would be the kind of "NFL ready" prospect the Jets would love to get in the middle of round one."
My slant: From a need and value perspective, this pick is a slam dunk for the Jets. With the future of linebacker Bryan Thomas up in the air, at 34 years old and coming off an injury, the Jets would love to find a long-term answer to come in much like Thomas was in 2002 with the 22nd overall pick.
And for all the glory poured on Rex Ryan's 46 defense and their ability to get after the quarterback, they only generated 35 sacks in 2011. They were still one of the best pass defenses in the league, and though Aaron Maybin was a revelation (sorry, Bills fans), the Jets need a three-down player on the edge.
From the sound of it, Upshaw is just that. What's more, he comes from Nick Saban's program in Alabama, so you know leadership and discipline have been drilled into his head for the past four years. There may not be any two qualities the Jets need more than those.
27. New England Patriots: Stephon Gilmore, Cornerback, South Carolina
Wes says: "Getting a tall, physical defensive back who displays a natural feel in zone and can go get the football makes some sense for the Patriots at the back end of round one."
My slant: As I've said in the past, I'm not sold on cornerback as the dire, pressing need for the Patriots everyone else sees it to be. With Devin McCourty, Ras-I Dowling and Kyle Arrington all in the fold, the top three spots are pretty much locked up barring unforeseen circumstances.
McCourty likely isn't going to stay at safety in 2012, but Gilmore could play there if asked to. His more natural position, though, is cornerback.
Some of Bunting's words in his scouting report on Gilmore are concerning, and indicate that Gilmore is more suited for zone coverage. What the Patriots really need is someone who can step in and quickly contribute in both man and zone coverage.
31. New England Patriots: Whitney Mercilus, Defensive End, Illinois
Wes says: "Age is creeping up on the Patriots at the defensive end position and Mercilus has worked out well all postseason and is a versatile 43 DE or 34 OLB prospect."
My slant: There are two reasons this pick doesn't work for the Patriots.
The first is that the Patriots will probably not keep this pick, as they have typically opted to trade when given the option with a second first-round pick. The second reason is that the Patriots rarely take a pass rusher in the draft, especially high.
The Patriots typically also avoid one-year wonders like Mercilus, subscribing to the idea that longevity in college translates to longevity in the NFL.
This article is
What is the duplicate article?
Why is this article offensive?
Where is this article plagiarized from?
Why is this article poorly edited?