2012 NFL Mock Draft: How Will the First and Second Rounds Play Out?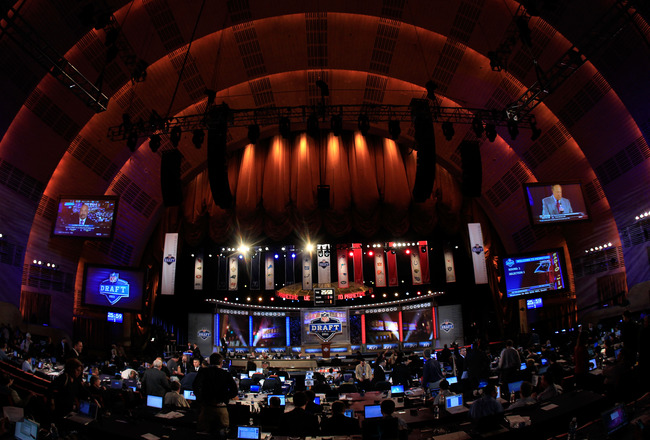 How will this year's first and second rounds play out at Radio City Music Hall?
Chris Trotman/Getty Images
I suppose it's time to get a little more serious.
A little more than a week ago, I offered up a Mock Draft that served its name well. With the offensive players having just got done working out in Indianapolis, the piece was intended to mock us for our 10 second attention spans, offering up a look at what the first round may look like if all the NFL did was draft on knee-jerk responses to the NFL Combine. It was meant to be thematic, not an actual predictor of how the first round will play out. The aim was to breach new possibilities and facilitate discussion.
Some of you got it. Some of you didn't.
Here you will find something much more familiar. And yet, it is still my firm belief that Mock Drafts do not carry a whole lot of value as predictors until April. As such, even this Mock has some important themes that I attempted to hit on.
One such theme is the manner in which the rookie wage scale transforms the risk/reward profile of top 15 picks. I think those that assume the same position priorities as over the last decade are going to find out in the coming years that the absence of large, unwieldy contracts at the top of the Draft changes teams' priorities.
I believe two specific types of player will benefit from this transfiguration. The first is the typical high risk, high reward player. This includes the quarterback position, which is inherently very high risk and very high reward. The fact of the matter is the 'risk' portion of that equation has been reduced significantly by the rookie wage scale. Teams can now afford to play a little more fast and loose with their first round picks attempting to hit home runs instead of singles.
The second type of player that will benefit is the elite level player at a position that is not traditionally thought of as a top 10 or top 15 worthy position.
The prime example of this type of player is Stanford guard David DeCastro. Just two years ago a team would not even consider him for a pick at, let's say, #8 overall. Why? Because the #8 pick in the 2010 Draft collected a contract worth approximately $8 million a year. Pro Bowl guard Logan Mankins of the Patriots signed a deal worth that amount after he had already attended Pro Bowls and confirmed his worth as an NFL player. In order to take David DeCastro without a rookie wage scale in place, you would have to be 100 percent certain that DeCastro is another Logan Mankins, and even then you have given yourself no potential for having drafted a player that ends up worth much more than his contract. I would say that most evaluators are about 80 or 90 percent certain that David DeCastro will be an excellent guard at the next level, but the lack of upside possibility really hung heavy over the idea of drafting a man at his position in the top 10.
Now at #8 overall, you only have to pay your draft pick about $3 million a year. Going back to the DeCastro example, if you are about 90 percent sure he will end up a Logan Mankins type player, there is now a strong incentive for picking him. You will be getting a player worth $32 million over four years, at the price of only $12 million over four years, thereby extending your salary cap by a total of $20 million over the time period. That's a tremendous incentive to draft players that you are certain will be top level players at their position, even if it's not a position of traditional worth.
The flip side of all this is how certain players at certain positions will fall in the Draft. For years, offensive tackles have been pushed up into the top portions of the Draft despite not being elite level players, simply because they were safe picks relative to the huge contracts they must be paid. The thinking was, even if the player did not end up a coveted left tackle, you could probably move him to right tackle and still get the approximate worth of his contract out of him. Now, that no longer applies. Because of this, you could see unexciting tackle talents fall further than you were used to over previous Drafts.

Let's begin.
#1. Indianapolis Colts: QB Andrew Luck, Stanford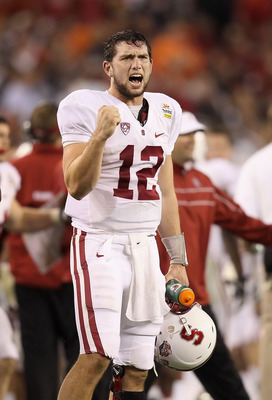 Stanford quarterback Andrew Luck easily claims the spot in the Draft that he's had coming to him for years.
Christian Petersen/Getty Images
This is the draft standing for which Andrew Luck has been destined for years.
In the first week of November of 2009, I had just got done watching several Stanford games where this redshirt freshman quarterback was absolutely lighting up the field. I correspond near daily with several writers that I have written with during the past decade in various spots. Those writers can tell you that I texted and emailed them at that time approximately 28 months ago and warned them that little known Andrew Luck would be the #1 overall pick in either the 2011 or 2012 Draft.
The last time I had made such a claim with this group of correspondents was January of 2008, when I had previously declared the same about Sam Bradford, approximately 28 months before Bradford also went #1 overall in the 2010 NFL Draft. Unfortunately, I did not stick with that prediction as we headed into the 2010 NFL Draft. I became convinced the Rams would take the real top player in that Draft, Ndamukong Suh. They did not, and I kicked myself for changing my mind.
So, you will forgive me if this time around I stick to my guns.
#2. St. Louis Rams: CB Morris Claiborne, LSU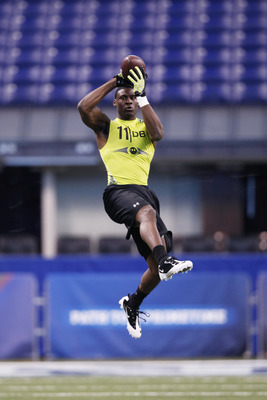 Morris Claiborne may legitimately be the best defensive player in the Draft.
Joe Robbins/Getty Images
As I mentioned before, I do not project trades in my Mock Drafts. But that does not mean that when all is said and done, I believe this pick will be traded.
I think the St. Louis Rams may have showed their hand a little too early when they declared boldly that Robert Griffin is not under consideration for them and they will definitely trade the pick.
Griffin had just broken the 4.4 barrier at the 2012 NFL Scouting Combine, and impressed everyone with his interviews. In the Combine knee-jerk "mock" (emphasis on the double meaning of that word) I even had the Rams picking Griffin straight up, based on that Combine.
However, prior to that, I had been predicting the this pick would go un-traded, and I am not yet swayed from that belief.
With free agency about to heat up, I notice that the hot rumors have Tennessee corner Courtland Finnegan being courted by several teams, none of which are the St. Louis Rams. That may be a little bit telling. Morris Claiborne may legitimately be the best defensive player in this Draft and if forced to make the pick at #2 overall, I believe the Rams would take him.
#3. Minnesota Vikings: OT Matt Kalil, USC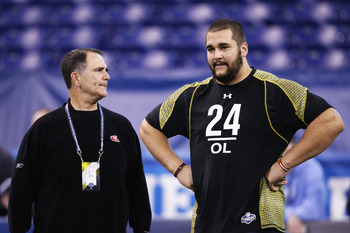 Matt Kalil strongly impressed at the 2012 NFL Scouting Combine
Joe Robbins/Getty Images
I had originally thought the Minnesota Vikings would steer toward a defensive player at this pick. The defense was awful in 2011, especially the secondary. Even at times when the offense was putting up 20+ points a game, the defense ensured that Minnesota would continue losing.
However, I think Rick Spielman is in a tough position with respect to the quarterback he selected in the 2011 NFL Draft, Christian Ponder of Florida State. The consensus at the time was that Minnesota took Christian much higher than he should have gone. I have heard Rick Spielman talk about Christian's season, and I thought he hit the nail on the head when he said that Christian came out of the gates slinging the ball with reckless abandon and actually succeeding, simply because he didn't know any better. As the season wore on, Christian started to get a little beat up, and that is when he started to go into a shell.
The pressure will be on Rick Spielman to make Christian Ponder comfortable enough to succeed, because if he doesn't, then Rick is probably out of a job. When I hear Spielman talk specifically about Ponder getting hit a lot and this being the direct cause of him going into a shell, to me that signals the strategy.
Kalil was legitimately one of the few offensive linemen who looked legitimately elite during Combine drills. He got beat on the inside shoulder a little too often at USC, but it was not a lack of strength. I could see the Vikings being sure they can teach him how not to give up the inside post leg.
#4. Cleveland Browns: QB Robert Griffin, Baylor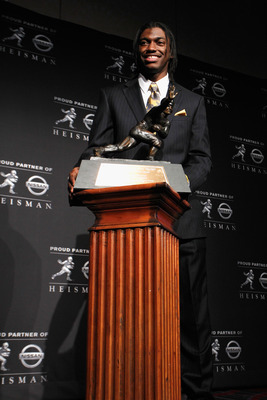 The Cleveland Browns may end up looking like geniuses for calling the Rams' bluff and staying where they are.
Jeff Zelevansky/Getty Images
Lately I have seen a lot of rumors and innuendo coming out of Cleveland Browns camp suggesting that they are not interested in trading up for Robert Griffin.
I do not believe for one second that they truly are not interested in Griffin. However, the change in tenor does suggest to me that they have decided to play hard ball with the Rams about the issue of trading up for the pick.
Come Draft day, I cannot help but wonder if the Browns are going to end up looking like geniuses by calling the Rams' bluff and allowing Griffin to fall into their lap.
#5. Tampa Bay Buccaneers: DT Dontari Poe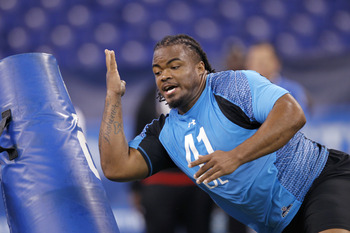 Dontari Poe coule go as high as the top 5 of the NFL Draft after proving his unique blend of size, strength, speed and explosion in Indianapolis.
Joe Robbins/Getty Images
Back when "Buc Ball" actually meant something, the Buccaneers had Warren Sapp and Booger McFarland playing next to one another in the middle of one of the best defenses the NFL has ever seen.
I wonder if new Head Coach Greg Schiano will try and get the Bucs back into that style of defense by having someone like Dontari Poe pair up with Gerald McCoy on the interior of what would have the potential to be one of the most fearsome defensive lines in football. The Buccaneers have to be able to see what the Giants have been able to do by amassing a bunch of defensive line and pass rush talent.
The team has made some investments at the defensive end position that I believe will pay off. Michael Bennett has turned into a tremendous defensive end, and Adrian Clayborn is very good as well. They have the potential for a great rotation with Da'Quan Bowers. The weak link is the other defensive tackle spot where guys like Frank Okam, Roy Miller and Brian Price just are not cutting it.
Poe was a guy that ended up on the ground too much at Memphis, but unlike with Brian Price, I did not feel like his ending up on the ground was a result of style. Price was a guy that focused on penetrating the softest parts of the gap as quickly as possible, and then trying to use his strength to stay on his feet while guys blocked him from the side. The style had the benefit of making a lot of plays in the backfield, and the drawback of being put on the carpet a lot. I became worried that if Price were asked to play a different style, suddenly we would see that he's really not that interesting a player.
Poe ended up on the carpet at times simply because of raw technique, which I think can be fixed.
#6. Washington Redskins: QB Ryan Tannehill, Texas A&M
Ryan Tannehill would be a good fit with the Washington Redskins at #6 overall.
Bob Levey/Getty Images
While I can't say that I have had this pick pegged for 28 months, I can say that I have had the Washington Redskins taking Ryan Tannehill at #6 overall ever since that #6 overall standing first became confirmed.
It just makes too much sense. Tannehill is exactly the mold of quarterback that Mike Shanahan has looked for over the years. He has great natural talent for throwing the football, with superb accuracy. If you account for his receivers' 64 drops this season, he put nearly 74 percent of his pass attempts on the hands of an open receiver in Mike Sherman's pro style West Coast Offense.
At 6'4" and 220 lbs, he has the feet of a wide receiver, the brain of a biology major that wants to be an orthopedic surgeon, the arm and accuracy of a franchise quarterback, and is one of the increasingly rare quarterbacks that comes out having been productive in a pro style system run by once-and-future NFL coaches.
Don't over think it.
#7. Jacksonville Jaguars: WR Justin Blackmon, Oklahoma State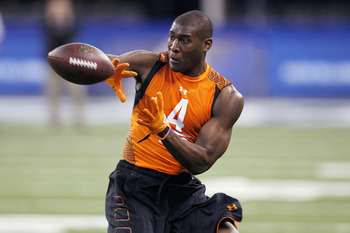 Justin Blackmon continues to hold onto his position as top receiver, but by an increasingly thin margin.
Joe Robbins/Getty Images
The Jacksonville Jaguars are in a similar position with Blaine Gabbert as the Minnesota Vikings are with Christian Ponder. They need to make Blaine Gabbert look viable.
One could accurately refer to the Jaguars' wide receivers unit in 2011 as the worst in the league. They desperately need to add some legitimate weaponry for Gabbert utilize.
Blackmon's position as top receiver is currently under fire because of his decision to not run in Indianapolis, coupled with Michael Floyd's top notch showing. However, Justin hasn't lost the pole position yet. He has a chance to battle back at his Pro Day and I do not believe Jacksonville General Manager Gene Smith would take Floyd over Blackmon, given Floyd's issues with alcohol abuse.
#8. Miami Dolphins: DE Quinton Coples, North Carolina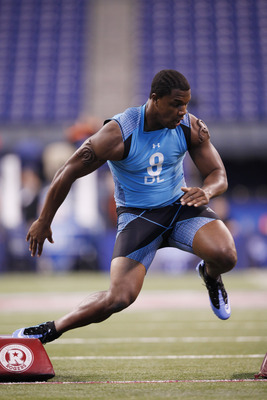 Quinton Coples is rightfully referred to as a player possessing freakish athletic qualities.
Joe Robbins/Getty Images
I find defensive end Quinton Coples to be a very misunderstood player in this NFL Draft.
He has been pegged as a typical "boom or bust" player when, in fact, nothing could be further from the truth.
When you watch Coples on tape, there are certainly some issues that are up for discussion. His ability as a pass catcher is very much in the eye of the beholder. Some see a physically gifted pass rusher that will make more plays in the NFL than in college once he is put in positions more favorable to creating pressure. Some see a guy that lacks the burst to be a good pass rusher at the next level.
What is not really up for debate or discussion is the fact that this is a big, lengthy, hellishly powerful player that plays very strong and actively against the run. That is not simply in the eye of the beholder. That is as darn near an objective fact as you are going to get in this Draft game.
So my question is, given all of that, why would he be considered a "boom or bust" player?
A true "boom or bust" player at the position is a one-dimensional pass rusher. If that one dimension doesn't turn out to be any good, that player never sees the field for any reason.
However, a guy with Quinton Coples' size, power and ability to play the run will never have trouble getting on the football field on base downs. Even if he never realizes his potential as a pass rusher, his role as a run stopper will have still been worth the $3 million a year you would pay him as the #8 overall pick.
Therefore, his risk of being a true bust is minimal, and that will appeal to General Manager Jeff Ireland, who tends to be risk-averse.
#9. Carolina Panthers: DT Fletcher Cox, Mississippi State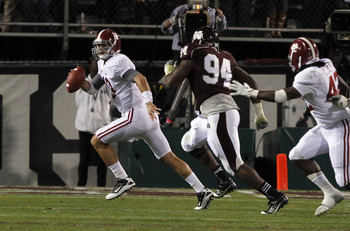 Fletcher Cox has been a fast riser up the Draft boards since declaring his intentions to enter the 2012 NFL Draft.
Butch Dill/Getty Images
Sometimes it takes a while for everyone to digest the tape of underclassmen.
I believe that is what has been happening with defensive lineman Fletcher Cox of Mississippi State. I also believe that the tape shows that Fletcher would not look at all out of place going in the top 15 of the NFL Draft this April.
He showed that at the NFL Scouting Combine. He showed the same explosiveness and mobility that he showed on the tape. He could go to a team that plays a 3-4 and be a defensive end. He is one of those rare players that is strong enough to play the stack and shed game, but also dynamic enough to come down and be a penetrating defensive tackle on pass downs.
The Panthers struggled all year on defense when they tried to pair rookie defensive tackles Sione Fua and Terrell McClain. The defense did not solidify until those two were taken off the field. It might already be time to go back to the drawing board and pick up a legitimately premium talent to man the middle of the defensive line.
#10. Buffalo Bills: CB Dre Kirkpatrick, Alabama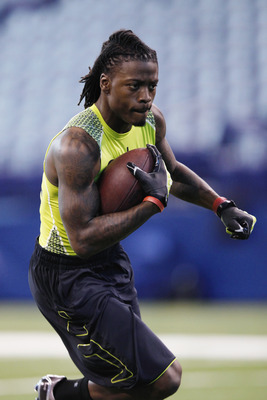 Dre Kirkpatrick may not have impressed strongly at the Combine, but he could still end up a top 10 pick.
Joe Robbins/Getty Images
When new Buffalo Defensive Coordinator Dave Wannstedt was the Head Coach of the Miami Dolphins, he could not possibly have enough corner talent. He famously chose a nickel corner in the first round of the 2001 NFL Draft over quarterback Drew Brees, despite one scout presciently warning him that if he passes on Brees, he will not get a chance at that kind of talent at the quarterback position for a long time.
The move may have ultimately been a mistake, but credit Wannstedt for recognizing that the way the NFL was trending, the nickel corner job was no longer a backup position.
In Buffalo, Dave does not have near enough talented corners to defend the pass like he wants to out of his cover two. I would expect him to lobby Chan Gailey and Buddy Nix for some help at the position so that he can fix the defense's woes.
#11. Kansas City Chiefs: TE Coby Fleener, Stanford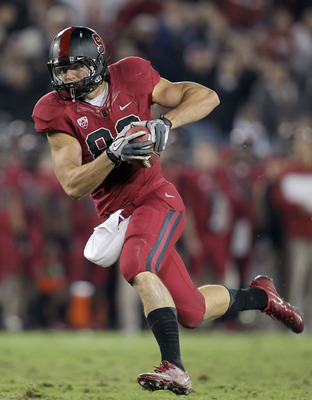 Stanford's Coby Fleener could actually be a mid-first round selection in this April's Draft.
Ezra Shaw/Getty Images
This pick is likely where I am going to lose some people, but it is not as far-fetched as you would think.
General Manager Scott Pioli has some experience drafting tight ends very high in New England, having drafted both Ben Watson and Daniel Graham in the first round only years apart from one another. They did not end up being the dynamic duo you see in New England now with Rob Gronkowski and Aaron Hernandez, but the idea was there a lot longer ago than people realize.
Fleener has stumbled into the top tight end spot in this Draft due to the mediocre showing of Dwayne Allen at the NFL Combine, as well as the dismal showing of Orson Charles at both the Combine and his Pro Day.
I do not believe Fleener backs into anything. Based on what I have seen from him on tape, I believe he will run headlong into the pole position by going out and having an excellent Pro Day. He will not only solidify his position as top tight end, but he will genuinely earn himself solid first round grades.
#12. Seattle Seahawks: LB Luke Kuechly, Boston College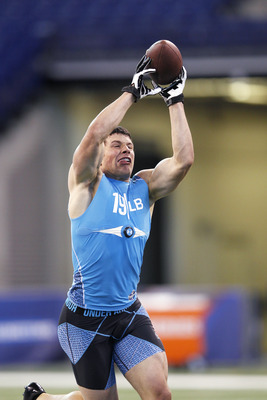 Luke Kuechly had a very strong Combine performance that figures to get him into the middle of the first round come April.
Joe Robbins/Getty Images
The Seattle Seahawks appear prepared to allow middle linebacker David Hawthorne to walk in free agency. There have been whispers of them being unhappy with Hawthorne's durability and athletic ability. They see him as more of a two down run defender.
No matter what you think of Luke Kuechly, he is not a two down run defender, and he showed in Indianapolis that he is a lot faster than many thought. The way I interpret the Seahawks' letting Hawthorne walk, I think they want a player like Kuechly who can make more of an impact against the passing game.
Pete Carroll recruited and put out a lot of really good linebackers at USC. I could see him steering toward Kuechly come April.
#13. Arizona Cardinals: OG David DeCastro, Boston College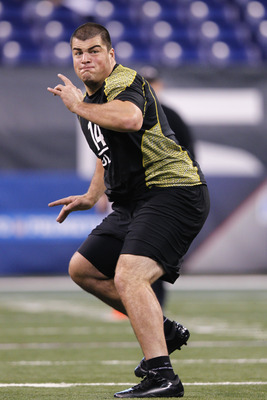 David DeCastro was one of the few offensive linemen in Indianapolis that looked the part of an elite player in drills.
Joe Robbins/Getty Images
A couple of years ago you would not be able to look at picking a David DeCastro this high simply because of the contract you would be forced to give him. The rookie wage scale has changed that.
Ken Whisenhunt is an offensive line kind of guy, as is his trusted assistant Russ Grimm. It goes without saying that any offensive line guy is going to end up a big fan of Stanford's David DeCastro. He is mean and nasty, he pulls extremely well, he uses his hands beautifully to connect his power base to the man he's blocking.
The Cardinals got poor play out of their offensive line in 2011 all the way around. You have to start somewhere and DeCastro is quite possibly the best offensive lineman in the Draft.
#14. Dallas Cowboys: DT Kendall Reyes, Connecticut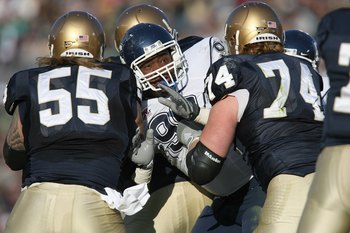 Kendall Reyes is quickly becoming known as one of the few dynamic players capable of playing defensive end in a 3-4.
Jonathan Daniel/Getty Images
Kendall Reyes' Draft stock is flying high after the NFL Scouting Combine.
He is quickly becoming known as one of the few defensive line talents that can truly be dynamic in either 3-4 or 4-3 fronts, playing the stack and shed game and also presenting something in pass rush.
The Cowboys have needs on the offensive line that I would not discount. However, the defensive line is looking a little understaffed to my eyes. They have been rumored to potentially make a run at nose tackle Paul Soliai in free agency, but I do not know if I see that happening. Jay Ratliff has manned the nose position for years and though he seems equally suited for an end position, I would not personally want to take him away from where he has become most comfortable.
A Kendall Reyes would allow him to remain at the spot he has made his own, while still adding something to the defensive line.
#15. Philadelphia Eagles: OC Peter Konz, Wisconsin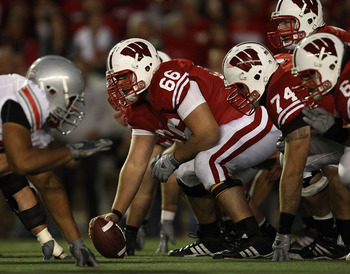 Peter Konz has long been considered a first round prospect at Center.
Jonathan Daniel/Getty Images
Despite anything you may have seen about Peter Konz' performance in Indianapolis, none of it changes the simple fact that he is the best Center in this Draft and has arguably been the best Center in college football for a number of years.
I do not buy that Jason Kelce has been getting the job done at that position for the Eagles, and I think Andy Reid would love to take the opportunity not only to beef up the offensive line, but to improve the blocking calls and recognition at the swing spot.
Putting the franchise tag on DeSean Jackson buys at least one more season with great skill position players, before you need to focus on a replacement. In the mean time it wouldn't hurt Reid to focus on the lines.
#16. New York Jets: LB Melvin Ingram, South Carolina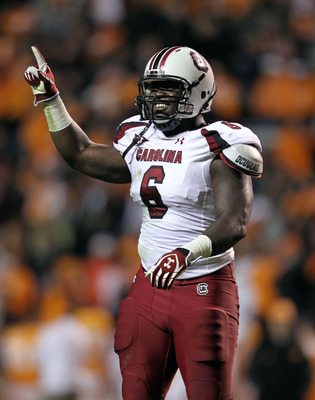 Melvin Ingram has undoubtedly helped himself this Draft season with strong Combine and Senior Bowl showings.
Andy Lyons/Getty Images
Some people would have you believe that Melvin Ingram has risen a lot higher than this, but I am not so sure. He has 30.5 inch arms and is only about 6'2" in height.
He showed up at the Combine about 264 lbs instead of the 270+ he was at the Senior Bowl. He moved well but I did not think he had the blowout Combine that several have been saying.
What the Jets need is a real linebacker that can cover the pass and play against the run, and then come down in special situations and rush the passer as a blitzer.
That is Ingram's game, as he has always reminded me of Adalius Thomas. I believe he will remind Rex Ryan of Adalius Thomas as well. Rex coached Adalius when they were together in Baltimore. Under Ryan, Thomas played just about every linebacker and defensive line position under the sun. I think Rex would be anxious to have that kind of versatility on his defense again.
#17. Cincinnati Bengals: RB Trent Richardson, Alabama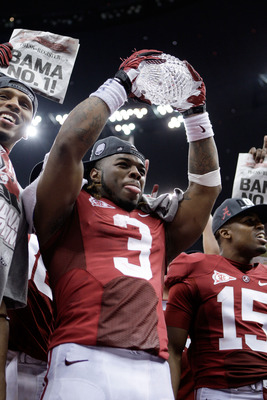 Alabama's Trent Richardson could fall a little bit to the middle of the first round, but he is still the best tailback prospect since Adrian Peterson.
Andy Lyons/Getty Images
Even Adrian Peterson fell all the way to #7 overall in the 2007 NFL Draft. Adrian was the best tailback prospect I had ever seen. Trent Richardson is not an Adrian Peterson, but he is the best tailback prospect I have seen since Peterson.
This pick becomes a no-brainer if Trent makes it this far. The Bengals are preparing for life without Cedric Benson, and the feeling is mutual.
By drafting Trent here, the Bengals will have not just replaced Cedric, but they will have upgraded him significantly.
#18. San Diego Chargers: WR Michael Floyd, Notre Dame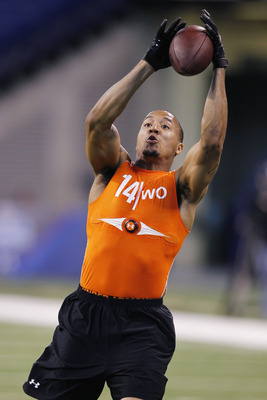 Michael Floyd had a very strong Combine showing that should put him solidly in the first round.
Joe Robbins/Getty Images
Michael Floyd did his best to try and upend Justin Blackmon as the top receiver in this Draft class, but in the end I do not think it will be good enough.
I think there could be a little punch-counterpunch that takes place with Blackmon at his Pro Day. Floyd should not be ashamed to go solidly in the middle of the first round of the NFL Draft, especially given the alcohol-related off field incidents in his past.
In Floyd, the Chargers would have a direct replacement for Vincent Jackson, who is rumored to be leaving in free agency. The two have similar size, speed and build. Despite Floyd's history with alcohol issues, his character profile might even be better than Vincent Jackson's.
#19. Chicago Bears: OT Jonathan Martin, Stanford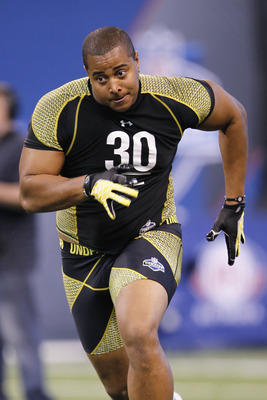 It may be a little while before the NFL begins selecting offensive tackles after Matt Kalil's selection.
Joe Robbins/Getty Images
The Chicago Bears' offensive line situation is an absolute disaster zone. The team did a good job trying to get out in front of those issues a year ago by drafting Gabe Carimi from Wisconsin, however he was hurt most of last year and Chicago would do well to keep adding talent here until they are sure that Jay Cutler is protected.
What I found in 2011 was that Jay Cutler was getting put on the ground and hit far too often. He was absorbing more hard hits than most ofter quarterbacks in the league. If the Bears do not remedy that situation soon, they could lose the franchise.
#20. Tennessee Titans: DE Nick Perry, USC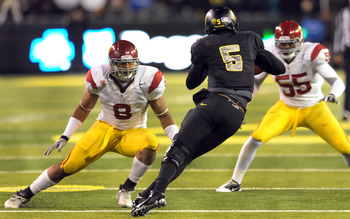 Defensive end Nick Perry has been climbing the boards of late.
Steve Dykes/Getty Images
The Tennessee Titans are desperate at the defensive end position. They were desperate enough that they played Jason Jones out of position all year. He should have been a defensive tackle, where he could be more dynamic.
The right defensive end position has been a particular problem, with Dave Ball not looking like a genuine starter there. Nick Perry is a versatile player that can move around either side, or even pull out into zone coverage if you run some fire zone in your defense. He should help upgrade the team's pass rush.
#21. Cincinnati Bengals: DT Michael Brockers, LSU
Michael Brockers did not have a very good Combine but could still find himself in the first round come April.
Andy Lyons/Getty Images
Over the years it has become apparent that Cincinnati Bengals owner and General Manager Mike Brown loves drafting players that are thought of as more talented than where they end up being drafted, but fell because of one issue that Brown feels is overblown.
In this case, I do not think Brown allows Brockers to fall beyond his second pick in the first round. Brockers did not run well or perform well at the 2012 NFL Scouting Combine, but Brown may justifiably feel that the Combine is being overblown.
For myself, I would not necessarily take Brockers. He reminds me of Kentwan Balmer of North Carolina. They are both large physical specimens that get bogged down the more they try and penetrate the blocking. I don't know that I see Brockers as explosive.
#22. Cleveland Browns: WR Kendall Wright, Baylor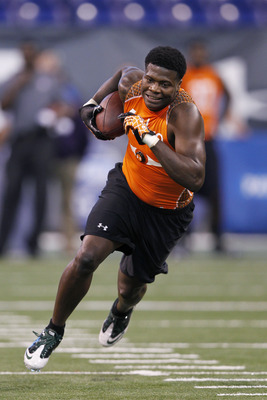 Some believe Kendall Wright had a poor Combine due to an "official" 40 yard dash figure of 4.61, but that is not the case.
Joe Robbins/Getty Images
Kendall Wright's Draft stock with the media and public may have taken a hit when he ran a supposed 4.61 "official" time at the NFL Combine, but I do not think his stock has fallen with NFL teams.
The "official" number was produced using a flawed method that exacerbated a simple idiosyncrasy in Wright's release technique. The delay had nothing to do with the man's pure speed. I re-timed his 40 yard dash using a software-based method I am comfortable gives me precise and consistent results, and I got a 4.43 second result.
I have the Browns collecting Robert Griffin at #4 overall. If they do that, Griffin will be expected to play immediately, which can be tough for any quarterback let alone one that came from his style of offense and comes with Griffin's weaknesses. Pairing him up with a familiar face would help Griffin to 'get it' more quickly.
#23. Detroit Lions: G/T Cordy Glenn, Georgia
A strong Combine showing has probably solidified Cordy Glenn's status as a first round pick.
Joe Robbins/Getty Images
Cordy Glenn has had a very good draft season thus far.
He showed up at the Senior Bowl and really caught some eyes during practice as one of the only offensive linemen at South practice to be able to hold his own at times with the likes of Courtney Upshaw, Melvin Ingram and Quinton Coples.
He then went to the Combine where he rocked an unbelievable 4.96 second unofficial time in the 40 yard dash at nearly 350 lbs. That time was adjusted to an "official" result of 5.15 seconds, but he showed remarkable running ability at the Combine.
The Detroit Lions will need some help on the offensive line as Jeff Backus seems likely to leave. It isn't even outside the realm of possibility for Cordy to end up the starter at left tackle.
#24. Pittsburgh Steelers: OT Riley Reiff, Iowa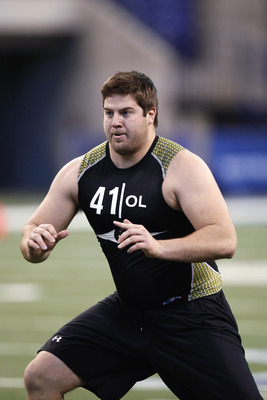 Riley Reiff had an uninspiring Combine and it has led some in the media to wonder whether the scouts truly have him ranked high.
Joe Robbins/Getty Images
The Pittsburgh Steelers always seem to struggle protecting Ben Roethlisberger. A good part of that is Ben's fault, but I believe the team could use some more investment at the tackle position as well.

Max Starks appears ready to leave the team as a free agent. The team announced that they will be moving right tackle Marcus Gilbert over to Starks' left tackle spot.
That leaves an opening for Riley Reiff at right tackle, where he may be better suited to play than left tackle. He has a little bit of an uninspired Combine showing, which has led some in the media to question whether the scouts really have him ranked high.
#25. Denver Broncos: DT Devon Still, Penn State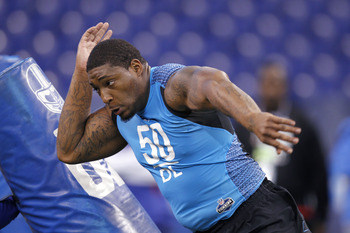 Devon Still may not be ranked in the top 10 of this year's Draft, but I believe he will still go in the first round.
Joe Robbins/Getty Images
If you are going to run the ball the way the Broncos did with their option-style offense, you have to be able to stop the run. You are hoping to draw your opponent to your level, your pace, and you need to be able to beat your opponent when that happens.
The Broncos run defense a year ago left a lot to be desired, and I believe guys like Marcus Thomas and Ryan McBean are begging for upgrade.
I have some issues with Devon Still in that I don't think he's quick to react to players getting leverage on him or double teams forming. I mentioned in a previous note how Brian Price once made a lot of plays by shooting the softest parts of gaps, but this also created its own weakness. Sometimes I get that same feeling with Devon.
However, I think ultimately he is a better player and I doubt he would make it much beyond the pick where I have him going here.
#26. Houston Texans: WR Stephen Hill, Georgia Tech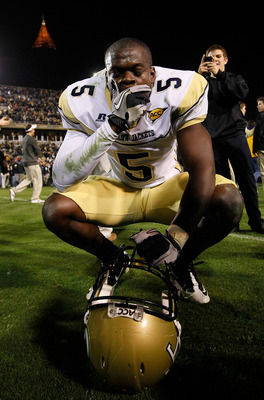 Few players had a showing at this year's NFL Scouting Combine that affected their draft status more than Georgia Tech's Stephen Hill.
Kevin C. Cox/Getty Images
Stephen Hill was helped tremendously by his blowout Combine performance. Usually, that is something you just see reflected in the public but not in private amongst real scouts. I think this could be a special case exception.
For starters, Hill is an underclassman, and as I said before it can take some time to digest the tape of the underclassmen.
For another thing, Hill played in a triple option attack that only threw the ball when they were going deep, and as such Hill caught only 28 balls, yet averaged 29 yards per catch. There was a lot you just could not know about the guy until he tested athletically and ran receiver drills for you.
He really nailed his field drills in addition to the ridiculous numbers he put up. He could go even higher than this.
#27. New England Patriots: CB Janoris Jenkins
Janoris Jenkins has a lot of natural talent but a lot of problems to go with the talent.
Joe Robbins/Getty Images
Bill Belichick has a strong relationship with Urban Meyer, Janoris Jenkins' old coach at Florida. That relationship has led Belichick to take a flier on a lot of Florida Gators over the years.
Janoris Jenkins has serious talent, but his off field issues have also been serious. I am not sure I see him in the first round with that kind of profile.
However, if he does end up in the first round, I do believe it would be more likely the chance be given by someone that for one reason or another feels a strong connection with Jenkins, to where he is comfortable with Janoris' decision-making going forward.
The Patriots certainly need corner help enough to justify the pick.
#28. Green Bay Packers: LB Courtney Upshaw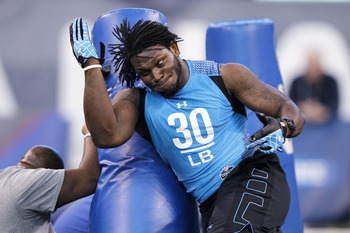 Courtney Upshaw would fit nicely on the other side of Clay Matthews in Green Bay's defense.
Joe Robbins/Getty Images
The Packers have had trouble finding a pass rush presence to play opposite Clay Matthews in their 3-4 defense.
I believe Courtney Upshaw would be perfect for that job because of his being a well-rounded run stopper as well as pass rusher.
People were disappointed in his Combine field drills, however he looked to me like a guy that was uncomfortable and unfamiliar with the drills, not necessarily a guy with serious movement flaws.
Upshaw is a ball of butcher knives on the field. He is the only guy I saw all year with the pure ability to be a force player and chase the option from inside out, getting the speed back down for less than a yard gain. He is an underrated pass rusher that will benefit from the kinds of pass rush opportunities and responsibilities the Packers could give him.
#29. Baltimore Ravens: LB Bobby Wagner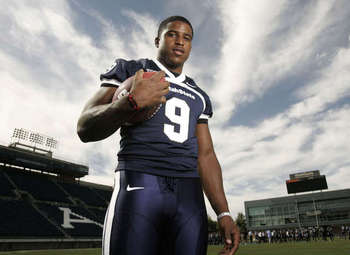 Utah State linebacker Bobby Wagner has been climbing up the boards lately and could make it to the first round.
I know this might be shocking but I have heard a lot of whispers that Bobby Wagner has been ranking very high on teams' draft boards and could go in the first round.
One team that could be looking for a linebacker in the first round would be the Baltimore Ravens. I have not been convinced that either Jameel McClain or Dannell Ellerbe have a future at the position for the Ravens, and in the mean time the pressure mounts every year to make sure you have Ray Lewis' replacement on hand for when he decides to hang it up.
#30. San Francisco 49ers: WR Rueben Randle, LSU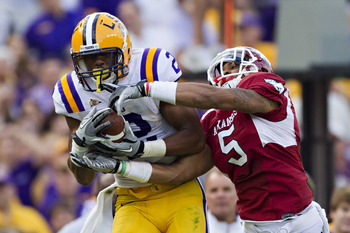 LSU junior Rueben Randle could find himself in the first round by the time all is said and done.
Wesley Hitt/Getty Images
Despite running a 4.55 "official" time at the NFL Scouting Combine, I fully believe the man that averaged over 18 yards per catch in the SEC with Jordan Jefferson and Jarrett Lee throwing the football is a deep threat.
I had him at about a 4.50 at the Combine, and I believe his 6'3" of height comes heavily into play when talking about whether a guy is a deep threat.
The San Francisco 49ers clearly need a receiver and at this point, this may be the best one left on the board.
#31. New England Patriots: DE Jared Crick, Nebraska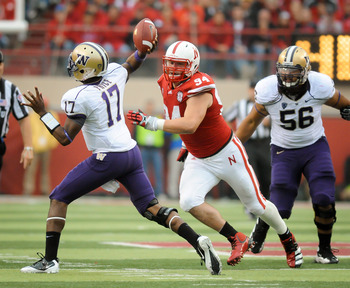 Jared Crick could be a surrpise addition to the first round come April.
Eric Francis/Getty Images
The New England Patriots have let their once-strong defensive line largely go to waste. Vince Wilfork is still around and as dominant as ever, but the Patriots had a real tough time finding any other defensive linemen to do the job.
Jared Crick is probably the most natural stack and shed player that I have seen in this entire Draft. He has great rhythm for the two-gapping and power technique game. He's got very good eyes for the ball, and he is very strong.
What functions as a little bit of a bonus is the fact that when you watch him, he also shows a good level of mobility and athleticism that you could hope to polish into being a dynamic player.
However, in the mean time, you know what you're going to get out of him, and I think it's safe to say it's a little better than what you get out of the likes of Kyle Love, Brandon Deaderick and Ron Brace.
#32. New York Giants: OG Kevin Zeitler, Wisconsin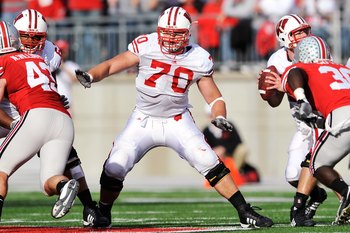 Kevin Zeitler may have raised his stock enough at the Indianapolis Combine to be selected in the first round.
Jamie Sabau/Getty Images
The Giants are another team that need help along the offensive line. They would prefer to get a strong tackle here but none available, including the overrated Mike Adams of Ohio State, grade this high.
When I watched Kevin Zeitler perform in field drills at the NFL Combine, it was revealing. Always an excellent player when you pop on the tape, he stood up and did the same drills the more heralded David DeCastro did, and watching them one after the other you could see that Zeitler was looking just as good as DeCastro in every phase.
I believe when all is said and done, he will be in the first round.
Second Round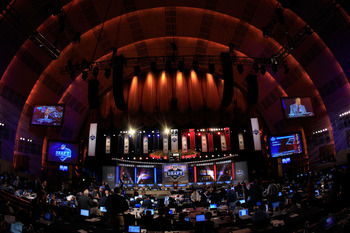 Chris Trotman/Getty Images
#33. St. Louis Rams - WR Alshon Jeffery, South Carolina
Jeff Fisher needs to start surrounding Sam Bradford with some talent.
#34. Indianapolis Colts - CB Jayron Hosley, Virginia Tech
Task of rebuilding the defense starts in the secondary for Pagano
#35. Minnesota Vikings - SS Mark Barron, Alabama

Safety was a big problem for the defense in 2011
#36. Tampa Bay Buccaneers - CB Alfonzo Dennard, Nebraska

Greg Schiano will be tickled pink that Dennard lasted this long
#37. Cleveland Browns - DE Whitney Mercilus, Illinois

One-dimensional but the Browns need that one dimension
#38. Jacksonville Jaguars - CB Josh Robinson, Central Florida

Jaguars stay local and pick up much needed secondary help
#39. Washington Redskins - DT Brandon Thompson, Clemson

Shanahan believes the offense was playoff worthy
#40. Carolina Panthers - SS Harrison Smith, Notre Dame

Time to move on from Charles Godfrey
#41. Buffalo Bills - DE Andre Branch, Clemson

Pass rush presence
#42. Miami Dolphins - QB Brandon Weeden, Oklahoma State

Dolphins eyeballing Brandon as an insurance policy for Peyton
#43. Seattle Seahawks - QB Brock Osweiler, Arizona State

Carroll considers him one of the top QBs in the Draft
#44. Kansas City Chiefs - OT Mike Adams, Ohio State

Sorely needed replacement for Barry Richardson
#45. Dallas Cowboys - CB Stephon Gilmore, South Carolina
Can help the team as a nickel corner immediately
#46. Philadelphia Eagles - LB Dont'a Hightower, Alabama

Physical presence they lacked at the second level
#47. New York Jets - RB David Wilson, Virginia Tech

Perfect replacement for LaDainian Tomlinson
#48. New England Patriots - FS Markelle Martin, Oklahoma State

Tremendous range and closing burst something they need
#49. San Diego Chargers - OT Jeff Allen, Illinois

Versatile player can help them fix some of their offensive line woes
#50. Chicago Bears - WR Marvin Jones, California

Fast riser can give them a presence opposite speedy Knox
#51. Philadelphia Eagles - DT Jerel Worthy, Michigan State

Defensive line requires a solid rotation
#52. Tennessee Titans - CB Trumaine Johnson, Montana

Helps the team replace Courtland Finnegan by giving them a nickel corner
#53. Cincinnati Bengals - LB Zach Brown, North Carolina

Falls too far for Mike Brown to resist
#54. Detroit Lions - CB Dwight Bentley, Louisiana-Lafayette

Need help in the secondary
#55. Atlanta Falcons- OG Brandon Brooks, Miami (OH)

After giving away a hefty price to add explosiveness, time to work on lines
#56. Pittsburgh Steelers - LB Ronnell Lewis, Oklahoma

Finally parting ways with James Farrior
#57. Denver Broncos - OG Kelechi Osemele, Iowa State

John Fox gets to add some frame and horsepower to the interior OL
#58. Houston Texans - Alamaeda Ta'amu, Washington

Can train on as eventual starter at nose
#59. New Orleans Saints - LB Bruce Irvin, West Virginia

Gives them more blitz versatility to help the pass rush
#60. Green Bay Packers - SS George Iloka, Boise State

Charlie Peprah has been begging for replacement
#61. Baltimore Ravens - LB Shea McLellin, Boise State

Helps replace Jarret Johnson who may leave as a free agent
#62. San Francisco 49ers - OG Amini Silatolu, Midwestern State

Explosive, big yet compact player that could help at the Guard positions
#63. New England Patriots - OC Philip Blake, Baylor

Smart and stout player that will help replace Dan Koppen
#64. New York Giants - TE Dwayne Allen, Clemson
Team needs another pass catcher and he has proved able in both phases
Keep Reading