2012 NFL Mock Draft: Complete 7-Round Analysis for Oakland Raiders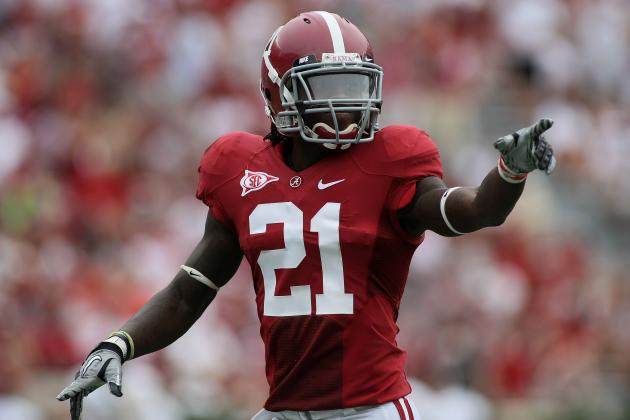 Greg McWilliams/Getty Images

Under the legendary Al Davis, the Oakland Raiders were consistently one of the more fascinating NFL franchises. Following his death during the 2011 season, it was assumed that the decision making in Oakland would be a little bit more conventional. That has not been the case.
When Jason Campbell went down with an injury midseason, they cashed in all their chips to get Carson Palmer.
At the time of the trade, the thinking was that the Raiders were legit contenders who could not afford to let the loss of one player hinder their chances. The logic was sound, but they will have to deal with the consequences associated with their unconventional ways.
With only a fifth and sixth round pick in the 2012 draft and significant salary cap issues, Oakland needs to be flawless in their decision making from here on out if they want to play up to their standards.
This slideshow will predict the outcome of the Raiders' draft, highlight players that are worth trading up for and discuss free agents that must be targeted.
Begin Slideshow

»
With the hiring of defensive coordinator Jason Tarver, the Oakland Raiders will likely be transitioning to a 3-4 defense.
Since the ginormous John Henderson will probably be cut to save the franchise some much needed money, they will need a big, stout body to play nose tackle.
Hebron Fangupo has the physique for the job. At 6'1" and 323 pounds, Fangupo has the girth and strength to occupy blockers in the middle.
He put up an impressive 36 reps on the bench press at the Combine which confirms that he has the muscle necessary to hold his own against the NFL's premiere offensive linemen.
Another plus with Fangupo is that he is a God-fearing, church-going, BYU-attending, mature individual who will be a positive influence on a team that always seems to have its fair share of basket cases.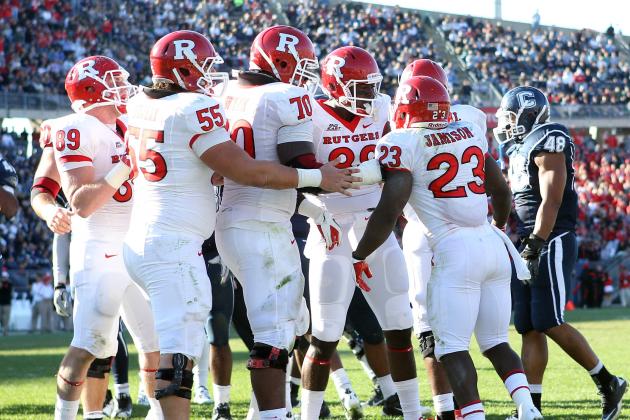 Elsa/Getty Images
Desmond Wynn #70
The Oakland Raiders may be parting ways with Samson Satele (center) this offseason. If this happens, the offensive line will need to be reorganized.
Whether or not Satele is re-signed, the Raiders need some help up front.
Desmond Wynn will add depth to the offensive line. The 6'6," 303 pounder is a tenacious run blocker who has to improve his pass protection before earning a starting job.
Wynn needs a year or two to develop before he can be a productive starter. He has a high ceiling for a sixth round pick. If Wynn can max out his potential, he could end up being a steal.
Addressing the offensive and defensive lines with their only two draft picks will not excite the fans, but it will ensure that the Raiders add depth in key areas.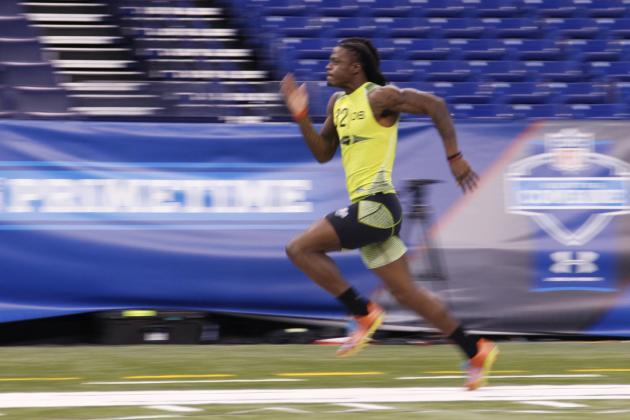 Joe Robbins/Getty Images
Dre "Swag" Kirkpatrick at the NFL Combine
The Oakland Raiders were among the worst in the league at defending the pass in 2011. Their need of a legitimate No. 1 cornerback may lead them to make another unthinkable move.
Dre Kirkpatrick would be a starter as soon as the ink hits the paper. He is a physical corner who is best when sitting in the zone and reading the quarterback's eyes. His closing speed and length (6'2") allows him to cover more of the field than quarterback's will assume.
It is highly unlikely that the Raiders will come up with the resources needed to trade up into the first round. However, if they are able to pull an Al Davis, they may be able to fill Nnamdi Asomugha's shoes.
Other Options: Cordy Glenn (G, Georgia) and Michael Brockers (DL, LSU)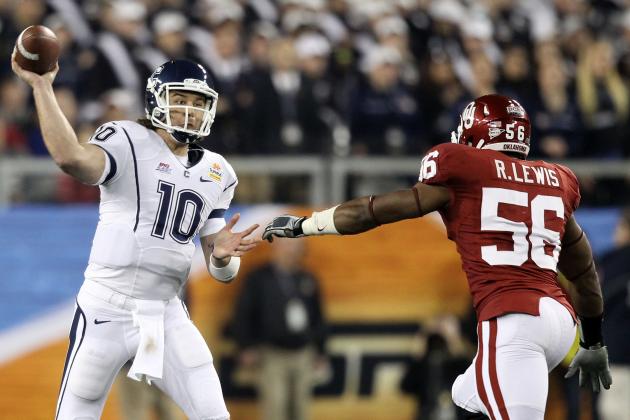 Christian Petersen/Getty Images
Ronnell Lewis #56
After a strong showing at the NFL Combine, Ronnell Lewis has established himself as a late second-round pick.
Trading up into the second round would allow the Oakland Raiders to get a linebacker who can do it all.
Lewis will be at his best setting the edge on run plays. He has the skill-set to be a threat rushing the passer, but has yet to prove that on the field.
Lewis is a hard hitter, a trait that earned him the nickname "Hammer" while playing at Oklahoma. Rolando McClain and Lewis could potentially become one of the most-feared linebacking duos in the NFL.
While this is more practical than trading up into the first round, it is still unlikely. However, the Raiders proved that they will do whatever it takes to get to the playoffs when they traded for Carson Palmer last season.
Do not be surprised if Oakland decides to put a lot of hope in a tireless player like Lewis who can contribute right away.
Other Options: Trumaine Johnson (CB, Montana), Alameda Ta'amu (NT, Washington) and Doug Martin (RB, Boise State)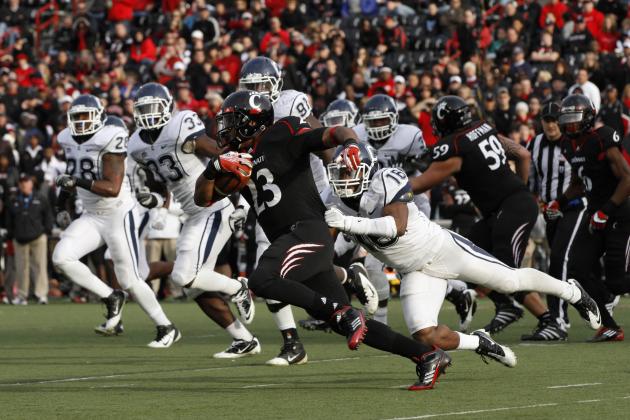 Tyler Barrick/Getty Images
Isaiah Pead #23
The Oakland Raiders are $22 million over the cap (according to Paul Gutierrez of CSNBayArea.com) and will likely have to part ways with some key players.
Michael Bush will be one of those players.
Darren McFadden is one of the best running backs in the NFL when healthy, but the Arkansas All-Star has yet to make it a full season without getting injured during his four years in the league. The loss of Bush will create a need for a No. 2 back who can be counted on to carry the load if McFadden goes down.
Trading up to the third round to select a running back will ease the pain of Bush's departure.
Isaiah Pead (5'10," 197 pounds) is a speed back. He runs tall in space but gets low when nearing defenders which allows him to bounce off tackles like it's a habit. This combined with his elusiveness makes him a threat on every play.
Pead can be the remedy to McFadden's injury problem for a relatively low cost. He is not the power back that Bush was, but he will gain more than 3.8 yards per carry.
Other Options: Amini Silatolu (G, Midwestern State), Bruce Irvin (OLB, West Virginia) and Chase Minnifield (CB, Virginia)
Vontaze Burfict is one of the riskier prospects in recent history. Questionable work ethic combined with an attitude that can only be described as insane makes him undraftable.
However, there is a reason why he is compared to Ray Lewis and Patrick Willis.
At his best, he is a ferocious middle linebacker with the ability to deal out devastating hits as seen in the video. At worst, he is a coaches' nightmare and will commit stupid penalties which hurt the team.
The Raiders can ill afford another penalty prone player as they consistently lead the league in that category.
But, despite his history, the Raiders should trade up to the fourth round to get the Arizona State Sundevil. His first-round potential is undeniable.
If he realizes that his financial future depends on his ability to turn anger into production, he will be well worth the risk.
Other Options: Dwight Jones (WR, North Carolina), Ryan Steed (CB, Furman) and Kheeston Randall (DT, Texas)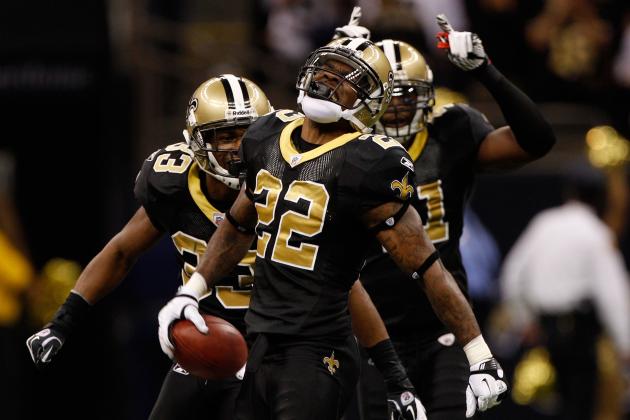 Chris Graythen/Getty Images
Tracy Porter #22
If the Oakland Raiders are able to pick up a few key players in free agency they will not need to trade up in the draft.
This will prove difficult because of the team's salary cap situation.
Oakland is $22 million over the cap and will need to either release players or restructure a lot of contracts if they want to be able to have money left over for free agency.
Fortunately, with a roster full of underachieving players, they may have some spare change when the free agency period begins.
The following are three free agents the Raiders should target:
Tracy Porter, CB
As mentioned, the Raiders' secondary was on the wrong side of average in 2011. The absence of Nnamdi Asomugha was evident as Oakland gave up the second-most touchdown passes.
Tracy Porter is no where near as talented as Asomugha, but he is a solid player and can help out immediately.
While it is not evident in his stats, Porter has improved every season. He is undersized, but his quick feet allow him to close on receivers in a hurry.
Dennis Allen, the Raiders' new head coach, was Porter's defensive backs coach in New Orleans from 2008-2010. Do not be surprised if Allen targets Porter to help rebuild the secondary.
Kahlil Bell, RB
The Raiders will be thrifty during the free agency period and look for players with hidden talent.
Kahlil Bell has had a hard time earning roster spots in his three seasons in the league, but he capitalizes when given the opportunity.
On 119 career chances, Bell averages 4.7 yards per carry. He also managed to catch 25 passes last season while backing up Matt Forte and Marion Barber in Chicago.
He may not be explosive, but his vision and decisive cuts enables him to be productive.
With Michael Bush likely out of the picture in 2012, the Raiders will need a back who can support the team if/when Darren McFadden gets hurt. The combination of Bell and Taiwan Jones (fourth-round pick in 2011) will give Oakland the insurance they need at the running back position.
Erik Walden, OLB/DE
As previously mentioned, the Raiders will likely convert to a 3-4 defense in 2012.
Erik Walden played outside linebacker in the 3-4 defense the last two seasons in Green Bay. He is stout against the run and capable of creating pressure on passing downs.
Walden would ease the transition to the 3-4 defense and give the Raiders the cheap pass-rushing outside linebacker they need.