Denver Broncos
2012 NFL Mock Draft: How Denver Broncos Can Be Winners This Spring

Jim Rogash/Getty Images
February 27, 2012
The Denver Broncos are currently sitting at the 25th overall pick. They will have many options, including trading up and trading down.
The Broncos—despite reaching the AFC divisional round—have a lot of needs across the board. Fantastic players will be available at that selection, but the Broncos would be in much better shape if they dealt their pick.
On draft day, the Broncos should dial up the New England Patriots. The Patriots always love to trade down, but this year they might even trade up.
If the Broncos can trade the 25th pick for the 31st pick and get an extra sixth-rounder, they will be in great shape.
The sixth-round pick in the proposed trade could be vital. The Broncos could use that pick to add quarterback depth and use the majority of their other selections to focus building the defense.
DT Fletcher Cox will most likely be gone by then 31st selection, but fellow DT Dontari Poe still might be sitting on draft boards at that time.
Poe had a great combine day on Monday and would immediately be a starter. He would play alongside Brodrick Bunkley.
The Broncos have a strong possibility of landing free agent and former Chief CB Brandon Carr, also. The Chiefs just signed CB Stanford Routt, therefore there remains no need for KC to bring back Carr.
Denver could also sign a defensive end in free agency. If they can acquire Lions DE Cliff Avril, they will be in fantastic shape.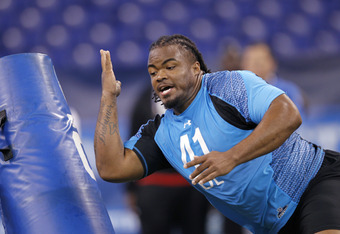 Joe Robbins/Getty Images
No matter what, the Broncos defense will be completely different. A whole new pool of players will come and play for the Denver D. The who is just the uncertain part.
Without further ado—here is your first-round mock draft.
1. Colts: Andrew Luck, QB, Stanford
2. Browns (Projected Trade No. 1 from St. Louis): Robert Griffin III, QB, Baylor
3. Vikings: Matt Kalil, OT, USC
4. Rams (Projected Trade No. 1 from Cleveland): Justin Blackmon, WR, Oklahoma State
5. Buccaneers: Trent Richardson, RB, Alabama
6. Redskins: Morris Claiborne, CB, LSU
7. Jaguars: Quinton Coples, DE, UNC
8. Dolphins: Michael Brockers, DT, LSU
9. Panthers: Dre' Kirkpatrick, CB, Alabama
10. Bills: Riley Reiff, OT, Iowa
11. Chiefs: Jonathan Martin, OT, Stanford
12. Seahawks: Ryan Tannehill, QB, Texas A&M
Darren Carroll/Getty Images
13. Cardinals: David DeCastro, OG/OG, Stanford
14. Cowboys: Devon Still, DL, Penn State
15. Eagles: Luke Kuechly, ILB, Boston College
16. Jets: Melvin Ingram, DE, South Carolina
17. Bengals (from Oakland): Lamar Miller, RB, Miami
18. Chargers: Zach Brown, OLB, UNC
19. Bears: Michael Floyd, WR, Notre Dame
20: Titans: Cordy Glenn, OG/OT, Georgia
21. Bengals: Janoris Jenkins, CB, North Alabama
22. Rams (Projected Trade No. 1 from Cleveland): Mike Adams, OT, Ohio State
23. Lions: Alfonzo Dennard, CB, Nebraska
24. Steelers: Fletcher Cox, DT, Memphis
25. Patriots (Projected Trade No. 2 from Denver): Whitney Mercilus, DE/OLB, Illinois 
26. Texans: Alshon Jeffry, WR, South Carolina
27: Patriots (from New Orleans): Mohammed Sanu, WR, Rutgers
28. Packers: Peter Konz, OC, Wisconsin
29. Ravens: Vontaze Burflict, Arizona State
30: 49ers: Rueben Randle, WR, LSU
31: Broncos (Projected Trade No. 2 from New England) Dontari Poe, DT, Memphis
32: Giants: Dwayne Allen, TE, Clemson

Like the new article format? Send us feedback!