New England Patriots Links: DeSean Jackson, Wes Welker and the Best Coverage
February 22, 2012

Elsa/Getty Images
The wound is still fresh. For New England Patriots fans, the agony of losing to the same team again in the Super Bowl is devastating. I live in New Jersey, so a kind Giants fan always has to go out of his way to remind me of the loss. This happens every day. For me the wound will never heal. 
Most Patriots fans have started looking toward "Linsanity," the Celtics or the start of spring training to cure their ailments. While this is suitable there is still a lot of football to be talked about, namely the offseason and the 2012 NFL draft.
During these months, teams will be planning their future, and the New England Patriots have a lot of work to get back in Super Bowl form. Keep it here to learn what's on the mind of the New England Patriots' best analysts. 
Marc Freshman is one of my favorite New England Patriots writers, and for some of the best thoughts on the game, you have to check this guy out. His opinions are top-notch, and he will take a piece of information and analyze it in a style that is uniquely Marc. 
He brings up a good thought for the Patriots and one that has crossed the mind of fans. Of course, we have all heard about DeSean Jackson and the rumors. But Freshman takes it deeper and compares Jackson to Boston darling Rajon Rondo. He brings up an interesting point, and I, for one, think that the Eagle could bring an unmatched spark to snowy New England. What do you think?
Another free agent WR that could end up in Boston is Brandon Lloyd. The WR area has been an issue for New England. I think that the Patriots should look at the draft for young defensive talent. That leaves free agency to solve the receiver problem.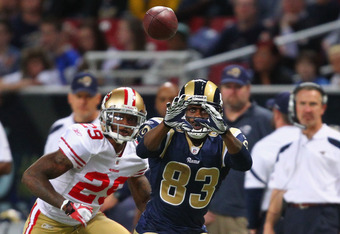 Dilip Vishwanat/Getty Images
Lloyd would work well with the Pats. He works well in Josh McDaniels' offense. The 1,448 yards and 11 touchdowns just further prove that. B/R New England Patriots Featured Columnist Tony Santorsa addresses this rumor.
Speaking of wide receivers it is almost certain that Wes Welker will get the franchise tag. This is after his crucial drop in the Super Bowl. Thankfully, Shalise Manza Young of Boston.com gave us this heartwarming story. She brought to light a Welker tweet that read, "I would like to thank all of my fans for your love and support. I looked outside and the sun came out. #vacationtime". 
In his mailbag, B/R New England Patriots Featured Columnist Aaron Dodge addressed the issue of D-Jax and Randy Moss. Jackson could be a contributor, but Moss is way past his prime. Sure, Jackson might not be the prototypical Patriots player, but he could be the missing piece.  
As most of you know, our resident Patriots Featured Columnist works hard to write the best stories for New England fans. Now Erik Frenz has added AFC East Blogger to his hats. While this AFC East blog focuses on more than just the Pats, it is truly something wonderful.  
His stories are up-to-date, and the analysis is on the dot. The mailbags are always helpful for any fan to ask questions and get them answered. 
Feel free to ask a question that you want me to answer or a link you want me to see. I would love to see what Patriots coverage you fans found so comments are always greatly appreciated. I always respond. It's my rule. To see more of my work just click right here. Until next time Patriots fans!