With Plaxico Burress most likely leaving in free agency, the New York Jets will be left with a wide receiver corps featuring locker room cancer Santonio Holmes, second year player Jeremy Kerley and the under-assuming Patrick Turner, who had a total of eight receptions last season.
Unless general manager Mike Tannenbaum has found a new way to maneuver the salary cap to come up with enough space to sign Dwayne Bowe or Marques Colston, the Jets are going to have to make drafting a wide receiver a priority.
While it may have been a mistake to sign the 34-year-old, straight-out-of-prison Burress, he did produce. With 45 catches for 612 yards, Burress was the team's third-leading receiver. His eight TD receptions, tied with Holmes, led the Jets.
He also provided Mark Sanchez with a tall, red zone threat with his 6'5" frame, even though Sanchez did not utilize him all that much.
Plax's departure leaves not only a whole at the No. 2 receiver spot, it leaves the Jets desperate for size as well, with Holmes measuring at 5'11" and Jeremy Kerley at 5'9''.
Turner has the size at 6'5", but is he really the one to whom Rex Ryan, Tannenbaum and Co. are going to give the starting receiver role? Maybe they see something that others don't in Turner.
Turner had a decent college career at USC. In his senior season, he had 49 catches for 741 yards and 10 TDs. He was drafted in 2009 by the Miami Dolphins in the third round and has since recorded 11 receptions for 122 yards and a TD in his NFL career.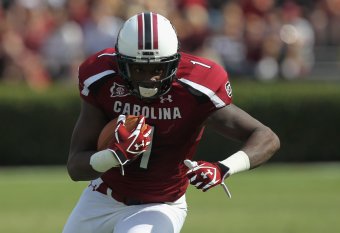 Streeter Lecka/Getty Images
Who knows, maybe he will have a coming-out party next season given the playing time and targets, ala Victor Cruz?
But if the Jets do not want to rely on Turner, they should take a look at these three receivers early in the upcoming draft.
Michael Floyd
Floyd is a 6'3", 229-lbs receiver out of Notre Dame. He is the second-ranked receiver behind Justin Blackmon in the draft. In his senior season, Floyd had 100 catches for 1,147 yards with nine TDs. He has the speed, size and big-play ability that would complement Holmes.
Alshon Jeffery
At 6'4", 232 lbs., Jeffery is a load coming out of South Carolina. He has excellent hands and is a ready-made red zone threat. He has no problem going over the middle and taking contact. In his junior year, which was his best, Jeffery had 88 catches for 1,517 yards and nine TDs. In his senior year, he averaged 15.6 yards per catch with 49 receptions and eight TDs.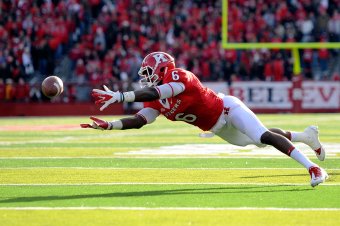 Patrick McDermott/Getty Images
Rueben Randle
Randle had 53 catches for 917 yards and eight TDs in his junior year at LSU in a not so pass-friendly offense. It makes you wonder what he would do in a pass-friendly one. He has the height at 6'4" but not the bulk as he only weighs 208 lbs. But what Randle lacks in bulk, he makes up for in speed. Randle would fit in well with the Jets offense since he already has the experience of being in a similar offense that focused more on the run.
While Floyd, Jeffery and Randle are likely first or second-round picks. Mohamed Sanu out of Rutgers or Nick Toon out of Wisconsin will be available in the later rounds.
Mohamed Sanu
Sanu has good size as he is 6'2'', 218 lbs. He is coming out after a stellar junior year where he had 115 catches for 1,206 yards and seven TDs.
Nick Toon
Toon is an all-around solid receiver who is not particularly elite at anything but is just a productive player. In his senior year, he averaged 14.5 yards per catch and had 10 TDs.