2012 NFL Draft: Why Dont'a Hightower Is Perfect Fit for Pittsburgh Steelers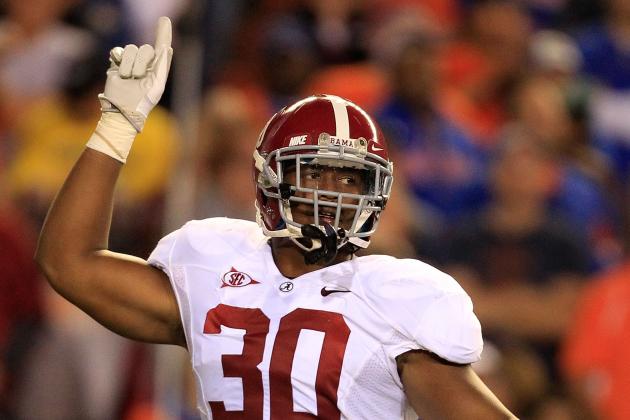 Sam Greenwood/Getty Images
Dont'a Hightower led Alabama with 81 tackles last season.
If the Steelers were to select Alabama inside linebacker Dont'a Hightower in the 2012 draft, he would not only contribute, but also make the already stellar defense better. Hightower is a young, yet experienced player whose size and play-making abilities will scare offensive coordinators.
The Steelers defense ranked No. 1 in overall defense and in pass defense last season. The difference that not many people are talking about is that for the first time in five years the run defense was not ranked in the top three. They ranked No. 8 in run defense, which is still nice, but in Pittsburgh the norm is dominance.
Stopping the run starts with the three down linemen in Pittsburgh's 3-4 scheme. Those guys are space eaters, and make room for the linebackers (usually the inside linebackers) to swarm in and make tackles.
Teams were able to run the ball more effectively against Pittsburgh for two reasons. First being the injuries they had along the defensive line. The second being that other than Lawrence Timmons, they were slow at inside linebacker.
Hightower is a perfect fit for these blatantly clear reasons.
Begin Slideshow

»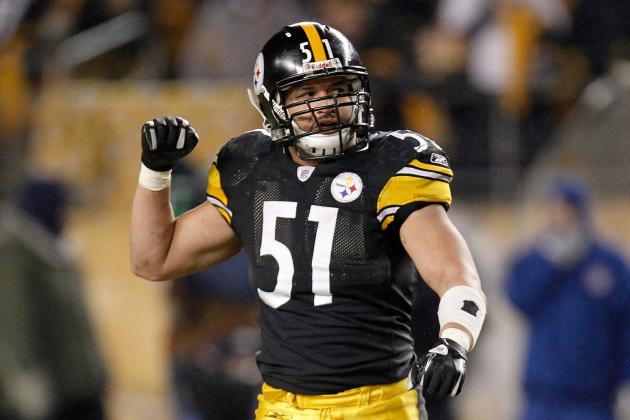 Gregory Shamus/Getty Images
It may be in the Steelers' best interest to part ways with Farrior, the 15 year veteran.
The Steelers are definitely in a transition period as they continue to make a number of changes throughout the offseason. This may indicate that they will break from their usual ways and actually be active participants during the free agent signing period.
The Steelers are working to get under the salary cap, and parting ways with aging linebackers James Farrior and Larry Foote would help that cause. Both are long-time Steelers, so pushing them might result in an outcry from the Steeler faithful.
The ugly truth is that the NFL is a business, and this would be a beneficial business move. Dropping two veterans for a rookie might sound absurd, but for Pittsburgh, Hightower is exactly what they need.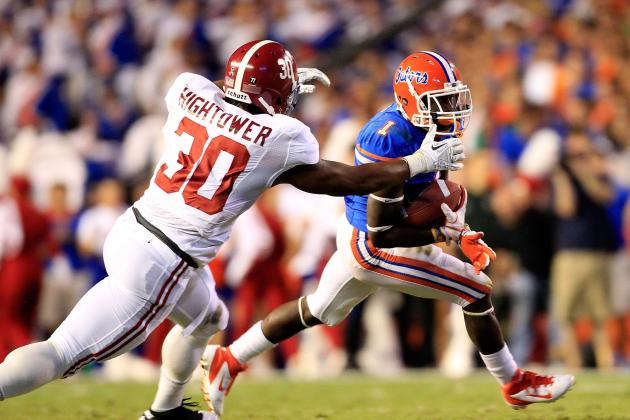 Sam Greenwood/Getty Images

At Alabama, Hightower played inside linebacker and was responsible for play calls and checks for the defense, which was No.1 in points against (8.8 ppg), rush defense (74.9 ypg) and total defense (191.3 ypg).
He also had four tackles and a sack in the National Championship game, where Alabama's defense completely dominated in the 21-0 win that left LSU embarrassed.
Nick Saban's 3-4 defensive scheme, and the rugged SEC, have Hightower prepared for the expectations that come from being a part of the Steelers' defense. He will feel right at home, and like in Tuscaloosa, he will be surrounded by a number of talented teammates.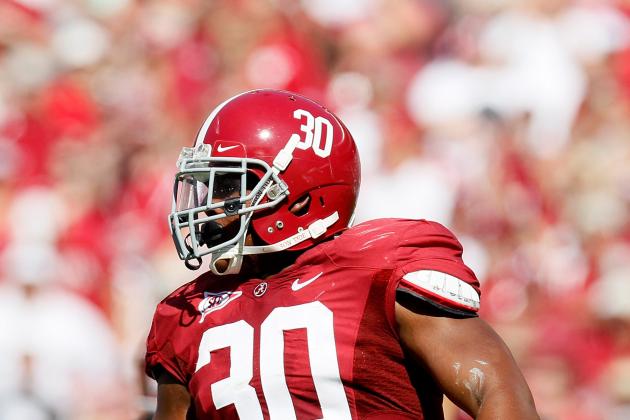 Kevin C. Cox/Getty Images

Dont'a Hightower is not one of those rookies who needs to lose or gain any weight. He is as close to a prototype as there is in this year's draft. According to Alabama's official sports site, he is 6'4" and weighs 260 pounds.
Hightower has a presence that comes with his large frame, and his speed will soon be judged at the NFL combine. He is bigger than both Foote and Farrior, and his age would suggest he's also faster.
The Steelers' linebackers had injury problems in 2011, but if they add Hightower, and stay away from the injury bug, they could have a lethal linebackers corp. Lamarr Woodley, Lawrence Timmons, Hightower and James Harrison would be the best group of four in the league.
Hightower would be another young player, who could have a huge impact on the run defense.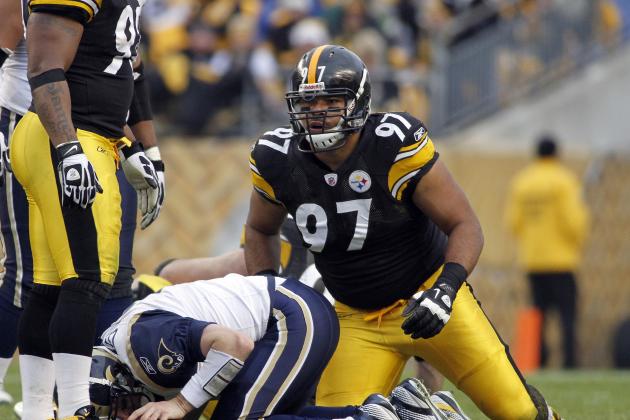 Justin K. Aller/Getty Images
Cameron Heyward will see the field more often as he enters his second season.
The Steelers spent their first round picks in 2009 and 2011 on run-stopping defensive ends—Ziggy Hood and Cameron Heyward. Heyward did not get a lot of opportunities playing behind Brett Kiesel, but he was effective when put on the field.
Hood has proven to be consistent, starting 23 games over the past two seasons filling in for Aaron Smith. In adding Hightower, the Steelers would solidify their run-stopping ability for years to come.
The team needs fresh faces, and they have the ability to create chemistry by infusing a young, exciting football player in Dont'a Hightower.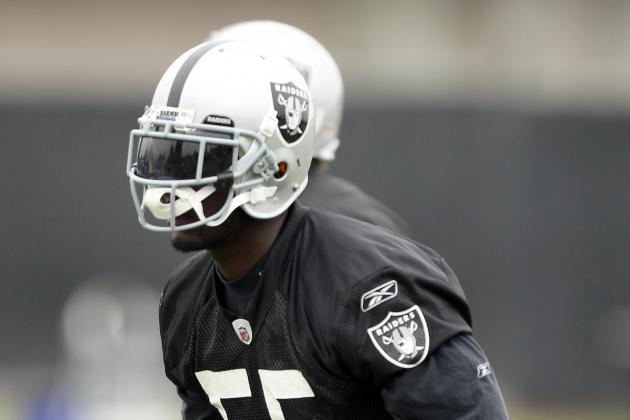 Ezra Shaw/Getty Images
Comparisons to Rolando McClain should end on the field.
The Pittsburgh Steelers pride themselves of drafting high character players, but they have taken chances in the past. Dont'a Hightower has no character issues.
Hightower is a hardworking consensus first-team All-American. Some might point to Oakland Raiders linebacker Rolando McClain, who also hails from Alabama and was arrested December of last year.
Both play inside linebacker and are talented, but off-field comparisons don't find the two so much alike. Hightower won't stir up any trouble in the Steelers locker room.
The Steelers would see an instant impact if they choose Dont'a Hightower in the draft—he is a perfect fit.