Super Mario Bros.: Assesing the Value of Mario Manningham and Mario Williams
February 14, 2012

Despite the fact that they share the same first name, Mario Manningham and Mario Williams are not brothers. In fact, they share very few similarities—one became the star of the Superbowl and the other was watching it at home (along with most of the regular season and playoffs) due to an injury.
One was a former third-round draft pick out of a major college football program; the other was the number one overall pick at a school which was an afterthought in the college football landscape.
One was a little-used option at the start of this season; the other was the cornerstone of a burgeoning defense. Manningham and Williams could not be more different, yet one thing they do have in common is they will be the two most intriguing free agents in the NFL offseason.
Mario Manningham – From Big Blue to still Big Blue
Manningham owes Bill Belichick at least a fruit basket for the payday he's about to receive. The Patriots defense were so concerned about shutting down Victor Cruz and Hakeem Nicks, the Giants' two primary receiving options, Manningham was free to have a breakout game on the greatest stage possible for a prospective free agent.
Although David Tyree's miracle play in Superbowl XLII didn't result in a huge payday, or the security of an NFL job, Manningham's vaulted him to a place in Giants lore alongside Tyree as well as a huge payday. Looking at their postseason stats, the numbers speak for themselves:
 2007 NFL Postseason: David Tyree – 4 games, 4 receptions, 47 yards, 1 touchdown
2011 NFL Postseason: Mario Manningham – 4 games, 13 receptions, 189 yards, 3 touchdowns
Although he had a productive career at Michigan, he flew under the radar when it came time for the NFL Draft. Receivers in general were not a highly regarded group that year, as the first receiver was not taken until the second round. Manningham waited as his compatriots continued to be called ahead of him.
Some justifiable:
Jordy Nelson - #36 Packers
DeSean Jackson #49 Eagles
Some debatable:
Jerome Simpson #46 Bengals
Earl Bennet #70 Bears
Others, range from questionable to criminal
Donnie Avery - #33, Rams
Devin Thomas - #34 Redskins
James Hardy #41 Bills
Eddie Royal #42 Broncos
Malcolm Kelley #51 Redskins
Limas Sweed #53 Steelers
Dexter Jackson #58 Buccaneers
Early Doucet #81 Cardinals
Harry Douglas #84 Falcons
Manningham will receive a huge payday this offseason, and it should not come from the Giants. At best, he is their number three receiver, behind Nicks and Cruz, and he will probably demand #2 receiver money.
The Giants would be wise to wait on Steve Smith to be their slot receiver, who will be available next season at a much cheaper price tag; however, a team in need of more receivers (e.g. Miami, Jacksonville, St. Louis, San Francisco, Cleveland) who miss out on marquee names such as Vincent Jackson, Marques Johnson, and Stevie Johnson will be clamoring to sign Manningham who, at 25 years old, still has his best football ahead of him.
Will he be overpaid, we'll have to wait and see; however, you can't fault him for being the ultimate opportunist, putting himself on the market at exactly the right time.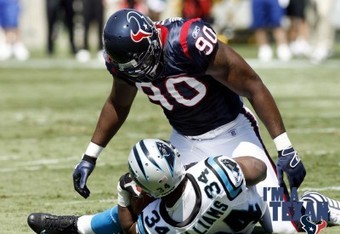 Mario Williams – Justified
There was not one person who wasn't enamored with Reggie Bush heading into the 2006 draft. He absolutely dominated college football. He could run, catch, cut and do just about anything athletically one could conceive of during a football season.
He was one of the top 25 players in college football history gracing, Sportscenter highlights and Youtube views with as much fluidity as he navigated through defenses incapable of containing him, but it didn't end there. He lived up to such a hype with a stellar combine performance which all but assured him the #1 overall pick in the upcoming draft to a young franchise in need of a star.
Then, the unthinkable happened.
News broke the night before the draft that the Texans were going to take defensive end Mario Williams out of North Carolina State with the number one pick instead of Bush. Apparently Bush had the whole world enamored, except for Owner Bob McNair and then Texans general manager Charley Casserly
Williams carries tremendous value in the open market as he proved he can play in a 4-3 or 3-4 defense, meaning every team could use him. Many were worried about his conversion from a traditional 4-3 defensive end to a 3-4 stand-up outside linebacker; however, in five games, he recorded five sacks for the Texans, demonstrating increased comfort in his new position.
After seeing the Tuck-JPP-Osi-Kiwanuka combo wreak havoc on offenses this postseason, don't be surprised to see a trend in teams acquiring as many defensive lineman and linebackers via free agency and the draft, even if it means overpaying or reaching for some. Despite his shortened season, Williams' impending free agency could not have come at a better time for him.
The Giants proved once again that defense wins championships. While the Ravens and 49ers came as close as a team can get due in large part to their stout defenses. Even last year's Superbowl winners, the Green Bay Packers—despite the credit given to their offense—proved their defense deserved just as much, if not more, credit for their championship season.
Their defensive unit ranked in the top five in several defensive categories during the regular season—total yards allowed, passing yards allowed, interceptions, sacks, and scoring—in large part to the efforts of Nick Barnett, Clay Matthews, and B.J. Raji playing at their best.
Jacksonville and Carolina are in desperate need to upgrade their defenses, as could Buffalo who are making the switch back to a 4-3 defense, allowing Williams to move back to his natural defensive end position. New England and Pittsburgh, two teams who will be Superbowl favorites next year, could make use of his versatility to their defensive units.
As for Houston, don't count them out yet, as having Williams and DeMeco Ryans for a full season, along with rapidl- developing young stars J.J. Watt and Brooks Reed, would put the Texans in the Superbowl conversation.
Everyone knows that defense wins championships, but if possible, you'd like to have some offense as well. Both Mario Williams and Mario Manningham can be potential championship factors for the right time—be it a team a few players away from getting into the Superbowl, or a team needing new pieces to establish itself as a contender.
Both players will be in high demand this offseason, as they should be, with their final destinations proving to be very important for the 2012-2013 season.