2012 NFL Draft: Why the Chicago Bears Must Trade Up for Justin Blackmon
February 13, 2012

Doug Pensinger/Getty Images
If you were to take a survey of Chicago Bears faithful as to the keys to righting the ship in the Windy City, you would certainly receive a number of responses, but those responses would just as certainly be dominated by four words.
"Matt Forte" and "wide receiver."
We'll leave the discussion of Forte, this year's leading candidate in Chicago for the franchise tag, for another day and concentrate here on the Bears' need for a true "No. 1" wide receiver, which is seemingly as desperate as it is unending.
While passing records have been falling like dominoes and wideouts across the league have been posting gaudy numbers for years, no Chicago Bears wide receiver has topped 1,000 receiving yards since Marty Booker had 97 catches for almost 1,200 yards in 2002.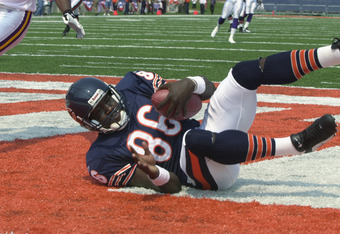 Jonathan Daniel/Getty Images
Marty Booker...in 2002.
That drought includes two seasons of having "Mad" Mike Martz, the supposed vertical passing guru, as offensive coordinator, and while some of it can be explained by the not-so-stellar menagerie of quarterbacks that rotated through Chicago before Jay Cutler's arrival, there been plenty of wide receivers playing for lousy signal-callers across the NFL over the past decade that managed to cross the 1,000-yard mark.
Luckily for the Bears, the 2012 NFL draft features a strong class of wide receivers, but if the Bears are serious about challenging the Green Bay Packers and Detroit Lions in the NFC North in 2012, they need an NFL-ready star in the making—a player that will draw some attention away from Forte, who accounted for nearly half of Chicago's total offense when he was on the field year.
The Bears need Oklahoma State wide receiver Justin Blackmon, the consensus top player at his position in the nation entering the 2012 NFL draft, and they need to trade up into the top five to get him.
The 6'1", 215-pound Blackmon was an absolute terror at Oklahoma State in his junior season, piling up an obscene 121 receptions for 1,522 yards and 18 touchdowns on the way to winning his second straight Biletnikoff Award as the nation's top wide receiver.
Bleacher Report NFL Draft Lead Writer Matt Miller recently wrote an excellent scouting report on Blackmon (a must-read if you're looking for the complete lowdown on the Cowboys star), and while I'll refrain from quoting Mr. Miller ad nauseum, here was the summary of his take on Blackmon:
OVERALL: 9.0

The total of Blackmon's averages don't equal up to a 9.0 score, but sometimes that's the case. You can't account for determination, production and even heart in grading ability from film. Blackmon has drive, and he's been wildly productive. 

Sometimes when scouting wide receivers, we get too cute and focus too much on size or 40-times, when really all that matters is if he can get open and catch the damn ball. Blackmon can definitely catch the ball, and it's that question of his ability to separate that will have scouts following him closely this spring.

NFL COMPARISON: Terrell Owens

The comparison is almost too easy to make. The two wide receivers are very similar in size and speed, both dominate on quick routes as opposed to the long ball while each has been known for drops.

If Blackmon can live up to TO-level wide receiver play, the team that drafts him early in the first round will be very happy.
The Chicago passing game could certainly use a Terrell Owens-type receiver, with Johnny Knox opposite and Earl Bennett or a third wide receiver acquired inexpensively through free agency.
(Cutler is nodding enthusiastically right now.)
This would also allow the Bears to keep Devin Hester off the field except in four- and five-receiver sets, which should help keep the greatest return man in NFL history from suffering an injury on a pass play that causes a riot in Chicago.
Now the question becomes who to trade with and how much will it cost?
Assuming that some team trades up in April's draft and acquires the St. Louis Rams' second overall pick in order to select Baylor quarterback Robert Griffin III, neither of the next two teams on the board would be easy candidates to trade with, for different reasons.
Once again assuming that the two quarterbacks (Griffin and Stanford's Andrew Luck) are off the board, the Minnesota Vikings would likely be sorely tempted to stand pat, as left tackle is a big area of need for the Vikings and Matt Kalil of USC is an elite prospect at the position.
The next team up, the Cleveland Browns, need offensive playmakers even more badly than the Bears do, and may well be eying Blackmon for themselves, as has been speculated.
However, the Browns have also showed a willingness to trade down in the draft, doing so just a year ago when the Atlanta Falcons traded up in order to select wide receiver Julio Jones.
That deal cost the Falcons their 2011 first- (27th), second- and fourth-round picks and 2012 first- and fourth-round selections in order to acquire Cleveland's sixth overall choice.
The price tag for the "Blackmon Pick" may actually be a bit higher, even though the Bears pick higher in the first round (19th), if for no other reason than, as I said, both the Vikings and Browns have large holes of their own that could be filled with Kalil or Blackmon.
That said, were the Bears to offer the 19th overall pick, their second-round selection and one of their two third-round picks this year and throw in a first/fifth "combo" next season similar to what Atlanta offered the Browns in 2011, the front offices in Minneapolis and Cleveland would have to strongly consider it, especially considering that both teams are rebuilding and have multiple needs to address.
It's a steep price to pay, but like it or not the Atlanta Falcons sort of "set the market" last year, and that was for a player that they had just fallen in love with, not one that would address a gaping hole in the Chicago offense that the Browns and Vikings are fully aware exists.
Before you start shaking your heads that's it's just too big a price to pay, Bears fans, consider this:
Until Cutler and Forte were injured last year, the Chicago Bears were a contending team with a strong-armed quarterback that was forced to rely almost entirely on the ground game for offensive production.
Now imagine how good that team could be if they ranked sixth in the National Football League in passing offense instead of 26th.
Sometimes to win big you have to bet big, and that stack of chips in Green Bay isn't going to get any smaller unless the Bears start chipping away at it, so maybe it's time for Chicago to go "all in."