Justin Blackmon 2012 NFL Draft Scouting Report
January 12, 2012

Donald Miralle/Getty Images
Oklahoma State wide receiver Justin Blackmon's name has been a hot one in scouting circles over the last two seasons as he accumulated ridiculous, Madden-like stats with quarterback Brandon Weeden. How does Blackmon's game translate to the NFL?
Blackmon currently carries a Top 10 grade on my board, but he has the talent to move up as much as any player in the pre-draft process. Teams like the St. Louis Rams, Minnesota Vikings, Cleveland Browns, Jacksonville Jaguars and Carolina Panthers will all be taking a long look at Blackmon in the 2012 NFL draft.
| | | | | |
| --- | --- | --- | --- | --- |
| Justin Blackmon | Oklahoma State | 6'1" | 215 lbs | 4.56s |
| 121 catches | 1,522 yards | 18 TD | 67 long | 12.6 avg |
ACCELERATION
Film Study:
When someone asks about Justin Blackmon's ability to separate from defenses, I always think back to this play in the Fiesta Bowl. 
Blackmon makes an NFL-level catch here, eerily similar to the old John Taylor slant route with the San Francisco 49ers. Much like Taylor did in those days, Blackmon shakes an arm tackle and explodes into space.
I love that Blackmon didn't leave his feet when making this catch—a bad habit so many young receivers have today. By keeping his feet on the ground and making the catch with his hands and not his body, he's in position to attack and get up-field.

Overall: 8.5
A major question will be how well does Blackmon accelerate from NFL defenders. His short-shuttle times will be heavily scrutinized to show how well he moves in short areas and how fast he changes direction. Until that test is run at the Combine, we can check the film.
AGILITY
Film Study:
Agility means so many things to the wide receiver position—can the player adjust for the ball, does he maintain balance off the line of scrimmage, can he make moves in space?
Justin Blackmon does them all on this play. 
At the top of the screen we see Blackmon come off the line and force the cornerback into his back-pedal early. He then stops suddenly (showing good balance and body control) and squares himself to the quarterback. Once he has the ball, Blackmon explodes into a sprint but has the agility to spin, keep his balance and pick up extra yards.

Overall: 9.0
The more I watch Blackmon, the more impressed I am with his overall agility. His body control is exceptional (see the Sport Science clip above) and is a testament to his overall strength, flexibility and balance.
BLOCKING
Film Study:
Blackmon engages the defender well but doesn't finish off his block, and the cornerback assists on the tackle. What went wrong?
Blackmon makes good initial contact, but his feet go dead and instead of driving the cornerback off the field he fights with him to gain position. Blackmon is bigger, strong and knows where the ball is going. He has to turn the defender away from the play so the tackler can't get an arm free. He doesn't do this, and what could have been a big run is negated.
Overall: 7.5
Blackmon has the size and strength to dominate as a blocker, but he doesn't show the same effort as Michael Floyd or even 2011 draftee Julio Jones. Oklahoma State is not a running team, so his opportunities were more limited, but this is an area that needs work.
HANDS
Film Study:
I'm sure many of you will think I'm being overly critical, but this is a play NFL general managers and coaches will ask about, mostly because it's a big problem and something that all young receivers are going to come under the gun for.
The play shows not only that Blackmon can get lazy in his technique, but that he has a little show-boat in him. There are uncountable clips of Blackmon making insane catches, but it's the one drop that can change a game that NFL coaches will ask about. And this wasn't a one-time issue, Blackmon had numerous drops in 2011.
Overall: 8.0
The major complaint I have with Blackmon's hands are that he'll make amazing, jaw-dropping catches and then follow it up with an easy drop over the middle. His consistency needs work, and this all stems from concentration. 
Unlike some other wide receivers, Blackmon's drops don't come from a fear of being hit, but because he's in too much of a hurry to get up field when coming over the middle or because he takes his eyes off the ball to look at the boundary on the sideline.
ROUTE RUNNING
Film Study:
Facing Prince Amukamara during the 2010 season, Blackmon made a name for himself. This play helped.
The play is brilliantly designed, but Blackmon sells the run by coming off the line slow and at an angle, like he would be setting up a block. Once quarterback Brandon Weeden has the ball off the flea flicker, Blackmon turns on the jets. 
This is a trick play, but the small details—like jogging off the line and taking a blocking angle—show that Blackmon is a well-coached receiver. 
Overall: 8.5
One thing I really like about Blackmon is that he works back to the football. This is something not enough wide receivers—pro and college—know how to do. Blackmon is aided by his size, which allows him to keep defenders from reaching around him to deflect passes away.
Blackmon doesn't have great speed, but he does show he can stop-and-start well on comeback routes. I'd like to see more precision in Blackmon's cuts, but he has good upside to stab and change direction. He adjusts to the ball in flight very well, making him a dangerous deep ball threat even if he's not a burner down field.
SIZE
Overall: 8.0
The Sport Science video goes to great length to hype Blackmon's size, but I'm not sure why.
Let's compare Blackmon to the two best receivers I've scouted recently—Julio Jones and Calvin Johnson. 
| | | | | | | |
| --- | --- | --- | --- | --- | --- | --- |
| Player | Ht. | Wt. | Arms | Vert. | Broad | 40 time |
| Blackmon | 6'1" | 215 | 34" | 33" | 10'11" | 4.56 (est) |
| Jones | 6'2" | 220 | 33 3/4" | 38 1/2" | 11'3" | 4.39 |
| Johnson | 6'5" | 239 | 33 3/8" | 45" | 11'7" | 4.35 |
Justin Blackmon has good size, but it's not elite outside his arm length (which is very important). The next time you hear his size complemented, remember this table.
SPEED
Film Study:
The biggest uncertainty surrounding Blackmon is his speed. Can he accelerate away from defenders? Does he have the speed to stretch the field?
This clip is against Texas and Aaron Williams—a 2011 draftee and player many considered moving to safety due to his lack of speed—until he ran a 4.44 in the 40-yard dash at the Texas Pro Day. If Blackmon can beat Williams deep, that speaks well to his potential. Now can he do it consistently?
Overall: 8.0
Undoubtedly there will be questions about Justin Blackmon's ability to run past defenders. If you've ready this space long you've seen me wondering the same thing. At this point, all I can tell you is what I've seen.
Blackmon can separate from single coverage using his body to block out defenders, and there is some ability deep. As shown in the clip, if it's zero coverage you can throw it up and let Blackmon adjust to the ball. The problem is, he's not going to see single coverage much in the NFL and his acceleration isn't great. NFL cornerbacks will ride his hip pocket all day if he can't explode off the line.
Blackmon has field speed, but he's not going to time out of this world.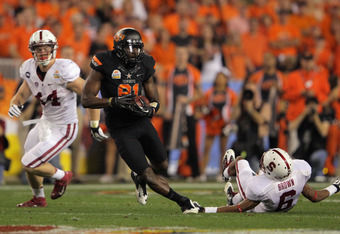 Doug Pensinger/Getty Images
OVERALL: 9.0
The total of Blackmon's averages don't equal up to a 9.0 score, but sometimes that's the case. You can't account for determination, production and even heart in grading ability from film. Blackmon has drive, and he's been wildly productive. 
Sometimes when scouting wide receivers, we get too cute and focus too much on size or 40-times, when really all that matters is if he can get open and catch the damn ball. Blackmon can definitely catch the ball, and it's that question of his ability to separate that will have scouts following him closely this spring.
NFL COMPARISON: Terrell Owens
The comparison is almost too easy to make. The two wide receivers are very similar in size and speed, both dominate on quick routes as opposed to the long ball while each has been known for drops.
If Blackmon can live up to TO-level wide receiver play, the team that drafts him early in the first round will be very happy.