20 NFL Players Who Stood in the Way of Their Team's Success in 2011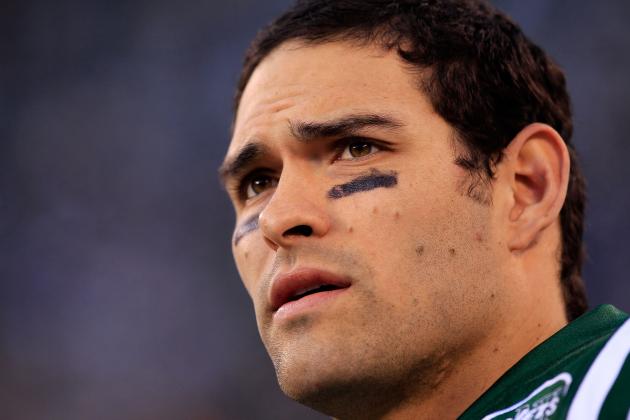 Chris Trotman/Getty Images

Football is a cutthroat business. Poor performances are rarely tolerated, and general managers are quick to offload expensive contracts attached to disappointing players.
At this time of year, the free-agency gold rush and the draft dominate the agenda in NFL front offices. Clearing cap space to make future roster moves begins now, and a number of players will face a nervous few weeks in the knowledge that they are on the hot seat.
Not all the players on this list will be traded or released, but all of them have one thing in common: They need to deliver for their teams, fast.
Let me take you through the top 20 players who stood in the way of their team's success in 2011.
Begin Slideshow

»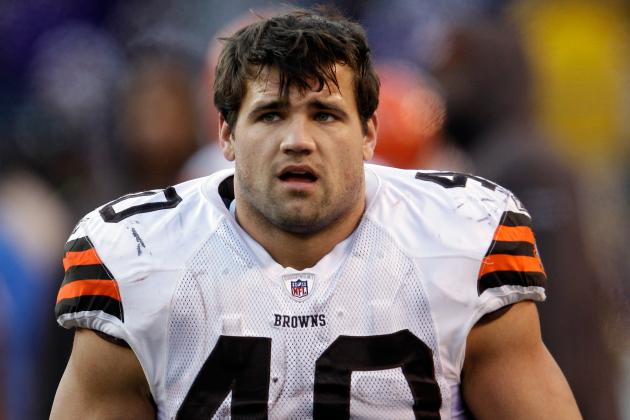 Rob Carr/Getty Images

The poster child for how to ruin your contract year, Peyton Hillis' stock plummeted in 2011, all thanks to the soap opera he created around himself.
The list of offenses is extensive. Last season Hillis arrived late at a team meeting, missed a team charity function, sat out the Week 3 clash with the Miami Dolphins due to strep throat, rejected a contract extension and got married in October, missing rehab time for his injured hamstring.
Hillis forged a much more wholesome reputation for himself as a bruising downhill runner in 2010, but his numbers suffered against the circus backdrop last season, rushing for the lowest yards per carry of his career (3.6).
The distractions in Hillis' life off the field clearly had a detrimental effect on the Browns' production on it, as they posted 13.6 points per game on offense, ranked third worst in the NFL.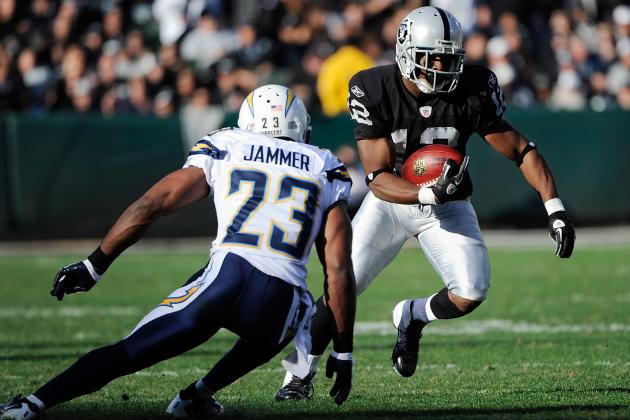 Thearon W. Henderson/Getty Images

Who should shoulder the blame for another disappointing season for the San Diego Chargers?
Philip Rivers took a step backwards after a fine 2010 season—his 20 interceptions proved costly—but 4,600 yards and 27 touchdowns hardly represents a meltdown.
Going deeper into the numbers, the 13th-ranked pass defense wasn't as robust as it first seems. According to research by Football Outsiders, the Chargers have two of the bottom-12 cornerbacks in the NFL in "Success Rate" (percentage of passes defended).
Opponents completed 60 percent of all passes thrown into Quentin Jammer's coverage in 2011, allowing teams to move the ball down the field with ease. Antoine Cason didn't fare much better, allowing 57 percent.
Pro Football Focus agrees, awarding opposing quarterbacks a 129.9 rating when throwing on Jammer, the highest rating in the NFL.
For a former fifth-overall draft pick, more consistency is required.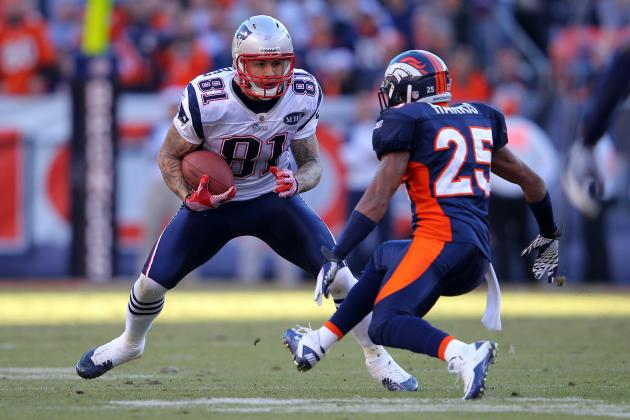 Doug Pensinger/Getty Images

Chris Harris was one of the weak links in a Denver defense that allowed just 17 points per game across a six-game winning streak that put the Broncos in pole position in the AFC West.
Against elite quarterbacks, the Broncos struggled, allowing 49 points to Aaron Rodgers, 45 to Matthew Stafford, and 41 and 45 to Tom Brady across two games.
Football Outsiders have Harris ranked ninth in worst success rates for all cornerbacks in the NFL, meaning quarterbacks victimized him when the strong pass-rush of Elvis Dumervil and Von Miller failed to fire.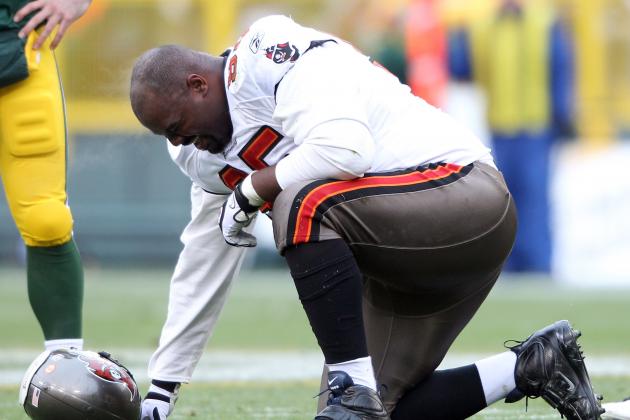 Elsa/Getty Images

Haynesworth literally stood in the way of the Buccaneers' success in 2011, as an overweight, under-performing defensive tackle who has just been released as reward for his lackluster efforts.
A back injury and a poor attitude limited his appearances in New England to rare cameos across six games, but his work in an expanded role down in Tampa was just as underwhelming, playing in seven losing efforts, registering 18 tackles and zero sacks.
His presence was expected to stiffen a weak run defense, but the 32nd-ranked unit was even worse with him on the field. He may be running out of teams willing to give him a chance, but given his questionable motivation and passion for the game, few fans will shed a tear over his demise as a force in the NFL.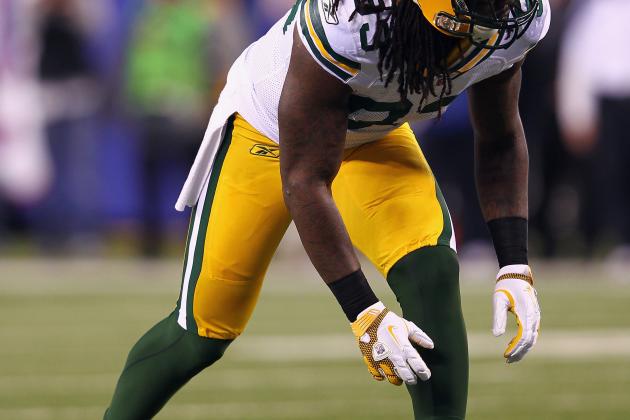 Al Bello/Getty Images

Erik Walden was a real weakness in the Green Bay Packers' front seven in 2011, as he failed to take advantage of the extra attention paid to Clay Matthews, registering just three sacks and 41 tackles.
Opposing offensive coordinators targeted the right outside linebacker in the run game, with Walden failing to set the edge with conviction throughout the year.
Coupled with an inability to generate pressure on the quarterback, teams were able to keep Green Bay's defense out on the field for long, draining drives, contributing to the dubious record of conceding the most single-season yards in NFL history (4,796 yards).
The Packers are desperate to land a second-impact rusher through the draft or free agency, and following his November arrest for allegedly assaulting his girlfriend, the free agent could struggle to find work in 2012.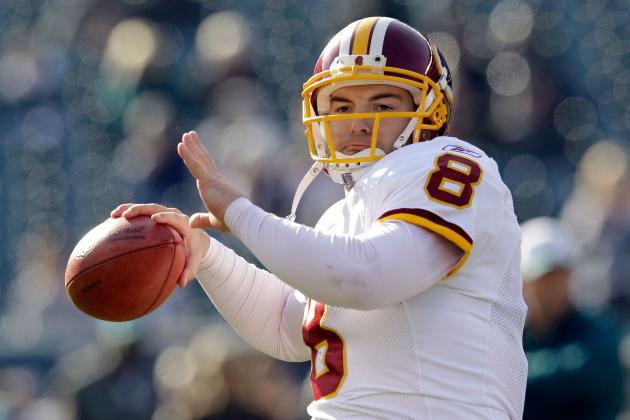 Rob Carr/Getty Images

Grossman's headline numbers (16 touchdowns, 20 interceptions) in 2011 did as much to derail the Redskins' season as any other player on the roster.
That said, his 57.9 percent completions ranks as a career-best, which says more for his time as an erratic backup in Chicago than anything else.
As a free agent in 2012, teams looking for a backup quarterback should go elsewhere. While his arm strength and occasional poise in the pocket allow him to make some impressive-looking throws, his decision-making leaves a lot to be desired, throwing into question his ability to manage or close out a game without taking risks.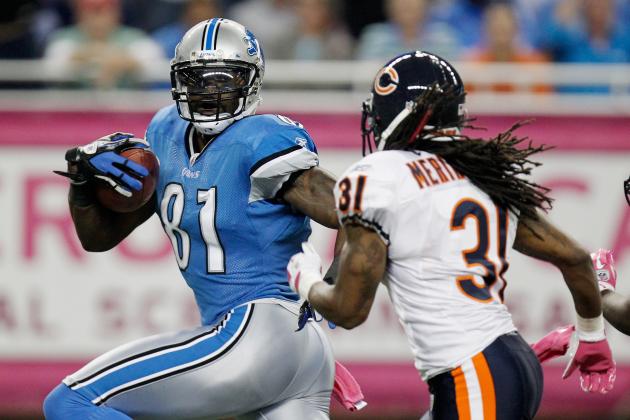 Gregory Shamus/Getty Images

At 28 years old, what you see is what you get with Brandon Meriweather.
For an experienced veteran of five seasons, his tackling technique is poor, and his decision-making is even worse. Bill Belichick finally lost patience with him in New England, cutting the former first-round pick before the regular season.
The only surprise was that Chicago allowed him to play 11 games before coming to the same conclusion.
A free agent, Meriweather will struggle to find work in 2012, having flamed out in two places in the NFL.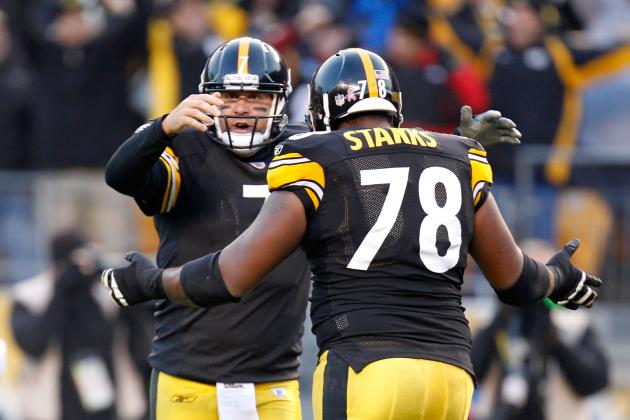 Gregory Shamus/Getty Images

The Steelers allowed 42 sacks in the regular season and five in the Wild Card defeat to the Denver Broncos.
For a quarterback who extends the play and avoids pressure better than most in Ben Roethlisberger, that is simply too many sacks to tolerate, and Starks may find himself out of a job as a free agent in 2012.
Rookie Marcus Gilbert spent his rookie year learning the trade at right tackle and could take over as Big Ben's blindside bodyguard next season.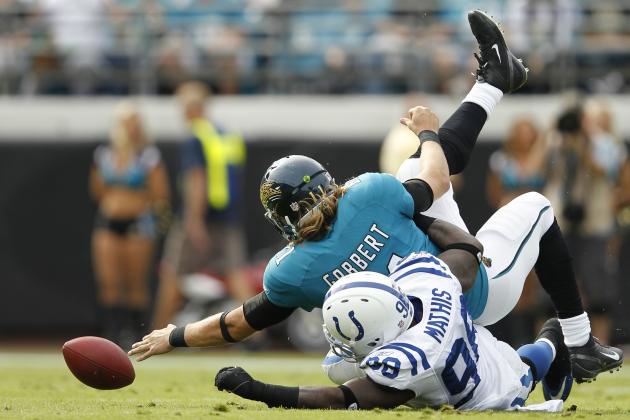 Joe Robbins/Getty Images

It's hard to blame Gabbert for being selected as a top-10 draft pick, then playing 15 games as a rookie with no veteran to sit behind and learn from and no receivers to throw to.
But even though the Jaguars' front office should take the brunt of criticism in Jacksonville, Gabbert's rookie stats are hard to ignore. They were horrible.
With a passer rating of 65.4 (last in the NFL), 12 touchdowns and 11 interceptions, the only encouragement I can find is in the form of Josh Freeman, who posted a 59.8 rating in 2009 (290 pass attempts) and improved beyond recognition in his second season.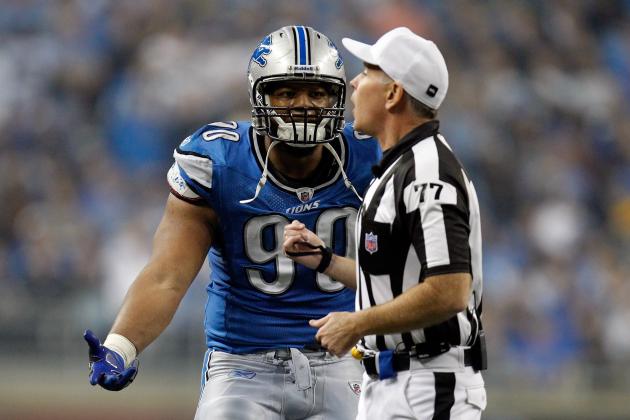 Gregory Shamus/Getty Images

After an explosive rookie season in 2010, Ndamukong Suh was widely tipped to become the next Warren Sapp—though not by Sapp himself, but that's for a separate article.
This isn't a critique of Suh's production—although his four sacks in 2011 were a disappointment, he will learn over time to build up his pass-rushing repertoire. Power moves alone won't cut it over a long career of squaring off against strong lineman.
In short, Suh makes the list because he let his teammates down at a key stage of the season. Facing the Green Bay Packers on Thanksgiving, he stomped on the arm of guard Evan Dietrich-Smith, receiving a two-game suspension in the process.
His ferocious play on the field was once characterized as a burning intensity, but having crossed the line, there are question marks over his temperament which could undermine his impact in the NFL.
With talent comes responsibility. Suh needs to assume the mantle of leadership in 2012, because the Detroit front four loses much of its potency in his absence.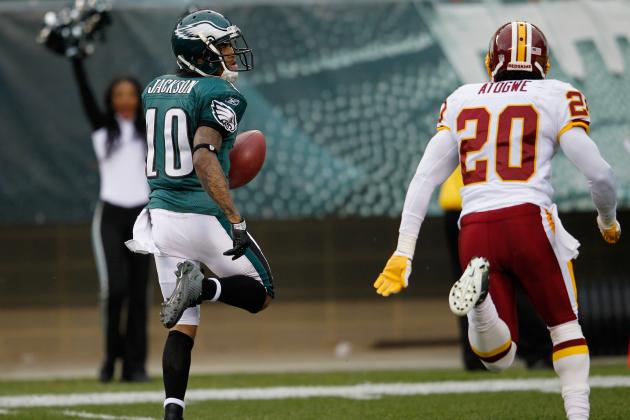 Rob Carr/Getty Images

Jackson's production suffered a setback in 2011, failing to reach 1,000 yards in 15 games while scoring just four touchdowns.
More worryingly, his reputation as a diva is growing, and his one-game benching for failing to attend a team meeting throws up a red flag to any teams interested in exploring a contract with the explosive young wideout in free agency.
With the right environment and a strong group of veterans keeping him in check, Jackson could once again scale the heights of his 2010 season, where his big-play ability led all receivers in yards per reception with 22.5.
Last year, however, his lack of focus and immaturity took away from his performances on the field, as the "Dream Team" fell by the wayside.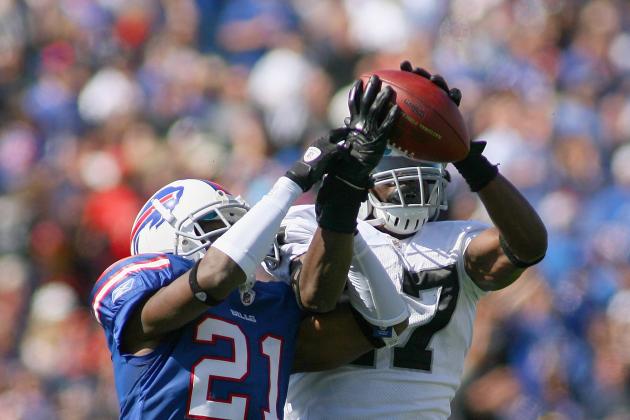 Rick Stewart/Getty Images

Nobody was burned more frequently on big plays this season than Leodis McKelvin.
Down the stretch, the Bills lost eight of their last nine games, giving up an average of 31.9 points as the wheels came off on yet another season that had started brightly.
Football Outsiders charted McKelvin as the worst cornerback in the NFL in yards per pass reception allowed, with 11.4, including four passes allowed over 40 yards and another completion for 34 yards.
His general play was consistent, with 58 percent of all passes defended, but mental lapses in concentration were frequent, contributing to his slide down the depth chart towards the end of the year.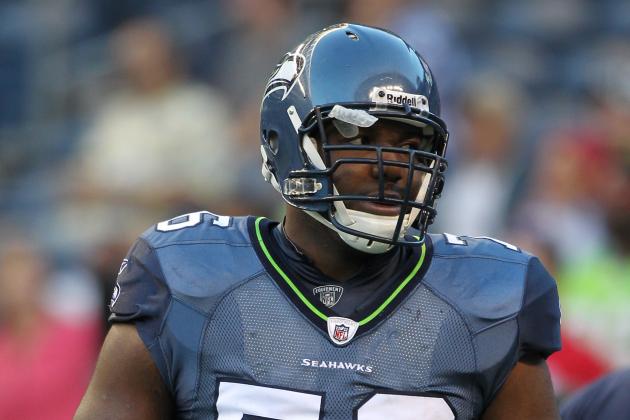 Otto Greule Jr/Getty Images

Russell Okung was rated by some draft experts as the best overall prospect in 2010, but this will come as no comfort to Seahawks fans, who have watched the sixth-overall pick give up sacks with alarming frequency in 22 career starts.
Paying $29 million in guaranteed money to the left tackle in his rookie deal, the Seahawks are entitled to expect more from Okung, but as part of a line that gave up 50 sacks in 2011 (3.1 average per game), he is earning a reputation as a turnstile on Tarvaris Jackson's blind side.
He is still young and relatively inexperienced, but given that elite tackles typically succeed early in their professional careers, the alarm bells have been raised in Seattle.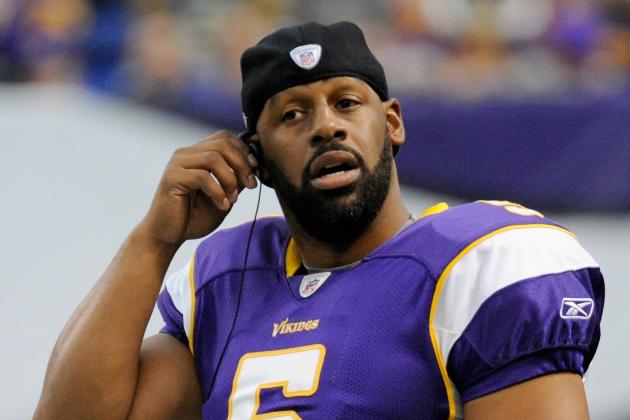 Hannah Foslien/Getty Images

Everything that Donovan McNabb was brought in to be, he wasn't.
A solid veteran starter who could lead the Vikings to the playoffs? No. A mentor for rookie quarterback Christian Ponder? Hard to be that, when you request your release after getting benched.
The Vikings never recovered from their 1-5 start with McNabb under center, who opened the season with a 39-yard performance in the 24-17 loss to the San Diego Chargers.
For what it's worth, 39 passing yards is lower than any career start by Tim Tebow, a man who is heavily criticized for his lack of pocket-passing ability.
After his third outing without a touchdown, coach Leslie Frazier finally lost patience and benched the 13-year veteran, seeking a better complement to Adrian Peterson's obvious talents at running back.
A disaster from start to finish.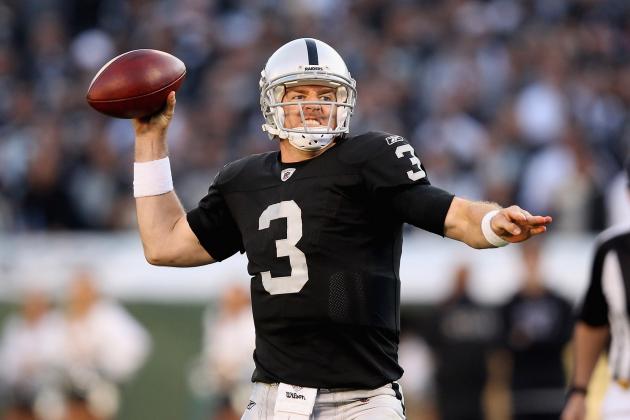 Ezra Shaw/Getty Images

Carson Palmer was meant to represent the "win now" mentality of Hue Jackson's Oakland Raiders, but the man who was brought in from the cold in Cincinnati was a major disappointment.
Palmer threw more interceptions (16) than touchdowns (13) for the first time in his career, while posting a miserable 80.5 passer rating. Only his rookie year and the injury-plagued 2008 season rank lower.
For a quarterback who cost the Raiders a first-round pick in 2012 and a conditional second-round pick in 2013, Palmer was expected to steer his team to a playoff berth, and following a 4-2 start, expectations were high.
But six picks in his first two starts killed the Raiders' momentum and any notion that Palmer was an upgrade over Jason Campbell.
Jackson may be gone, but Palmer remains with the team, a millstone around the neck of new general manager Reggie McKenzie.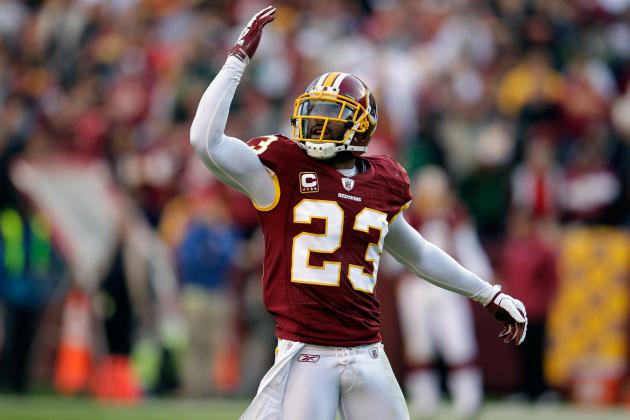 Rob Carr/Getty Images

DeAngelo Hall achieved the rare combination of allowing many completions and big plays in 2011, making him the worst-ranked cornerback in the list.
He is the only cornerback to make both lists drawn up by Pro Football Focus, for completion percentage of opposing quarterbacks (fourth worst with 67 percent) and total yardage conceded (fourth worst with 858).
At least Hall recognizes his issues. Following the Week 11 overtime loss to the Dallas Cowboys, Hall declared that if he were the 'Skins general manager, he would cut himself:
It's frustrating, but I can't point a finger at anybody but myself. The way I'm playing right now, they need to go cut me because I'm definitely not worth what I'm getting. It's frustrating. Hopefully they see something in me and they bring me back next year, but the way things are going right now, I'm definitely not playing up to par.
It's hard to disagree with him, with the numbers overwhelmingly supporting his point of view.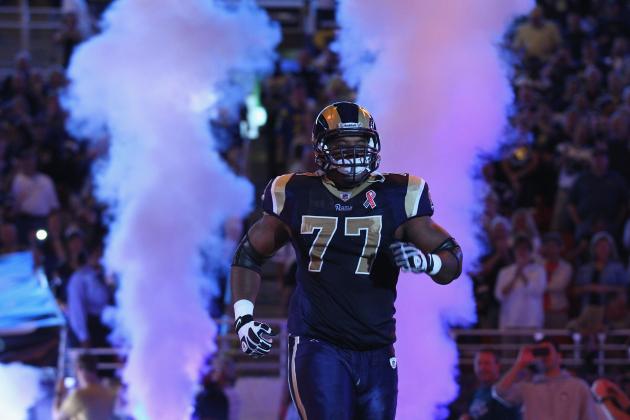 Dilip Vishwanat/Getty Images

Jason Smith's impact on the St. Louis Rams has effectively reduced their franchise quarterback to little more than a tackle bag for defensive ends.
The Rams selected Smith with the second pick of the 2009 draft, and he has been a monumental bust over three seasons, losing his starting left tackle job to rookie Rodger Saffold in 2010 and giving up sacks on a routine basis at right tackle ever since.
With $33 million guaranteed over his rookie contract, rumors are circulating that the new regime in St. Louis, led by head coach Jeff Fisher, will cut Smith before the start of next season, drawing a line under a miserable performance as part of a line that gave up 55 sacks in 2011, ranked worst in the NFL.
Football Outsiders ranked the Rams' offensive line 30th in run blocking and 28th in pass protection in 2011, so although Smith's poor play is part of a wider issue, what's worse is that his passion and enthusiasm for the game have been questioned all too often.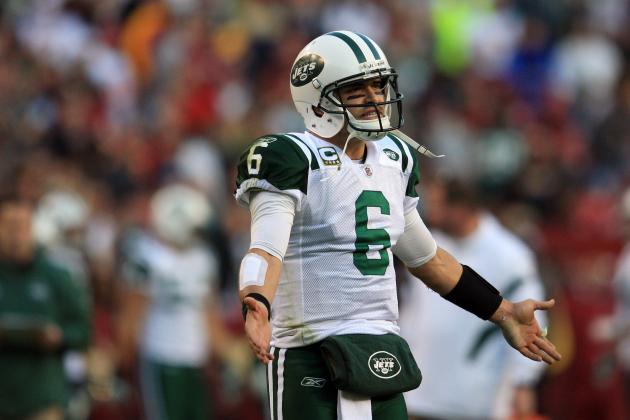 Rob Carr/Getty Images

Mark Sanchez is not a franchise quarterback. Or rather, his production has yet to match the expectations of a fifth-overall draft pick.
Bleacher Report Featured Columnist Tony Santorsa produced an excellent in-depth analysis of Sanchez's progression over three seasons, offering hope for the future, but one alarming statistic stands out above the rest: a third-down completion rate of just 34.4 percent.
With 56.7 percent completions and a 78.2 passer rating in 2011, Sanchez struggled to find open receivers, and considering that he had Santonio Holmes, Dustin Keller and Plaxico Burress at his disposal, he wasn't short on options.
The play-calling of Brian Schottenheimer has taken a fair share of the criticism in New York, but given Sanchez's accuracy issues, a conservative game plan was designed with the quarterback in mind.
With an upper-tier quarterback, the Jets have the talent to knock the New England Patriots off the top spot in the AFC East. With Sanchez, they may continue to toil for a little while longer.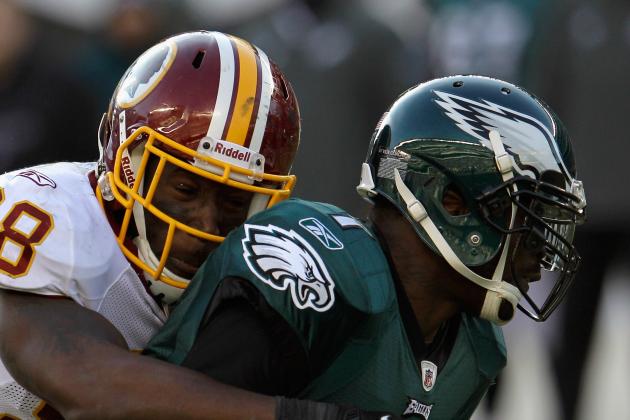 Rob Carr/Getty Images

Vick's success in 2010 was built on the foundations of pocket passing, in spite of his obvious rushing talents which produced nine touchdowns on the ground.
By showing patience and going through his progressions in the pocket, Vick's throwing surprised many who believed that he would struggle to make plays as a traditional quarterback.
It was therefore a surprise to see him abandon the principles that made him a fringe candidate for the league MVP the season before, in a lackluster 2011 campaign.
Skittish and impatient in the pocket, Vick made big mistakes all season, throwing a career-high 14 interceptions and showing the inaccuracy that plagued the earlier part of his career.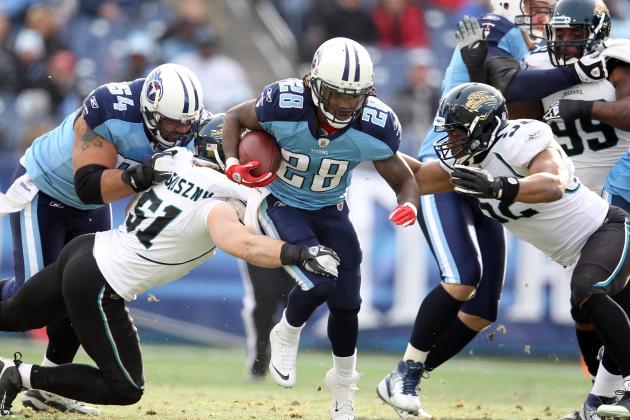 Andy Lyons/Getty Images

Chris Johnson rushed for 1,047 yards in 2011, his worst total in four NFL seasons but still good enough for 14th best in the league.
While he deserved his payday after a 2,000-yard year in 2009, there can be no doubt that his contract holdout affected his early-season form, with just one 100-yard outing through the first eight games.
At 9-7, the Titans just missed out on a playoff berth, and the inconsistent play of Johnson was one of the key reasons why.
In games in which Johnson rushed for less than 60 yards, the Titans were 4-6. He looked slower and lacked the explosiveness that landed him the $53 million deal in the first place.
Rumors that Johnson may be cut this offseason have circulated for months, but I would be shocked if he didn't get at least another season to prove that the hunger is still there.
But for a man who should have led the charge for playoff success, CJ2K was a major disappointment in 2011, and has given new general manager Ruston Webster a big decision to make in his first few months in office.