Oakland Raiders: Defensive Back Options to Replace Stanford Routt
February 10, 2012

Bob Levey/Getty Images
Yesterday, as reported by CSNBayArea.com, the Oakland Raiders made a significant roster move by cutting cornerback Stanford Routt. It was a bold decision by new general manager Reggie McKenzie to shake up a defense that ranked 29th in total yards and 27th against the pass. Those stats are actually a bit deceptive, as the Raiders somehow looked worse than the numbers indicate. And a significant reason for that was the play of Routt.
The seven-year veteran defensive back was continually picked on by the opposition last season, and he struggled mightily. He led the NFL with 17 penalties, eight of which were for holding, seven for pass interference. Clearly, he could not keep up with opposing wideouts' crisp route-running.
And during the final five games of the season, when Oakland was desperately trying—and failing—to hold onto a playoff spot, Routt was one of the biggest goats. In the final three games—losses to Detroit and San Diego sandwiching a win against Kansas City—Routt was burned time and again during lengthy last-minute drives. The Oakland secondary was routed by opposing quarterbacks, allowing a whopping 31 passing touchdowns on the season.
Routt did not come through when the Raiders needed him most, and as a result he's been released with four years left on his contract—which was part of the problem to begin with.
Oakland had hoped that Routt would step in and fill the void left by Pro Bowl cornerback Nnamdi Asomugha last offseason, who departed via free agency to the Philadelphia Eagles. The Raiders invested so much confidence in Routt after Asomugha left that they restructured his contract for five years, $54.5 million and made him the 15th-highest-paid player in the NFL, according to Forbes.com. Yes, this is a cornerback who had never made a Pro Bowl, and who never had more than three interceptions in a season (until last year.)
Clearly, McKenzie has chosen to atone for mistakes made during the final few seasons of Al Davis' reign. (Davis surely was attracted to Routt's blazing 40-yard dash time in the 2005 NFL Scouting Combine.) However, ridding the team of some expensive contracts is the first step in evaluating the roster and making necessary personnel changes, and "re-Routting" one of their veteran defensive backs was an absolute necessity.
New head coach Dennis Allen is a defensive specialist who was a former college cornerback himself, and the front office and coaching staff need to revamp the defense starting with the secondary. But that leaves Oakland with some fairly inexperienced young defensive backs.
Last season, rookies DeMarcus Van Dyke and Chimdi Chekwa both saw limited action, mostly in nickel packages. Chekwa, in fact, only played the first four games before suffering a season-ending hamstring injury. Can he bounce back and compete in training camp for a starting spot? Can Oakland rely on some unproven talent in Chekwa and Van Dyke?
The Raiders will probably have to replace two DBs on their roster, however, as cornerback Lito Sheppard is a free agent and should not be re-signed. Likely, the Raiders will have to expand their options and look into the free agency pool. But who could Oakland target to replace Routt?
According to Football's Future, the top cornerbacks in the 2012 free agent market include: Carlos Rogers (San Francisco), Brent Grimes (Atlanta), Cortland Finnegan (Tennesee), Brandon Carr (Kansas City), Terrell Thomas (New York Giants), Richard Marshall (Arizona) and Rashean Mathis (Jacksonville.) So, there are some formidable options to pursue this offseason.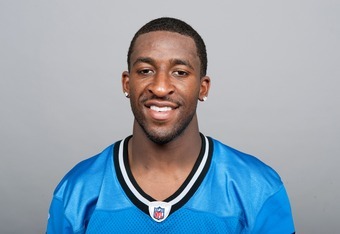 Handout/Getty Images
Among these candidates, Rogers is coming off a career year, likely putting him out of reach financially. Finnegan's feisty behavior and personality would have made him a viable signee if Davis were still running the show; but under McKenzie, Oakland will not take on his on-field character, especially considering the team's ambition to become more disciplined. The most attractive player is Carr, who is young (25), healthy (zero missed starts in four seasons) and productive (four interceptions in 2011.)
Carr, however, still has a chance at being tagged as the franchise player by the Chiefs, making him unavailable to the Raiders. Oakland will have to dig a bit deeper and be more creative in choosing replacement defensive back.
Detroit Lions free agent Eric Wright warrants serious consideration. He started 16 games last year, collecting 74 tackles and four interceptions. Additionally, the Giants have five defensive backs who are eligible for free agency: Thomas, Will Blackmon, Michael Coe, Aaron Ross and Justin Tyron. Picking off one of them could be a workable scenario, depending on who remains available.
Needless to say, the Raiders have some work to do in solidifying their defensive roster, and they'll likely have to undertake extensive study of the free agent market to find quality players (Oakland currently has only two late-round draft picks in 2012.) But they absolutely made the right move by releasing Routt and changing the direction of their team.
Follow me on Twitter: @nathanieljue