NFL Draft 2012: Ranking the 10 Best Offensive Tackles in the Class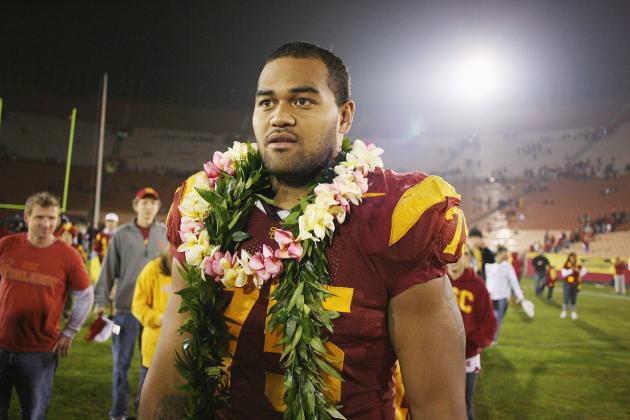 Jeff Golden/Getty Images

It's not the best tackle class in history, but it certainly isn't bad.
With the 3-4 defense gaining more ground, pass rush specialists are becoming the norm. Furthermore, the quarterback position has never been more important. Because of these two things, the tackle position has never been more important either.
After all, when you rely on your quarterback, and every other team has a guy whose only job is to hit your quarterback, then you have to have some protection.
Here is my list of the top 10 tackle prospects in this year's class.
Also, if you want to see more of my rankings, here are my 2012 rankings for quarterbacks, corners and defensive ends.
Begin Slideshow

»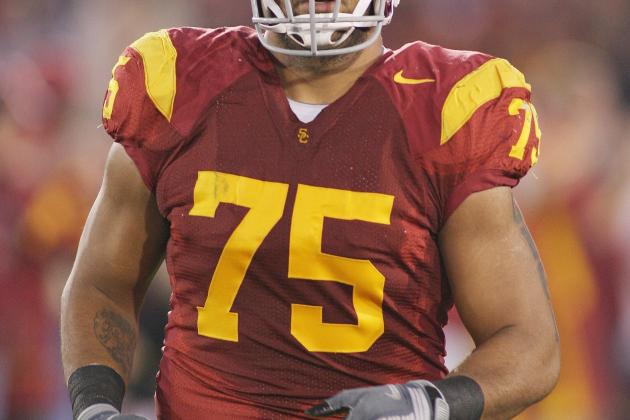 Jeff Golden/Getty Images

Matt Kalil isn't just the best tackle in this class, he's one of the better tackle prospects of the last decade.
He has it all. The right height (6'7"), good strength, great tape, quick feet, NFL bloodlines and no off-field issues.
Kalil's only weakness is that he's a little on the light side (295 lbs.), but putting on a few pounds on an NFL workout ought to be easy enough. Even if he doesn't increase his weight, it's not that big a deal.
There's no way he falls out of the top five.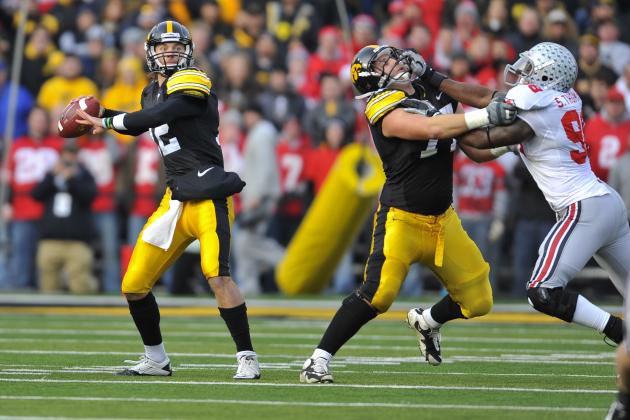 David Purdy/Getty Images

Riley Reiff gained some prominence recently, since Mike Mayock just loves him as a prospect. He's also been a great run blocker for Iowa all year and shut down every pass-rusher he faced this season.
He's not as powerful as he could be, but that's a minor thing. He's got the build and the pass-blocking ability to play left tackle, but he mostly projects as a right tackle. I think he'd be fine either way.
Of course, he may have some character concerns, as he was arrested for public intoxication, but that's a minor thing, so he looks like a top 10 pick.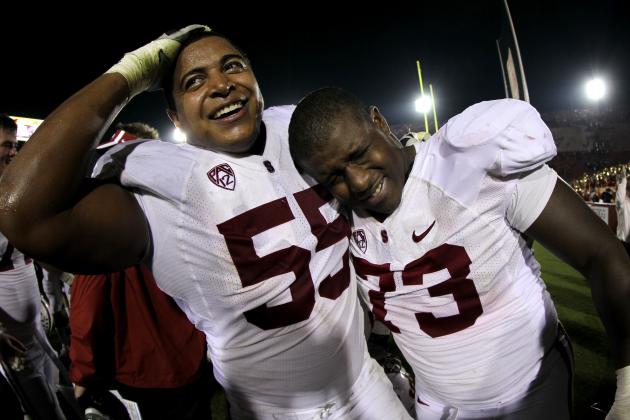 Stephen Dunn/Getty Images

Being the guy who protects Andrew Luck's blind side will get you a lot of recognition, but left tackle Jonathan Martin deserves every bit of it.
He's an excellent run blocker, and Stanford's 210 rushing yards per game show that. He also beat nearly every pass-rusher he faced this season. Nick Perry beat him a few times, but as far as I've seen, he was the lone exception.
Because of his run-blocking ability, Martin projects as a right tackle who'll probably shift to the left side in a few years. I don't expect him to fall past the Chiefs at No. 12.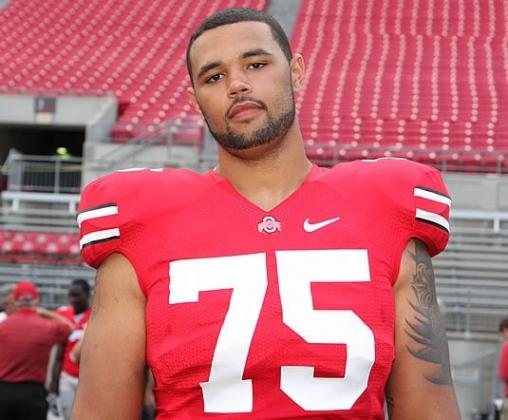 Mike Adams blew up the Senior Bowl, and is now a consensus first-round prospect.
Before his great Senior Bowl, he was still probably the fourth best tackle in the class, but his performance there narrowed the gap between Jonathan Martin and him. They're both worthy of a top 15 selection.
In the Senior Bowl weigh in, Adams came in at 6'7" even, with a 33.75" reach and hands that measured 11" across. That'll get people's attention.
When he then played as well as he measured, scouts immediately took notice. He could go as high as No. 12, but I don't see him falling outside the 21st pick.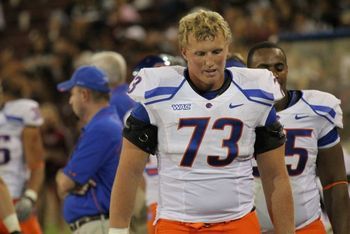 Nate Potter is not the strongest tackle in his class, but he has a lot of good tape and hasn't done anything to drop his stock. I think a team can find a way to develop his strength.
He has pretty good technique and was named a second-team All-American, which is a great start, but he never faced elite competition either. Certainly Georgia has some good players, and they were unable to get past him, but that's all he's got to show.
His performance in the combine could drastically affect his stock—either positively or negatively.
I think he'll be an early Day Two selection, but he'll definitely have to work on his strength in the NFL to be a better run blocker.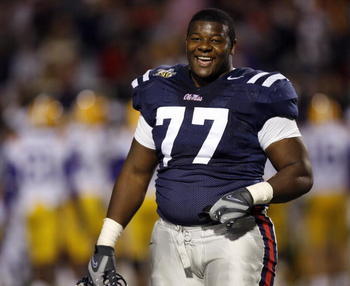 Bobby Massie is a raw prospect, but he has quite a bit of potential. He's the right size at 6'6" and nearly 320 lbs, but he doesn't appear to be that blue-chip player, so I have him at No. 6 on my big board.
But again, all upside—he has long arms, is surprisingly athletic and has quick feet. However, he doesn't have the best technique and needs to be coached up if he's going to play left tackle.
He could probably start pretty quickly on the right side, and with his size and run-blocking ability, it wouldn't be too tough for him right off the bat.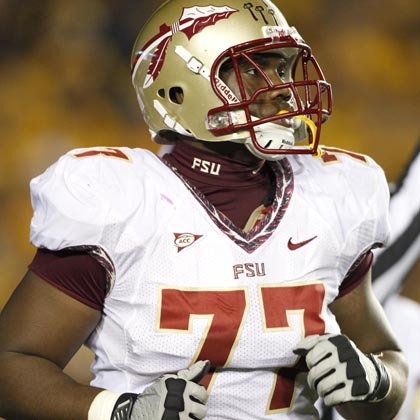 Zebrie Sanders started seeing some hype after starting left tackle Andrew Datko was injured, and many sites have him ranked much higher than seventh, but I've never been sold on him.
In the Senior Bowl, he was consistently beaten by Vinny Curry and Cam Johnson, and while they're both very good players, it looked like he couldn't beat anyone.
He's got the measurements though. His arms are nearly 35" long, his hands are 11" wide, he's just under 6'6" tall and weighs in at 308 lbs.
He could be a decent quality right tackle, but that's all he'll ever be in the Pros.
Justin Sullivan/Getty Images

Mitchell Schwartz didn't look like a high-end tackle until the Senior Bowl. However, he was great in practices and in the game itself.
His measurements were alright—his arms were 32" long and his hands were 10" wide, which is good, but not great. He was a pretty heavy 317 lbs, which is good since he looked quick on his feet.
He did well enough to catch Mike Mayock's attention, and that's always a good thing. He even managed to block off Quinton Coples and Courtney Upshaw a few times in the actual game.
I see Schwartz, like most of the guys on the list, as a right tackle. With his size, he'll be a great run blocker for anyone.
He'll probably be a late Day Two/Early Day Three selection. He's a sleeper who could end up being a very good player.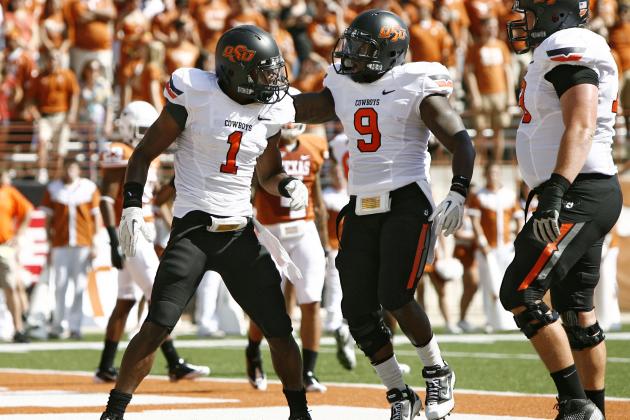 Erich Schlegel/Getty Images

Oklahoma State had a historically great season, only dropping one game against Iowa State on the road in double overtime.
Levy Adcock was just one part of that great team, but he did a solid job. He got snubbed by the scouting combine though, so he'll have to rely on his tape and his Pro Day.
Luckily, he does have a lot of good tape. In his last regular season game against Oklahoma, he shut down Oklahoma defensive end Frank Alexander.
In the NFL, Adcock will likely play right tackle (or maybe even guard) since he isn't the fastest prospect out there. He does have pretty good size though, at 6'5" tall and 318 lbs.
He's still a good prospect, and he'll likely be taken off the board early on Day Three.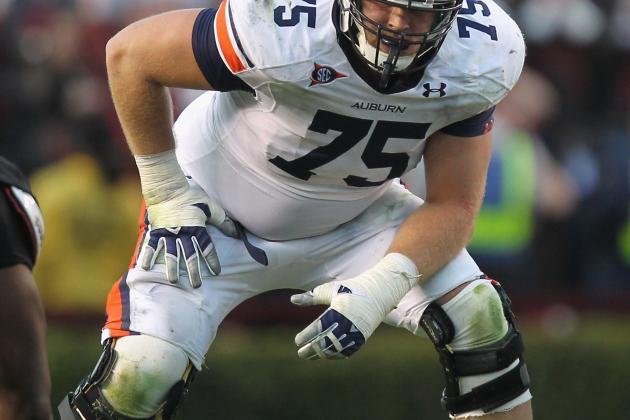 Streeter Lecka/Getty Images

Brandon Mosley was a part of the great offensive line that let Cam Newton do his thing and win Auburn a National Championship. He had a lot of help, but he was excellent as a run blocker for Michael Dyer.
This year was more of the same. The biggest problem with Mosley is that he played right tackle in college, which usually means you're a lower-end prospect.
However, looking at Mosley when he plays, I think he could be a good right tackle in the NFL too. He's definitely a mid-round pick, but he could definitely be a good rotational player at either tackle spot.
He's got good enough size and is a converted tight end, but he's raw. There's a lot of talent there, but he needs to be coached up.