2012 NFL Draft: Ranking the Top 10 Cornerbacks in the Class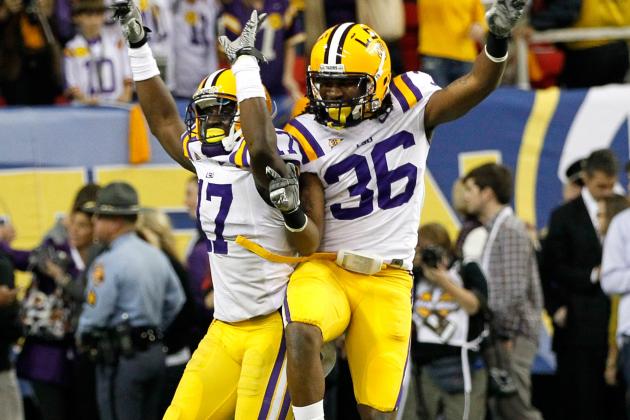 Kevin C. Cox/Getty Images

A while ago, I ranked the top 13 quarterbacks in this year's draft class. Prior to that, I had pegged the top 10 pass rushers. To continue the theme, I thought, "Why not do so for other positions?"
Over the next few weeks, I'll be putting out a top 10 ranking for every position (except special teams players and fullbacks), so expect more to come.
Since this year's class of cornerbacks is particularly talented, I'm starting there. Keep in mind, while I do try to keep the list free of personal bias, it is purely subjective. If you disagree with my analyses, feel free to share your opinion in the comments section.
Here's my ranking of the top 10 cornerbacks in the 2012 class.
Begin Slideshow

»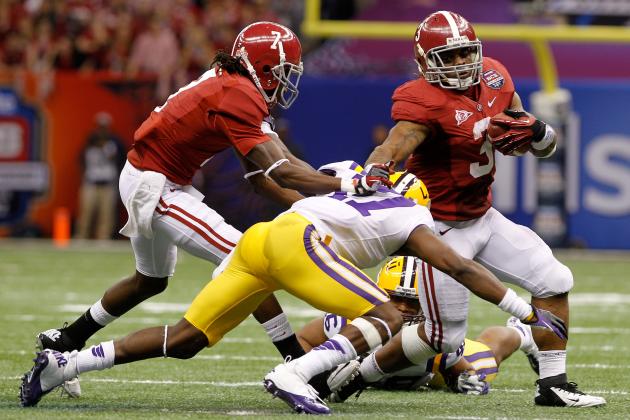 Chris Graythen/Getty Images

It goes without saying that Morris Claiborne has been nothing but great all season long.
He's got the right size, has great tape, and played for a winner, as the Tigers only loss was in the BCS National Championship Game to a team that they beat earlier in the season.
Claiborne had 51 total tackles in 2011, including one tackle for loss. He also pulled in six interceptions, broke up another six passes, and had one quarterback hit.
To add even more fuel to the fire, he's a good kick returner. In 2011, he accumulated 568 yards and a touchdown on 22 returns. Had the Honey Badger not played on the same team, he surely would have had even more.
Quite simply, he's the whole package.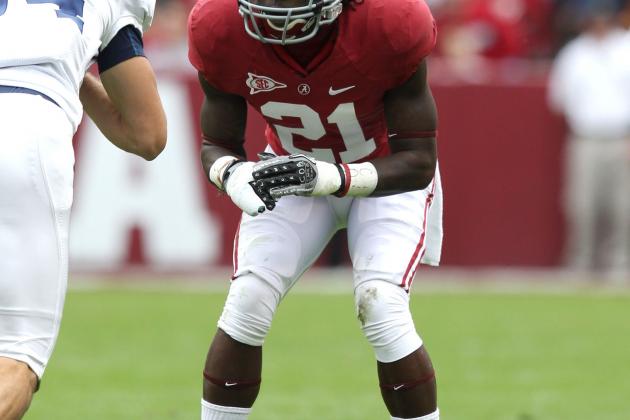 Mike Zarrilli/Getty Images

Dre Kirkpatrick was in the news lately for his arrest, but before that, he was well known for his ability at the cornerback position.
He didn't have any interceptions in 2011, but that's mostly because he wasn't tested much. He did, however, break up nine passes and force two fumbles. He also had 29 tackles, including four for a loss.
Though he's not a ball-hawk, he is a great cover corner. At 6'3" tall, he's also the height that NFL scouts like in cornerbacks these days. He'd be a nice fit on any team that uses man coverage.
His stock is down right now because of the arrest, but, assuming it dies down in the two months before the draft, he'll recover enough to be taken early on in the first round.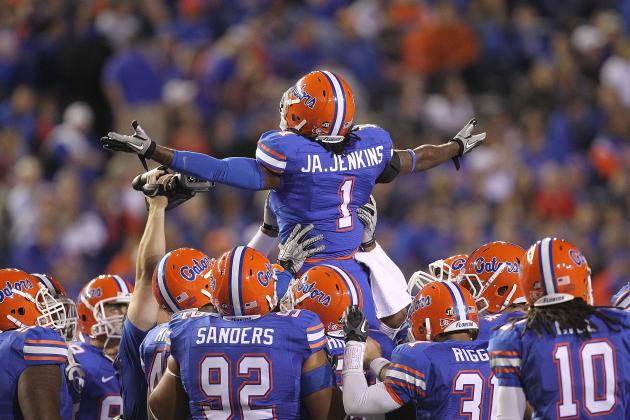 Mike Ehrmann/Getty Images

After being cut by the Florida Gators due to conduct detrimental to the team, Janoris Jenkins played his senior year at the University of North Alabama.
Jenkins dominated the small school competition he faced while at North Alabama. He's a game-changing cornerback and a phenomenal kick/punt returner.
The big question marks surrounding him him this season were his ability to stay out of trouble and his chances of continuing his dominance on a more level playing field.
He's been out of trouble lately, and he blew up the Senior Bowl. He is, however, still a character risk.
He'll be taken high, and if he stays out of trouble, the team that grabs him will get a good deal. I still don't see him falling out of the first round.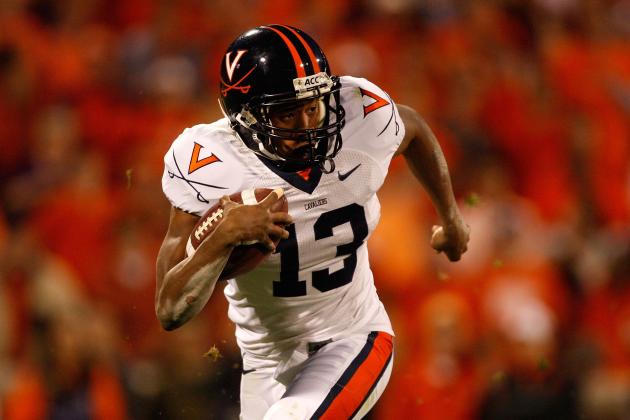 Streeter Lecka/Getty Images

Virginia had a surprisingly good team this past season, and no small part of that was due to Chase Minnifield.
He didn't pull in many interceptions (just three in 2011), but he's a tough, physical cornerback who netted 1.5 sacks, seven tackles for loss, and eight broken up passes.
In 2010, he did snag six interceptions. He may have gotten fewer this season because opposing quarterbacks were afraid to throw towards him.
He has good height, standing at 6' even, and has great NFL bloodlines. His father, Frank Minnifield, was elected to four Pro Bowls and is hailed as one of the best corners in Cleveland Browns history.
He's worthy of a late first-round selection.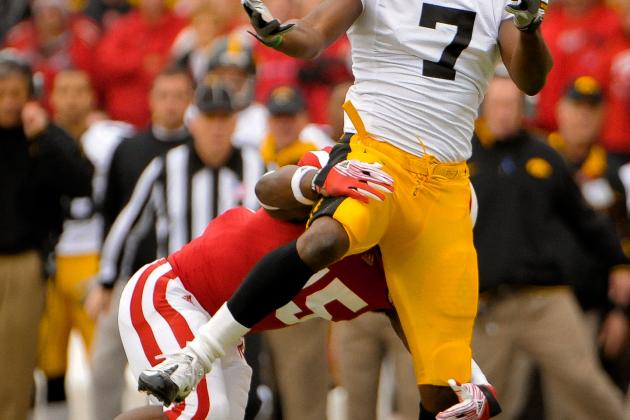 Eric Francis/Getty Images

Before the Senior Bowl, I had Nebraska standout Alfonzo Dennard as No. 3 on my big board. However, his lousy performance during the game and the practices before drops him to the fifth spot for now.
Dennard was a shut-down corner for Nebraska, and many think he's a better prospect than former teammate Prince Amukamara, who was mocked as high as No. 7 overall last year.
However, he was stiff in the hips all week during Senior Bowl practices and then suffered a hip injury in the actual game. If it turns out that the injury is what made him look so bad, then he'll shoot back up draft boards.
If the injury is serious enough to keep affecting his play, then he'll slip to the second round.
Vanderbilt had a stingy defense this season that created a lot of turnovers. Seven of them came from the hands of Casey Hayward.
Hayward is a high-character, athletic and smart cornerback who would thrive in either a man or zone coverage system. He's also one of my favorite prospects this season.
He had a good Senior Bowl in his limited time on the field, but had a major win when he measured in at 5'11" even. Some thought he would measure in slightly under that, so that helps his stock.
Other than his seven interceptions in 2011, Hayward also broke up 10 passes. He had six interceptions in 2010, showing the consistency of his ball-hawking ability.
Whichever team picks him up (probably late in the second round) will be greatly rewarded a few years down the road.
He has Brandon Carr-like upside.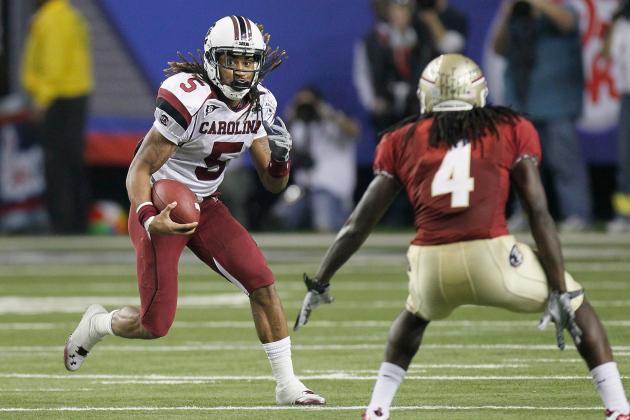 Kevin C. Cox/Getty Images

Stephon Gilmore was inconsistent in 2011 for South Carolina, but when he's playing well, he looks like a first-rounder.
He pulled in four interceptions and broke up seven passes this season. He returned two kickoffs with an average of 23.5 yards, but also returned four punts for an average of only 1.75 yards.
Along with 35 solo tackles, he made three tackles for a loss and had one sack.
If a team thinks they can coach him up to his full potential, he could be a good pickup in the second round. He's got potential, but he also has a lot of bad tape, so his place on every team's big board will vary widely.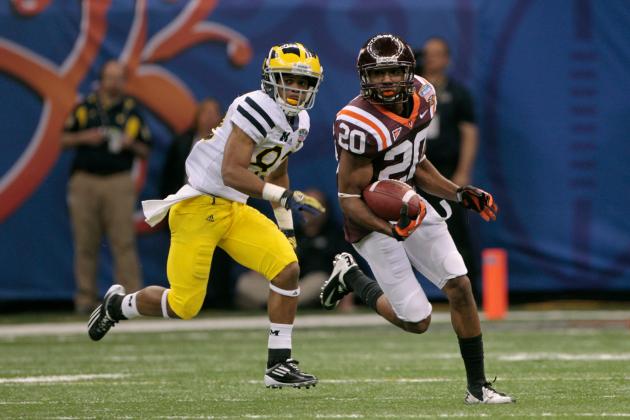 Chris Graythen/Getty Images

After starting the 2011 season as a possible first-rounder, Jayron Hosley had a somewhat disappointing season for the Hokies. After forcing a whopping nine turnovers in 2010, his 2011, in which he tallied only three interceptions, paled in comparison.
That being said, he did manage to break up 12 passes, which is very impressive on its own.
He's a little undersized, listed at 5'10" and 171 lbs., which hurts his NFL stock.
Between his small size and a disappointing 2011, his stock has fallen to about the third or fourth round. He's still a good player, but he's too risky to spend a very high selection on.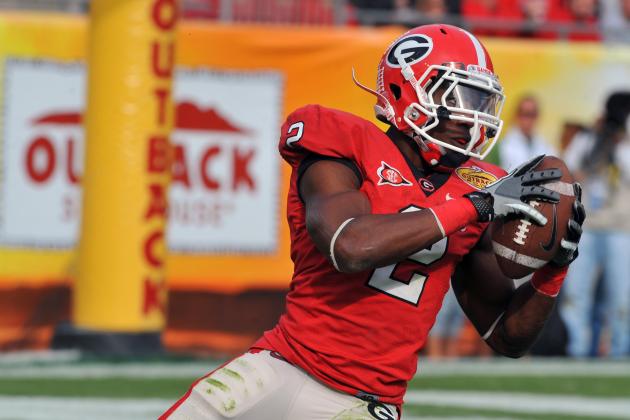 Al Messerschmidt/Getty Images

Georgia surprised me this year. Their defense was very good.
Brandon Boykin was a big part of that, both as a kick/punt returner and as a cornerback. Boykin racked up three interceptions, 11 tackles for loss, nine broken up passes and two forced fumbles this season.
He's a good all around player at the cornerback position, but won't blow you away with any one particular ability. That's both a good and a bad thing.
On the upside, other than being a little undersized, he's got no glaring weaknesses. He's a relatively safe pick.
On the downside, ceiling is lower than a lot of the other players on this list, so he's a third or fourth rounder.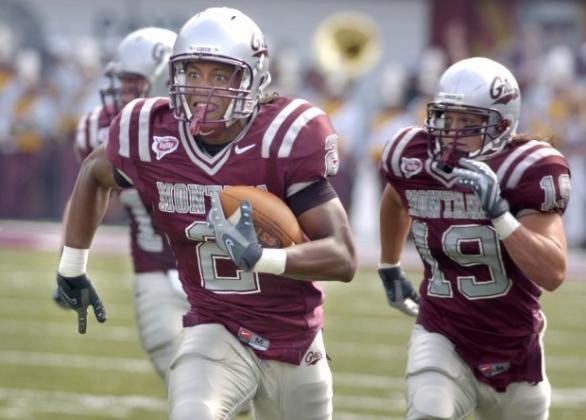 One of the many corners in this class that I got to watch firsthand (other than Claiborne, Hayward, Gilmore and Boykin) was Trumaine Johnson. Despite playing for an FCS school, he's an excellent prospect.
He got beaten by Tennessee's wide receivers in the season opener, but that's understandable. He was covering Justin Hunter, and Justin Hunter was one of the best wide receivers in the country before his injury.
He had 11 broken up passes and 12 pass deflections this season, along with an interception and a sack.
He's also very tall for a corner at 6'3" in height. He got in some trouble with police earlier this season, but it sounds like it may not have been his fault to me. Placing him in the draft is tough because he has such a wide range. He could go as early as the early third round, or as late as the fifth.