NFL Draft 2012: Ranking the Top 10 Pass Rushers in the Draft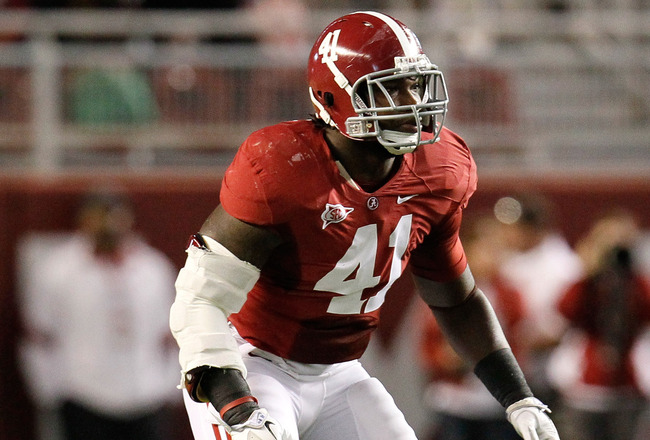 Kevin C. Cox/Getty Images
They say that the best pass defense is a good pass rush, and as the NFL becomes more and more pass oriented, the other side of the ball has started to put more and more emphasis on rushing the passer.
That, along with a lot of teams switching to the 3-4, has put pass-rushing linebackers and defensive ends at a premium in the draft.
So which ones shine the brightest in this year's class? Read on to see my top 10:
Honorable Mentions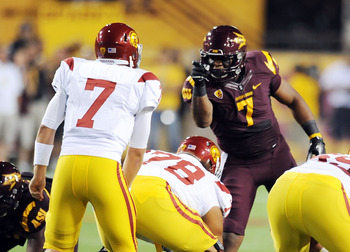 Norm Hall/Getty Images
Bruce Irvin, DE West Virginia
Bruce Irvin was a freak in 2010, posting 14 sacks and 14 tackles for loss. This season, however, he's been relatively quiet, only posting 2.5 sacks.
It looks like teams have figured him out and he may not be the player everyone thought he was. Still, he deserves a mention.
Shane Skov, LB Stanford
Skov was great last season, posting 11.5 tackles for loss and 7.5 sacks. He looked like he would be just as good this season, but he sustained a season-ending injury early on. He posted four tackles for loss and 1.5 sacks in two full games.
It's impossible to evaluate Skov accurately at this point, but I think he'll do fine at the combine and get the attention of more than one team if he doesn't return.
Vontaze Burfict, MLB Arizona State
Vontaze Burfict may be the best defensive player in the draft, and when he wants to, he can sack the quarterback as well as anyone else. He has four sacks this season and will likely finish with a few more.
However, he is a middle linebacker, first and foremost, and they do not get drafted to be pass-rushers. Still, he's too good to not mention.
10. Zach Brown, OLB North Carolina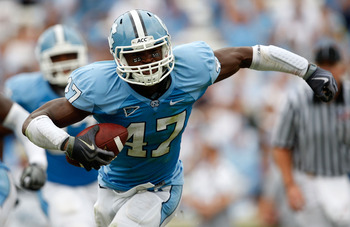 Streeter Lecka/Getty Images
He may be the fastest linebacker in the draft, and he can rush the passer to boot.
One of many stars on North Carolina's defense, Zach Brown is the consensus No. 1 4-3 outside linebacker. With so many teams switching to the 3-4, that position is becoming rarer, but with Brown's talent, he'll still find himself off the board early on.
Brown has accumulated 5.5 sacks this season, which is outstanding when you consider who he's competing with to get those sacks (Tydreke Powell, Donte Paige-Moss, Quinton Coples, etc.). He also has 9.5 tackles for loss.
With his speed, he'll likely play weak-side linebacker in the NFL, but you can bet he'll still get to the quarterback enough to be feared.
9. Melvin Ingram, DE South Carolina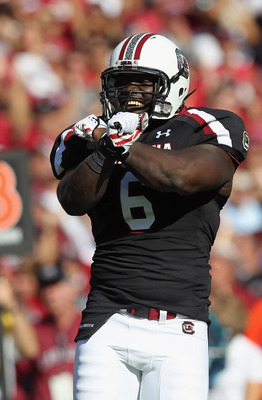 Streeter Lecka/Getty Images
Devin Taylor gets most of the attention as South Carolina's pass-rusher, but defensive lineman Melvin Ingram is the better pass-rusher if you ask me.
Ingram has acquired nine tackles for loss and 5.5 sacks so far this season. He's also doing that while playing on the interior defensive line, nose to nose with 300 pound offensive linemen.
He's listed as 276 lbs. himself, so he's likely to play defensive end at the NFL level, which ought to make it even easier for him to get to the quarterback.
8. Frank Alexander, DE Oklahoma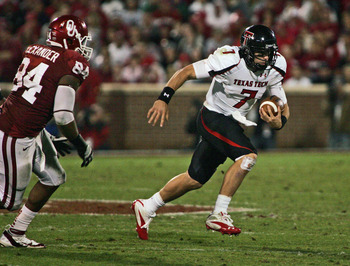 Brett Deering/Getty Images
Oklahoma has three players that could make this list: linebackers Travis and Ronnell Lewis and defensive end Frank Alexander. Alexander has the most sacks, so he gets the nod.
Alexander already has 7.5 sacks and 12.5 tackles for loss this season. He's fast, physical, and he's the perfect size to play rush linebacker in the NFL (6'4" and 255 lbs.).
In this deep rush linebacker class, Alexander likely won't be off the board until Day 2, but he still ought to make a team very happy one day.
7. Quinton Coples, DE North Carolina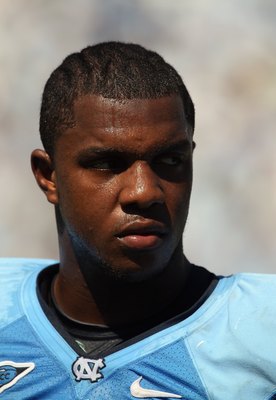 Streeter Lecka/Getty Images
Quinton Coples is having an off year as far as stats go. In 2010, he took the nation by storm by collecting 10 sacks. This season, he only has 4.5 sacks and 7.5 tackles for loss, but he's he's still considered a can't miss defensive end prospect.
His teammates are stealing some of his thunder: linebacker Zach Brown has 4.5 sacks, defensive end Kareem Martin has four, and Donte Paige-Moss has one.
Like the Alabama defenders, since Coples is surrounded by so much talent, his numbers don't show just how good he really is.
At 6'6" and 285 lbs., Coples will continue to dominate offensive lines in the NFL.
6. Whitney Mercilus, DE Illinois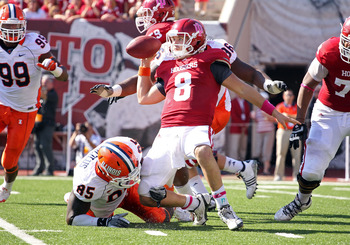 Andy Lyons/Getty Images
Somehow, Mercilus is flying under the radar. This seems ridiculous since he has 11.5 sacks (most in FBS), 16.5 tackles for loss and has the last name Mercilus!
The Fightin Illini have been one of the pleasant surprises of the season, and you might even call their defense merciless (see what I did there?).
Mercilus is 6'4" tall and 265 lbs., so he's destined to keep playing at defensive end. If he impresses at the combine, there's no way he stays off the board very long, even with little need at 4-3 defensive end.
5. Chase Thomas, LB Stanford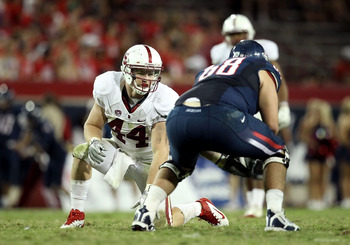 Christian Petersen/Getty Images
Shane Skov was the best player on Stanford's defense last season, but he has some competition now in the form of Chase Thomas.
Thomas has picked up 5.5 sacks and a whopping 11.5 tackles for loss. Even though Stanford has had a pretty easy schedule so far, four of Thomas's tackles for loss came against Washington and USC, the toughest teams Stanford has faced thus far.
At 239 lbs., Thomas is a little small to play linebacker in a 3-4 scheme, but he'd make an excellent outside linebacker in a 4-3 or an inside linebacker in a 3-4.
4. Vinny Curry, DE Marshall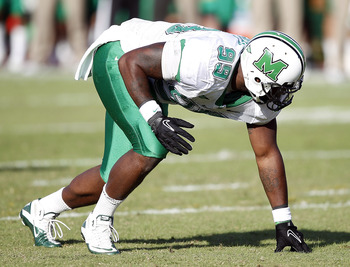 Bob Levey/Getty Images
Vinny Curry has 10.5 sacks and 18 tackles for loss, and numbers don't lie.
So why is he ranked only fourth on this list when only one player in the FBS has more sacks than him? He faces some pretty weak competition and is a little small at only 242 lbs. Still, he is fast, mean and athletic and can still be an outstanding 4-3 Sam linebacker, or a weak-side rush linebacker in a 3-4.
When a player has the kind of numbers that Curry has, you just can't ignore him.
3. Andre Branch, DE Clemson
Rob Carr/Getty Images
Andre Branch is doing a very good job filling the hole that was left by Clemson standout Da'Quan Bowers. Branch has 7.5 sacks this season (tied for seventh in the FBS) and has been a disruptive force all season long.
At 6'5" tall and 260 lbs., Branch could add more bulk or stay slim to keep his speed. If it weren't for Quinton Coples, he'd be the top pure defensive end in the draft.
He has 12 tackles for loss as well, just for good measure.
2. Brandon Jenkins, LB Florida State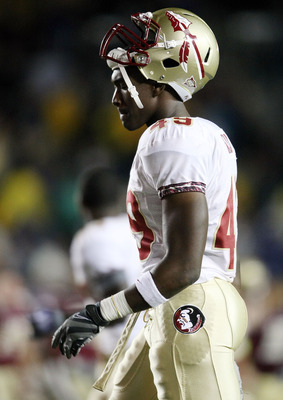 Elsa/Getty Images
Florida State has had some rough times this season. They started ranked as the fifth best team in the country but have fallen to 4-3, lost left tackle Andrew Datko for the year and have had to play a lot of the season without quarterback E.J. Manuel as well.
What is going well for them? Well, Brandon Jenkins is still doing pretty well. Despite having only 3.5 sacks and 6.5 tackles for loss, Jenkins has still been a disruptive force in the backfield for every game he's played in.
He has missed two games, however (against Duke and NC State) for injury and probably hasn't been playing at 100 percent. When he's back to 100 percent at the combine, he'll blow people away.
1. Courtney Upshaw, LB Alabama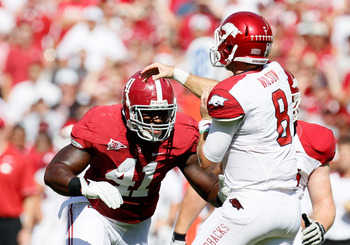 Kevin C. Cox/Getty Images
With so many playmakers on Alabama's defense, it's easy to overlook Upshaw, but he really is the best pass rusher in the draft.
He has 4.5 sacks and 11.5 tackles for loss this season, which are good numbers, but they don't seem phenomenal at first. However, when you remember that his defense also boasts Nico Johnson, Mark Barron, Josh Chapman and Dont'a Hightower, you realize that standing out amongst that kind of competition is really something.
Not to mention the fact that he's facing the toughest competition in the brutal SEC West.
Upshaw is also one of the bigger linebackers in the country, weighing in at 265 lbs. Even with that bulk, he moves very quickly.
He has the build to play either a 4-3 defensive end or a 3-4 rush linebacker. Either way, teams should expect him to get to the quarterback quickly and often.
Keep Reading