Green Bay Packers Early 2012 Draft Prospects: Linemen Win Championships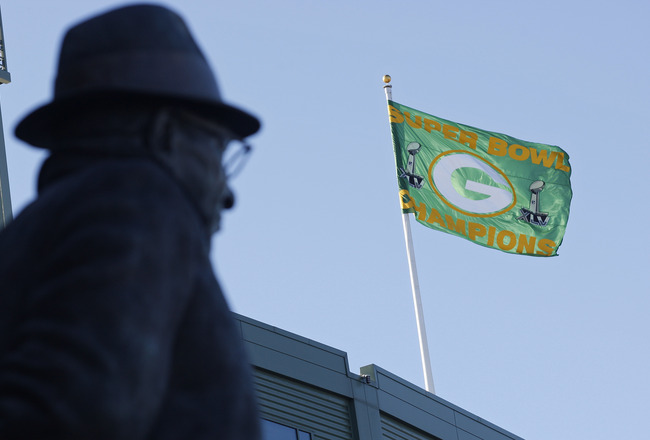 A Former Offensive Guard Lombardi Knew The Importance of Linemen
Matt Ludtke/Getty Images
Looking back on the 2011 NFL season, many would argue the Green Bay Packers fell short because of a lack of defense.
At the same time, the old adage that defense wins championships was being put to rest as both Super Bowl participants boasted defenses that were ranked very near the bottom of the league.
So the question every NFL head coach should be asking heading towards the 2012 NFL draft is what actually wins championships?
What allowed The Packers to be so dominant just a year earlier?
And what allowed a typically unspectacular Eli Manning to outshine Tom Terrific for a second time in the Super Bowl?
The answer is simple, but great. Great for football for the same reasons that a 21-17 victory by the New York Giants in Super Bowl XLVI over the New England Patriots was great.
Not because Bill Belichick and the evil empire were once again handed defeat on the world's biggest stage and not because of all the story lines that followed.
The answer is great because in a year where three quarterbacks passed for over 5,000 yards (two of which surpassed Dan Marino's all-time record) and two playoff defenses set regular season records for most yards allowed, the most crucial element of the championship team was still its linemen.
That's right, offensive and defensive linemen win championships.
Sure, you need other things, like a franchise quarterback and other assorted playmakers on both sides of the ball. But when it comes right down to it, success in the NFL will be no different in the future than it has been in the past—championships will be won in the trenches.
Last Sunday, Eli Manning and Tom Brady played opposite roles as to what many NFL experts had predicted because the Giants had an exceptional offensive line and one of the most fearsome defensive lines the NFL has ever seen.
It's as simple as that, Manning had time to survey the field and let his receivers get open and Brady was faced with intense pressure on almost every play.
That being said, the majority of the Packers' defensive woes (apart from the loss of Pro Bowl safety Nick Collins) can be explained by a lack of talent on the defensive line.
Cullen Jenkins was lost to Philadelphia in free agency, Ryan Pickett struggled to stay healthy, BJ Raji looked out of shape compared to last year and Mike Neal again missed most of the year due to injuries.
In 2011 the bright spots on the Packers' defensive line were CJ Wilson and Jarius Wynn...
Jenkins obviously won't be back in 2012 and Mike Neal isn't exactly dependable, so Green Bay will need to draft a disruptive end to fill that gap.
I expect Raji to be in better shape next year after another offseason in the Packers' weight training program. He missed it last year because of the lockout and just wasn't his regular self.
If Pickett comes back it won't be for very long as the 340-pound, 32-year-old has already spent a long 10 years in the NFL—so the Packers could probably use a long-term replacement for him as well.
Neal should earn a roster spot and could be a nice surprise if he stays healthy, otherwise 2012 will be his last season in Titletown.
With GM Ted Thompson spending his top 3 picks in 2011 on offense and seemingly paying for it throughout the entire season, I expect him to balance out his team by working on his defense for at least the first two rounds of this year's draft, and I think both should be spent strengthening our defensive line and pass-rush.
I won't do a mock draft this early, but I have made a list of players who I think fit Thompson's mold and could help jettison the Packers' defense back into the top half of the league.
Jerel Worthy, DT MSU, 6'3" 310 Pounds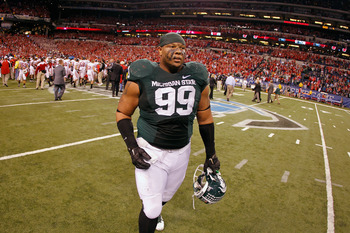 Worthy After The 2011 Big Ten Championship Game
Gregory Shamus/Getty Images
Worthy is my favorite prospect at this position and looks a lot like Ryan Pickett in terms of size, strength and athleticism.
He could easily play end or nose tackle in the Packers' 3-4 scheme, would add solid strength in the run game and could potentially draw a double team which could help take pressure off of Linebacker Clay Matthews—whose sack totals dipped in 2011 because of a weak defensive line.
Summed up, Worthy is a strong disruptive player who has a high NFL IQ and a clean bill of health. He's also faced solid competition in the Big Ten, and is a vocal leader on the field with no off-field issues.
Worthy will likely be a first-round pick.
Brandon Thompson, DT Clemson, 6'2" 311 Pounds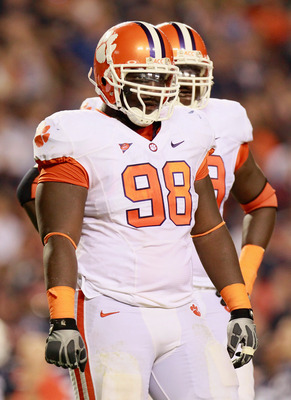 Thompson Can Revive The Packers Pass Rush
Kevin C. Cox/Getty Images
Thompson is a pass-rush monster using quickness and power to get to the ball-carrier in the backfield.
Despite having somewhat short arms, he is quick to shred blocks and is a good tackler in the hole. Thompson would fit best at DE with the Packers, and if drafted could provide a constant dose of the disruption we've seen in short flashes between Jenkins and Neal over the last two years.
All in all, he's an explosive, high effort, disruptive force who won Clemson's strength training award and also landed on the honor roll in 2010.
Thompson is likely a late first-to-early second-round pick.
Vinny Curry, DE Marshall, 6'3" 265 Pounds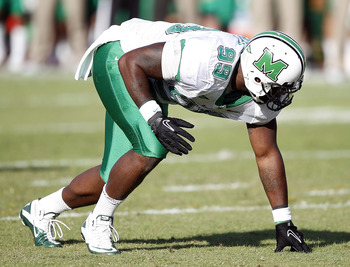 Can Curry Develope In A 3-4?
Bob Levey/Getty Images
Obviously Curry would have to move to linebacker in a 3-4, but I'm still counting an upgrade at that position as an improvement to our defensive line because of how linebackers are used in a 3-4.
Position changes aside, Curry is a relentless presence early in games and will again improve both the run defense and pass-rush.
Though he is smaller at 265 pounds, he is exceptionally strong at the point of attack and has a good bull rush. He's also fast enough to rush with speed and has a chance at becoming solid in pass coverage down the line.
Linebacker coach Kevin Green would love to get his hands on a player like this to groom opposite Matthews, and although he might not be ready for full-time play in 2012, he could see spot duty on running downs and pass-rush situations much like Aldon Smith in San Francisco last year.
Other Notable Prospects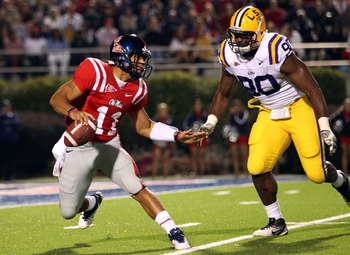 Project Pass Rushers
Joe Murphy/Getty Images
Michael Brockers, DT LSU, 6'5" 306 Pounds
Brockers is tough to measure right now, and depending on how he fares at the combine, will either be an early first or late second round pick. He came on late in the season, but if he looks explosive in drills, coaches will love him. Otherwise he'll be viewed as a project.
If he makes it to the second round, the Packers might think they can turn him into a good pass-rusher.
Fletcher Cox, DT Mississippi State, 6'4" 296 Pounds
Cox is a well-rounded player who lacks elite strength and explosiveness at this point in his career.
He would provide immediate depth and should add about 10 pounds over his first two years in an NFL workout program. Like Brockers, I view Cox as a bit of a project, but he could eventually be an effective starter and a good insurance policy considering Neal's injury troubles.
I would hope to get a bigger difference maker than Cox in Round 1, but depending on how things go he could be our best option or could be a great value pick in Round 2.
Nick Perry, DE USC, 6'3' 250 Pounds
Perry has a lot in common with fellow USC alumni and current Green Bay Packer Clay Matthews in terms of build and athleticism and might even be a little further along in his development than Clay was in 2009.
That being said, Perry could be a top 20 pick much like Brooks Reed last year.
Perry might be off the board before Ted Thompson has a chance to blink, but we've seen him trade up before.
Summary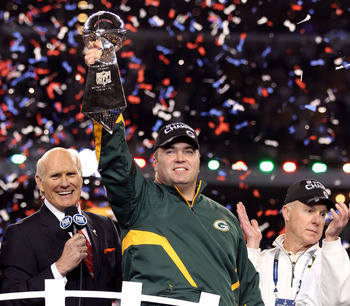 How Soon Will The Packers Be Back?
Al Bello/Getty Images
These six prospects hardly scratch the surface of the potentially game-changing defensive linemen that will be available in this year's draft, but from what I've seen so far, they are some of the best.
Improving the defensive line will make other players better too, including our corners who were constantly hung out to dry last year and Clay Matthews who faced more than his fair share of double-teams.
Sure, the Packers might have other needs too with Nick Collins and Derek Sherrod both sustaining serious injuries, but if they could land any two of the players listed above, our biggest weakness in 2011 could become a point of strength in 2012—which could make any other weaknesses less noticeable.
Keep Reading

Green Bay Packers: Like this team?