Building the NFL's All Iron Man Team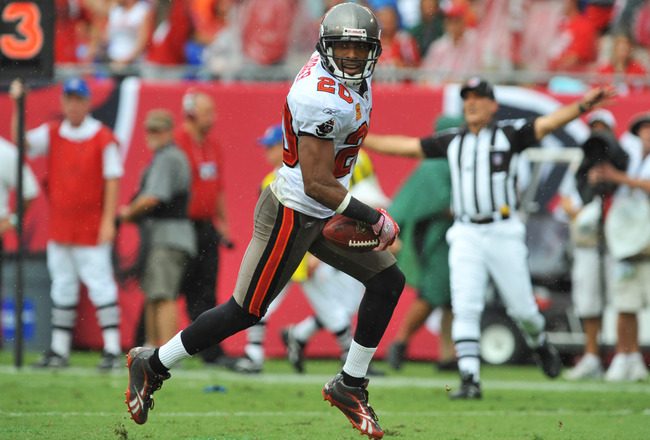 Al Messerschmidt/Getty Images
Nothing is more frustrating for fans than watching their favorite team's best players go out for injury. In addition to losing the best players, the lost time messes up chemistry even when the players return healthy.
What is clearly needed is a squad where injuries would not be a concern. A squad of featuring nothing but iron men, the kind of players who are able to overcome the tremendous physical strain the game can bring and be a constant presence on the field for their team.
Talent is nothing without durability. Here is the NFL's All Iron Man team.
Quarterback: Eli Manning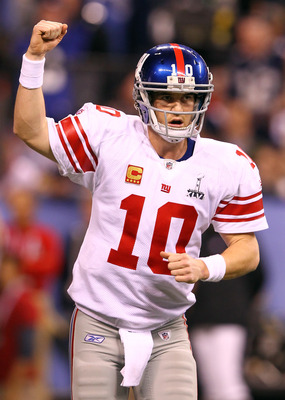 Al Bello/Getty Images
The All Iron Man Team would get plenty of star power at the quarterback position, taking the New York Giants' Eli Manning to lead the team under center.
Eli (much like his older brother Peyton until this past season) has a knack for avoiding injury and staying in the game.
The two-time Super Bowl MVP succeeds his brother as the holder of the longest streak of consecutive regular-season starts for quarterbacks. He now sits at 119 starts in a row.
Backups: Philip Rivers, San Diego Chargers; Joe Flacco, Baltimore Ravens
Running Back: LaDainian Tomlinson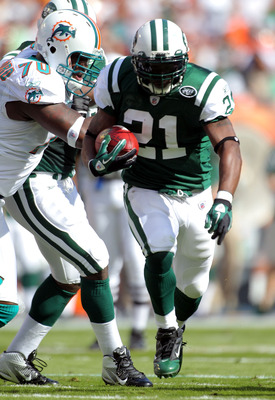 Marc Serota/Getty Images
The running back position is not one for longevity, as many of the best players at the position find themselves getting worn out. The current longest starting streak at the position is less than 50 games, with Tennessee Titans back Chris Johnson currently sitting at 48 games (although those last 16 were something awful).
However, there have been few complaints with the overall aging of running back LaDainian Tomlinson. Never missing more than two games in one season during his NFL career, Tomlinson has been a model of aging the right way.
He may not be the marquee player anymore, but he brings both veteran leadership and consistency to the Jets roster.
Backup: Chris Johnson, Tennessee Titans; Matt Forte, Chicago Bears (ignoring his nasty season-ending knee injury this year)
Fullback: Vonta Leach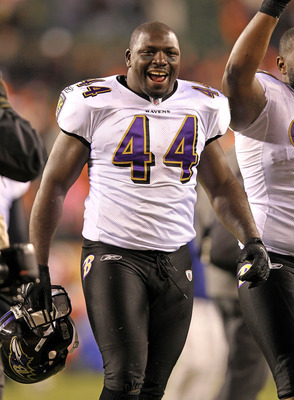 Andy Lyons/Getty Images
Baltimore Ravens fullback Vonta Leach is consistent. It's tough to argue this, especially with his run of five and a half seasons in a row of games played.
His longevity is even more impressive, given the amount of punishment he's taken at the position.
Backup: Michael Robinson, Seattle Seahawks
Wide Receiver: Reggie Wayne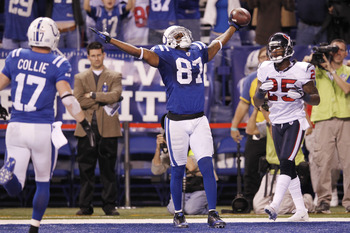 Joe Robbins/Getty Images
With 145 regular-season starts in a row, Indianapolis Colts wide receiver Reggie Wayne is the model of consistency at the wide receiver position today.
Nothing could slow him down in 2011, whether it was opposing defenders, the soul-crushing pattern of losing for the Colts this season or having to catch passes from Dan Orlovsky and Curtis Painter.
Backup: Hines Ward, Pittsburgh Steelers; Donald Driver, Green Bay Packers
Tight End: Tony Gonzalez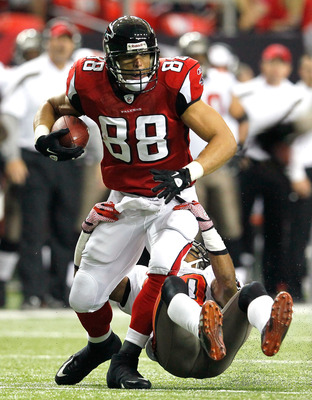 Kevin C. Cox/Getty Images
In a position which can take a lot of punishment, Atlanta Falcons tight end Tony Gonzalez has managed to put together a record of longevity few can match.
While teams like the New England Patriots cashed in on their pass-catching tight ends Rob Gronkowski and Aaron Hernandez, that success is the direct growth from the progress made by Gonzalez through his career.
With a total of 223 career starts (tied for first among active players with Washington Redskins linebacker London Fletcher), Gonzalez is in a league of his own for his position.
Backup: Jason Witten, Dallas Cowboys; Antonio Gates, San Diego Chargers; Heath Miller, Pittsburgh Steelers
Offensive Line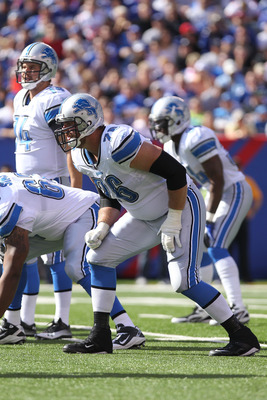 Nick Laham/Getty Images
Despite the beating taken by players on the offensive line, these four players have stepped up in their roles:
– Jeff Backus, Detroit Lions: 176 regular-season starts in a row;
– Casey Wiegmann, Kansas City Chiefs: 175 regular-season starts in a row;
– Todd McClure, Atlanta Falcons: 13 games in a row after missing early part of year. He had previously had a streak of 144 regular-season starts;
– Brandon Moore, New York Jets: 121 regular-season starts in a row.
Defensive Line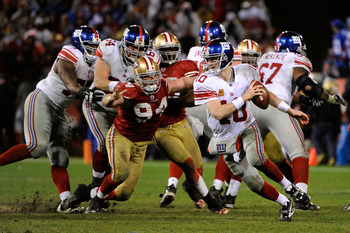 Thearon W. Henderson/Getty Images
These three players have found a way to stay healthy as they ply their trade on the defensive line:
– Justin Smith, San Francisco 49ers: 171 consecutive regular-season starts;
– Fred Robbins, St. Louis Rams: Robbins had only missed more than one game in a season once since 2001;
– John Abraham, Atlanta Falcons: Abraham had only one season in the past seven where he played less than 15 games. In addition to staying in the game, Abraham is one of the most prolific sack generators in the league.
Linebacker: London Fletcher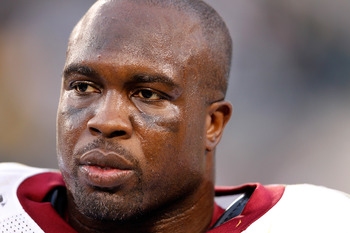 Rob Carr/Getty Images
He may not be one of the biggest names in the game, but Washington Redskins linebacker London Fletcher has quietly amassed a tremendous run of consecutive regular-season starts. He currently sits at 179 starts in a row.
For a Redskins team that relies on its defense to make up for a woeful offense, the consistency Fletcher brings is surely appreciated.
Backup: James Farrior, Pittsburgh Steelers; Jason Taylor, Miami Dolphins
Cornerback: Ronde Barber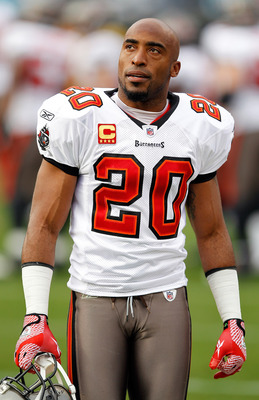 Streeter Lecka/Getty Images
It's tough to talk about Iron Men in the NFL today without talking about Tampa Bay Buccaneers cornerback Ronde Barber. With 199 regular season starts in a row, Barber currently holds the lead for active players.
On a roster primarily comprised of younger players, it's inspiring to see Barber serve as a model of consistency for the Bucs franchise.
Backup: Charles Woodson, Green Bay Packers; Champ Bailey, Denver Broncos
Safety: Brian Dawkins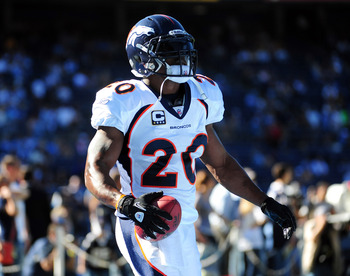 Harry How/Getty Images
With fifteen years in the league, Denver Broncos safety Brian Dawkins has done well to stay (mostly) healthy during his career.
Even as the team's defense stacks itself with young talent (including defensive rookie of the year Von Miller), Dawkins has not looked out of place physically. He also brings strong leadership to the squad.
Backup: Deon Grant, New York Giants
Punter: Matt Turk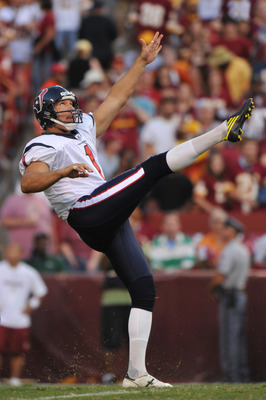 Larry French/Getty Images
After 235 games played, Houston Texans punter Matt Turk is the most experienced current punter in the league, by a healthy margin over the next punter, the Oakland Raiders' Shane Lechler. His numbers may not be flashy, but Turk's shown that he can be an effective contributor.
After getting cut from the Jacksonville Jaguars, Turk was signed to the Texans, where he had played the previous years.
Backup: Shane Lechler, Oakland Raiders
Kicker: Jason Hanson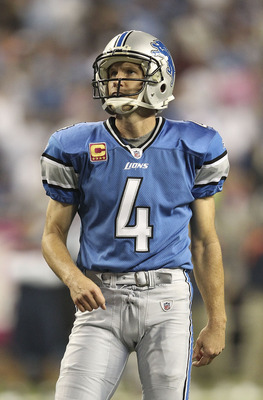 Leon Halip/Getty Images
The Detroit Lions have seen plenty of ups and downs (most recently some major ups), but one constant through all of this has been the play of kicker Jason Hanson.
In addition to staying healthy, Hanson has been able to stay consistent. He's made just about 82 percent of his kicks over the course of his career.
Backup: John Kasay, New Orleans Saints; Ryan Longwell, Minnesota Vikings
Keep Reading