NFL Rookie of the Year 2011: Ranking This Year's Candidates to Take Award Home
February 3, 2012

Jamie Squire/Getty Images
The NFL will be announcing the winner of the AP Rookie of the Year award tomorrow night at their inaugural NFL Honors Show.
This year, the candidates are not so much a mystery as we already know who has been nominated since it will be done in award show fashion. We will have to see who wins the award and if the AP will announce how the votes went, but here is how the five potential winners rank.
5. Von Miller, Linebacker; Denver Broncos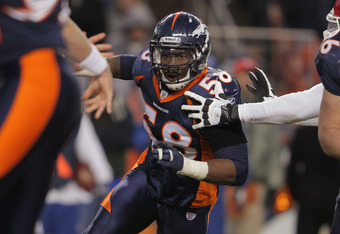 Doug Pensinger/Getty Images
As a rookie this season, Miller recorded 64 tackles while forcing two fumbles. He was a force all season long for what was becoming a stronger and stronger defense as the year went on.
Miller had his best game back in Week 12 against the San Diego Chargers. In that game, he recorded 10 tackles—eight of which were solo.
Compared to the rest of the league, Miller was ranked 141th in total tackles. There's no doubt that he will be force in this league for years to come.
4. Aldon Smith, Linebacker; San Francisco 49ers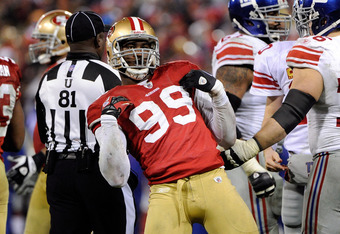 Thearon W. Henderson/Getty Images
Although he only played in 12 games this season, Smith was a huge force for this 49ers defense.
All season long, the 49ers were a strong unit. With guys like Patrick Willis already leading the way, Smith came in and provided some much-needed relief for this linebacker group.
Over the course of the year, he had 37 tackles while forcing two fumbles. More impressively, 14 of those 37 tackles were sacks.
Smith was in beast mode this season, and it will be impressive if he can produce even better numbers in seasons to come.
3. Patrick Peterson, Cornerback; Arizona Cardinals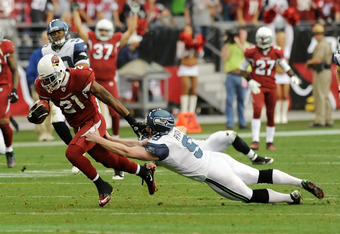 Norm Hall/Getty Images
This season, the Cardinals got some much-needed relief from their rookie cornerback in Peterson. He came in right away and was able to contribute in a huge way.
This season, he had 64 total tackles this season, as well as two interceptions. He also was extremely dangerous as a kick returner, taking four back to the house while totaling 699 yards on 44 returns.
Peterson is shaping up to be a dynamic threat for the Cardinals, and he certainly will be a name we will consistently hear on Sundays.
2. Andy Dalton, Quarterback; Cincinnati Bengals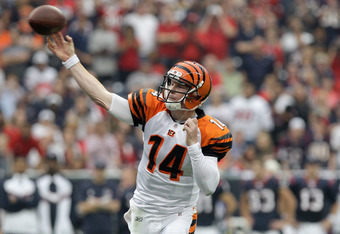 Thomas B. Shea/Getty Images
After coming in to replace the recently retired Carson Palmer, TCU rookie Andy Dalton came through in a big way for the Bengals.
Some will argue that he deserves the award after taking his team to the playoffs during his rookie season, but it's hard to argue against the top guy.
Dalton exceeded many expectations, throwing for 3,398 yards with 20 touchdown passes. He had an excellent wide receiver in fellow rookie A.J. Green, and the two should be poised to make a lot of noise in the AFC for many years to come.
1. Cam Newton, Quarterback; Carolina Panthers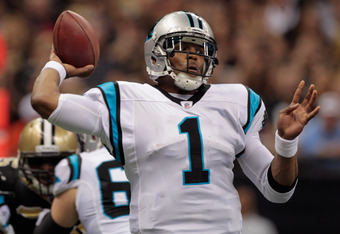 Chris Graythen/Getty Images
The Panthers took Newton this past NFL draft with the No. 1 overall pick, and to say the least, it paid off.
Sure, the team finished the season 6-10, but they honestly were not in position to win. Newton did all he could as a rookie being thrown into the fire, throwing for 4,051 yards—a mark that surpassed Peyton Manning's rookie record.
Newton also had 21 touchdown passes and 14 on the ground. He ran for 706 yards on 126 attempts and was looking like the same great player who we all saw win the BCS title game just a season ago.
The Panthers will need to continue to build around him, but it looks as if they have a franchise quarterback for the first time in a very long time.
Jeff Chase is a Featured Columnist for the Chicago Cubs and Arizona State football.