2012 NFL Mock Draft: Cleveland Browns Needs, Strategy and Top 4 Overall Picks?
February 2, 2012

Jason Miller/Getty Images
This article will break down the team needs and draft strategy that I believe the Cleveland Browns should employ for the 2012 NFL Draft.
It will also include a pseudo mock draft of the first four picks. It won't be a prediction of what I think the first four picks will be, but more what each of those teams should do.
They may coincide, they may not.
First, a position-by-position breakdown of the offense.
Quarterback
The Browns definitely do not have a franchise quarterback.
I have seen enough from Colt McCoy to know that he is not talented enough to lead the Browns to a Super Bowl victory anytime soon. Realistically McCoy is either a subpar starting NFL quarterback or a really good backup.
Speaking in terms of backups: Seneca Wallace is serviceable.
The Browns have nothing else of note at quarterback on the roster. The problem is that franchise quarterbacks are nearly impossible to obtain.
Drew Brees is almost for sure going to resign with the Saints, and Peyton Manning is surely not going to sign with the Browns (assuming he doesn't retire due to his neck condition, and assuming the Colts release him).
Andrew Luck is a future franchise quarterback, and I have advocated trading for his rights before http://bleacherreport.com/articles/930936-andrew-luck-5-most-intriguing-teams-that-could-land-his-draft-rights.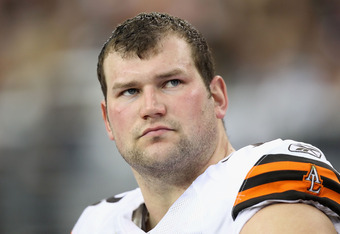 Christian Petersen/Getty Images
However, I think it is extremely unlikely that the Browns will be able to trade up to nab Luck after the Colts landed the top pick and Peyton Manning failed to recover quicker.
I do not see another slam dunk franchise quarterback in the 2012 NFL Draft - and yes that includes Robert Griffin III.
It pains me to say it, but the Browns are better off not drafting a quarterback so they can focus on shoring up all of their other holes.
Offensive Line
The Browns have a decent O-Line.
Joe Thomas is a perennial Pro Bowler at LT, Mack is a really good, young C and if Steinbach can come back from his back injury, he is a very solid LG.
Pinkston and Lauvao could both be upgraded, but they aren't atrocious either. Tony Pashos has to be upgraded at RT though.
The overall depth across the offensive line is a concern as well.
The Browns need to take a RT in the first few rounds of the draft, and in the later rounds can draft other O-Linemen to help with depth.
Running Back and Fullback
Peyton Hillis is a free agent and he is coming off a year where he was injured, played marginally when healthy and he pissed off tons of people with his attitude regarding his contract situation.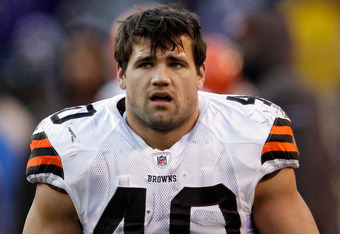 Rob Carr/Getty Images
He is more than likely out the door, and I am fine with that. Statistically he seems like a one year wonder and locker room distraction guys are always among my least favorites.
Montario Hardesty looked really underwhelming when he was actually playing healthy although he is under contract and should be given the chance to be at least the backup this upcoming year.
If Brandon Jackson can actually stay healthy he might be able to provide some depth as well. Realistically the Browns need an upgrade at starting RB and are in definite need of a better 3rd down RB as well.
On the fullback front, Owen Marecic did a subpar job replacing Vickers. However, there is no way you draft a FB in back-to-back drafts. Marecic should be given another year to improve.
They need to draft someone in the mid-rounds to help out the half back situation.
Tight End
Easily the most complete position on the roster.
Ben Watson, Evan Moore and Jordan Cameron are all under contract. Each of those players can slide in nicely for whatever the Browns need.
Under no circumstances should the Browns draft a TE like they did last year when they also had Alex Smith under contract and drafted Cameron.

Wide Receiver
Easily the weakest position on the roster.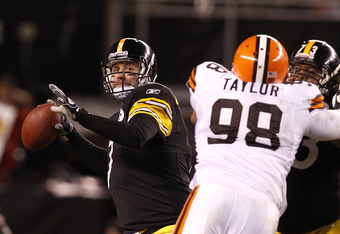 Matt Sullivan/Getty Images
The Browns like most teams should carry six WRs. Greg Little, Josh Cribbs, Massaquoi and Carlton Mitchell should fill out four of those roster spots.
The problem is that none of them are No. 1 WRs.
Little could be a solid No. 2 WR, Cribbs' value is really as a return man (although his skills are diminishing there), Massaquoi is a better depth option at this point than someone new (given his experience in the system) and Mitchell is a deep speed project.
To fill out those last two WR roster spots the Browns need to add a true No. 1 WR and a good slot WR.
They should address this early in the draft. However, they should not reach in the draft, given the numerous holes elsewhere on the roster.

Second, a position-by-position breakdown of the defense.
Defensive Line
Ahtyba Rubin and Phil Taylor are a great DT tandem, and Jabaal Sheard had a nice rookie year at DE as well.
The problem is the Browns do not have anyone talented at the other DE spot and depth is non-existent.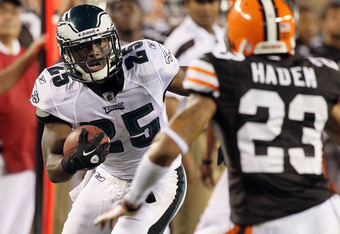 Jim McIsaac/Getty Images
A pass rushing DE should be an early target in the draft. Depth along the entire line should be a focus later on as well.

Linebacker
D'Qwell Jackson came back healthy, and was an absolute stud at MLB.
The Browns absolutely need to lock him up in free agency. Gocong is serviceable if he were to play as the strong-side LB. Kaluka Maiava is a depth guy and Scott Fujita should either come back at a restructured, cheaper-rate as a backup or get released.
The Browns really need a young stud weak-side LB to help shore up the front seven. They should look relatively early in the draft for said player. Later draft picks could be used for depth as well.

Cornerback
Joe Haden is one of the best young CBs in the NFL as he helped anchor the second-best pass defense in the entire league.
I really feel like the "need" for a CB has been really overstated. Between Sheldon Brown, Dimitri Patterson and Buster Skrine the Browns have plenty of depth. Once again the Browns finished second in pass defense last year.
If they upgrade at CB I can stomach it, but only if the value is off the charts.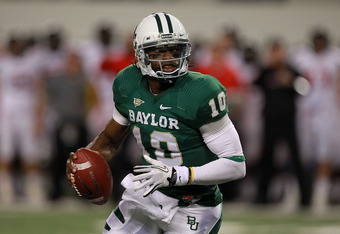 Ronald Martinez/Getty Images

Safety
T.J. Ward has the SS spot locked down if he can come back healthy and Mike Adams is a nice depth player behind him.
I am fine with one of these three Usama Young, Eric Hagg or Raymond Ventrone being brought back for depth as well, however the Browns really need an upgrade at the FS position.
If Sheldon Brown gets moved to FS than this need gets shifted over to CB. I would like to see the Browns go after a solid FS relatively early in the draft.
Special teams
Phil Dawson needs to be retained at kicker.
Hodges should be the starting punter if he is fully recovered from his injury.
Christian Yount did a fine job at LS after Pontbriand was unfairly released. The Browns would be crazy to spend a draft pick at any of these positions this year.

To summarize, I believe the following are the Browns' biggest needs in order (excluding QB); 1. WR, 2. RB, 3. RT, 4. DE, 5. WLB, 6. FS, 7. O-Line Depth, 8. D-Line Depth, 9. LB Depth and 10. CB.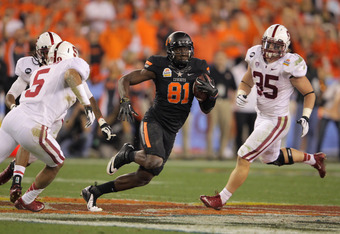 Doug Pensinger/Getty Images

Mock Draft
With the first pick in the draft, I believe the Indianapolis Colts should take Andrew Luck. I would not blame them if they traded the rights to this pick for a king's ransom, and made several more Super Bowl runs with Peyton Manning if they believe he will come back healthy.
However, if they draft Luck they need to get rid of Manning. Keeping both around would be asinine.
With the second pick in the draft, I believe the St. Louis Rams should trade this pick to the highest bidder.
The winning bidder is obviously going after Robert Griffin III.
Under no circumstances do I want the Browns to be in on that bidding. I am completely anti-running QBs in the NFL.
Just know my opinions on the matter led to the most commented sports article in the history of Bleacher Report; http://bleacherreport.com/articles/939964-cam-newton-does-not-deserve-to-win-nfl-offensive-rookie-of-the-year. The Rams have far too many holes to reach for someone here. By trading down they can take a big step towards rebuilding under Jeff Fisher.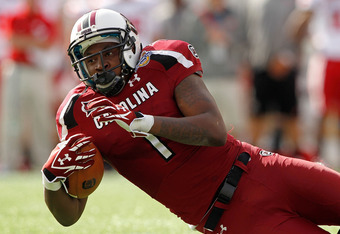 Mike Ehrmann/Getty Images
With the third pick in the draft, I believe the Minnesota Vikings should take Matt Kalil.
Kalil does not have the ceiling of Joe Thomas or Jake Long, but he is a very safe pick. He should be able to step in from day one and upgrade the LT spot for the Vikings.
So where does this leave the Browns?
Given the position of need most fans will clamor for one of two players: WR Justin Blackmon from Oklahoma State or RB Trent Richardson from Alabama.
I am going to explain why taking either of these players with the fourth pick in the draft would be a mistake.
Blackmon has always seemed like Michael Crabtree V2.0 to me. They both came from spread offenses in the Big 12, where they both put up huge numbers.
Neither one was an athletic freak or looked like a No. 1 WR in my eyes. That is what my gut told me.
Then I dug deeper and the similarities were scary.
Blackmon is listed at 6'1" and 215 lbs while Crabtree is listed at 6'1" and 214 lbs.
Over his last two college seasons Blackmon caught 38 touchdowns while Crabtree caught 41 touchdownss.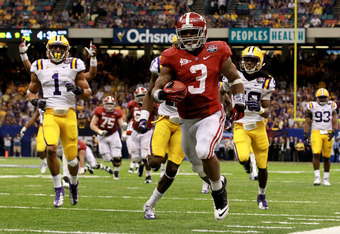 Ronald Martinez/Getty Images
In that same time frame Blackmon had 232 receptions while Crabtree had 231 receptions.
In that same time frame Blackmon had 3,304 receiving yards while Crabtree had 3,127 receiving yards.
They both have off the field issues as well.
Blackmon was busted with a DUI, while Crabtree was labeled as a diva before eventually holding out for a lengthy amount of time after he was drafted.
During his time in the NFL, Crabtree has never had 900 receiving yards in a season or had more than six receiving touchdowns in a year.
He is not a No. 1 WR.
He is just a solid No. 2 WR. We have three years of proof to back this up. Why on earth should the Browns draft a guy at number four overall that screams Crabtree V2.0? From a value standpoint it would be a waste.
The topper is that I do not even view Blackmon as the best WR prospect in this year's NFL draft.
That honor would go to Alshon Jeffery, who from a physical standpoint is more of a prototypical No. 1 WR.
He is 6'4" and 229 lbs. He reminds me a little bit of a slightly inferior version of Larry Fitzgerald crossed with Calvin Johnson (in my opinion the two best WRs in the NFL today).
In a more traditional offense Jeffery posted huge numbers last year. He had 88 receptions, 1,517 receiving yards and 9 receiving touchdowns.
His numbers were down from those this year, but that was more of a byproduct of inconsistent QB play from Stephen Garcia and to a lesser extent Connor Shaw. I am not alone on ranking Jeffery higher than Blackmon.
Bleacher Report's own draft guru Matt Miller has had Jeffery ranked ahead of Blackmon for quite some time as well.
Trent Richardson would also be a mistake with the fourth overall pick based on value.
Teams cannot take a RB in the Top 10 picks unless he has the look of a Hall of Fame RB coming out of college.
Since the mid-90s only three RB made me feel like they were worth a Top-10 pick and eventually went in the actual Top-10: Adrian Peterson went seventh overall in '07, Tomlinson went fifth overall in '01 and Ricky Williams went fifth overall in '99.
Tomlinson is going to Canton, Peterson will follow him if he can recover from his knee injury (which he suffered at the end of this past season) and return to his previous form and Ricky Williams would have made it had he been able to stay away from marijuana (Ricky has still rushed for 10,000+ yards so he has still had a great career, just was not able to maximize his potential).
Every other RB that was drafted in the Top 10 in that time frame has not been worth it the vast majority of the time.
The value is just not there when RBs have such a short shelf life.
I like Richardson and I would take him in a heartbeat with the Browns second first round pick from the Atlanta Falcons. I just cannot condone taking him with the fourth pick. That would be even higher than Peterson, Tomlinson or Williams went in the draft.
That sounds crazy to me.
So what should the Browns do?
Trade down and stockpile picks.
If I was forced to pick someone I would go with Jeffery, however with so many holes to fill the Browns should be able to trade down, pick up some additional picks and still possibly add Jeffery later on in the first round.

With that said, I think the Browns' draft strategy should play out as follows:

First Round: WR - Alshon Jeffery (South Carolina)
First Round: DE - Whitney Mercilus (Illinois) or Melvin Ingram (South Carolina) could be on the board here and would provide a great compliment to Sheard.
Second Round: WLB - Zach Brown (North Carolina) or Lavonte David (Nebraska) could be on the board here. Vontaze Burfict (Arizona State) might drop and could be the steal of the draft.
Third Round: RB - LaMichael James (Oregon) could be on the board as a perfect 3rd down RB.
Fourth Round: RT - Levy Adcock (Oklahoma State) or Matt Reynolds (BYU) could be on the board here.
Fourth Round: FS - Best available.
 
Fifth Round: Best OL, DL, LB or CB prospect available.
Sixth Round: Best OL, DL, LB or CB prospect available; not taking the same position as fifth round obviously.
Seventh Round: Best OL, DL, LB or CB prospect available; not taking the same position as both the fifth or sixth rounds obviously.
Let me know what you think.