2012 Senior Bowl Performance Reviews: Defensive Line
February 1, 2012

Geoff Burke/Getty Images
With the conclusion of Saturday's game in Mobile, Ala., the 2012 Senior Bowl officially became complete, and with that, a large step in the pre-draft process for all of the players who participated, and for all the team personnel that attended.
Of course, evaluations should always be based primarily on game tape, not on performance during an All-Star game week. That said, the Senior Bowl is a great opportunity for many of the top prospects for the NFL Draft to all compete on a level playing field against one another, making it a great tool for scouting evaluation, and a great venue for every prospect who attends to boost their stock.
After watching all of the televised coverage of practices as well as the game thanks to NFL Network (and my Slingbox, since the basic cable here at Ohio State does not include NFL Network), I present my full evaluations of the week, based on what I could watch.
Due to the comprehensiveness and length of the article, I have split the performance reviews into six positional groupings:
Defensive Ends
South Carolina's Melvin Ingram and North Carolina's Quinton Coples both came into the week with first-round draft grades, and both lived up to expectations.
Ingram was the best player on either roster in practices during Senior Bowl week, as he was a completely dominant force in the drills. He displayed tremendous explosiveness at the line of scrimmage, and that he possesses abilities that will allow him to overcome his less than ideal size for a defensive end.
Ingram won almost every battle in one-on-one drills, whether he used his speed and burst off the edge to get around a blocker, or overpowered his opponent with his strength. Surprisingly, Ingram made barely an impact in the actual game on Saturday, but his impressive performance throughout the week of practices solidified his stock as a top-20 draft pick.
While Ingram made his big statement in practices, Coples was the best player on the field in Saturday's game. In the game, Coples had two tackles for loss, one of which was a sack, and also tipped two passes. Furthermore, he brought consistent heat, and no North offensive lineman could contain him, regardless of whether he lined up at end or inside at tackle.
Coples was no slouch in practices, either. He has a terrific first step, and beat many blockers off the line in one-on-one drills this week. Coples' first-round talent showed in both the practices and games, as he has ideal size and athleticism for the defensive end position, and has the ability to consistently wreak havoc. Coples solidified his stock as a top-20 draft pick.
Marshall's Vinny Curry also had a terrific showing at the Senior Bowl. He had a decent week of practices, in which he often went up against Ohio State left tackle Mike Adams, giving him all he could handle. Curry then went on to be the best player for the North defense in the game.
Curry had two sacks and a tipped pass for the North defense, and constantly brought pressure whenever he was in the game as a pass rusher. Curry showed impressive athletic ability throughout the week, with more athleticism and change-of-direction ability than expected from him leading into the week.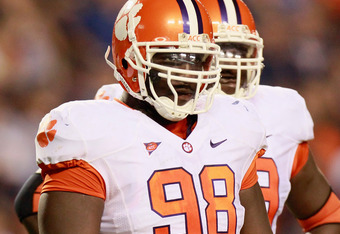 Kevin C. Cox/Getty Images
Curry was tremendously productive at Marshall, and continued that level of productivity in the Senior Bowl. He is a gamer who has proven to have a non-stop motor and wreak havoc, and he now is in great position to be a second-round draft choice.
Jaye Howard was a defensive tackle at Florida, but is best suited to play defensive end in a 3-4 system at the next level. Howard missed Wednesday's practice due to injury, but was an absolute standout in Tuesday's practice.
Whether he was beating an offensive tackle around the edge, making a spin move at the line of scrimmage, or coming on a bull rush, Howard was winning nearly all of his one-on-one battles. Howard was able to return healthy to play in Saturday's game, and he had a strong performance in game action as well, continuing to show his ability to penetrate and make plays at the line of scrimmage.
Howard's combination of size, athleticism and penetrating ability makes him a great fit to play defensive end in a 3-4 at the next level, and he established himself as a fourth-round draft pick with his strong showing in Mobile.
Penn State's Jack Crawford had a solid all-around week. Crawford displayed an impressive combination of size and athleticism, and made plays but was not dominant. He maintained his stock as a likely fifth-round draft pick.
Virginia's Cam Johnson had a similar showing. Johnson is a skilled defensive end who showed his ability as both a pass rusher and run stopper, but was not among the week's big playmakers. He remains a likely fourth-round draft pick, although it has been awhile since Johnson has had any sort of big game.
Arkansas's Jake Bequette is another defensive end who had a disappointing senior season, and he was a major disappointment at the Senior Bowl. Part of the problem is that he was primarily working in stand-up as an outside linebacker. Bequette does not have the lateral athleticism nor coverage ability to be a linebacker, but has the size and strength to hold his own up front.
Bequette left virtually no impression upon the practices or the games, and coming off of a disappointing senior season, he could easily fall into the sixth round of the draft.
Tennessee's Malik Jackson, a late addition to the Senior Bowl, did have an impressive pass knockdown in the game, but that was the only play that I saw him make during the week. He stands as a fifth- or sixth-round draft pick.
Defensive Tackles
Clemson's Brandon Thompson was the star among the interior defensive linemen in Mobile. Thompson had a terrific week of practices, in which he dominated one-on-one drills. He displayed this week that he is both an explosive, quick penetrator, and a powerful, strong bullrusher.
Thompson made a case for being a late first-round draft selection this week, and should go somewhere between there and the early second round as one of the draft class's top defensive tackles.
The other star defensive tackle of the week was more of a surprise: That player was Connecticut's Kendall Reyes. Reyes was dominant at the line of scrimmage in practices all week, using all 300 pounds of his frame well and athletically.
Reyes showed that he can use his explosiveness well as a gap penetrator, and carried that into the game, in which he came up with a seven-yard sack. Reyes's athletic ability gives him the added flexibility to play not only defensive tackle, but defensive end in a 3-4 system. After a strong Senior Bowl week, Reyes should go somewhere between the third and fourth rounds of the draft.
Washington's Alameda Ta'amu did not have a very good week of practices. He lost many of his one-on-one matchups, even though he is a good athlete and is bigger than every offensive line he went up against at 341 pounds.
Fortunately for Ta'amu, he bounced back in a big way with a tremendous gameday performance. Ta'amu was a dominant force on the field in the game, highlighted by two big tackles for loss.
Ta'amu's combination of size and athleticism makes him a very intriguing nose tackle prospect, but his lack of consistent productivity, including at the Senior Bowl, hurts his stock. He should be selected in the fourth or fifth round.
As I stated in my North Roster Breakdown, all five defensive tackles on the North squad were fighting with each other for draft position, and that proved to be true. Kendall Reyes, ranked fifth among them, leaves the week with the best grade of the group, while Boise State's Billy Winn, who came into the week with the best grade of the group, leaves with the worst.
After a very disappointing senior season, Winn needed a strong showing in Mobile to work his way back up into Day Two draft stock. Instead, Winn was completely manhandled in one-on-ones all week long, and he was almost a non-factor in the game. Winn is a very good athlete, but he clearly lacks strength, and may lack the power at the line of scrimmage to be a successful defensive tackle in the National Football League.
Winn showed great promise in his Boise State career, but that promise has been hard to see recently, and he now should be selected no earlier than the fifth round.
Michigan's Mike Martin had a very solid Senior Bowl week. Martin lacks height at only 6'2'', but he displayed a surprising level of athleticism, and he has the strength to really be forceful on the interior line. He was impressive in one-on-one drills, and had a solid gameday performance with three tackles. Martin has the skill set to be a productive rotational defensive tackle, and would be a good fourth-round draft pick.
Cincinnati's Derek Wolfe was a late addition to the North roster, and he did not make much of an impact during the week of practices. Wolfe was often lined up at defensive end in one-on-one drills in practice, and he was clearly out of position.
That said, Wolfe moved back inside on gameday, and looked stout inside, picking up three tackles in the process. Wolfe may have fallen behind Ta'amu and Martin this week, but remains a solid fourth- or fifth-round draft value.
Texas's Kheeston Randall had a disappointing senior season, and that carried over into Mobile. Randall had his moments, but for the most part, he was dominated at the line of scrimmage in one-on-ones. Randall has explosive athleticism that he can use to make plays, but seems to be lacking the strength to be an impact player on the interior.
Randall is probably best suited to play defensive end in a 3-4 system at the next level, which may be able to maximize his abilities. That said, a disappointing showing in Mobile should leave him no better than a fourth-round draft pick.
North Carolina's Tydreke Powell and Texas A&M's Tony Jerod-Eddie both had the intriguing combinations of size and athleticism to gain invites to this year's Senior Bowl. Both had their flashes of greatness this week, but for the most part, they were subpar, showing little more than they did in collegiate careers that were only decent. Both remain seventh-round draft values.
---
Thanks for reading!
Click the following links to read the remainder of my 2012 Senior Bowl performance reviews:
Quarterbacks and Running Backs
For more 2012 NFL Draft coverage, follow me on Twitter @Dan_Hope.