2012 Senior Bowl Performance Reviews: Offensive Line
February 1, 2012

Al Messerschmidt/Getty Images
With the conclusion of Saturday's game in Mobile, Ala., the 2012 Senior Bowl officially became complete, and with that, a large step in the pre-draft process for all of the players who participated, and for all the team personnel that attended.
Of course, evaluations should always be based primarily on game tape, not on performance during an all-star game week. That said, the Senior Bowl is a great opportunity for many of the top prospects for the NFL draft to all compete on a level playing field against one another, making it a great tool for scouting evaluation, and a great venue for every prospect who attend to boost their stock.
After watching all of the televised coverage of practices as well as the game thanks to NFL Network (and my Slingbox, since the basic cable here at Ohio State does not include NFL Network), I present my full evaluations of the week, based on what I could watch. Due to the comprehensiveness and length of the article, I have split the performance reviews into six positional groupings.
Offensive Line
Considering that many of the offensive linemen at the Senior Bowl were collegiate left tackles who will convert to right tackle or guard in the NFL, I decided it would be easiest to group all of the offensive linemen together for this section, rather than to split the section into three positional groups.
Left tackle is the premier offensive line position in terms of draft value, given that player's responsibility in protecting the quarterback's blind side. Ohio State's Mike Adams proved that he is capable of playing left tackle at the next level this week, and worked himself up into the first round of the draft.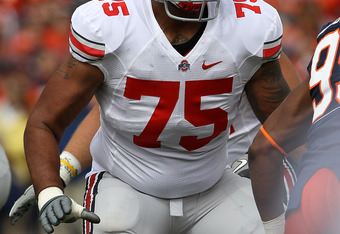 Jonathan Daniel/Getty Images
Adams was not completely dominant, but he lined up at left tackle all week, and was very consistent. In one-on-one drills, he was often matched up against Marshall's Vinny Curry, one of the draft's top pass rushers, and won most of the battles.
Adams is not quite at the level of the draft's top three left tackles (USC's Matt Kalil, Stanford's Jonathan Martin, Iowa's Riley Reiff), but once those three players are off the draft board, Adams will become a very valuable commodity. Adams has ideal size and athleticism for the position, and displayed both his pass and run blocking talents throughout his time in Mobile.
Coming into the week, Georgia's Cordy Glenn was a second-round value, but although he was a collegiate left tackle, he was expected to almost certainly have to switch positions to right tackle or guard. While Glenn is still better suited to switch to one of those positions, he did display real potential as a left tackle this week.
Glenn is a massive man, and although he is not quite the athlete that Adams or the other top left tackles are, he still has decent athleticism for his size.
Everywhere Glenn lined up in practice this week, he was dominant. During Wednesday's practice, Glenn spent most of the day at left tackle, and was a dominant presence. These repetitions included going up against three first-round pick pass rushers in Melvin Ingram, Quinton Coples, and Courtney Upshaw, and he held his own against all of them.
Glenn played inside at guard in the actual game, which is a good sign that he will probably end up moving inside to left guard at the next level. That said, he displayed his versatility to also play offensive tackle, which increases his draft value. With a tremendous showing, he likely ends up a late first-round draft pick.
Another offensive lineman who had a very strong showing is Troy's James Brown. Brown lined up as both an offensive tackle and guard, and played well at every position, but was most impressive inside.
Brown looked very good in pass protection, as he is a very good athlete for a 307-pound man. But Brown is well-built, and looked strong as a run blocker as well. Brown is a player I definitely need to watch more tape on, but after a very good week in Mobile, he stands as a fourth-round draft value.
Illinois's Jeff Allen, Iowa State's Kelechi Osemele, Utah's Tony Bergstrom, and Washington's Senio Kelemete are four more collegiate left tackles that will make their livings inside at the next level.
Allen came into the week with a low grade, but he had the best week of any of these players. Allen looked very out of place when he lined up at offensive tackle, but looked strong inside at guard. He should be a solid second-string offensive lineman at the next level, worth a fifth- or sixth-round pick.
Osemele is absolutely massive and very strong, but struggled mightily as an offensive tackle this week. Osemele frequently had problems with holding, especially going up against Quinton Coples on gameday, as he does not have the lateral movement skills to contain a player with Coples's level of athleticism. Osemele had a very good collegiate career, and is powerful as a run blocker, but could fall to the third round after a subpar showing at the Senior Bowl.
Bergstrom and Kelemete both had some strong moments, but also missed blocks too frequently. Bergstrom rates as a fourth-round guard prospect, whereas Kelemete should go somewhere between Rounds 4 and 5.
Wisconsin guard Kevin Zeitler did not have a great week in one-on-ones, but he is a physical, mauling guard who looks much better in team drills than in isolation. Zeitler came into the week with a chance to solidify himself as a second-round draft pick, but instead stands as a third-round value.
California offensive tackle Mitchell Schwartz had a solid week in one-on-ones, and looks like a good fit to play right tackle at the next level. He could work his way up into the fifth round.
Two offensive tackles that were more highly touted but had more downs than ups at the Senior Bowl were Florida State's Zebrie Sanders and UAB's Matt McCants.
Sanders had a strong showing in Tuesday's practice, but struggled badly on Wednesday's practice regardless of where he lined up. At times, Sanders looked like he could be a star left tackle, and at other times, he looked like a seventh-round pick.
Sanders has high upside, but he does not look like a starting left tackle at the next level. That said, he could be a very solid right tackle or a priority backup lineman. Unfortunately, he failed to take advantage of his chance to rise up the rankings, but should be a solid fourth-round draft choice.
While Sanders was inconsistent, McCants simply had a bad week. He consistently got beaten in one-on-ones due to poor leverage. Pass rushers were beating both with their speed on the edge rush, and by running right over him with the bullrush. McCants's measurables had him coming into the week with Day Two potential, but following a bad showing in Mobile, he leaves the week with a fifth-round grade.
It was not a very strong week for the centers at the Senior Bowl, but Georgia's Ben Jones started and finished the week with a third-round grade, the best among the centers in attendance. Jones had a very good career going up against SEC defenses, and should be able to start at the next level. He did not dominate in the drills this week, but he had a very solid overall showing to maintain his draft stock.
Coming into the season, Ohio State's Mike Brewster was the highest-rated center, but he struggled in his senior season, and his woes only increased at the Senior Bowl. Brewster looked good as a run blocker, but struggled in interior pass protection and had a difficult time with executing shotgun snaps. Following a disappointing showing in Mobile, Brewster is a fourth-round pick at best.
Alabama center William Vlachos had a tale of two days between practices on Tuesday and Wednesday. On Tuesday, Vlachos was absolutely horrible, as he was dominated consistently in one-on-one drills. That said, Vlachos had a great day on Wednesday, in which he was on the good end of the one-on-ones.
All that taken into consideration, Vlachos is a player who looks much better in team drills than he does in a head-to-head setting. He rates as a fifth- or sixth-round selection.
Baylor center Philip Blake also had a week of ups and downs. Blake is a tough, high-motor lineman who won his fair share of one-on-one battles, but at times looked out of place as a center, struggled with snaps and had poor leverage.
Blake may be better suited to play guard than center at the next level, although he is only a backup lineman at the next level. He is worth a draft pick in the final two rounds.
LSU's Will Blackwell had a decent week, but remains a late-rounds draft pick at best. Penn State's Johnnie Troutman, a late addition to the North roster, had a surprisingly strong showing this week, but that may not have been enough to get him drafted.
One other late addition, California (PA)'s Rishaw Johnson, had a really rough go. Johnson had a good showing at the Shrine Game, and was called upon after injuries to both Arizona State center Garth Gerhart and Wake Forest interior lineman Joe Looney. Unfortunately, this meant that Johnson was expected to line up at center, a position that proved not to be for him.
For one to be a center, one must be able to snap the ball effectively, and that is not a part of Johnson's skill set. In the game, Johnson's first three consecutive snaps in the game were all unable to be handled by Russell Wilson. As a result, Johnson was removed from the game, and would not return.
Johnson had a solid performance at the Shrine Game as a guard, but his rough showing at the Senior Bowl leaves him as a seventh-round draft prospect.
---
Thanks for reading!
Click the following links to read the remainder of my 2012 Senior Bowl performance reviews:
Quarterbacks and Running Backs
For more 2012 NFL Draft coverage, follow me on Twitter @Dan_Hope.