2012 Senior Bowl Performance Reviews: Quarterbacks and Running Backs
February 1, 2012
Andy Lyons/Getty Images
With the conclusion of Saturday's game in Mobile, Ala., the 2012 Senior Bowl officially became complete, and with that, a large step in the pre-draft process for all of the players who participated, and for all the team personnel that attended.
Of course, evaluations should always be based primarily on game tape, not on performance during an All-Star game week. That said, the Senior Bowl is a great opportunity for many of the top prospects for the NFL draft to all compete on a level playing field against one another, making it a great tool for scouting evaluation, and a great venue for every prospect who attend to boost their stock.
After watching all of the televised coverage of practices as well as the game thanks to NFL Network (and my Slingbox, since the basic cable here at Ohio State does not include NFL Network), I present my full evaluations of the week, based on what I could watch. Due to the comprehensiveness and length of the article, I have split the performance reviews into six positional groupings.
Quarterbacks
Oklahoma State's Brandon Weeden came into the week as the best quarterback at the Senior Bowl, and that was certainly the case during the week of practices in Mobile.
Consistently throughout the week, Weeden put on display that he is not the typical spread-system quarterback. He has an NFL-caliber arm, and the ability to make accurate downfield throws.
That said, Weeden was not impressive on game day. Of the nine passes Weeden threw, he only completed five for 56 yards and threw two interceptions. However, while his poor performance on game day put a halt to the momentum he had been building up, Weeden still did enough this week to prove himself worthy of at least a third-round selection, even at the age of 28. He is not going to be a long-term franchise quarterback, but he has the potential to be a starting-caliber quarterback.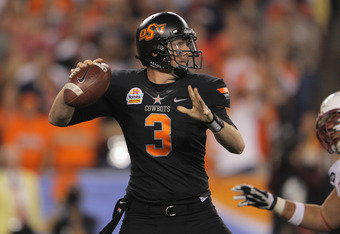 Doug Pensinger/Getty Images
Arizona's Nick Foles did not stand out as either good or bad during the week of practices, but he was the star among all six quarterbacks on game day. Of all the quarterbacks in the game, he looked the most comfortable both getting under center and stepping up in the pocket. Foles completed 11-of-15 passes in the game for 136 yards and a touchdown. With a strong showing on game day, Foles has also made a great case to be a third-round draft selection.
Michigan State's Kirk Cousins was not a star at the Senior Bowl, but he was solid throughout the week, and carried that into the game. He was the best quarterback on the North roster over the course of the week, looking comfortable in the pocket and throwing the ball accurately.
Cousins had some accuracy problems on game day, completing only 5-of-11 pass attempts, but he did throw for 115 yards, and played well enough to secure his stock as a fourth-round draft choice.
Boise State's Kellen Moore did not have a good week in practices. He looked uncomfortable under center, struggled with his accuracy on downfield throws, fumbled numerous snaps and missed too many receivers.
He had a better showing on game day. While he only completed half of his passes, Moore did have two consecutive would-be touchdown passes that his receivers failed to catch. That said, his stock took a turn for the worse at the Senior Bowl, and he is now unlikely to be anything better than a fifth-round draft pick.
San Diego State's Ryan Lindley came into Senior Bowl week with the worst grade of any quarterback in Mobile, and he affirmed those grades by looking the worst of all six quarterbacks. Lindley has a big arm, and showed his ability at times during the game to make big plays through the air.
Unfortunately, Lindley was plagued by inconsistency and accuracy problems throughout his senior season, and that was the case once again in Mobile. He should be drafted no higher than the sixth round.
Wisconsin's Russell Wilson looked more comfortable outside of the pocket than in the pocket, and did not look comfortable under center. Wilson's ability to make plays happen on the run is impressive, but unfortunately, that skill set is unlikely to translate to NFL success. That said, he has promise as at least a backup quarterback, and remains worth a fifth-round draft pick.
Running Backs
Among the players considered to be running backs coming into the week, Chris Rainey was the most impressive, but he will now be evaluated as a wide receiver, so he will be included in the next slide.
Running back is quite possibly the most difficult position to scout during Senior Bowl practices, because in order to gauge the important ability of a running back to break tacklers, it is important to have them running against full-speed tacklers. Therefore, game day was the time for a running back to stand out in Mobile.
The running back who certainly stood out in the game was Cincinnati's Isaiah Pead, who was named the game's MVP. Pead only ran the ball eight times for 31 yards, but had two tremendous punt returns of 60 and 38 yards.
Pead is a small back who will likely be used as a situational rusher at the next level, but the special teams ability he displayed in this game helps his draft stock considerably. Pead showed a surprising ability to accelerate quickly, hit the hole hard and make defenders miss. Pead will not be a feature back at the next level, but with the ability to return punts and be a special teams contributor, he could be a fourth-round draft pick.
The best running back over the course of the entire week was Mississippi State's Vick Ballard. At 217 pounds, Ballard is known as a power back, and he is certainly a strong, powerful runner. Ballard also displayed this week that he is deceptively fast.
Ballard has a strong burst, and he is a hard runner who makes it tough for opposing defenders to bring him down. He was the leading rusher on the South squad in the game, with seven carries for 29 yards. Ballard may have worked his way up into the fourth round with a strong week.
Louisiana Tech's Lennon Creer was a late addition to the Senior Bowl after being named offensive MVP at the Shrine Game the previous week. Creer followed up a strong Shrine Game performance with a strong week at the Senior Bowl.
Creer only ran the ball four times on game day, but did have one big highlight, as he punched a six-yard run to the sideline, finishing the rush strong by lowering his shoulder right through one of the biggest linebackers in Mobile, Audie Cole. Over the course of the week, Creer displayed great vision and ability to run hard through the hole.
Prior to the Shrine Game, Creer was unlikely to be drafted. However, after a big performance in the Shrine Game and a strong week at the Senior Bowl, he should be worth a selection in the sixth or seventh round.
Washington's Chris Polk and Boise State's Doug Martin both came into the week with third-round draft grades, competing with each other for draft position. Martin won the battle this week. Martin only ran the ball four times in the game, but he made the most of his opportunities. Martin had an 11-yard rush, as well as a six-yard rush on which he made an impressive spin away from Florida defensive lineman Jaye Howard, showing his ability to break tacklers at the line of scrimmage.
That said, Martin made his biggest impression with two big blocks he made on game day. In the first quarter, Martin had a very good cut block to take out one of the top defensive players in the game, Melvin Ingram. Later, Martin ran all the way to the 5-yard line to make the final block to propel Gerell Robinson to a 41-yard touchdown. Martin helped himself by putting his ability to block on display, which helps affirm him as a third-round draft selection.
Polk did nothing to stand out at all this week. While he flashed a couple of decent runs in the game where he showed his ability to run with power and speed, he overall made little impact. Polk is a steady third-round draft choice based on his talent and strength of game tape, but falls behind Martin in the rankings.
Baylor's Terrance Ganaway and Ohio State's Daniel Herron had solid overall weeks, but both did little to stand out, and each remains worth a fifth-round pick.
Wisconsin's Bradie Ewing, the North team fullback, did not have a very strong overall week, but he did have a highlight on game day. Ewing is a very good receiver out of the backfield, and he showed his ability to make a receiving play downfield in the game, as he came back to an underthrown pass and laid out to make a 23-yard reception, even while being well-covered. Ewing is a solid all-around fullback who remains a likely seventh-round selection.
Clemson's Chad Diehl suffered a concussion, and had to leave the Senior Bowl early. His replacement, Florida Atlantic running back Alfred Morris, lined up at fullback as a result, and he was not particularly impressive. Neither is likely to be drafted.
---
Thanks for reading!
Click the following links to read the remainder of my 2012 Senior Bowl performance reviews:
Wide Receivers and Tight Ends

Offensive Line
For more 2012 NFL Draft coverage, follow me on Twitter @Dan_Hope.