Super Bowl XLVI: 10 Reasons to Bet It All on the Giants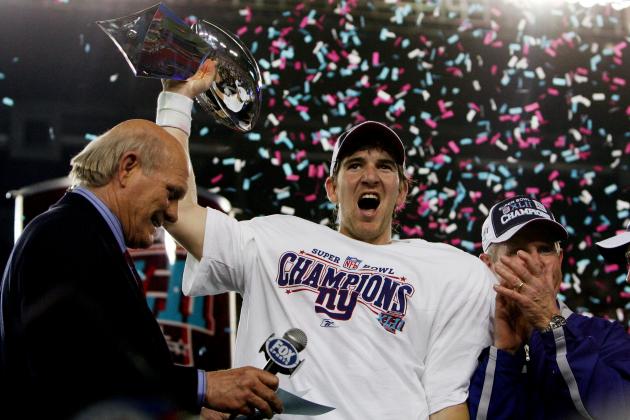 Harry How/Getty Images

One of these days, somebody will have to get Tom Coughlin and the Vegas odds-makers to make nice. As of right now, they can't seem to agree on anything.
Much to the chagrin of their opponents, Coughlin and the New York Giants have made a habit of "beating the spread" and claiming the victories experts believe they shouldn't. Earlier in November, Big Blue marched into Foxboro as nine-point underdogs, only to defeat the New England Patriots by a four-point margin. The G-Men were again given a nine-point spread against the NFC North champion Packers three weeks ago, yet they emerged from a frigid Lambeau Field as 37-20 winners.
In many ways, the Giants and the 'Pats entered the NFL Playoffs as mirror images of each other: both teams boasted stagnant rushing attacks, inconsistent secondaries, and a prolific passing game behind an elite signal-caller. But New York has improved on the defensive side of the ball far more than New England has. And despite being considered 2.5 point favorites, it is Big Blue who should enter Super Sunday with the utmost confidence. Here's a few reasons why you should bet it all on the New York Football Giants coming away with a ring in Indy.
Begin Slideshow

»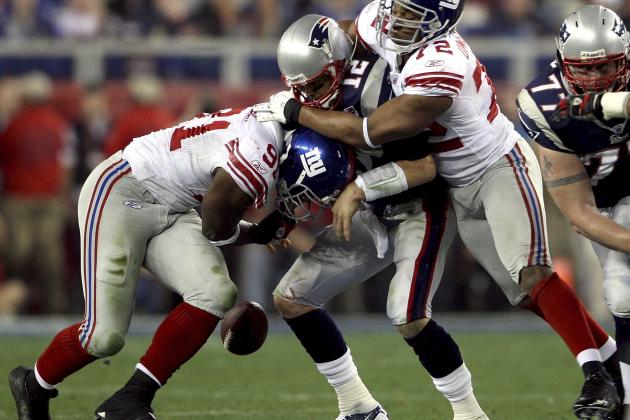 Andy Lyons/Getty Images

At this point, it almost seems cliche to mention New York's formidable front four as a key to success on Sunday. But it still cannot be ignored. The Giants' defensive line is able to change the entire face of a game at any moment, as Tom Brady and company learned four years ago in Super Bowl XLII.
Aaron Rodgers is one of a handful of quarterbacks who strangely excel outside of the pocket and Alex Smith is considered one of the more mobile QBs in all of football. New York was able to shut down both of them in consecutive contests.
Tom Brady's resilience and skill set are undeniable, but his abilities when the pocket collapses are far from stellar.
True, New England's protection unit has been tremendous this postseason—they've allowed just one sack and four QB hits against two of the NFL's premier defenses.
Still, Justin Tuck, Jason Pierre-Paul and Osi Umenyiora provide immense speed off the edge, and even if the Giants can't physically get to Brady on Sunday, they'll be able to force him into a multitude of unfavorable situations. If the 'Pats are forced to rely on Brady's mobility, the big game could become a surprising blowout in a hurry.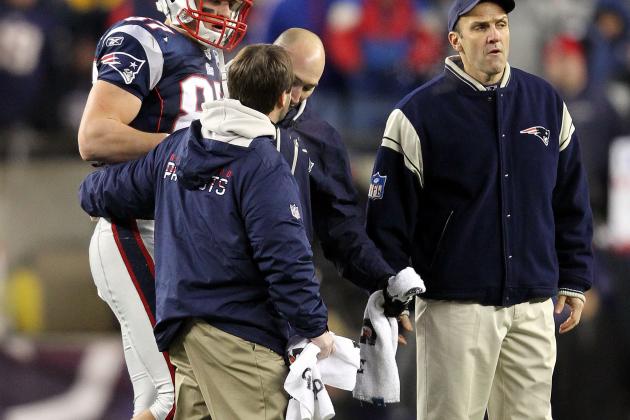 Jim Rogash/Getty Images

While many signs point to Rob Gronkowski playing on Sunday, the star TE will still be visibly affected by the ankle injury he sustained two weeks ago against Baltimore.
The numbers speak for themselves—over 1300 receiving yards and a whopping seventeen scores in 2011. In what was dubbed as the "Year of the Tight End," Gronkowski was light-years beyond the rest of the league.
He's New England's vertical threat. And with "Gronk" hindered by injury, Brady's offense becomes much less intimidating.
True, Aaron Hernandez is more than serviceable at the position and an injured Gronkowski is still nothing to take lightly.
But consider the myriad of star players that have been affected by ankle injuries in recent Super Bowls: Indianapolis' Dwight Freeney in 2010's title game and Pittsburgh's Maurice Pouncey in 2011's, to name a few. These players have something else in common: neither one was hoisting the Lombardi Trophy at the game's conclusion. Expect Gronkowski to join that list this year.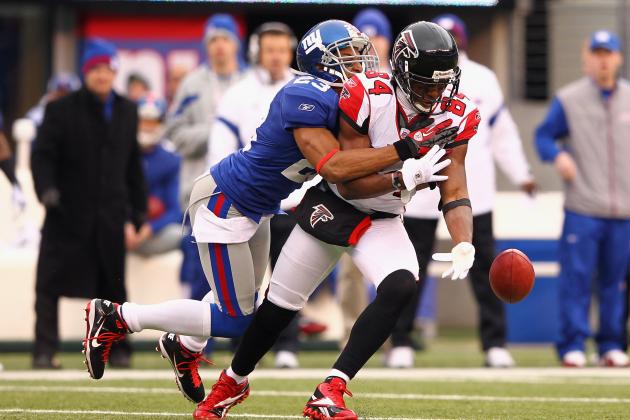 Al Bello/Getty Images

In the 2011 campaign, defensive coordinator Perry Fewell faced serious scrutiny from the New York media. In particular, critics blamed the Giants' porous secondary, a unit that had once been the team's strength, for Big Blue's inconsistent performances throughout the regular season.
Then, in a New York minute, everything changed, and the G-Men now enter the Super Bowl flaunting dangerously-hot pass coverage.
Corners Corey Webster and Aaron Ross are tied for fifth in the playoffs in "success count," a statistic that measures positive plays made. In the regular season, Webster ranked 35th in this category, while Ross came in at 54th.
New York's secondary seems to have re-established its dominance, shutting down prime-time wideouts like Roddy White, Julio Jones, Greg Jennings and Jordy Nelson in recent weeks.
What's perhaps most significant is the improved play of Big Blue's linebackers and safeties. The Patriots' offense is largely built around its tight ends, but with Michael Boley, Antrel Rolle and Kenny Phillips firing on all cylinders, expect Hernandez and the injured Gronkowski to have a less-dramatic impact on Sunday's showdown.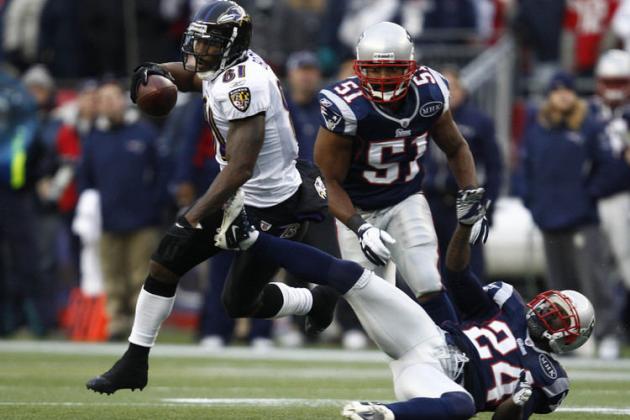 On the other end of the spectrum is New England's pass defense. Like the Giants, the Pats had built success in years past in large part to a consistent, lock-down secondary.
That wasn't quite the case this season—New England ranked dead last in the NFL in total pass defense.
Obviously the secondary is a bit of a liability for the AFC Conference champs. And yes, like the Giants, they too have elevated their performance in the playoffs thus far.
Yet the G-Men had to handle the arduous task of slowing down the Falcons and the Packers, two of the league's most complete aerial attacks. The folks from Foxboro, on the other hand, had to face Denver and Baltimore, two run-first offenses with very inconsistent quarterbacks and fewer stand-out receivers.
The 'Pats haven't recorded a single interception this postseason, and with Eli playing the best football of his career, that might not change on Sunday. Simply put, both secondaries are a definite question mark, but there's much more certainty on New York's end, making them more likely to take the W in Indy.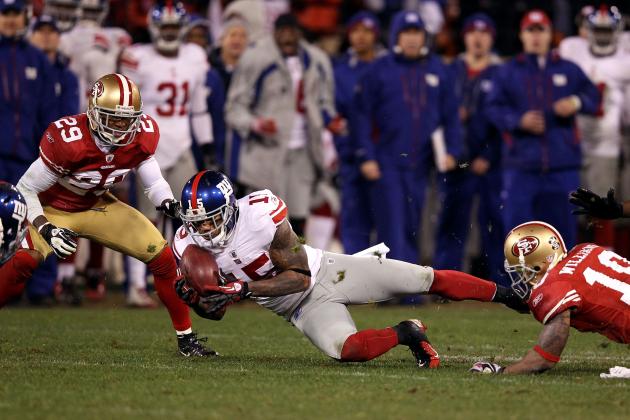 Ezra Shaw/Getty Images

An adage that has existed as long as professional football itself reads: "it's a game of field position."
Despite New York and New England's prolific offenses, this saying should still ring true on Sunday.
As demonstrated in San Francisco, the Giants have a special teams unit that can give their offense excellent starting field position through generating turnovers, near-perfect kick coverage, and an improving return game.
Patriot utility-man Danny Woodhead has been fantastic in returns this postseason, but against a Big Blue kick coverage unit that's been unstoppable in recent weeks, his impact will likely diminish.
Furthermore, punter Steve Weatherford has been spectacular, and he's averaging almost three net yards more than his New England counterpart Zoltan Mesko in these playoffs.
Factor in Lawrence Tynes, a veteran kicker who's made far more clutch field goals than contemporary Stephen Gostowski, and the Giants' special teams emerges as the superior unit. Tynes has made more field goals than any kicker in the postseason, and he may be a huge factor come Super Sunday.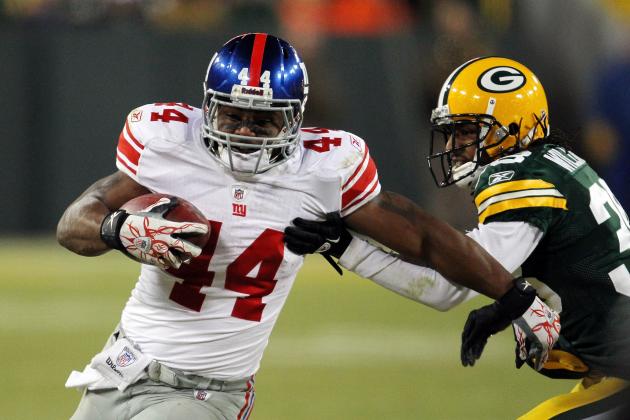 Jonathan Daniel/Getty Images

Similar to their deficiencies in the secondary, both teams lack a dependable rushing attack as well. The Patriots have relied on Brady and the passing game for nearly a decade now, but up until this year, the Giants were inclined to hand-off as much as possible.
While both Eli and Tom Brady should light up the scoreboard on Sunday, possessing a decent running game will still be vital to a Super Bowl victory. Statistics and recent history shows that the Giants have the advantage here too.
The Giants were undoubtedly the NFL's worst rushing team in the regular season, but in the playoffs things have improved tremendously. Ahmad Bradshaw ranks fifth in postseason WPA (win probability added) for tailbacks, while New England's feature back, Ben Jarvis Green-Ellis, has actually accumulated a negative playoff WPA. In other words, Bradshaw is contributing to Big Blue wins, while the Patriots are actually winning in spite of Green-Ellis.
Ignoring Bradshaw's 3.7 yards per carry against San Francisco's acclaimed run defense, the fifth-year veteran out of Marshall has performed admirably in the postseason, tallying 4.5 and 5.3 yards per attempt against Atlanta and Green Bay, respectively.
Moreover, Brandon Jacobs is a more physical supplemental back than Danny Woodhead. In a game where clock management may be crucial, the safe pick is the team with the more stable running attack.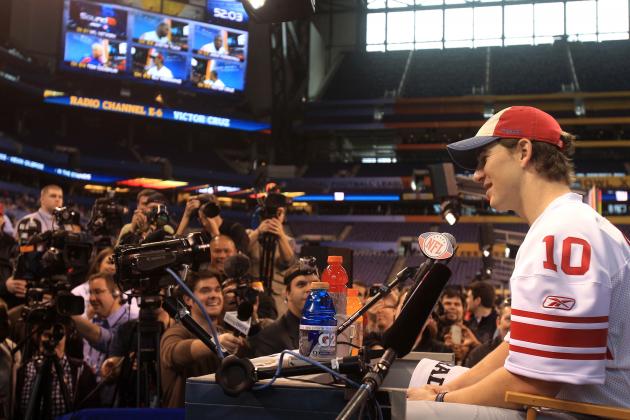 Scott Halleran/Getty Images

Entering 2011, analysts and fans alike didn't give the Giants much consideration for an NFC East title. The resurgent Cowboys and the "dream-team" Eagles would prove to be too much for New York, and when the Giants lost a few key starters to injuries, their Super Bowl odds plummeted.
The G-Men managed to beat the odds and claim the East, but even coming into the playoffs, the Giants were a 9-7 team, and not much was expected of them.
Big Blue has enjoyed a miraculous postseason run, but still, the pressure on Eli Manning and his teammates is relatively low.
Eli, Coughlin and the Giants have already claimed one Super Bowl ring, and in a year where many thought they would turn in a losing record, nobody will lose their jobs or even damage their reputations much with a loss on Sunday.
Ultimately, this relaxed, "why not?" attitude propelled New York to the upset victory in '08. Can it happen again in 2012? The Giants would like to say "why not?" once more.
Jim Rogash/Getty Images

Conversely, the clock is ticking for the Pats and time is running out for Brady and Belichick to re-establish their standing in the sporting world as a dynasty.
Between 2007's massive disappointment and last year's early playoff exit to their bitter rivals, the New York Jets, all eyes will be on New England to finally get back over the hump and win their first ring since the 2004 season.
At 34 years old, Brady is certainly not getting any younger, and years of physicality may soon take a toll on the future Hall of Famer. Like Super Bowl XLII, the Patriots will feel the need to win because they have the spread in their favor, because they hold a better record and because, quite frankly, they've built a reputation for winning.
Standing as the NFC's fourth seed, the Giants won't see a Super Bowl loss as an underachievement or a severe disappointment. But the AFC's top-seeded Patriots certainly will, especially because it would mark the team's second straight Super Bowl loss after winning three straight earlier in the decade.
Another defeat at the hands of the underdog Giants is simply not an option for New England. Yet their self-inflicted pressures just might allow their nightmares to become a reality a second time.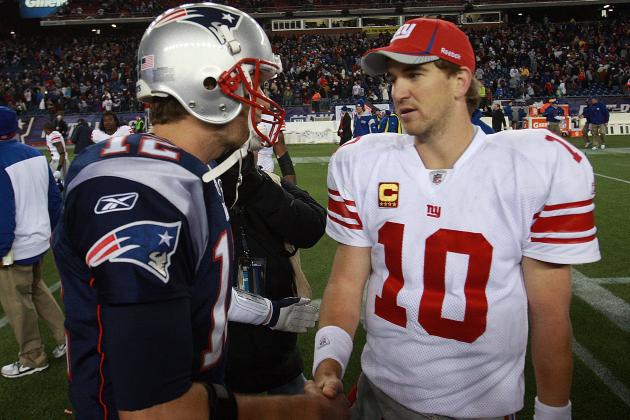 Jim Rogash/Getty Images

Tom Brady is perhaps the best quarterback of this generation. His body of work speaks for itself, and he's having yet another incredible statistical season in 2011.
That being said, Eli Manning isn't all that far behind him.
Every football fan in the nation is aware of Eli Manning and his rise through the limelight. The days of lambasting Eli for lacking maturity and mental toughness are over; Manning has emerged as a legitimate star under center, and while he's no Brady he's certainly inching closer every week.
Even if the other elements of this Super Bowl were removed; even if it really was just Eli vs. Brady, the game would still be competitive.
Plus, who's to say that Hakeem Nicks isn't as consistent as Wes Welker at the receiver position? Who's to say that Victor Cruz isn't as much of a vertical threat as Gronkowski? Ultimately, the Pats may be a step ahead, but that step isn't nearly big enough to compensate for their struggles in other areas of the field.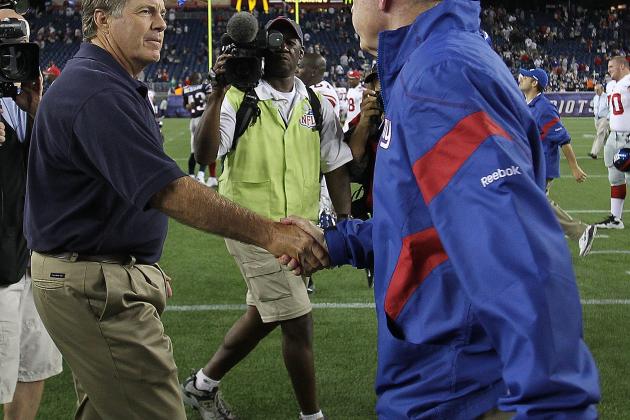 Jim Rogash/Getty Images

Like Brady, the name Belichick carries a certain connotation that sends shivers down the spines of football faithful.
Belichick, already sporting three Super Bowl rings, is a mastermind of a head coach. And again, New York's counterpart is surprisingly lacking the recognition he deserves, atypical of the nation's biggest media market.
Yes, Tom Coughlin can certainly keep up with Bill Belichick on the sidelines.
Amidst the storylines of Super Bowl XLII, something was seemingly glossed over: Coughlin out-coached Belichick in that game, and by a considerable margin. Belichick failed to make offensive adjustments for the first three quarters of the contest, and the results were costly to say the least.
Coughlin, who took the reigns in New York in 2004, has turned a once-struggling Giants team into a perennial playoff contender. Regardless of Sunday's outcome, he, like Belichick, is a potential Hall-of-Fame coach, and when it's time for the big game, Coughlin just may be the one to step up and expose New England's weaknesses when it matters most.