Washington Redskins: The Pros and Cons of a Move for Peyton Manning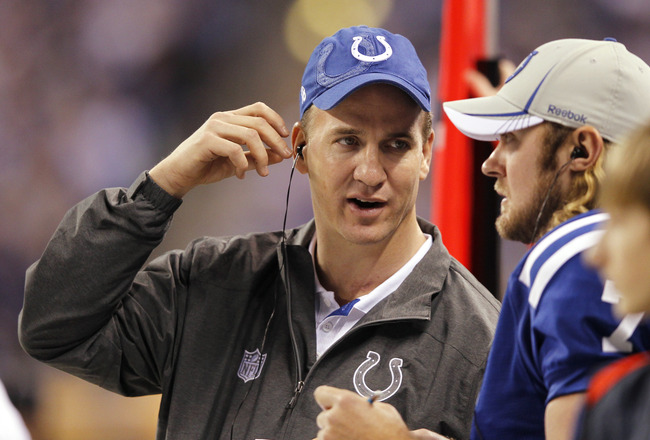 Joe Robbins/Getty Images
The rumors regarding a Washington Redskins swoop for Peyton Manning just won't go away. From Kyle Shanahan's radio interview, the Washington Post's article quoting an unnamed team source and NFL.com stating that the Redskins still maintain an interest, Manning moving to D.C. has quickly become a hot topic.
Whether or not the Redskins move for the 35-year-old passer is one of the more contentious issues amongst Redskins fans and pundits. Yesterday this author wrote about how bringing Manning on board seems to go against the kind of rebuilding design head coach Mike Shanahan often claims to be following.
The Redskins have been heavily criticized in the past for believing that every high-priced veteran is their ticket to a quick turnaround. Signing Manning would appear to be more of the same.
But players the caliber of Manning are a rare breed. This makes the merits of his arrival obvious and for some, too good to pass up.
With such a wide range of opinion surrounding the possibility of Manning arriving in Washington, it is a good idea to conduct a thorough examination of the main issues. With this in mind, here is a list of the pros and cons of a move for Peyton Manning.
Con: Signing Manning Would Be a Betrayal of the Youth Policy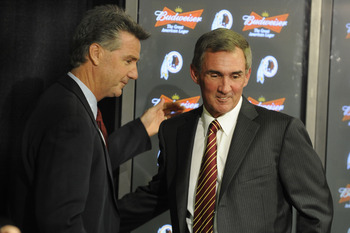 Mitchell Layton/Getty Images
Acquiring a 35-year-old quarterback would contradict the move to a younger roster Mike Shanahan and general manager Bruce Allen are supposed to be working towards. The duo have both received tremendous credit for dragging the Redskins away from their reliance on expensive veterans and trying to construct a younger team.
Mike Shanahan has spoke of a lengthy process to turn the Redskins into a consistent winner. Signing Manning immediately implies that the team has to win now. It would be hard to define the move as anything more than another attempt at a quick fix.
After only 11 wins in two seasons, Shanahan and Allen could be very tempted to go down this route. Manning's name and reputation would help justify giving another huge deal to an aging player.
Pro: Getting Manning Lets the Redskins Fix the Offensive Line in the Draft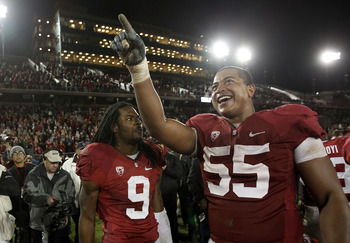 Ezra Shaw/Getty Images
A major advantage to getting Manning would be that the Redskins would have more options in the draft. The quarterback issue looms large over everything the Redskins might do in the 2012 NFL draft.
Bringing in a veteran quarterback eliminates the need for a trade and would also allow the Redskins to use their top picks to strengthen other weaknesses on the team. In this scenario, Shanahan could work on addressing the offensive line.
The Redskins have been weak up front for far too long now and the chance to grab one of the prime college linemen prospects like Stanford's Jonathan Martin would be too good to pass up.
Whichever way the Redskins go at quarterback, they are going to have do a better job of protecting their signal caller in 2012.
Con: With Manning Running the Offense, the Running Game Would Be Forgotten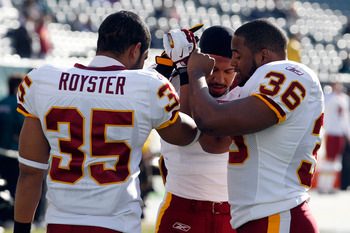 Rob Carr/Getty Images
Peyton Manning's teams are going to live and die on the strength of his arm and whether or not he leads them to victory. But the Redskins are developing a strong running game based on the talents of youngsters Roy Helu and Evan Royster.
It would be a shame for the Redskins to suddenly move so far away from a burgeoning team strength. Helu and Royster provide a nice contrast of styles and both demonstrated towards the end of the season that they are capable of being a workhorse for the offense.
But Manning has his own rhythm and likes to dictate the pace of his offense. If he is under center directing a hurry up attack designed to maximize his quick release, Helu and Royster can expect less carries.
Pro: Manning Might Actually Be a Good Fit for a Run-First Offense
Andy Lyons/Getty Images
The perception that Manning likes to put himself before the running game is not entirely accurate. Former Colts standout Edgerrin James exceeded 300 carries in five of his seven seasons in Indianapolis.
It was only when Joseph Addai took over as starting running back that the Colts started to move sharply away from the run. But Manning has proved that he can share the load with a talented running back.
There is also an argument to be made that the reason Manning has not relied on the run more often in recent seasons is that he has not had the quality RBs to hand off to. With Helu and Royster to choose from, Manning could feel very confident about letting the Redskins' ground attack take over a game.
Pro: The Redskins Have Some Weapons Manning Could Work Well with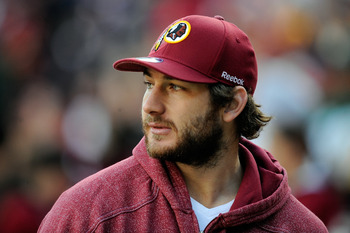 Patrick McDermott/Getty Images
There can be no doubt that Manning would enjoy working with tight ends Fred Davis and Chris Cooley. Manning made excellent use of Dallas Clark and Jacob Tamme in Indianapolis and has always known how to best utilize the tight end in the offense.
Assuming the Redskins bring Davis back and Cooley is healthy next season, Manning will already have two prolific targets to work with. In addition to this, Helu has already proved himself to be an excellent receiver out of the backfield. Historically Manning has always linked up well with his running backs, particularly James and Addai.
People may point to the lack of a truly elite wide receiver on the Redskins roster, but Washington's wideouts are still a capable bunch and an elite quarterback can make any group of pass catchers better.
Con: The Redskins Would Have to Modify Their Attacking Defense to Suit Mannning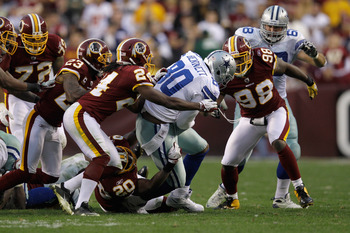 Rob Carr/Getty Images
A big drawback to a move for Manning is the impact that it could have on the Redskins' own defense. With Manning at the helm, the offense is sure to pile up points. The Redskins blitz happy schemes may not suit playing with a big lead.
Manning specializes in leading an offense to quick scores. This fast-paced style requires a defense that doesn't give up the big play and makes opponents string together a series of plays to try and reduce the deficit.
Because Manning can strike so suddenly, time of possession by the opposition is not as big a factor. In fact the longer they take, the better.
Having to play catch-up, teams will begin to force throws and a disciplined coverage scheme can pounce on any mistakes. This means the Redskins defense would need to adopt a more cautious, read and react approach.
A blitzing defense can always be burned for the big play and let the opposition back into the game. This would drag Manning into regular shootouts. It would be a similar problem to the one the New Orleans Saints regularly face.
This would mean yet more change for a Redskins defense that has arguably experienced too much unnecessary interference already.
Con: Manning's Neck Injury Could Mean the Redskins Get 1 or 2 Years at the Most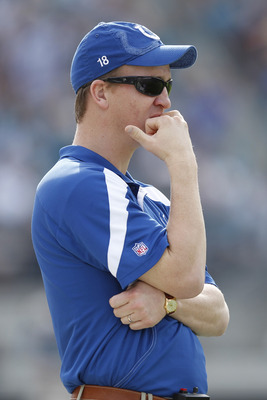 Joe Robbins/Getty Images
Pro: If Healthy, Manning Is Good for 10 Wins a Season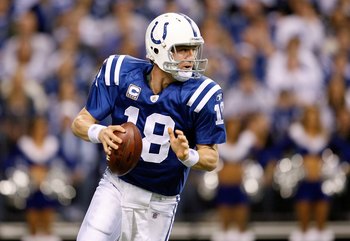 Andy Lyons/Getty Images
Despite missing all of the 2011 season, Manning has the talent to double the Redskins' win total. When healthy, few quarterbacks in the league can match the threat Manning poses to any defense.
The Redskins lost games last season that Manning surely would have put up enough points in to win. The home defeat to the Philadelphia Eagles and road losses to the Carolina Panthers and Buffalo Bills leap immediately to mind.
This is what makes it so difficult for the skeptics, including this author, to completely resist a move for Manning. With the future Hall of Famer in the fold, the Redskins would instantly become one the favorites in the NFC East and the conference as a whole.
Conclusion: How Close Does Mike Shanahan Believe the Redskins Are Now?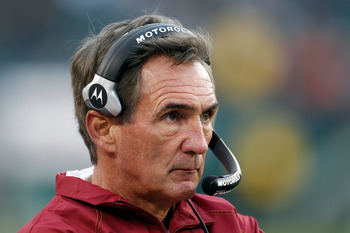 Rob Carr/Getty Images
Compelling arguments can be made on both sides concerning a Redskins move for Peyton Manning. The crux of the matter is how good Mike Shanahan believes this Redskins team really is.
If Shanahan thinks the Redskins are only a quarterback short of having a legitimate shot at contending for the Super Bowl, then he can risk the age and injury history of Manning. But if not, then Shanahan should continue to build a team in Washington that is better equipped for the long haul.
If Shanahan truly believes he needs time to build a winner in D.C., then he has the opportunity to develop a young quarterback. Even after so many struggles, most would probably still like to see the Redskins opt for building a sustained winner, rather than again risking a lot for a brief dalliance with success.
Keep Reading

Washington Redskins: Like this team?