9 Roster Changes the Chicago Bears Absolutely Must Make This Offseason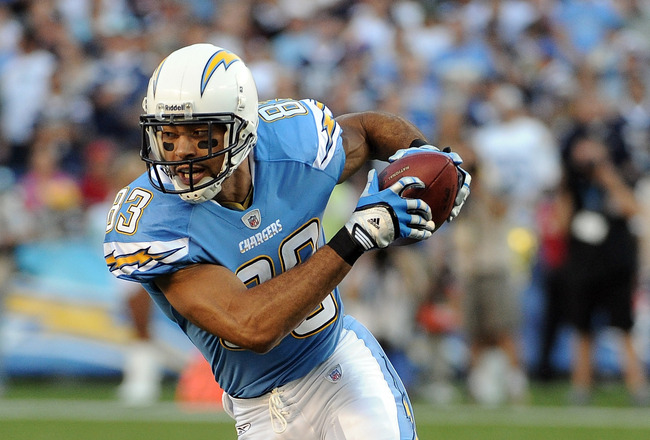 Bears should sign Vincent Jackson
Harry How/Getty Images
No matter how much Jay Cutler's injury is thought to be the reason why the Chicago Bears did not make the playoffs this past season, it is clear that other changes need to be made.
Sure, I believe that if Cutler hadn't injured his thumb, or if Caleb Hanie had been even an adequate backup option, the Bears would have claimed one of the Wild Card spots in the NFC.
Yet, the Bears' goal should not to be a Wild Card contender; rather, their goal every season should be to win the Super Bowl.
And with a goal that lofty, it is easy to find several areas of need on this current Bears roster.
Recognizing that, let's jump right in and see which roster positions need an upgrade or even a major overhaul.
Backup QB: Sayonara Caleb Hanie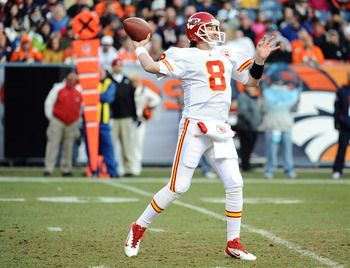 Garrett Ellwood/Getty Images
Alright, so this is a fairly obvious one right here. Still, it bears repeating: The Bears simply cannot go into this coming season with an unprepared backup QB option in case Cutler goes down again.
Cutler is tough, but this offensive line is not solid enough to always give him the protection he needs. So, it's goodbye to Hanie and hello to some experienced backup.
But who? Well, Josh McCown certainly performed better than Hanie, and in truth, probably good enough for the Bears to have slipped into the playoffs if he had started all six games following Cutler's injury.
Still, he was selected based largely on his previous experience in the Mike Martz offense, and in case you've been living under a rock, Martz is gone.
While McCown may be the leading contender due to familiarity to Lovie Smith and the Bears, I would like to see them take a run at Kyle Orton.
Now, guys like Orton (and Jason Campbell, David Garrard, et al) will be looking for opportunities where they can get playing time, and potentially even a shot at a starting job.
The Bears may have to settle for a QB who is comfortable with the role of caddy to Cutler. But I wouldn't go with a drafted QB. They need experience. If not McCown, then one of the other free agents vets.
Starting WR: Good Riddance Roy Williams and No More Devin Hester at WR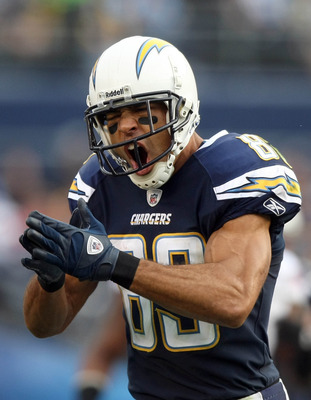 Donald Miralle/Getty Images
Don't get me wrong, I like Devin Hester. As a return man, not as a wide receiver. Maybe once in awhile they can throw him out there on a gadget play or something, but to expect Hester to be a No. 1, 2 or even 3 WR is foolish and cannot continue.
Fortunately for the Bears, this draft is chock full of taller wideouts who could be potential No. 1 WRs in the NFL, or at least solid No. 2s.
As we projected previously, guys like Alshon Jeffery (South Carolina), Michael Floyd (Notre Dame) or Dwight Jones (North Carolina) could be there in the first round when Chicago picks at No. 19.
Or, they could wait until Round 2 and hope that one of these playmakers are still available: Mohamed Sanu (I really like the upside of this kid from Rutgers), Marvin McNutt (Iowa) or Nick Toon (Wisconsin).
But no matter who they draft, I want the new GM to go out and sign free agent WR Vincent Jackson. The Bears need a guy who can come in and be a true No. 1 from the first day of training camp.
Cutler needs weapons around him to be successful. What a waste of talent if the Bears don't surround him with the help he needs.
Starting Left Tackle: J'Marcus Webb Just Ain't Cutting It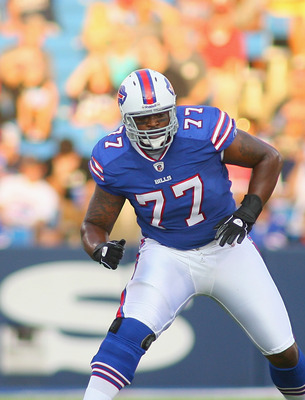 Rick Stewart/Getty Images
Webb is young, but hasn't shown improvement despite having a good offensive line coach in Mike Tice, who now takes over as offensive coordinator.
We can't wait for his development, we need to win now. Cutler has to have protection for his blind side.
That said, I don't see any LTs worthy of a first-round pick in the draft at No. 19 for the Bears, so they must go the free agency route.
Demetrius Bell of Buffalo is someone I would consider. He is capable of pass protection, and he is even better in blocking for the running game. With the Bills having a lot of work to do, he could slip through the cracks.
Starting DE Opposite Julius Peppers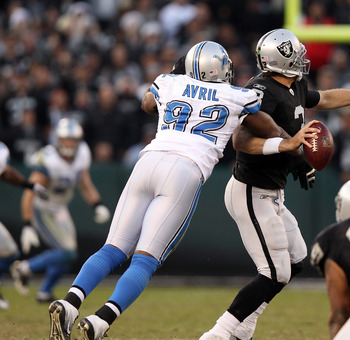 Ezra Shaw/Getty Images
Israel Idonije had a down season last year, and while Henry Melton is capable of getting a push at times from the DT spot, I would love to see the Bears go out and get a bookend for Peppers.
The Bears' pass-rush was inconsistent last year, but there is help in the draft and in free agency if the team is so inclined.
Cliff Avril would be the ultimate target, though he won't come cheaply. Not only would he be a beast opposite Peppers, it would hurt a division rival by taking the DE from the Lions in free agency.
In the draft, the Bears could opt for drafting Melvin Ingram in the first round. With Ingram, the Bears have a guy who should be able to step in and make an immediate impact.
Ingram's draft stock has soared following a terrific ending to his 2011 season. Dominant in the season finale versus Clemson, Ingram displays an excellent closing burst and never takes a play off.
Starting Cornerback Opposite Charles Tillman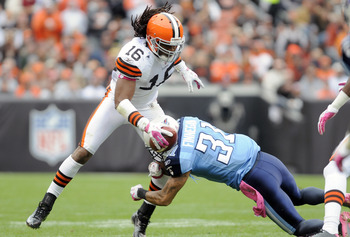 Jason Miller/Getty Images
The Bears have one proven, solid corner in Charles Tillman, and he is on the wrong side of 30. With Tim Jennings an unrestricted free agent, there is a need to upgrade here.
With Aaron Rodgers and Matthew Stafford in their own division, you'd better do one of two things—either rush the passer or cover the receivers and tight ends like a glove.
Brent Grimes could help. I'm sure Atlanta wants to bring Grimes back, though he is not strong in run support. But he is very good in coverage (both man and zone). He is the best option on the open market.
Carlos Rodgers may return to the Niners, but if available and healthy, he is one of the overlooked corners in the league. The poor hands he showed in Washington appear to be a thing of the past.
Tracy Porter of the Saints is good but has injury concerns, while Marcus Trufant (Seattle) is also over 30, though he is good in press-man coverage.
Cortland Finnegan is an interesting name. Though he's been accused of being a dirty player, he's strong in run support and solid in coverage. Finnegan is said to be displeased with the Titans for contract reasons, so he may test the market.
As for their own guys, Zack Bowman, Corey Graham and Tim Jennings are all free agents. They desperately need Graham back for special teams, though he may be seeking starting corner money. Bowman will be gone and I would consider bringing Jennings back.
Depth at the Right and Left Guard Positions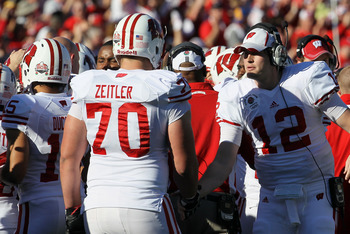 Stephen Dunn/Getty Images
If the Bears don't draft Peter Konz (Wisconsin) in the draft, which would allow them to move Roberto Garza back to guard, the Bears could use another guard (or two) for depth or perhaps even a starting gig.
Sure, Chris Williams played decently when healthy, and maybe he has finally found a position on the offensive line, but he was hurt last season.
Tice said that Chris Spencer played well also, though he doesn't grade out all that well in the advanced statistics.
Still, at a minimum, they could use backup help at the guard positions. they ended the season with Edwin Williams atop the depth chart at left guard, and Ricky Henry as his backup.
And, in addition to Henry also being the backup at right guard, a guy by the name of Mansfield Wrotto was also on the depth chart at the position.
And do not talk to me about Frank Omiyale ever again please.
Now, if they went out in free agency and signed Carl Nicks to a big money contract, he would be a starter of course. But with other help at the WR position and DE needed, I doubt the Bears will do this.
So that help will likely have to come from the draft. Kevin Zeitler (Wisconsin) would be a good pick with one of the Bears' third-round picks, if he is still on the board.
A Backup Center to Groom as Garza's Replacement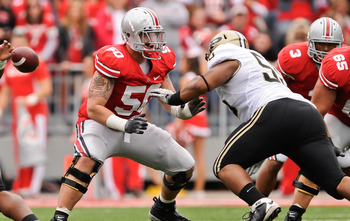 Jamie Sabau/Getty Images
If the Bears don't land a center good enough to take over the position this year (Peter Konz), then they could consider drafting one in the later rounds.
Garza is getting older so it's time the Bears found his eventual replacement. If Chris Spencer isn't good enough, perhaps this drafted player could even be Garza's backup next season.
But with all the needs the Bears have, I certainly wouldn't waste an early round pick.
So, instead, I'd go with someone like Ben Jones of Georgia (third round), Michael Brewster of Ohio State (third or fourth round) or David Molk, Michigan (fourth round).
Safety Help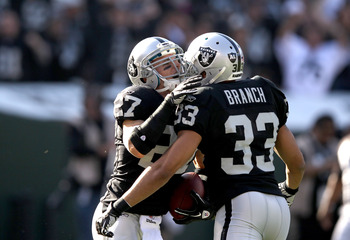 Ezra Shaw/Getty Images
The jury is still out on Chris Conte and Major Wright, but the draft isn't loaded at the safety position, so this is a spot I might have to invest on in the free agent market.
I'm not necessarily looking for a starter, but solid depth at the position would be nice.
Enter Tyvon Branch, who is strong versus the run and is young. Like Wright, he has some issues in coverage, but should be solid at strong safety.
Though he doesn't have the versatility to play much man coverage, he's more than adequate when given zone responsibilities.
Meanwhile, LaRon Landry will be re-signed by Washington, but Tennessee may let Michael Griffin go. I am concerned about his inconsistent play, though he has played at a Pro Bowl level at times.
As for their own guys, they will want to bring back Craig Steltz.
Linebacker Depth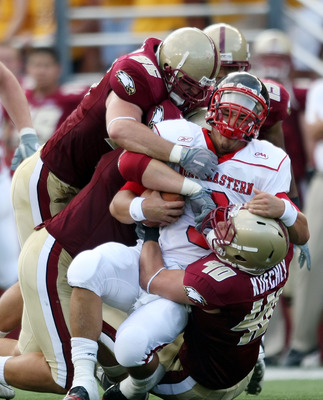 Elsa/Getty Images
The Bears need to find an eventual replacement for Brian Urlacher, and while I like Luke Kuechly (Boson college), I don't know that i would spend my first-round pick on him. Plus, he could be gone by the time No. 19 rolls around.
But with Urlacher and Lance Briggs on the other side of 30, I would draft some help to give those guys a breather without losing too much in the process.
Inside or outside, the Bears need able bodies at the linebacker position.
I really like Keenan Robinson (Texas) if he slips to the fourth round. Nigel Bradham (Florida State) would be another good one that late.
Tank Carder has been projected all over the place, but if CBSSports.com is right and he falls to the sixth round, I'd grab him in a heartbeat.
Keep Reading

Chicago Bears: Like this team?