14 Top Playmakers in 2012 NFL Draft Chicago Bears Must Surround Jay Cutler With
Jonathan Daniel/Getty Images
IS ANYONE OPEN? MAYBE THE DRAFT WILL PRODUCE SOME HELP.
After several mock drafts, it is clear that the Bears new GM, whoever he is and whenever one will be named, will have an important decision on his hands. Draft a playmaking wideout, for example, or draft to fill a need on the defensive side of the ball.
I have heard all of the arguments, both pro and con, about drafting a wide receiver, and I have to say that I am leaning toward the offensive side of the football in the 2012 draft.
But will it be a playmaker to help QB Jay Cutler? Well, one thing that was magnified last year was just how important Cutler is to the team. They were 7-3 and rolling toward the playoffs when Cutler got hurt. We all know what happened after that.
So, recognizing that, wouldn't it make sense to surround your most important asset with talent? Now, protection is certainly a critical element, so offensive line help should be high on the priority list.
But as Bears fans know all too well, the wide receiver corps on this team has been sorely lacking. A lot of threes and fours, maybe a two in Earl Bennett or Johnny Knox, but no true No. 1.
But there is no doubt that help is available in the draft if the Bears decide to buck recent tradition and draft one in the first round. There is also help in the later rounds, but for the purpose of this article, we'll start with the No. 19 pick and go from there.
Keep in mind that we're focusing on offense here, since we're talking about helping Cutler, so no defensive playmakers. I will also avoid the running back position with Matt Forte coming back, either on a franchise tag or via a contract extension.
So who are the playmakers that the Bears have a legitimate shot to select in the draft come April? Removing top 10 picks like Justin Blackmon, here are the playmaking options for the Bears to consider.
Begin Slideshow

»
Jonathan Daniel/Getty Images

At 6'3", Floyd has excellent size, speed, quickness and body control. He's had some off-field incidents, but I wouldn't hold those against him.
He can be a true No. 1 wideout in the NFL, and could still be on the board when the Bears pick at No. 19 in the first round.
For his senior season, he was Notre Dame's top weapon, catching 95 passes for 1,106 yards and eight touchdowns.
Still, the off-field stuff could drag him down. Floyd had a DUI arrest in the spring that caused him to be suspended from the team.
Floyd is adept at jump balls, and I can see him bailing out Cutler when the rush is on and he has to fling it up there.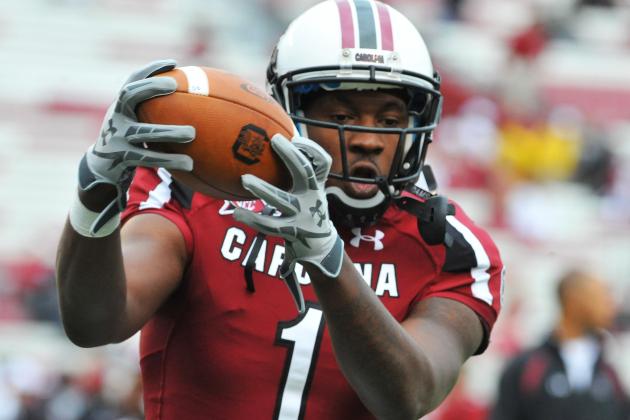 Al Messerschmidt/Getty Images

Jeffery has been moving up the draft boards with lightning speed, and with good reason. At 6'4", 233 lbs., he is big, and the Bears could certainly use such a big target to help Cutler.
But is he fast enough? Jeffery's production was held back by poor quarterback play, but he still commanded a lot of extra coverage and he struggled to gain separation.
Maybe he needs to drop some weight to improve his speed. His showing at the combine will go a long way toward determining if he moves ahead of Michael Floyd.
For the season, Jeffery had 45 receptions for 614 yards and seven touchdowns. He also was a quality blocker for South Carolina. Jeffery broke his hand, but still caught a touchdown pass against Clemson in the season finale.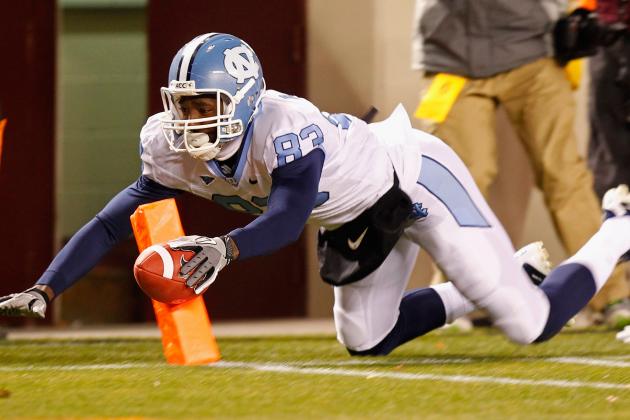 Geoff Burke/Getty Images

You don't hear as much about Jones as you do Jeffery and Floyd, though he also has excellent size. He is a big, fast playmaker who would have been more productive if North Carolina gave him more opportunities to catch passes.
He is strong and physical and difficult to take down following a catch. In 2011, Jones had 79 receptions for 1,119 yards and 11 touchdowns.
If Jones had played in a big-time offensive program with a top QB, he would be all the rage. I can see him matching up well with Cutler.
The problem is, would the Bears consider him a reach at No. 19? He won't be available when they draft in the second round, so that's a decision they may need to make.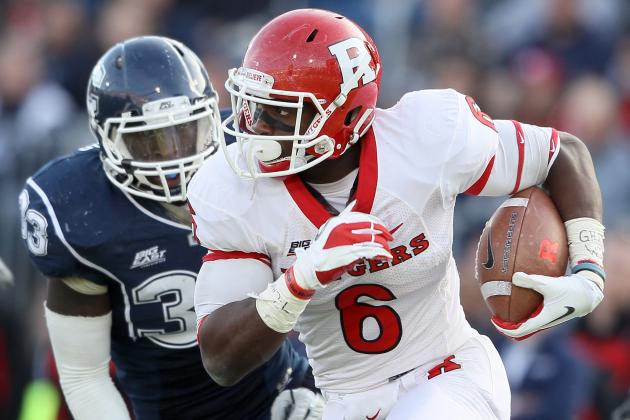 Elsa/Getty Images

Sanu is probably the best wideout in this draft that you have never heard of. I really like this guy, though it might be a stretch to take him at No. 19.
But just like Jones, there is no way he is still available when the Bears pick in round two. He's what you call a "tweener," so teams that draft later in the first round will certainly take a long look at this kid.
Sanu has enjoyed a massive season and has showed the capacity to be a No.1 receiver in the NFL. He has recorded 109 catches for 1,144 yards and seven touchdowns.
Sanu is known for making spectacular catches and running solid routes. He is easily the most underrated WR in the draft in my opinion.
The junior came on this season following an injury-plagued sophomore season.
Eric Francis/Getty Images

McNutt blends great size (6'4") with terrific production. In 2011, he has made 78 catches for 1,269 yards and 12 touchdowns. McNutt has produced big plays in all levels of the defense and beaten secondaries with a combination of size and quickness.
He would have had even better numbers if he played with a team with a better passing offense. This is another underrated guy who could be a steal if he is available when the Bears draft in the second round.
But good size and deceptive quickness is a combination that cannot be ignored.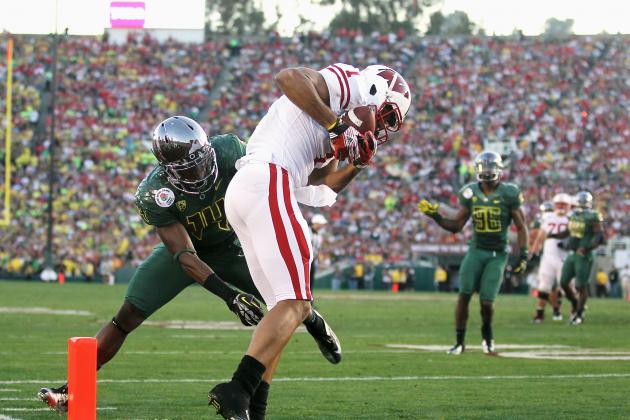 Jeff Gross/Getty Images

I like Toon as a second-round pick and absolutely love him if he somehow slips to the third round. Toon has good size, but Wisconsin didn't get him the ball as much this past season, as they featured a running attack.
He runs good routes and has good hands. Toon also blocks extremely well. If he played in a program that threw the ball more, he'd be a potential first round or early second-round pick.
Toon does not have elite speed, however. He has great lineage, as I like prospects whose fathers (Al Toon) played in the NFL. His brother, Car, was an interesting character as well.
Ahem.
A good showing at the combine would make him an easy second rounder, but a poor showing could make him a steal in the third round for the Bears.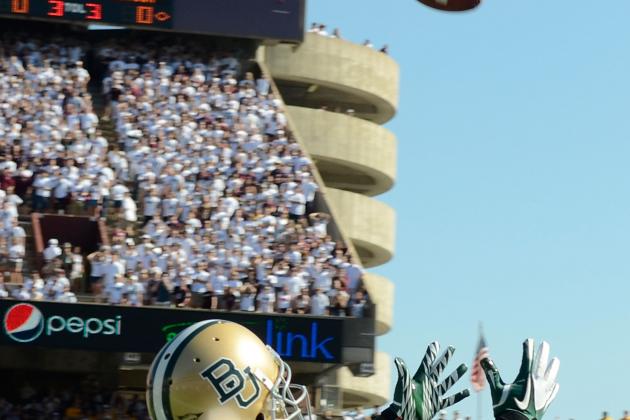 Sarah Glenn/Getty Images

Wright might be even better than the last two guys except for his lack of size. At 5'10", many Bears fans will dismiss him, but height isn't everything. Roy Williams is 6'3", and how did that work out?
If he was taller, he would be a certain first rounder, and as it is, he will be gone before the Bears pick in round two. Which means that unless the team wants a 5'10" receiver, you won't see him in a Bears uniform.
Still, you must consider that Wright was an unstoppable receiver this season in the Big 12. He has blazing speed (a 4.39 40) with good hands.
This season, he has caught 101 passes for 1,572 yards and 13 touchdowns. I know he's short, Bears fans, but he is special. He will be a top receiver in the NFL if he stays healthy.
But, he will go late first round or early second because teams recall passing up Mike Wallace for bigger wideouts and won't want to make that mistake again. If he's somehow there when the Bears pick in the second round, they would be crazy to pass him up.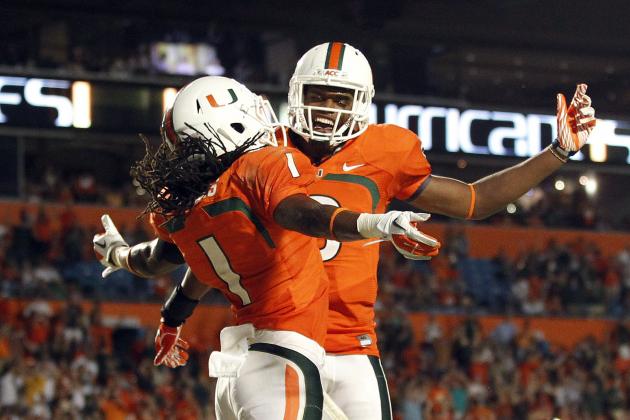 Joel Auerbach/Getty Images

2011 was Streeter's first season with playing time, and the junior made a lot of big plays. He is a tall, lanky wide receiver who has the speed to stretch the field.
In 2011, Streeter caught 46 passes for 811 yards and eight touchdowns. He is an excellent red-zone weapon due to his height and leaping ability.
But Streeter is raw and would need time to develop as route-runner. The only way I consider him for the Bears is if he slips into the third round and the Bears still hadn't drafted a WR.
Kevin C. Cox/Getty Images

I haven't personally seen much of Randle other than the two games against Alabama, so consider this quote from WalterFootball.com:
"Randle has played well for LSU this season and was their top receiving target. He did not get a huge amount of opportunities, but generally produced when thrown the ball. Randle is a very good red-zone weapon who uses his size and quickness to produce points. For the season, he had 50 receptions for 904 yards and eight touchdowns."
The two games I watched, he was shut down by Alabama, with just two catches for 19 yards in the first game. I could see Randle as a good slot receiver for Cutler, which would be better if they ran a West Coast offense. But if Tice doesn't get the Raiders job, there is no way he will run the West Coast.
But in the third round, especially with the Bears' second pick, he would be someone to consider.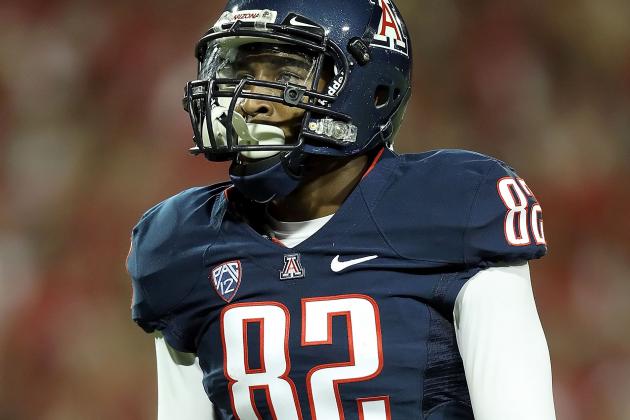 Christian Petersen/Getty Images

Criner might be available in the fourth round due to his relative lack of top-end speed. But if he is, he would be a steal, as he was productive this season with 75 receptions for 956 yards and 11 touchdowns.
He excels at jump balls downfield and seems to be a potential possession receiver in the NFL who could be a good red-zone weapon.
By returning for his senior season, the 6'4" wideout put some off-field problems in the rear view mirror and improved his stock.

Criner uses his size, body control and leaping ability to come down with some big catches. There are faster receivers than Criner, but he provides good hands with a big target and still runs well.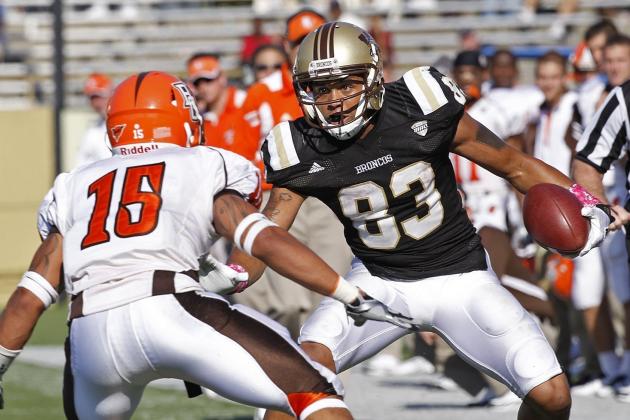 White was college football's most productive receiver this year. He led the nation in receptions and yards while finishing second in receiving touchdowns. White caught 127 passes for 1,646 yards with 16 touchdowns.
Although listed at 6'0", White plays taller than that and has the speed to get downfield and produce long touchdowns.
If he falls to the third round, the Bears must consider him.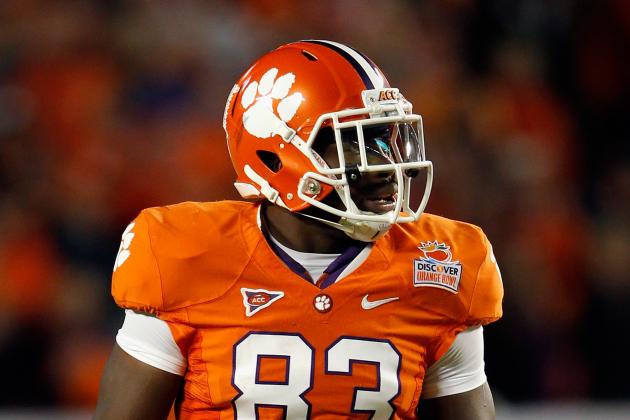 Streeter Lecka/Getty Images

With Allen, we switch gears and move to the tight end position. This is a weak draft for the position, but after watching what other teams have done with their TEs, the Bears cannot afford to bypass using one as a weapon out of the backfield.
Although Tice hates the West Coast offense, he will throw to his tight ends, having been one himself. And Allen has had an excellent season. He has been a red-zone force for Clemson, but didn't get enough chances in the passing game.
Allen has also been a good run blocker for the Tigers. A dangerous receiver, Allen beats defensive backs with surprising quickness and good route-running.
The main problem here is that since he is the top tight end in the draft, he could be gone by the time the Bears pick in round two, and I don't see them drafting a TE at No. 19.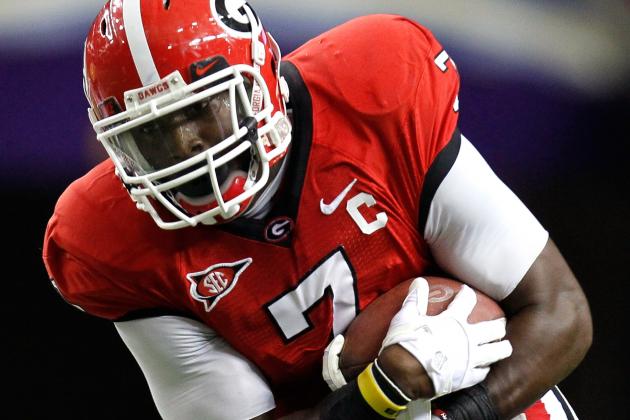 Kevin C. Cox/Getty Images

Charles might be a good option for the Bears to use with one of their third-round picks. He had a good regular season as a receiver with 44 receptions for 572 yards and five touchdowns.
He is very fast and can produce big catches downfield. I'd prefer him to be a bit taller than 6'3", but if he adds more weight, he can become a good blocker in the NFL in addition to his receiving skills.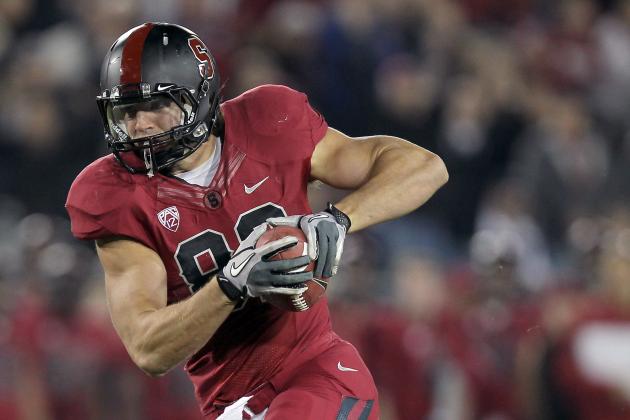 Ezra Shaw/Getty Images

Fleener has ideal size at 6'6" and could be on the board for one of the Bears' third-round picks. He has been a dangerous receiver for quarterback Andrew Luck.
Fleener runs good routes and is adept at exploiting the deep middle of the field on seam routes, and he is a technically-sound blocker who has been well coached at Stanford.
Like Charles, he needs to add more bulk, but would be a great value in the third round.