Most Overrated NFL Signal-Callers of Past Decade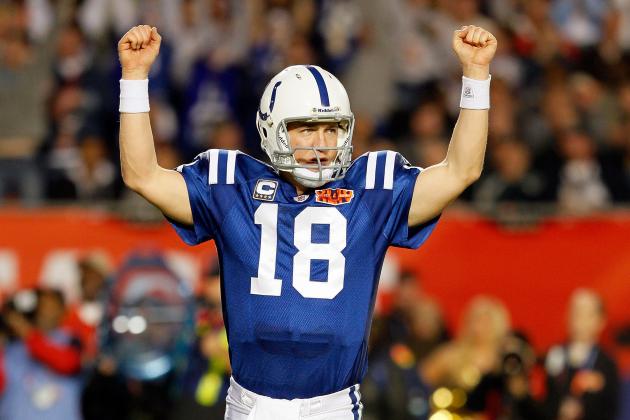 Andy Lyons/Getty Images

Peyton Manning could be retiring this offseason. He'll be remembered as one of the best quarterbacks of all time, but has also been overrated during the past decade. He's not alone; there are others.
The past decade has probably seen some of the best quarterbacking in league history. The man pictured above has been a big reason why.
However, we tend to get carried away with our infatuation with big numbers.
Others came into the league with a lot of hype, enjoyed early success or simply never completed the job.
Let's take a look.
Begin Slideshow

»
Gregory Shamus/Getty Images

Mark Sanchez showed his true colors during 2011. Without the type of defense and bounty of skill players surrounding him on offense, Sanchez struggled throughout the entire season.
When the New York Jets had to play their other Big Apple brethren, Sanchez crumbled.
Sanchez threw 59 times and only completed 50.8 percent of his passes. He had one touchdown and two interceptions against the New York Giants in a crucial game to keep their playoff hopes alive.
Now, I'm not basing this selection off of one game; that would be asinine.
His career averages are better in the playoffs versus his regular-season numbers:
| | | |
| --- | --- | --- |
| | Regular Season | Postseason |
| Completion Percentage | 55.3 | 60.5 |
| Quarterback Rating | 73.2 | 94.3 |
| Touchdowns Per Game | 1.195 | 1.5 |
| Interceptions Per Game | 1.108 | .5 |
Sanchez unraveled in his third season when quarterbacks should be hitting their stride in the progression of becoming an NFL quarterback. By your third year, you've either adjusted or you haven't.
Sorry Jets fans, but his modeling career will have more success moving forward than his quarterbacking career.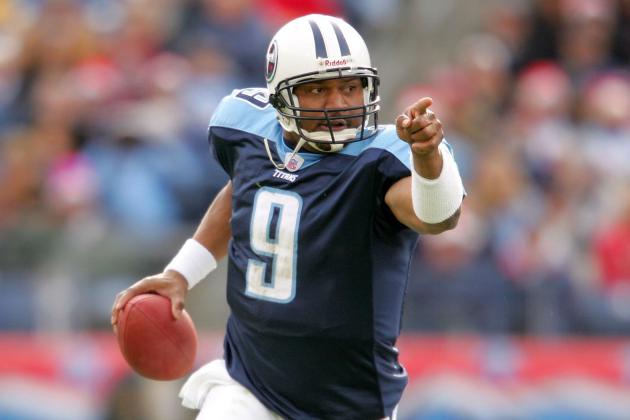 Matthew Stockman/Getty Images

The late Steve McNair remained Jeff Fisher's right-hand man for 11 years in Houston and in Nashville. McNair surpassed 30,000 passing yards, averaged a 60.1 completion rate and had a 1.46-to-1 touchdown-to-interception ratio.
He led a Tennessee Titans team on an improbable run to the Super Bowl and came within a yard of winning it. However, he makes this list for a reason.
He played 13 total seasons in the NFL. He spent 11 in Houston and Nashville and two in Baltimore.
McNair stalled in the playoffs finishing with a career record of 5-5.
He had 11 interceptions in 10 games during the postseason compared to just six touchdowns. McNair eclipsed a quarterback rating of 90 just once.
His shortcomings in the playoffs outside of his one miraculous Super Bowl run earned him a spot on this list.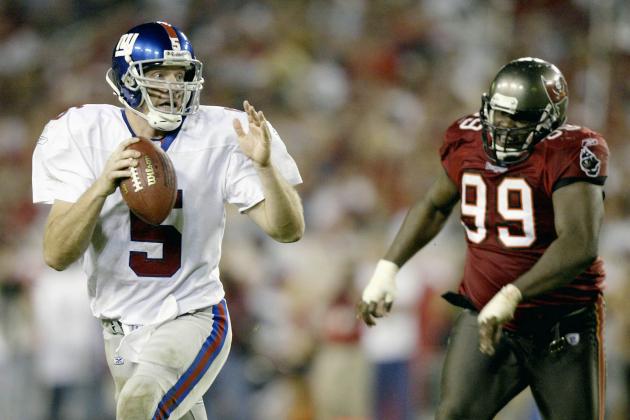 Matthew Stockman/Getty Images

Kerry Collins spent the majority of his career with the New York Giants and the Tennessee Titans. He made two Pro Bowls during his 18-year career.
Collins only had a winning record in five seasons, whether as the first-string starter or as a fill-in.
His regular-season career completion rate was 55.7 percent. He threw 208 touchdowns and 196 interceptions. His playoff numbers aren't much better either.
He only led his team to the playoffs four times in 18 years. He did take the Giants to the Super Bowl in 2000, but they lost to the Baltimore Ravens. His playoff record was 3-4 throughout his career and he never got back to a conference championship or Super Bowl.
Collins will finish his career in the top 10 of total passing yards in NFL history, but that's due to longevity, not greatness.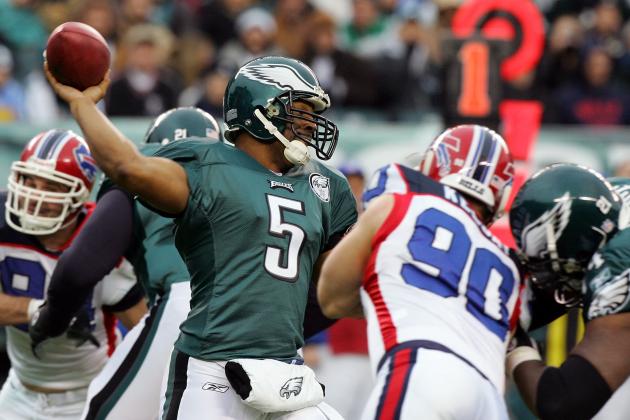 Jim McIsaac/Getty Images

Philadelphians have cried out for years onto deaf ears that Donovan McNabb, a.k.a. "Low-Throw McBlow," would never lead them to a championship. Turns out, the overly scrutinized Philadelphia Eagles fans were right.
McNabb led the Eagles to five NFC Championship games in eight years. That's a remarkable feat and a record for the franchise.
The problem was that he lost four of them, three of which were at home.
McNabb seemed to suffer his worst performances during the biggest games of the season. Included in that is the infamous claim by Terrell Owens that McNabb was puking in the huddle during the fourth quarter of the Super Bowl versus the New England Patriots.
No. 5 has since made stops in Washington DC and Minnesota, neither of which turned out to be much of a success.
McNabb benefited greatly for being under Andy Reid's wing. Reid minimized a lot of his deficiencies, which were later glaring after his departure from Philly.
He'll have a great career in broadcasting and be remembered as the best quarterback in Philadelphia's history. However, he'll also be remembered for what he couldn't do during his 11 years in the City of Brotherly Love.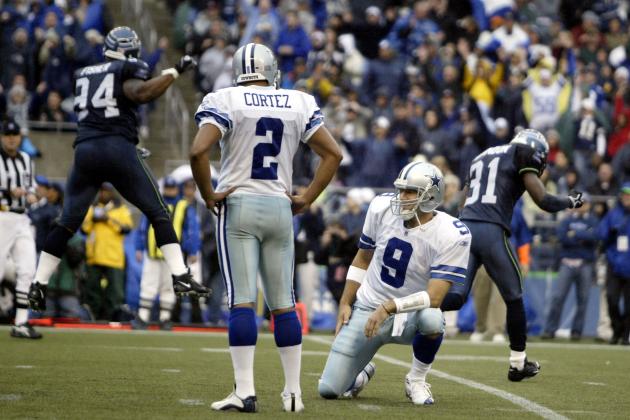 Otto Greule Jr/Getty Images

Tony Romo has endured only one losing season since taking the helm for the Dallas Cowboys in 2006. His numbers are there.
He throws completions 64.5 percent of the time. He's thrown over double the amount of touchdowns compared to interceptions (149-to-72). He's also holds the best record in NFL history in November, going 21-3.
The problem is that after Thanksgiving Day and the month of November ends, Romo's quarterbacking falls off a cliff.
Romo is 11-17 in the months of December and January. He's 1-3 in the playoffs and it doesn't stop there.
He has become notorious for his inventive ways of throwing a game away. We should have all known from the start.
They say first impressions can tell the whole story. Well, our first impression of Romo was him fumbling the snap in Seattle during the playoffs.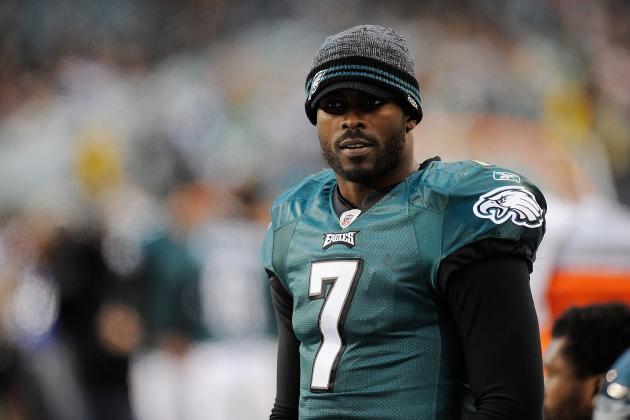 Patrick McDermott/Getty Images

Ah, the Michael Vick experience has crashed back to reality.
Vick has been electric, captivating and misleading throughout his career. He tried to transform the position during his time with the Atlanta Falcons as he chose to run versus throw the ball the majority of the time.
Post-incarceration, Vick had a quiet year as a backup in Philadelphia. Then came the catapult right back into the NFL's limelight in 2010.
Vick took over for the designated heir to Donovan McNabb and never gave his thrown back.
The Philadelphia Eagles' high-flying offense steered through the league with "Starship Seven" as the pilot. Vick's Monday Night Football performance against the Washington Redskins cemented his validity in the minds of fans throughout the country.
However, Philadelphia jumped to soon to sign him to the second $100 million contract of his career.
A concussion, rib, thigh and hand injury later, Philadelphia might be searching for that buyout clause.
Vick has been terrible in the playoffs aside from his surprising victory at Lambeau Field. He's 2-4 during the postseason.
Although he has improved his passing game, Vick's inconsistency and reckless abandon have prevented him from advancing in the postseason.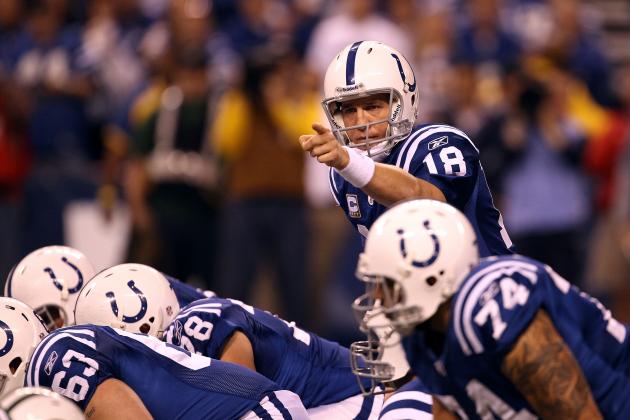 Jonathan Daniel/Getty Images

Before you destroy me on the comment boards or write this article off, read what I write first and hear where I'm coming from.
Peyton Manning will go down as one of the best quarterbacks ever. If you were to go to a build-a-quarterback store, he's the model you would create your personalized quarterback after.
Secondly, Manning (obviously) is a shoo-in for the Hall of Fame. He's also broken countless records and could break several more if he laces them up again, but can't we all admit we've gotten just a little carried away over the years?
And yes, I'm aware the Indianapolis Colts went 2-14 without him this season.
The problem is that those records are regular-season records, not postseason records. If Manning were to retire this offseason, I'd make the argument he could possibly be bumped out of the top 10 quarterbacks in history based on playoff success.
Unlike his brother, Peyton has not been clutch when it counts the most. Great numbers and a bunch of wins during the regular season are nice and all, but rings are what separate the haves and have-nots in the NFL.
Manning's 9-10 in the playoffs. For the majority of his postseason career, Manning has played at home. However, when he's forced to leave Indianapolis he's only 3-6 on the road or at a neutral field.
He may have all the accolades in the world during the regular season, but when you discuss the best quarterbacks of all time you start the discussion with rings and famous postseason moments.
Manning's got one ring and only has a couple memorable moments to bring to that discussion.
Justin Sparks is a NFL Featured Columnist for Bleacher Report @JustinSparks22