Ranking the NFL's Rowdiest Fans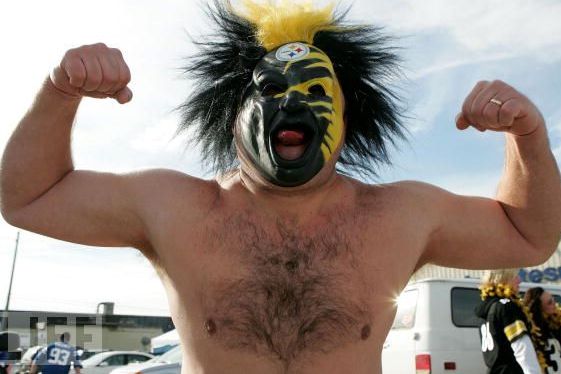 Photo via LIFE.com
Most professional sports teams that aren't based in Florida have rowdy fans; that's just the nature of the beast, particularly in the NFL.
In fact, if the fans in your city aren't rowdy at game time, then you probably need to hand over your franchise to a more appreciative locale.
That being said, not all rowdy fanbases are created equal. Here are the 15 rowdiest fanbases in the NFL.
Begin Slideshow

»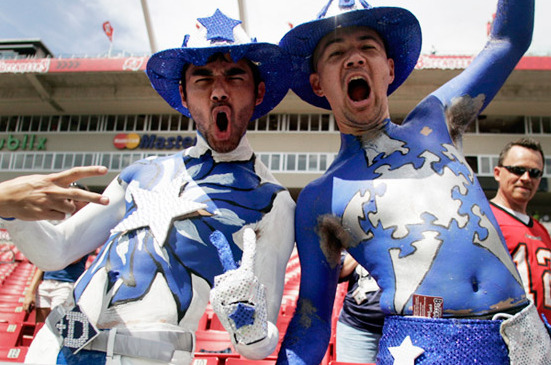 Photo via NFLRush.com
There's no denying that fans in Big D have lost a step in recent years.
Maybe it's Tony Romo's penchant for coming up short or Jerry Jones' billion-dollar playpen...but the Cowboys have barely been relevant in over a decade.
All that aside, Cowboys fans are still some of the best in the league, and Jones owes them more than the all-style-no-substance teams he's been fielding since 2000.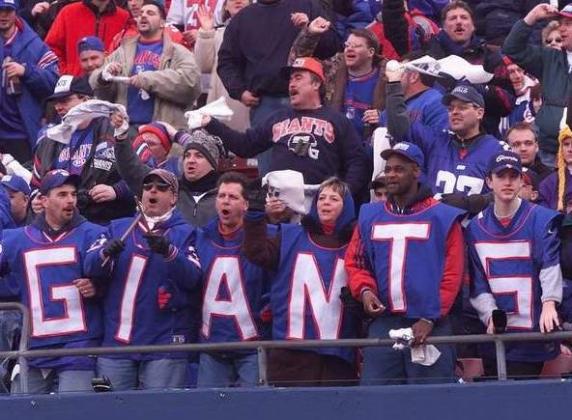 Giants fans have a lot of reasons to get rowdy.
They are currently, and historically, kings of New York, and at the moment they've got the only functioning Manning left in the NFL, plus he's finally starting to live up to the family name.
Fans of the G-Men are everything you've come to expect from residents of the Big Apple: confident, bordering on cocky, brash and loud...usually with the goods to back it up.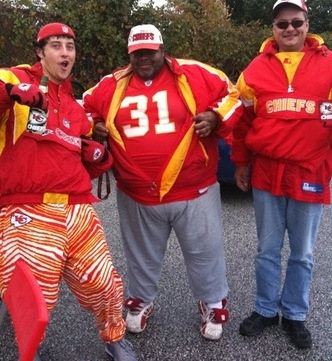 Photo via One4TheOtherThumb.com
Chiefs fans haven't had much to cheer for in the last decade, but Arrowhead Stadium is still one of the toughest places in the NFL to play. Chiefs fans are loud, loyal and large and in charge.
Their mascot is, inexplicably, a crazy badass wolf who is on hand specifically to tackle your ass if you get out of hand at a game.
They should have the wolf wear a James Harrison costume if they really want to keep people in line.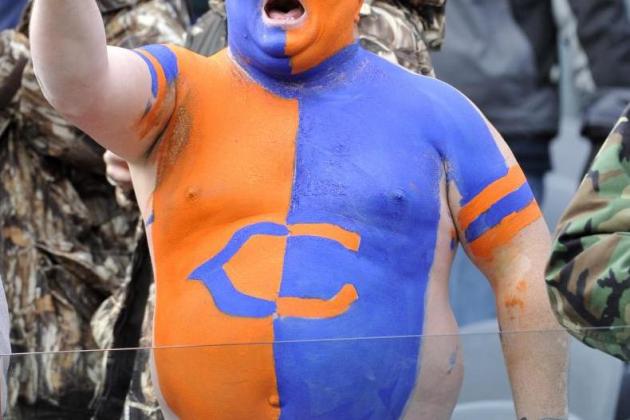 Photo via Daje.com
Chicago is one of the best sports towns in the country, if not the very best. Somehow Chicago manages to spread the love almost equally (except for the White Sox) amongst all its professional sports teams.
But there is nowhere in Chicago where the bare bellies are bigger and the mouths are louder than at Soldier Field.
Photo via NFLRush.com
Broncos fans have gotten substantially rowdier in the last couple of years, and I've got just one explanation for you: Tim Tebow.
Fans in Denver go crazy for that kid, and like it or not, it's hard to even remember what the sports world was like before TebowMania gripped the nation.
Photo via ESPN.com
With his big belly, big ego and big mouth, could you imagine Rex Ryan as the head coach of any team but the Jets? It seems like the Jets feel like second-class citizens in their own city, and that drives a lot of their trash talk and posturing.
The Jets might not be as successful as the Giants on the field, but they've definitely got the more unhinged (in a good way) fanbase.
Much like growing up a Mets fan in New York, enough years in Gang Green are almost certain to lead to some kind of acute psychosis.
Their fans are unpredictable brawlers eager to prove they're best at something, even if it's just kicking your ass.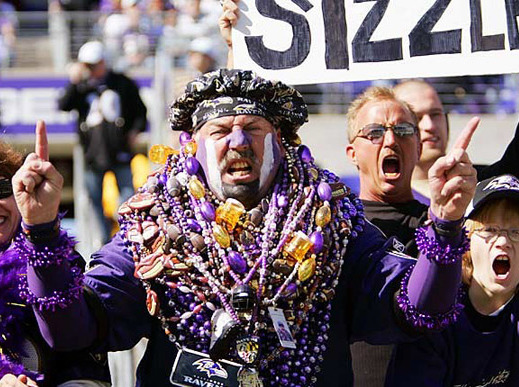 In 2011, Baltimore was named the 29th-best sports city by AOL's Sporting News—the strength of Ravens fans alone helped it land in the top 10 percent of all cities.
Ravens fans are tough, loud, have hilarious accents and possess more purple plastic jewelry than the city of New Orleans during Mardi Gras.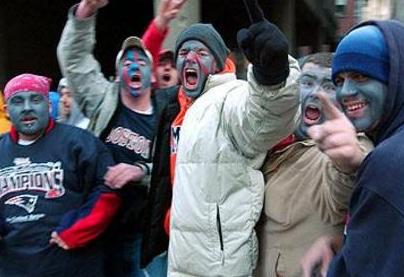 Photo via MassLive.com
It's a testament to all of Boston that the Patriots, the second-tier, if not third-tier, team in the city is still considered one of the best fanbases in the NFL.
Considering the Patriots season is just considered the Red Sox offseason, things can get pretty rowdy up in Foxborough.
Boston is the best sports town in the country, and if you've ever been to a Pats game as an opposing fan, you know it's best to keep to yourself.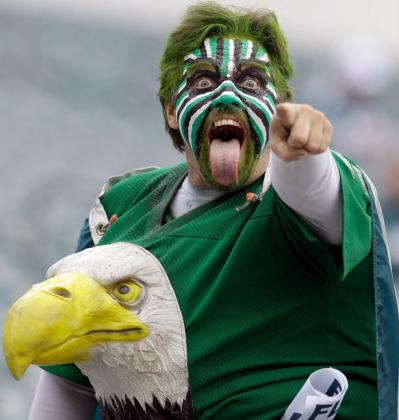 Photo via GuysSpeed.com
This is just how Philadelphia fans roll, knee-deep in crazy, and it's not just Eagles fans.
Phillies fans famously rioted after their 2008 World Series Victory, and more recently, Flyers fans made headlines for brutally beating a Rangers fan outside a cheesesteak shop in Philly after the 2012 Winter Classic.
Naturally, the Rangers fan was an off-duty cop and an Iraq war veteran.
They are a rowdy group in Philly, and Lincoln Financial Field is one of the last places in the country you want to be caught in a Cowboys or Giants jersey.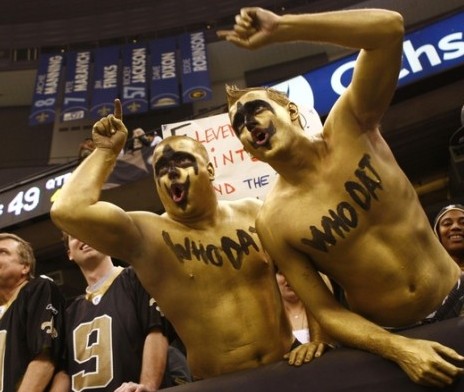 Photo via GrooveyVegetarian.com
It's no surprise that fans in New Orleans know how to get down.
The Saints have always had a great fanbase, but since quarterback Drew Brees came to town in the wake of the Hurricane Katrina devastation, Who Dat Nation has really had something to cheer for.
Brees is the unofficial king of New Orleans, and his Saints are all but unbeatable in the Superdome, thanks in large part to the energy and noise courtesy of Who Dat Nation.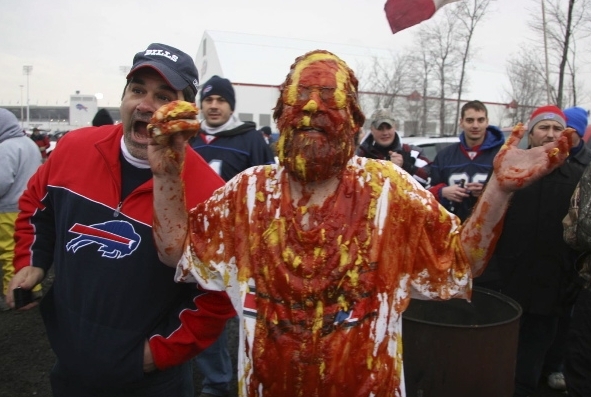 Photo via CommissionerOfTailgating.com
Over the last decade, many teams in the NFL have made safety and security a top priority; the Eagles, Steelers and Broncos have all instituted a number of new policies aimed at curbing crazy fan antics.
In Buffalo, it just isn't in the budget. In 2008, the Wall Street Journal reported that the Bills struggle to contain some of the worst-behaving fans in all professional sports.
Their big "deterrent" to drunken antics? Trying to shame offenders by publishing their names in the local papers. Sounds like more of an incentive if you ask me.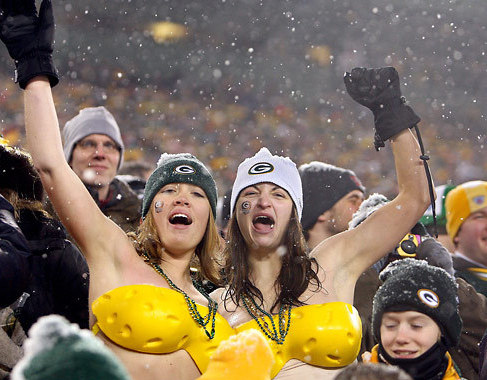 If this was a high school yearbook poll, Packers fans would be voted "Most likely to take their clothes off in the snow."
Although Bears fans would come in a close second.
Packers fans have always been rowdy, but with just one loss in 2011 and a Super Bowl, they've definitely cranked it up a few notches.
Anyone else wondering where they sell cheese bras?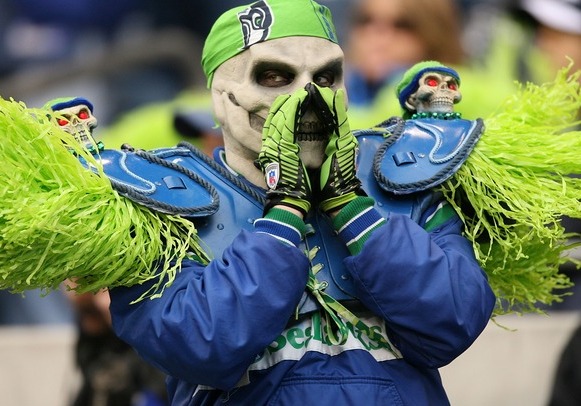 Forget the latte-sipping, Starbucks junkie stereotype that may come to mind when you think of Seattle...Seahawks fans are the real deal.
They've been taking crazy cues from Steelers fans and fashion cues from Raiders fans.
The result is an unhinged hybrid donning day-glo green.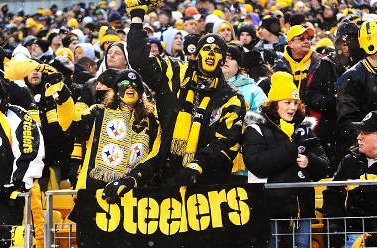 There are no fans in the country more likely to make themselves at home in your building than Steelers fans.
When the Steelers play teams like the Jaguars, Chargers or Rams, it might as well be a home game with as many Terrible Towels as there are in the stands.
There are also no fans in the country more likely to make you regret traveling to an away game than Steelers fans.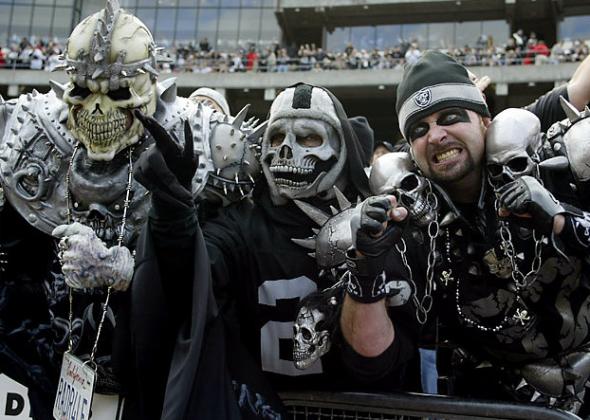 When it comes to Bay Area football fans, the Raiders have definitely cornered the market on rowdiness.
They dress like Lucifer's army, behave like escaped mental patients and live on the fear and misery of opposing fans.
Gotta respect the devotion of Raider Nation.