Giants vs. 49ers: Power Ranking Top 5 Players in NFC Championship Game
January 22, 2012

Nick Laham/Getty Images
The 2012 NFC Championship Game is loaded with talent, as the Giants and 49ers will suit up a combined 10 Pro Bowlers tonight.
With a Super Bowl-tested quarterback, an explosive running back and some ferocious defenders, this game will feature elite talent all over the field.
Playoff games are often won when a team's best player steps up and makes a key play. Don't be surprised if one of these guys makes the game-changing play tonight.
Here are the top five players in the 2012 NFC Championship Game.
5. Carlos Rogers, CB, San Francisco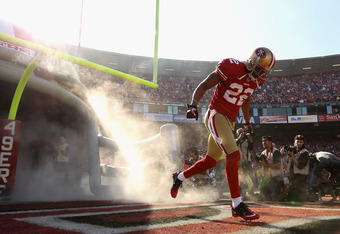 Ezra Shaw/Getty Images
Rogers, the seventh-year man out of Auburn, is one of the best shutdown corners in the league.
He finished fourth in the NFL with six regular-season interceptions. He also recorded 44 tackles and deflected 18 passes.
Rogers was rewarded by being selected to the first Pro Bowl of his career. He'll have his hands full tonight, but he can propel the 49ers to the Super Bowl by shutting down Victor Cruz and Hakeem Nicks.
4. Frank Gore, RB, San Francisco
Gore was selected to his third Pro Bowl this season after racking up 1,211 yards and eight touchdowns on the ground.
The bruising back was dominant at times, rushing for 100-plus yards in five games this year. He hasn't scored since Christmas Eve, but I expect that to change tonight.
The 49ers will be reluctant to throw because of New York's vicious defensive line. That means that Gore must have a big game if they're going to advance.
3. Jason Pierre-Paul, DE, New York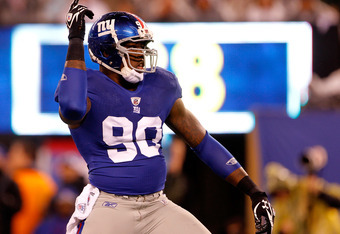 Rich Schultz/Getty Images
Speaking of the Giants D-Line, Pierre-Paul has been incredible this year.

The second-year man exploded onto the scene this season, registering 86 tackles (65 solo) and an absurd 16.5 sacks.
He terrorized quarterbacks all season long, recording multiple sacks in five of 16 games. Combined with Justin Tuck and the finally healthy Osi Umenyiora, Pierre-Paul gives the G-Men one of the NFL's best defensive lines.
Pierre-Paul is due for a big game, and if he can harass Alex Smith, he will give his team a great shot at winning.
2. Patrick Willis, LB, San Francisco
Willis is an absolute monster and might be the best inside linebacker in the league.
He was selected to his fifth straight Pro Bowl this season after he recorded 97 tackles, forced four fumbles, recovered two more and intercepted one pass.
In the regular season, Willis had at least eight tackles on six occasions. He added to that total in the 49ers lone postseason game, registering eight solo tackles against the New Orleans Saints.
Willis is the catalyst of one of the NFL's best defenses. His performance, whether good or bad, will have a huge impact on this game.
1. Eli Manning, QB, New York
Eli Manning had the best season of his career, as he made the rare leap from "above average" to "elite."
He was dominant in the regular season, finishing in the top ten in the NFL in passing yards (4,933), touchdowns (29) and quarterback rating (92.9). He threw for at least 400 yards in three games and broke an NFL record with 15 fourth-quarter touchdown passes.
He's been just as good in the playoffs. In two postseason games, he's completed 44-of-65 passes for 607 yards and six touchdowns.
As good as San Francisco's secondary as been, I'm expecting Manning to continue his dominant play. He's scorching hot and nobody—not even the Niners—can stop him now.
Tonight, Manning will prove he is the best player on the field by leading the Giants to their second Super Bowl in five years.