2012 NFL Mock Draft: Full 7-Round Predictions for Minnesota Vikings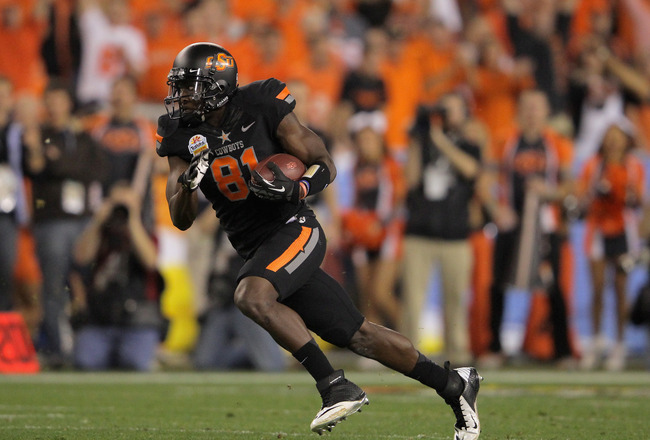 Doug Pensinger/Getty Images
Coming off a 3-13 season, the Minnesota Vikings' "Things to Do" list during the 2012 offseason is long and plentiful. If the Vikings were a house on the market, even the most optimistic of realtors would still classify them as a "fixer-upper."
Zygi Wilf and the Vikings ownership group's first order of business was to hire a general manager and to get rid of their "triangle of authority" leadership model, which ultimately led to nobody taking responsibility for anything.
Under former head coach Brad Childress, it was pretty simple: Childress served as both head coach and de facto GM. However, under new coach Leslie Frazier, the "triangle of authority" has worked like three different heads, each nodding to the left when any accountability was asked for.
On January 3, the Wilfs upgraded Rick Spielman from vice president of player personnel to GM. To many Vikings fans, this simply sounded like renaming your pig. Spielman and Frazier said all the right things afterwards (which amounted to: "Yay, I get to keep my job"), but to the critical eye not a whole lot had changed over at Winter Park.
But let there be no mistake, both Spielman and Frazier are under the gun in Minnesota and the 2012 NFL draft just might be the most important in franchise history. The Vikings simply have to find three starters and four to six contributors from a draft that has them picking third overall and in each subsequent round.
With that in mind, we go through each round and offer our thoughts on who might help Spielman and Frazier keep their jobs beyond 2012.
Round 1: Matt Kalil, OT, Southern Cal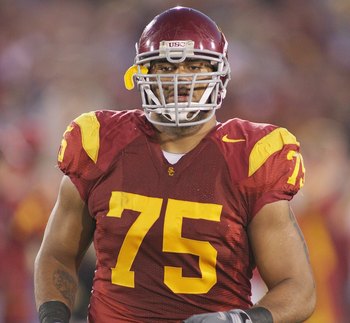 Jeff Golden/Getty Images
With the Indianapolis Colts all but going on the record and saying they are taking Andrew Luck with the first pick of the 2012 NFL draft, the St. Louis Rams will now be on the clock until the actual draft begins on Thursday, April 26.
What the Rams ultimately do with that choice will obviously impact what the Vikings then do with the third pick. Most guesses have the Rams either trading down, taking OT Matt Kalil of USC or WR Justin Blackmon of Oklahoma State.
The guess here is that the Rams will end up trading down to one of the many teams who will target Baylor QB Robert Griffin III with the second pick, leaving both Kalil and Blackmon available for Minnesota to choose from.
Both look like they could be NFL superstars and the arguments for taking either are solid. Getting a franchise left tackle to protect Christian Ponder's blind side can't really be argued against. Unless, of course, you think getting him an explosive outside option to match with Percy Harvin is more ideal.
Those hoping for Blackmon can argue that although the last two "franchise" left tackles taken in the draft, Joe Thomas and Jake Long, have been everything they were advertised to be, they certainly haven't gone very far in turning around the fortunes of the Browns or the Dolphins.
For the Vikings it will come down to this: They'll take Kalil because it's a safer pick. With both Spielman and Frazier knowing their jobs may be on the line, they can't afford to take Blackmon and then have him be anything less than spectacular.
The Vikings need building blocks everywhere, and taking Kalil will be a smart, solid move.
Also in Play: Justin Blackmon (WR, Oklahoma State), Morris Claiborne (CB, LSU)
While the third overall pick might be too high for either position, Blackmon looks like a safer bet to be a superstar than Claiborne.
Round 2: Chase Minnifield, CB, Virginia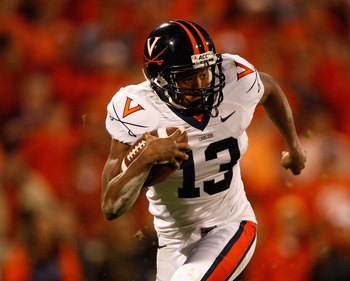 Streeter Lecka/Getty Images
While trying to mock out any NFL draft is slightly insane, it's not at all insane to say that the Minnesota Vikings defensive secondary was among the worst in the league last season.
The NFL is certainly a league of copycatting, and after the video-game offensive numbers put up by quarterbacks in 2011, coaches around the league will be imploring the need for players to help stop the passing game.
As many as six cornerbacks could be taken off the board in Round 1, and if that's the case, Minnifield will probably be gone by the time the Vikings choose at No. 35, but the guess here is that he'll be available.
The 6'0", 185-pounder would step into the staring lineup immediately for the Vikings and would also provide them with another option for returning kicks.
It's hard not to like Minnifield's bloodlines, his father, Frank, was a Pro Bowl CB for the Cleveland Browns, playing from 1984-1992.
Also in Play: Janoris Jenkins (CB, North Alabama), Stephon Gilmore (CB, South Carolina), Mohamed Sanu (WR, Rutgers)
Jenkins being around is a pipe dream and the hope is that the Vikings land a No. 1 WR through free agency.
Round 3: Markelle Martin, FS, Oklahoma State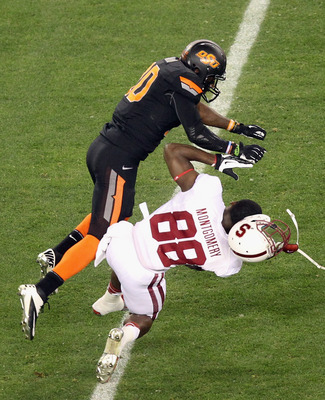 Christian Petersen/Getty Images
While it might be wishful thinking that the Vikings could grab Martin in the third round, most mocks have him going late in the second round, and there is certainly a chance the big hitter out of Oklahoma State could be available when Minnesota picks at No. 67.
The Vikings would be elated to get a shot to add Martin to their safety corps. The 6'0", 200-pounder is a more-than-solid tackler and was one of the better pass defenders in the pass-happy Big 12.
The guess is that with as many as 10 cornerbacks being ranked higher than any free safeties in this draft, Martin will be there waiting for the purple.
Also in Play: Reuben Randle (WR, LSU), Kelechi Osemele (OT, Iowa State), Brandon Boykin (CB, Georgia)
Randle played for pass-poor LSU, so his lack of stats may slide him a bit. If Osemele is still around, he might be tough to pass on, as the Vikings need a ton of help on the offensive line.
Round 4: Kevin Zeitler, G, Wisconsin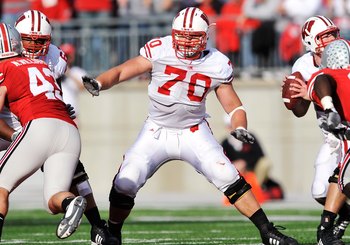 Jamie Sabau/Getty Images
No, guards are never sexy picks, but who doesn't want one of the seemingly endless line of road graders being turned out by Wisconsin over the last several years?
The Vikings are desperate for help along the offensive line and if they could add both Kalil and Zeitler, they would be patching up two of the biggest holes in their lineup.
At 6'4", 320 pounds, Zeitler started over 30 games for the Badgers at right guard and could step right into the starting lineup for the Vikings.
Also in Play: Shaun Prater (CB, Iowa), Tommy Streeter (WR, University of Miami), Senio Kelemete (G, Washington)
All three play positions where the Vikings are desperate for an upgrade, with Streeter being one of the more intriguing players in the draft.
Round 5: Cliff Harris, CB, Oregon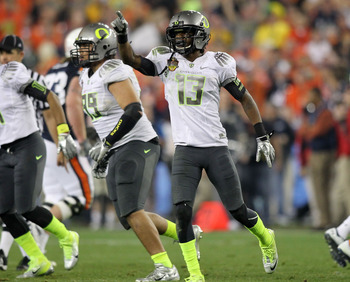 Jonathan Ferrey/Getty Images
If you think you have a handle on Oregon's mercurial cornerback/kick returner, you don't. Talent-wise, Harris should probably be a second- or third-rounder, but he will fall in the draft; it's just a matter of how far.
Kicked off Oregon last season by coach Chip Kelly after one too many run-ins with the law, Harris is a wild card to be sure. But at 5'11" and 180 pounds, Harris is one of the best athletes in the draft and he led the country in passes defended in 2010.
The Vikings have done well in taking wild cards in the past, and if Harris is still around at the start of the fifth round, his talent might be just too good to pass up.
Also in Play: Ryan Lindley (QB, San Diego State), Matt Reynolds (OT, BYU), Aaron Henry (S, Wisconsin), Tank Carder (LB, TCU)
The Vikings have told Christian Ponder he is their guy at quarterback; if they aren't convinced of that they'd be lucky to have a shot at Lindley, the big-armed, four-year starter at SDSU, who flew under the radar his senior season after losing his top three receivers from his junior season.
Round 7 (No. 194): Gerell Robinson, WR, Arizona State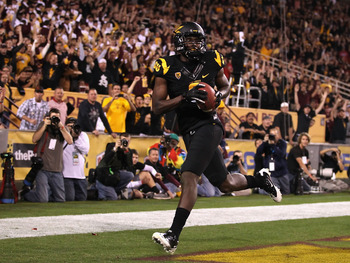 Christian Petersen/Getty Images
At 6'3", 220 pounds, Gerell Robinson could be an ideal fit opposite Percy Harvin at wide receiver for the Minnesota Vikings.
Robinson is not a burner, but showed great ball skills in his senior season and kept getting better throughout his career in Tempe. Robinson finished last season with five 100-yard games in his last seven, highlighted by an 11-catch, 199-yard game against arch-rival Arizona.
Robinson is the perfect type of late-round steal that the Vikings have failed to come up with over the past decade and he plays a position that Minnesota needs a lot of help at.
Round 7 (No. 221): Josh Kaddu, OLB, Oregon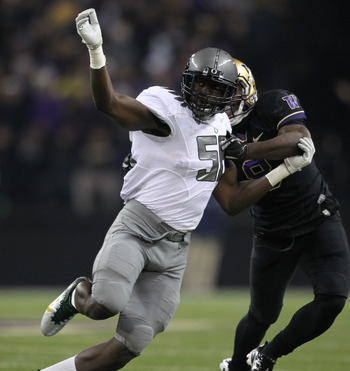 Otto Greule Jr/Getty Images
The Vikings need help at linebacker, and Oregon's Josh Kaddu could fit the bill towards the end of the seventh round.
At 6'3", 235, Kaddu has the size and speed to develop into a playmaker in the NFL. An arrest for underage drinking early in his career and a couple of nagging injuries kept Kaddu from becoming as good as Duck fans had hoped for, but he played well in his senior season and made first-team All-Pac-12.
He could also be the type of late-round addition that the Vikings have so often missed on over the last decade.
Keep Reading

Minnesota Vikings: Like this team?