St. Louis Rams: Jeff Fisher and the Rams Have a Need for Playmakers
October 27, 2016
Elsa/Getty Images
Dome teams like the St. Louis Rams, more than their outdoor brethren, need to load up their offenses with a bigger emphasis on speed, quickness, highly skilled play-makers and overall athleticism to optimize the use of their home venues. Indoor based teams always play at least half of their games on the fast track, of course, in a controlled, consistent atmosphere.  
Outdoor teams, especially those playing on grass, may at any time be forced to deal with a myriad of elements including mud, snow, ice, fog, rain and cold.  Those teams are, and rightfully so, often geared around a power running game.  
Of the four remaining playoff teams, two of them (San Francisco and Baltimore) represent and implement traditional examples of this philosophy.  
However, that isn't always the case, as Green Bay and New England, for example, have excelled in outdoor home stadiums with high-powered passing attacks, led by Tom Brady and Aaron Rodgers.
Just as there are exceptions to the smash-mouth attacks that the majority of successful outdoor teams utilize, there are occasional exceptions to the pass-focused offenses that most successful dome teams incorporate.
There is no rule of law or commanded prerequisite that indoor teams must incorporate a so-call finesse orientated attack or a pass heavy offensive philosophy.  There have been exceptions, such as the Atlanta Falcons of 1998, who leaned heavily on the power running of Jamaal Anderson.
Disproportionately, dome teams have flourished with athletic, multidimensional halfbacks, at least one deep threat among the wide receiver corps, and a prolific passing attack led by good quarterback play and several capable receivers.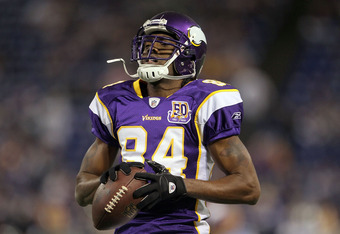 Jeff Gross/Getty Images
With each example below, that has been the formula that has bred success and has proven to work exceptionally well.  
Looking at the time frame since the Rams moved into the Edward Jones Dome in 1995, we have seen some prolific offenses birthed from dome-based teams. 
In 1998, the Minnesota Vikings torched the NFL while being led by the athletic Randall Cunningham, fleet-footed run/pass halfback Robert Smith, the deftly skilled Chris Carter, and perhaps the best deep threat of all time, Randy Moss, whose job was to "go deep and take the top off the defense".  
That Vikings team led the NFL with 556 points, yards per play, passing yards, and touchdowns while going 15-1 on the season and an NFC Championship game appearance. Even with all the success through the air, Minnesota ranked eleventh in rushing yards and finished fifth in rushing touchdowns
From 1999 through roughly 2004, St. Louis thrived due largely to their historically potent "greatest show on turf" attack going to two Super Bowls while making the playoffs in five of six seasons.
The Rams were led by the play of quarterback Kurt Warner while using Marshall Faulk as a runner/receiver out of the backfield, and the use of some deep receiving corps that plugged in players like Isaac Bruce, Torry Holt, the shifty Az-Zahir Hakim, third down phenom Ricky Proehl, and the blazing Kevin Curtis.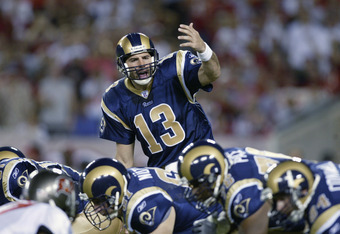 Andy Lyons/Getty Images
The Rams of the "greatest show" era scored over 500 points in three consecutive seasons (1999-2001), the first time that was ever done in the NFL, while leading the league in total offense and passing yards in each of those three years.  
Like the 1998 Vikings, however, they had some balance and a good running game.  During that three-year stretch, they led the NFL in rushing touchdowns twice and yards per rushing attempt in 2001.  
In Indianapolis, similar results ensued while exerting a similar offensive approach for several highly successful seasons under Peyton Manning, with the aid of highly skilled, athletic wideouts like Marvin Harrison and Reggie Wayne with versatile run/pass halfbacks like Edgerrin James and Joseph Addai. The Colts went to the playoffs nine consecutive times behind a potent offensive attack.
In 2006, for example, the 12-4 Super Bowl winning Colts finished second in the NFL in points while leading the league in yards per play, second in passing yards and first in touchdowns while averaging a respectable 4.0 yards per rush on 439 attempts.
Finally, the current New Orleans Saints have had a similar makeup: a pro bowl caliber quarterback in the effervescent Drew Brees, a multifaceted running/passing attack that has used multidimensional running backs like Reggie Bush and Darren Sproles, and numerous dynamic, speedy and/or talented receivers like Marques Colston, Devery Henderson, Jimmy Graham and Melvin Cheatum.  
They have gone to the playoffs four of the last six seasons with Brees at quarterback, winning the Super Bowl in 2010, defeating the Indianapolis Colts.  That Super Bowl winning team led the NFL in points and yards per play while averaging 4.5 yards per rush on 468 attempts with 21 of those going for touchdowns.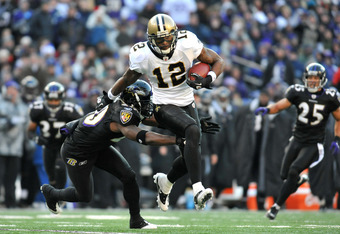 Larry French/Getty Images
With Fisher, the Rams have a chance to be a rare dome team by instituting many of the same elements utilized by other successful dome teams like those mentioned above while mixing in Fisher's tough, physical style of play and mentality that his offenses in Tennessee came to be known for.
The vast majority of successful dome teams, like those previously highlighted, have possessed players with above average speed, quickness and playmaking ability.  Each have had at least one legitimate deep threat.  
If St. Louis can upgrade at wide receiver by adding more talent and a big jolt of speed while simultaneously displaying the toughness that was always evident in Jeff Fisher coached teams, the Rams will possess a lethal blend. 
I expect nothing less, in time, than a "hybrid" dome team that will ultimately employ a group of highly skilled offensive weapons while at the same time utilizing a power running attack led by Steven Jackson, that will smack you right in the grill.  
This "hybrid" dome offense will translate well when faced with bad weather games away from the Edward Jones Dome.
Fisher's offenses have tended to be conservative although, admittedly, he did begin to open it up more after the decline of Eddie George, Fisher's Steven Jackson-like power back of many seasons in Tennessee.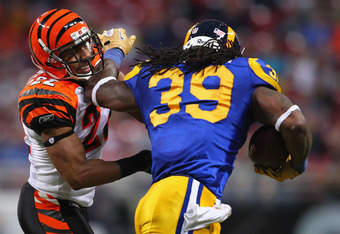 Dilip Vishwanat/Getty Images
Defensively, Fisher consistently employed aggressive, feisty defenses that liked to attack.  One notable difference from his and Spagnuolo's defense is that Fisher placed a heavier emphasis (no pun intended) on employing big, powerful defensive tackles.  
Fisher would then surround the stalwarts in the middle with athletes who could and would attack (aka Jevon Kearse) and made teams earn every yard, as Torry Holt attested to.  
Cortland Finnegan, a 27-year-old defensive back who played for the Titans under Fisher, could be an option for St. Louis.  Finnegan has already shown some interest in moving to the Gateway City with his former head coach. 
If Fisher's Rams find a way to put up some points and give the defense a lead, they will be able to attack with Chris Long, Robert Quinn and other defenders more frequently.  
As we know, when the dome gets rockin' a la 1999-2002, the Rams defense has an advantage as opposing offenses struggle to communicate, execute and find success. 
I expect the Rams to focus on adding playmakers and a bodyguard or two to the offense through the draft and/or free agency and to prioritize upgrading at defensive tackle, outside linebacker and perhaps corner (depending on the health of Ron Bartell, Bradley Fletcher, and Jerome Murphy, St. Louis' projected top three corners in 2011, all lost to injured reserve).
By blending the proven style of play that most often solicits success for dome teams with the fiery and physical play and mindset that Fisher's teams have been known for, St. Louis could field an offense that could adapt to various conditions better than most roofed teams while maintaining some of the flavor that typically works best for indoor teams.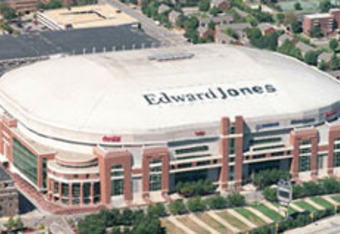 In short, get the offensive lineman playing tough and mean with a diverse set of wideouts (speed and possession guys) a power running back (Jackson) and a change of pace back who can do a little of everything, preferably with some blazing speed, and St. Louis likely improves dramatically on offense. 
The foundation is in place on defense with the aforementioned Long, Quinn, James Laurinaitis, a (hopefully) healthy trio of talented corners (Bartell, Fletcher and Murphy) and veteran safety Quintin Mikell.
So, other than adding at defensive tackle and outside linebacker, St. Louis should feel comfortable with focusing most of the attention upon supporting Bradford (assuming he stays) with bodyguards and getting him some explosive, versatile weapons.  
It may or may not be possible to add all these dimensions in one offseason, but the Rams will try to get as many pieces in place as possible. 
The offense is not as far away, however, as some may think.  
St. Louis can shore up their attack with a few moves, including the addition of a legit playmaker at wide receiver, a change of pace back and one or two starting offensive lineman.
If St. Louis retains Brandon Lloyd, the receiving corps will include he, Danny Amendola and Greg Salas, who impressed as a rookie.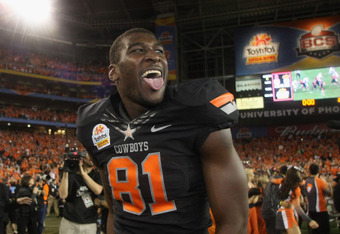 Donald Miralle/Getty Images
With a speedy receiver added in the draft and a healthy Denario Alexander potentially returning, some better offensive line play could lend itself to a much improved year from the quarterback position and thus a more productive offense overall.
The addition of an offensive lineman or two could aid the passing game and enhance the running attack, which will again be led by Steven Jackson with a later-to-be-named change of pace back coming off the bench with (hopefully) big play potential.
If they are able to add these pieces (and perhaps another tight end in this era where receiving tight ends have become so valuable), the Rams should certainly be in business offensively in 2012.
Shane Gray covers the St. Louis Rams year round. To check out the rest of his work, go here.  You are also encouraged to follow him here on Twitter.