2012 NFL Draft: 6 Needs the Seattle Seahawks Will Need to Fill This Year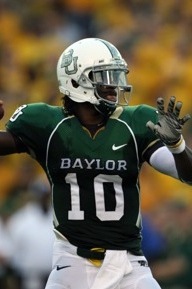 Like any other team in the league, Seattle has some needs on both sides of the ball they need to take care of. Luckily though, they don't have to completely revamp either side of the ball, as the majority of the starters will be returning.
With that being said, the Seahawks are still far away from being a consistent playoff contender again. They will need to have a very successful draft if they want to win back respect in a division that features an elite 49ers team.
At this point, the Seahawks are one good draft away from being serious wild-card contenders, maybe even division contenders if the 49ers fall apart, but they'll have to fill these holes.
Here are six of those needs.
Begin Slideshow

»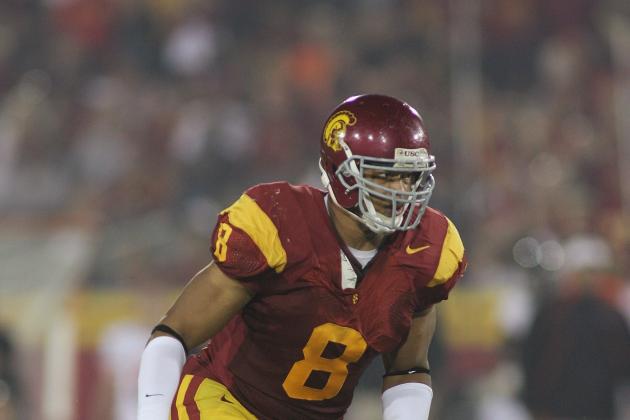 Jeff Golden/Getty Images

The defensive unit was undoubtedly Seattle's strength in 2011.
For the better part of the season, the Seahawks defense were keeping offenses in check and keeping the Seahawks in games, even if the offense wasn't executing.
The Hawks were a little to reliant on Chris Clemons to put pressure on the quarterback last season. A good pass-rusher could take a lot of the load off Clemons to perform.
Not only would it take pressure off Clemons, it would also allow the corners to play more relaxed. If the Seahawks can put pressure on with a four-man rush, then the corners will be able to play a bit more loose knowing they will have safety help.
I believe the Seahawks will use their first pick on a defensive end type body.
Nick Perry of USC could be the next Jared Allen type player in the NFL.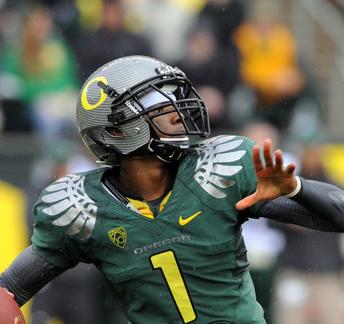 Pete Carroll will eventually realize that Tarvaris Jackson isn't the long-term option at quarterback, if he hasn't already.
Either way, it's a safe bet that the Seahawks will pick up a quarterback in this year's draft. Whether it'd be with the first pick or a mid-round pick. There are several options at quarterback that Seattle will look into.
If the Seahawks want to go for a big name early on, Robert Griffin III or maybe even Darron Thomas are good options. Darron Thomas recently just stated he's going to the NFL. Both are pass first-run second quarterbacks.
Keep in mind that this quarterback will likely not be the starter, just somebody that can pusch T Jack. I believe that if anybody is to overtake Jackson, it will be through free agency, eg. Matt Flynn, Kyle Orton.
The more likely scenario though is Seattle goes for a mid-round option like Ryan Tannehill, who's draft stock has fallen rapidly, especially after he broke his foot and missed the Senior Bowl.
Otto Greule Jr/Getty Images

The Seahawks backup offensive lineman did a good job stepping in when three of the five starters went down with injuries.
Lynch capped off a very successful season running for 1200 yards and a string of games with touchdowns.
If the Seahawks want to utilize Lynch to his full potential though, it'd be nice to bring in another linemen that can give the Seahawks a sense of security at the position. If another string of injuries happens, it might be hard for the backups to repeat their success.
It's not necessarily the Seahawks biggest need, but picking up a linemen in the later rounds would be good in the long run.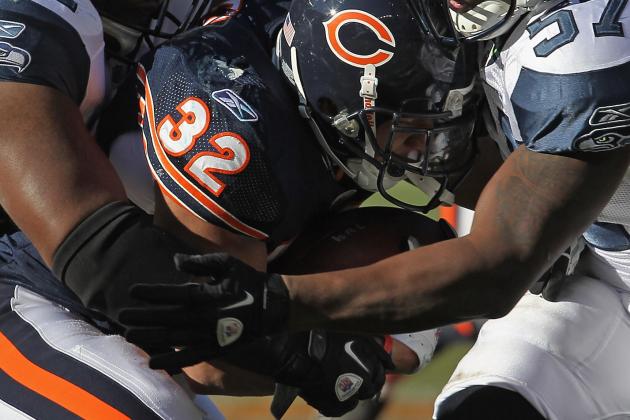 Jonathan Daniel/Getty Images

Trading Aaron Curry to the Oakland Raiders for a seventh-round pick might come back to haunt the Hawks down the road.
Both Leroy Hill and David Hawthorne are going to be free agents, and you figure at least one of them will decide to walk.
This would've been a perfect time for Curry to slide in as a starter, even if he may have not necessarily lived up to hype his first couple years.
The Seahawks will likely use a second or third-round pick on a linebacker.
Lavonte David of Nebraska or Chase Thomas of Stanford are good second-round options.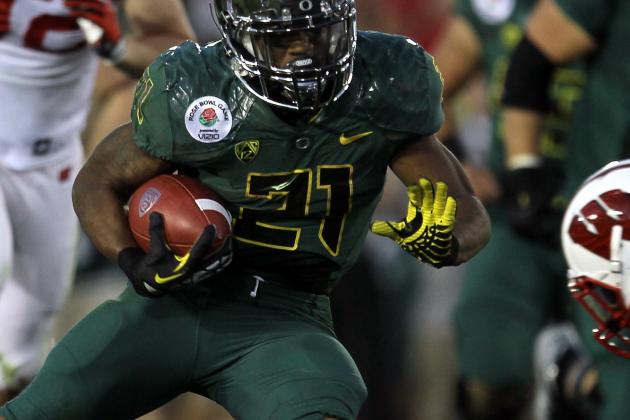 Stephen Dunn/Getty Images

Depending on who's available, the Seahawks might snag a running back in the second round or wait until the seventh round to pick someone up.
No matter what happens, the Seahawks should get a No. 2 running back to Marshawn Lynch through the draft this year.
While Leon Washington and Justin Forsett were able to hold the fort down this year, you can't expect either one of the two to be legitimate No. 2 running backs.
LaMichael James isn't very high on most draft boards, projected to go in the third or fourth round. He would be the perfect complement to Lynch—a scary scat-back to break up the ground-and-pound style that Lynch possesses.
James reminds me a lot of Darren Sproles.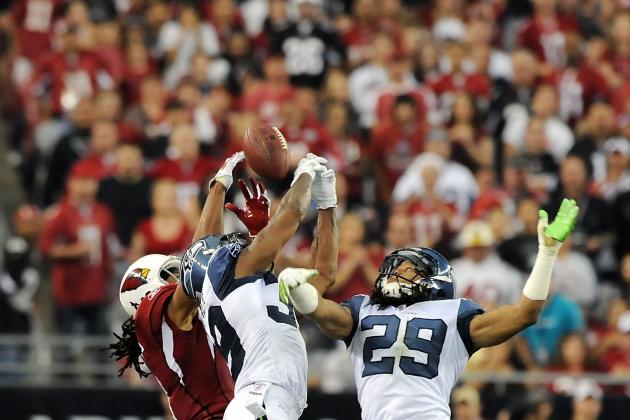 Norm Hall/Getty Images

The way these big corners have been playing, they're almost locked starters for next year.
Brandon Browner and Richard Sherman really stepped up in the absence of Marcus Trufant.
Trufant will most likely walk after this season; the Hawks are trying to get younger on both sides of the ball, and at 31, Trufant just might be done if he can't start.
Walter Thurmond played well when he was in but was lost for the year when he broke his leg against the Cleveland Browns.
Browner and Sherman have been playing largely injury-free, but if one of them gets injured, the Seahawks' secondary could look very vulnerable.
For a safety pick, it'd make sense to pick a corner.