25 Most Important Things Learned from the NFL's Divisional Round
Elsa/Getty Images
The divisional round of the NFL playoffs, widely considered to be the best football weekend of the year, had its share of excitement.
There was plenty of offense, turnovers, a crazy finish, Tebow mania and matchups with plenty of intrigue.
Before looking forward to the conference championships, let's look back at the discoveries from the most recent weekend of postseason action.
Mike Singletary Was Wrong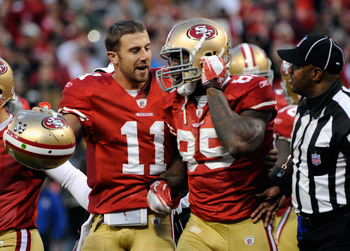 Thearon W. Henderson/Getty Images
The former 49ers head coach is currently eating his words.
In a classic press conference rant (that can easily be found on YouTube), Mike Singletary stated "cannot play with him. Cannot coach with him. Cannot win with him. Can't do it."
The "him" was Vernon Davis, a tight end with physical talents but alleged attitude problems.
Singletary couldn't coach with him, but first-year man Jim Harbaugh certainly can.
Davis' performance on Saturday against New Orleans, including his two critical final-drive catches, was a reflection of how the players are heeding the words of their energetic new head coach.
Smith Can Go Toe-to-Toe with Brees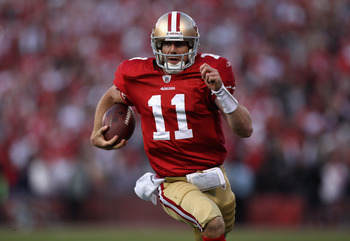 Jed Jacobsohn/Getty Images
Seeing Drew Brees chuck the ball down the field with surgeon-like precision is quite commonplace.
But who knew Alex Smith could answer back on multiple occasions?
In a frantic final four minutes, the quarterback that many had questioned prior to 2011 quieted the doubters in his first playoff outing.
After Darren Sproles' 44-yard TD catch-and-run gave the Saints a one-point lead, Smith showed his wheels with a 28-yard scoring scamper down the far sideline.
The 66-yard connection from Brees to Jimmy Graham with just over a minute-and-a-half remaining seemed like the dagger, but Smith pulled off his best Joe Montana routine in front of the raucous crowd at Candlestick.
The former No. 1 overall pick got them quickly into scoring range. Then, his pinpoint control helped him hit Vernon Davis from 14 yards out with nine seconds left to give San Francisco a win and add to the many dramatic moments in 49er postseason history.
Conventional Wisdom Applies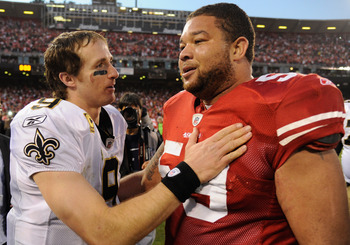 Thearon W. Henderson/Getty Images
A Saints victory would have broken many traditional rules in the NFL, and specifically in the postseason.
New Orleans nearly showed that you could give away the ball five times and still pull out a victory. But like most clubs that lose the turnover battle, Sean Payton's club wasn't so fortunate.
The Saints also just missed out on nabbing their first postseason victory away from the friendly confines of the Superdome.
The most important tradition that went against New Orleans was that a good defense can overpower a good offense. The Saints were appearing to be a team that would get to the Super Bowl primarily with their ability to move up and down the field. However, the Niners limited them just enough to be on the right side of the score when the clock ran out.
Saints Defense Folded in Crunch Time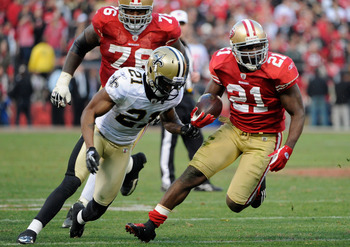 Thearon W. Henderson/Getty Images
There was a stretch in the game in which the Saints D was keeping them within arm's reach of their opponent.
By holding the 49ers to field goals vice touchdowns, New Orleans' potent offense took advantage and took a 24-23 lead.
That's when the defense of the Saints regressed. New Orleans couldn't make a stop when it needed to, and allowed Alex Smith to engineer two dramatic touchdown drives.
Niners Defense Made the Difference Early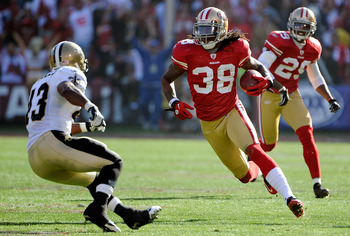 Thearon W. Henderson/Getty Images
Had it not been for the 49ers forcing the Saints offense into several early mistakes, it's likely that New Orleans would have won by at least 10 points.
However, the turnover margin went heavily in favor of San Francisco.
The Niners pounced on three Saint fumbles and picked off Drew Brees on twice.
Two of the turnovers occurred in the first three New Orleans drives, and both led to San Francisco touchdowns.
New Orleans Offense Won't Go Away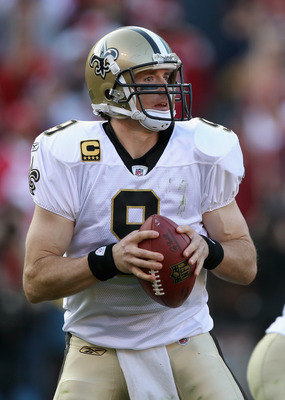 Jed Jacobsohn/Getty Images
The miscues by the Saints put themselves in a 17-0 hole early in the second quarter.
This deficit would bury most teams. Not New Orleans and its explosive offense.
Drew Brees and his bevy of pass catchers chipped away, ultimately taking their first lead with 4:02 left on the 44-yard touchdown catch by Darren Sproles.
However, the faults of the Saints (on offense and defense) were ultimately too much to overcome.
Tom Brady Can't Be Overshadowed
Elsa/Getty Images
Tom Brady felt more like Jan as Tim Tebow was playing Marcia.
All week leading up to the Broncos-Patriots contest, the discussion centered on Tebow, Tebow, Tebow.
The three-time Super Bowl champion and two-time league MVP made it certain who everyone would be talking about after the game.
Brady went 26-of-34 for 363 yards and six touchdowns, five of them coming in the first half, and put New England within sight of a fifth Super Bowl appearance in 10 seasons.
Tim Tebow Still Has Work to Do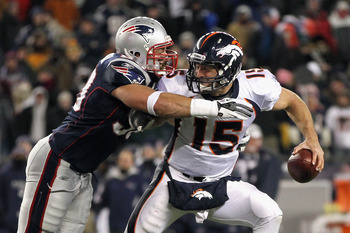 Jim Rogash/Getty Images
This is not a space to bash the Broncos starting quarterback.
Tim Tebow should be praised for his determination and tremendous leadership skills. The league's newest phenomenon won seven of eight, led Denver to the AFC West title and for beat the Pittsburgh Steelers last weekend with a career-high passing effort.
However, his final two regular season games and his rough performance in the loss on Saturday to the Patriots is proof that there is need for improvement.
With dedication from his superiors and an offseason to adjust, Tebow can captivate the nation again next year.
New England's Defense Can Play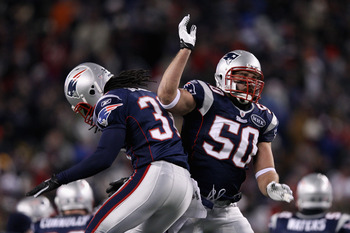 Elsa/Getty Images
Either the 31st-ranked defense finally woke up from a four-month slumber or Denver simply didn't have it on offense.
Whatever the reason, the Pats limited the Broncos to 252 total yards...a far cry from the 411.1 average over the course of the regular season.
In addition, Denver was rendered ineffective following an early second quarter touchdown that made it 14-7 and didn't get into scoring position until the contest was far out of reach.
Gronk Is Unstoppable in Playoffs, Too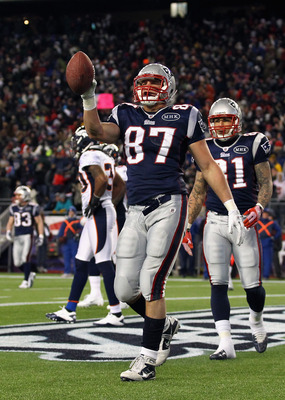 Al Bello/Getty Images
The second-year tight end from Arizona augmented his record-breaking regular season with a stout effort in the AFC Divisional.
Rob Gronkowski, who set a new mark for receiving touchdowns by a tight end with 17, found his familiar ground in the middle stages of the first quarter when quarterback Tom Brady connected with him from 10 yards out.
The second quarter was double trouble for Denver. Gronkowski had TD catches that totaled 12 and 19 yards, respectively. The latter came in the waning moments of the opening half and gave New England a 35-7 advantage.
Pats Channeled 2007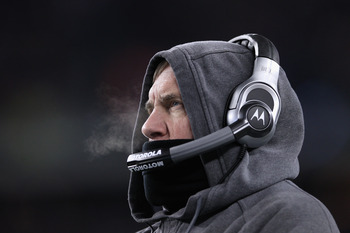 Elsa/Getty Images
It's not hard for the average football fan to forget the destruction the New England Patriots put on the rest of the league just over four years ago. Well, with the exception of the Super Bowl (something Pats fans would love to forget).
Anyway, Bill Belichick's team ran roughshod through the NFL, winning by an average of 19.7 points with an unstoppable offense and a solid defense.
The air of '07 was felt in the coldness of Foxborough with a 45-10 trouncing in which all facets of Patriots' game were on point.
The Year of the Tight End?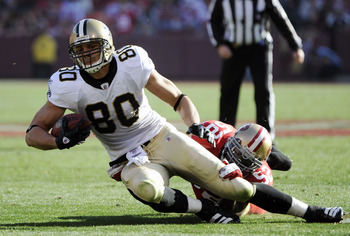 Thearon W. Henderson/Getty Images
It's been all about the quarterbacks in 2011.
From Drew Brees setting the single-season record for passing yardage, to Aaron Rodgers playing almost flawlessly, to Matthew Stafford joining those two among those throwing for more than 5,000 yards, there's been no shortage of offense.
However, those catching those passes should also be given their share of credit.
More specifically, the tight ends.
New England is blessed with two young talents at this position in Rob Gronkowski and Aaron Hernandez. Jimmy Graham continued his breakout year with five grabs for 103 yards and a pair of TDs on Saturday in San Francisco. That was topped by Vernon Davis, who provided some dramatics to cap a day in which he had seven catches for 180 yards and two scores.
Even the obscure had their moment in the sun. Baltimore's Kris Wilson (the recipient of just six catches in 2011) hauled in his first touchdown when he provided the first points for the Ravens on Sunday afternoon.
Jacoby Jones' Gaffe Swung Early Momentum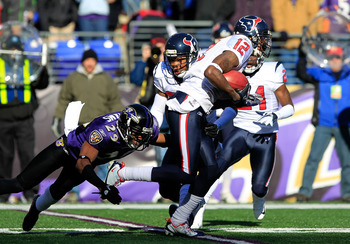 Chris Trotman/Getty Images
The Texans used their first possession to get a field goal and an early 3-0 lead on Baltimore.
Houston's defense then stepped up to get force a three-and-out on Joe Flacco and the Ravens' offense. Before getting a a crack at another score, punt returner Jacoby Jones committed a costly error.
Instead of letting the punt roll, he tried to pick it up off the bounce. The ball then bounced off his body and went loose on the turf. Baltimore recovered deep in Houston territory and cashed in with a touchdown shortly afterwards.
Ravens Offense Must Get Better
Chris Trotman/Getty Images
Gaining 227 total yards on offense may be enough to squeak by the Texans. It certainly won't be enough to dethrone the Patriots next Sunday.
Ray Rice couldn't get going, as he posted a mere 60 yards on 21 rushing attempts.
Joe Flacco was as cold as the weather. He did throw for two touchdowns, but accumulated just 176 yards via the air and never got into rhythm.
The Ravens defense can only do so much to give their offense a chance against New England. At some point, Flacco and Rice must produce on a consistent basis if they want to reach the Super Bowl.
Arian Foster Kept the Texans in It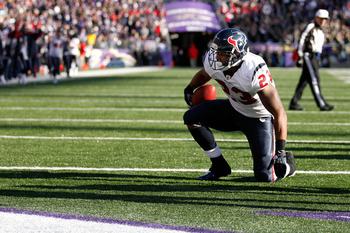 Rob Carr/Getty Images
The Texans offense was carried by same guy they've relied on all season long.
Arian Foster gained 132 yards on 27 carries and scored once.
If that sounds like a slightly ordinary day for one of the game's best ball carriers, you'd be correct. However, it marked the only time in 16 postseason contests in which the Ravens defense had allowed an opposing running back to gain at least 100 yards on the ground.
Unfortunately, being behind in the final moments meant Houston had to rely on the pass in order to knot the score. That, of course, wasn't as successful.
Houston Defense Did as Well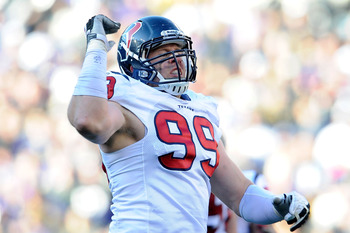 Patrick McDermott/Getty Images
With the low output from the Ravens on offense, credit must be given to the top-ranked Texans defense.
After falling behind 17-3 at the end of one period, Houston held Baltimore in check for remainder of the contest.
In all, the Ravens had just 11 first downs and the aforementioned 227 total yards. J.J. Watt added to his stellar play in the playoffs with a game-best 12 tackles and 2.5 sacks.
With the Texans limiting Baltimore for the final three quarters, it put them within striking distance up until the final gun.
T.J. Yates Is a Rookie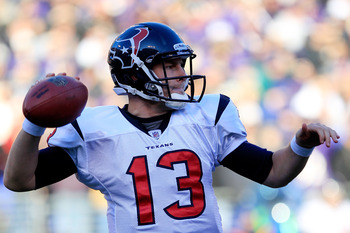 Chris Trotman/Getty Images
That fact you can look up in an old media guide.
You could also tell by his performance on Sunday against the vaunted Baltimore defense.
In only his seventh professional start, Yates went 17-of-35 passing for 184 yards and three interceptions. The last came in the final two minutes by future Hall of Famer Ed Reed as Yates went for the tying score.
The fifth-round pick from North Carolina was admirable in a tough situation, filling in for Matt Schaub and Matt Lineart. And to beat the Ravens on their home field was a task easier said than done.
Ed Reed Can Still Do It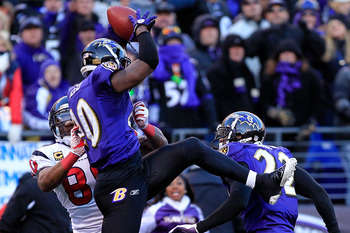 Chris Trotman/Getty Images
Don't throw near Ed Reed.
T.J. Yates figured this rule out the hard way on the the M&T Bank Stadium turf. The 10-year veteran was second on his team with six tackles (all solo) and had four passes defended.
Of course, he had the all-important interception with 1:51 remaining. It was his eighth pick in the postseason and helped seal the Ravens' trip to New England for the AFC Championship.
Giants Re-Enacting Super Bowl XLII Run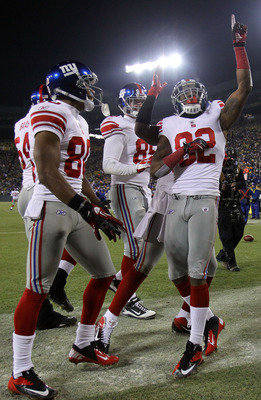 Jonathan Daniel/Getty Images
To quote a famous New York sports legend, "it's deja vu all over again."
On their road to an unlikely Super Bowl XLII crown, Eli Manning and the Giants peaked at the right time. They won three games in the NFC Playoffs to get to the title game. Included in that was a victory in Green Bay against a superior Packers team.
New York got on track late in the 2011 regular season to capture the NFC East. After taking down Atlanta, Big Blue got a huge win on Sunday over the best team in the NFL and the defending Super Bowl champs.
Who knows? They may be playing the Pats for the right to win the Lombardi Trophy.
A Few Weeks off Hurt the Packers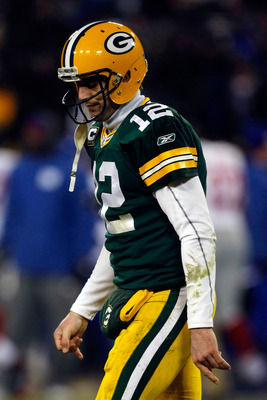 Scott Boehm/Getty Images
For some teams, having a few weeks of rest prior to the playoffs is a great benefit.
For the Packers, it put on so much rust that they weren't able to shake it off against the Giants.
Aaron Rodgers, a quarterback that has been spot-on with his passes, connected on 26 of his 46 attempts. And when he did find open receivers, it wasn't a guarantee the ball would be caught. Green Bay's pass catchers failed to do their job with several untimely drops.
Those running the ball had trouble holding on as well. Rodgers, Ryan Grant and John Kuhn all had fumbles that were recovered by New York.
Hail Mary to Nicks Was the Dagger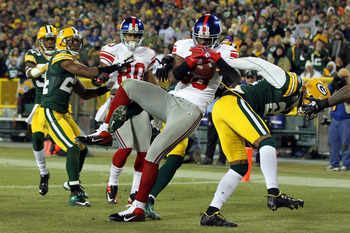 Jamie Squire/Getty Images
In what was a decisive win by the New York Giants, the biggest blow was delivered at the end of the first half.
Up 13-10, New York used a 27-yard run by Brandon Jacobs to get within field goal range. But instead of opting for the long kick, the Giants instead went for a prayer of a pass.
Thanks to poor secondary play by the Packers and the hands of Hakeem Nicks, the result was a 37-yard touchdown connection and a 20-10 New York lead at intermission that quieted the crowd and set the tone for the final two quarters.
Giants Are the Hottest Team Left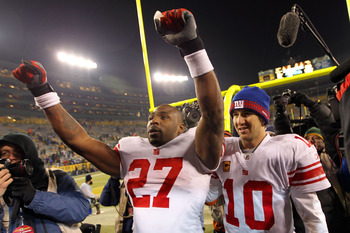 Jamie Squire/Getty Images
Raise your hand if you'd like to play the Giants right now.
In November, many would have gladly taken on the battered and bruised bodies (and egos) of Big Blue.
In mid-January with two strong playoff showings under their belt, all fear Tom Coughlin's bunch.
Eli Manning and his receivers are in sync. For once, the running game that had been dormant all year is now effective. What's more, the pass rush is wrecking havoc on quarterbacks.
The 49ers will have their biggest test of their Cinderella season in the NFC Championship Game of cooling off this team.
New York Secondary Was Key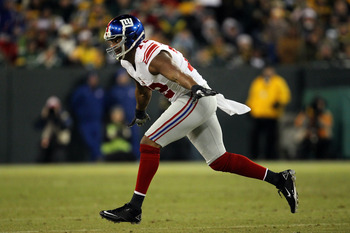 Jonathan Daniel/Getty Images
In the first quarter, the Giants had trouble defending the Packers talented pass attack.
But they made adjustments by the second quarter and made key plays for the remainder of their 37-20 victory in Green Bay.
The Packers wide outs helped out with uncharacteristic drops, but the Giants secondary did the lions share of the work.
With their stout coverage, it allowed New York's vaunted pass rushers to make life miserable for Aaron Rodgers.
Eli Loves Lambeau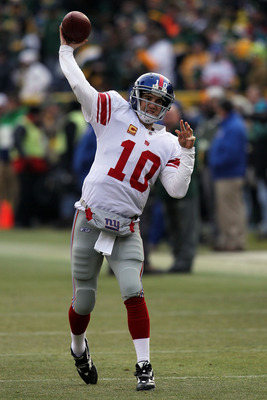 Jonathan Daniel/Getty Images
The younger of the two Manning football stars has one home playoff win. He has two postseason victories at legendary Lambeau Field.
On Sunday, Eli Manning felt all-to-comfortable against the Packers porous defense. He completed 21 of his 33 pass attempts for 330 yards, three TDs and an INT.
More importantly, he and the offense were 8-of-15 on third-down conversions, many of which kept scoring drives alive.
Home Field Holds Up...Almost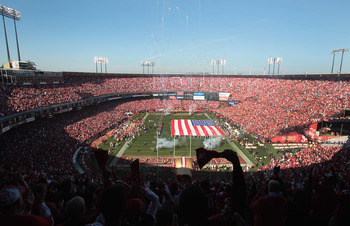 Jed Jacobsohn/Getty Images
For three-fourths of NFL Divisional Playoff action, home cooking proved crucial.
The 49ers prevailed at the 'Stick, New England was razor sharp at Gillette Stadium, and the Ravens edged Houston in the Charm City. It's a certainty that if the location were different in two of those contests, the result would have been different as well.
It's quite ironic that the only arena that did not host a winner was the most famous stadium in the National Football League.
Keep Reading