Dallas Cowboys 2012 NFL Draft: Pass Rush Must Become More "Mercilus"
January 10, 2012
Jonathan Daniel/Getty Images
Let's have a quick quiz, shall we?
Whether you know the answers or not, it doesn't matter.
First question comes with a likely obvious answer:
How many sacks did DeMarcus Ware accumulate in 2011?
If you said 19.5 you would be correct!
Who finished second on the team in sacks?
Hmm?
Would the name Anthony Spencer surprise you? It just might, especially with everybody speculating that the Dallas Cowboys will let the five year veteran walk via free agency. Just remember that Spencer did have six sacks.  
Enough of the quiz, if that's okay with you.
Let's get into facts for a minute.
The Dallas defense posted 42 total sacks in 2011. By comparison, the Minnesota Vikings and Philadelphia Eagles led the NFL with 50 sacks.
The Dallas sack total for this season was more than respectable but it was anything but clutch. I don't have the numbers in front of me but I'd bet good money that Dallas' sacks on third down were pretty pedestrian – probably awful in December.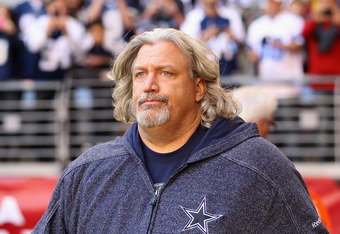 Christian Petersen/Getty Images
So what was immediately missing from defensive coordinator Rob Ryan's scheme, aside from time spent implementing it late last summer?
I would say that undersized and out-of-position Jay Ratliff was missing. You know that Ratliff tied with Orlando Scandrick, a cornerback, with all of two sacks this season?
Two?
Now, with the 2012 NFL Draft coming up in just over three months, the Cowboys have to be looking to rectify this issue – and quickly, as in first round quickly.
Pass rushers tend to go about as fast as quarterbacks, offensive tackles and the best cornerback available each and every year.
With the 14th selection heading in, there's a few directions the Cowboys could go and each might be great, depending on how the player turns out. But I see the best opportunity possibly being pass rusher.
So take a look at Illinois defensive end Whitney Mercilus.
All Mercilus did, as a junior who will forgo his senior season for the NFL, is lead the nation in sacks with 16, tying the previous school record set by Simeon Rice. Mercilus forced a Big 10 record nine fumbles, second highest single season total in NCAA history and he added 22.5 tackles for a loss.
Busy guy I'd say.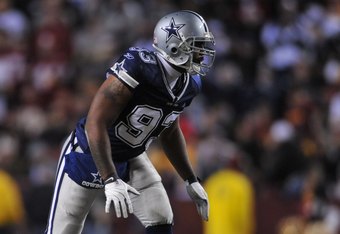 Larry French/Getty Images
Mercilus is a high character guy and he's got a very high motor.
And how's this for commitment? Mercilus suffered a crushed left index finger last Spring which ended up costing him the tip of that finger. That's apparently what happens when a 405 pound weight accidentally falls on a finger.
Following stitches, surgery and lots of hydrogen peroxide soaks, Mercilus turned in his explosive junior campaign.
Dallas needs a player like this up front, especially if Spencer is allowed to walk for nothing which I expect this coming offseason.  
Mercilus by himself might not cause dramatic change as a rookie but with Ware at the other outside linebacker spot there would be opportunities for this pass rusher to make plays. Now imagine if Ratliff was moved to end right next to him on the left side of the defensive line!
Standing at 6'4" and weighing 265, Mercilus is built just about like Ware and so Dallas wouldn't have the possible size issue that could be a concern if Victor Butler was moved into Spencer's place. Don't get me wrong, Butler is a weapon but he wouldn't be as effective against the better rushing attacks.
In closing, let's look ahead to 2012. In the NFC East alone you have four games against both Michael Vick and Eli Manning. The former commands as many capable pass rushers as you can bring without emptying your secondary. The latter was sacked only once in two games, ultimately nailing the coffin closed on the Cowboys in New York to end the season.
Most important is that the Cowboys won zero games against those above mentioned quarterbacks in 2011.
And what if Washington, choosing sixth in April, ends up with Heisman Trophy winner Robert Griffin III from Baylor?
The Cowboys have to beef up this pass rush and they have to do it fast.
The clock is ticking on everybody in this organization now.