The Most Humble NFL Stars of All Time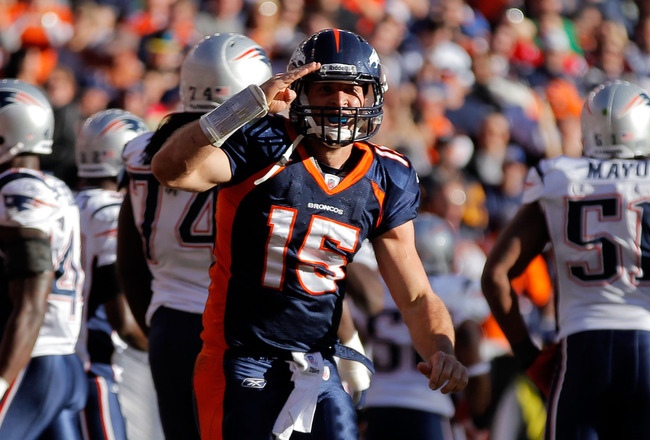 Justin Edmonds/Getty Images
Tim Tebow proved this season that no matter how good a skill set a player possesses, a humble attitude can win the crowd over.

Once Tebow was named a starter, his jersey sales took off, becoming No. 1 on the best sellers list while never looking back, and don't think for a second that was because of his 46.5 completion percentage this season.

Tebow's popularity proves that fans love a humble superstar and will back him through the thick and thin, but where does he rank when it comes to the most humble NFL stars of all time?
25. Roger Staubach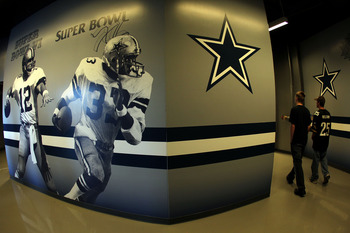 Ronald Martinez/Getty Images
Roger Staubach was flashy on the field with the way he scrambled out of the pocket, but he was the exact opposite off the field.

The old Navy quarterback was a man of discipline and humility. Leading the team with his fresh crew cut, Staubach never took credit for any of the Dallas Cowboys' success.
He was a man's man and played with the utmost respect for the game.
24. Charles Woodson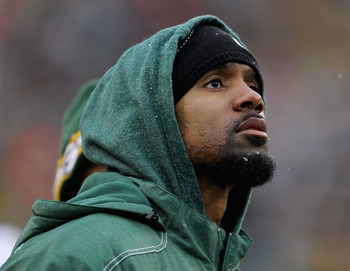 Jonathan Daniel/Getty Images
Charles Woodson might not be the shyest of the group, but he's still an all-around great leader.

Woodson has been one of the best cornerbacks in the league for over a decade and is the only defensive player to win the Heisman.

The fact that he's remained humble and continues to work hard each and every week is an accomplishment in itself.
The Green Bay Packers voted him as a team captain last year, and that doesn't come without players thinking highly of you not only as a player, but also as a person.


23. Troy Aikman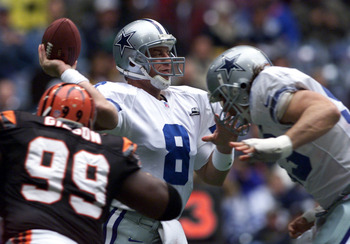 Jamie Squire/Getty Images
Troy Aikman never stole the spotlight. He left that to Michael Irvin.

All Aikman was worried about in his NFL career was winning and he did a lot of it.
Aikman was the centerpiece of the Dallas Cowboys' "dream team" and he stayed down to earth for the duration of his career.
22. "Mean" Joe Greene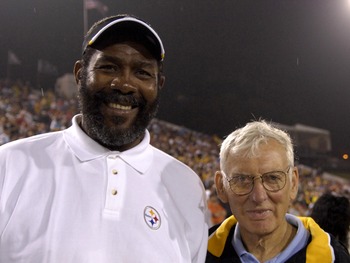 Al Messerschmidt/Getty Images
One of the scariest men to ever play defense showed a different side of himself in a commercial that featured a Coke and a jersey.

In the commercial, a kid gives "Mean" Joe Greene a Coke, and Greene returns the favor by giving him his jersey.

The commercial exemplifies what he's all about and the class act he was throughout his NFL career.
Without causing problems for referees and making one tackle after another, Greene will always be remembered for his classic phrase, "Hey kid, catch."
21. Jason Taylor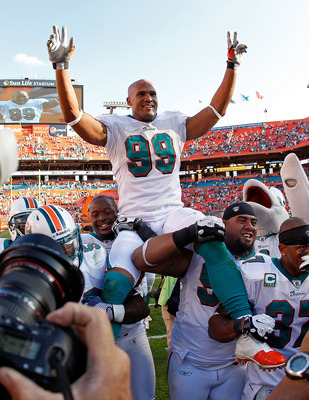 Mike Ehrmann/Getty Images
Even after being named a six-time Pro Bowler, Jason Taylor remains focused on the task at hand.

Taylor always comes into training camp in tip-top shape knowing that there's always going to be a young lion ready to step up and take his place.
Through his humility and hard work, Taylor has been able to become a part of the 100-sack club and leave a mark forever on the NFL.

Taylor is one of the best defensive ends the NFL has ever seen, and he's been a man of character since day one.
20. Aaron Rodgers
Aaron Rodgers paid his dues behind Brett Favre without saying a word, and now he's most likely going to be the NFL's MVP of 2011.

Rodgers had one of the greatest seasons a quarterback has ever had, with a 122.2 quarterback rating, 4,643 yards passing, 45 touchdowns and six interceptions, yet he still remains humble.

Rodgers comes off as a player that doesn't take himself too seriously and has shown his great sense of humor in features with Kenny Mayne and the ever-popular "discount double-check" commercial.
That part where the fan yells "Rodgers!" never gets old.
19. Patrick Willis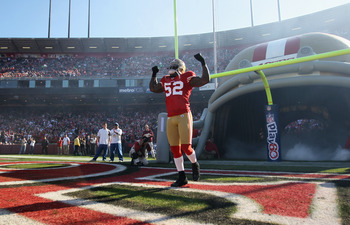 Ezra Shaw/Getty Images
Like most players on this list, Patrick Willis isn't a loud mouth.

Willis never puts his foot in his mouth or cashes more checks than he can spend on the field, but he does bring an intensity to the field that could rival other greats such as Ray Lewis and Clay Matthews.

Willis does his job every day and makes everyone around him better. Just look at the production that fellow linebacker NaVorro Bowman has had this season.
Bowman recorded 143 tackles while Willis recorded 97 tackles with four forced fumbles and an interception.

Willis is a player that any coach would love to have leading his defense.
18. Haloti Ngata
Larry French/Getty Images
Haloti Ngata is a soft-spoken player with a good sense of humor.

There's no deception when it comes to Ngata. He tells you how it is while maintaining his humble roots.
Ngata is one of the best defensive linemen in the league and he hasn't let his success go to his head.
When Dan Patrick asked Ngata if Ray Lewis knew he wouldn't be anything without Ngata in front of him, Ngata responded by giving credit to the entire defense.
17. Jerry Rice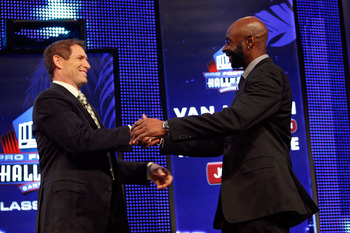 Chris Graythen/Getty Images
The G.O.A.T. didn't become the greatest of all time overnight.

Jerry Rice's great story has been told throughout the years about how his work ethic propelled him to become the greatest receiver in NFL history.

When he was a little boy, he chased after horses to build his speed, and the principal reported him to the football coach after Rice ran from him after playing hooky.

Rice maintained his work ethic throughout his career and is without a doubt one of the NFL's most humble players of all time. If there's a standard for wide receivers to strive for, it's the standard Rice set.
16. Bart Starr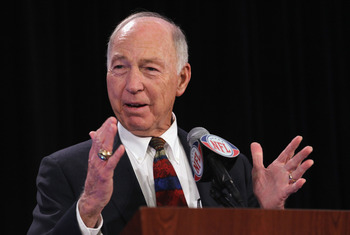 Ronald Martinez/Getty Images
Bart Starr was a Southern gentleman.

Starr was a real low-key player who led by his play. He wasn't much of a talker, but he knew the game very well, as he was somewhat of Vince Lombardi's assistant coach on the field.

Starr was real cool under pressure and never let his emotions get the best of him. Those are just a few examples of why Starr is the legend that every NFL fan perceives him to be today.


15. Archie Manning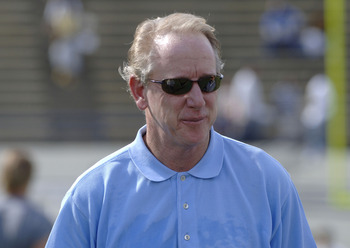 A. Messerschmidt/Getty Images
Peyton and Eli Manning's humble upbringing can be credited to their father Archie Manning.

Manning got somewhat of a bad rep for not wanting Eli to play with the San Diego Chargers, but he was being a father that wanted the best for his son. I suppose all dads could get caught up in trying to do that, but because his last name was Manning, it made the front page.

With that circumstance put to the side, Manning's career with the New Orleans Saints was one with class.
Manning was one of the best quarterbacks in the league at the time, and he continued to play for those God-awful Saints and remained loyal.


14. Jeff Saturday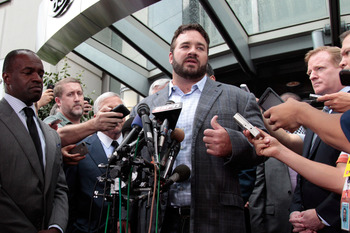 Rob Carr/Getty Images
Some of Archie's son Peyton Manning's success can be credited to the man that protects Manning at center.

Jeff Saturday symbolizes every offensive lineman that keeps his mouth shut and continues to grind every week.

Saturday has done so much for the NFL. When talking about getting a deal done to end the lockout, Patriots owner Robert Kraft said that "without Jeff Saturday, there wouldn't have been a deal."
Saturday's been one of the best offensive linemen in the NFL for the last decade and you're lucky to have heard the slightest peep out of him.
13. Hines Ward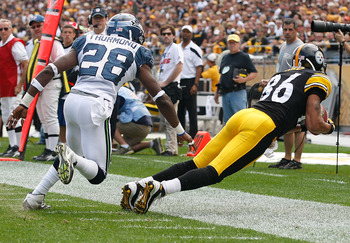 Jared Wickerham/Getty Images
Hines Ward is the heart and soul of the Pittsburgh Steelers.

The veteran wide receiver provides the spark and mentality of a champion that sets the pace for the Steelers' Super Bowl chase year in and year out.

Ward keeps his mouth shut, catches touchdowns and lays defenders out with brilliant blocks. For a guy that's won two Super Bowls and Dancing with the Stars and is going to be in one of the most anticipated movies of all-time—The Dark Knight Rises—you can't help but be impressed with Ward's attitude.
12. Sam Mills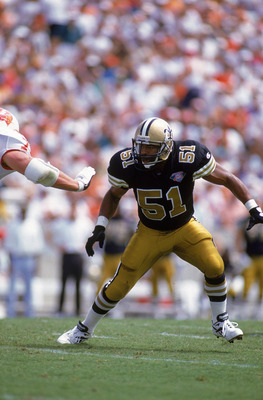 Rick Stewart/Getty Images
Sam Mills carried a chip on his shoulder on the field, but that wasn't the case with Mills off the field.

The 5'9" linebacker faced criticism for his size, but he proved the doubters wrong with an incredible NFL career.

Mills was shorter than most football players on the field with him, but his humble, hard-working attitude took him further than anyone could have imagined.
11. Walter Payton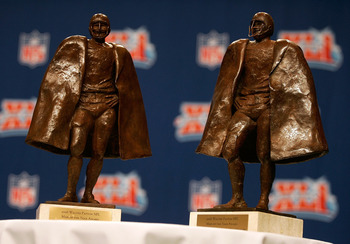 Donald Miralle/Getty Images
Walter Payton always gave credit where credit was due.
Payton worked harder than everybody else and he always felt it was a privilege to play this great game that we adore so much.
Of all of Payton's thrilling runs and legendary moments, my favorite just might be him never complaining about not being able to score a touchdown in the Super Bowl, even though he earned the right over William Perry.
Terrell Owens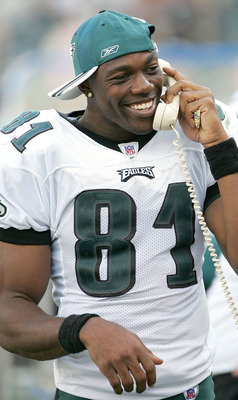 Jamie Squire/Getty Images
Just Kidding. I couldn't resist.
10. Larry Fitzgerald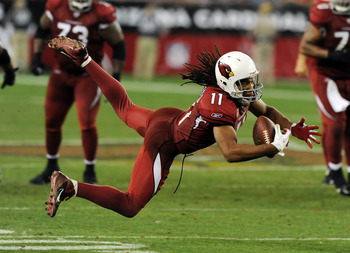 Norm Hall/Getty Images
It's very uncommon for a wide receiver to be humble and one of the league's best, but that's just the case with Larry Fitzgerald.

Fitzgerald embodies a relentless work ethic and constantly tries to stay out of the spotlight. Fitzgerald is not only a great football player, but he's also a good guy. He plays the game with the joy and admiration that all players should play with.

He's one of the few receivers that makes the common misconception of receivers being greedy players untrue.
9. Barry Sanders
Barry Sanders was not only one of the greatest running backs to ever carry the football, but he was also an outstanding human being.

Sanders never talked trash or did touchdown celebrations after his dazzling touchdown runs. He simply handed the football to the referee and rejoined his teammates on the sideline.

When Sanders won the Heisman at Oklahoma State, he thanked God and his blockers. He was not only an All-American on the field but off the field as well.
8. Andre Johnson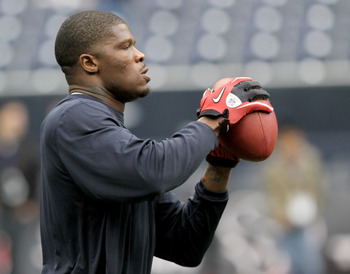 Thomas B. Shea/Getty Images
Watching Andre Johnson beat the snot out of one of the dirtiest players in the NFL, Cortland Finnegan, was one of my favorite moments in the NFL.

Johnson is a humble, gentle giant that was taken over the edge by one of the dirtiest cornerbacks in the league. It was one of the few times I've seen a fight happen and nearly everyone around the league applauded Johnson for it.

For the past decade, Johnson has been one of the best wide receivers in the NFL, and he's remained quiet and shown class. Basically, Johnson is the exact opposite of Terrell Owens.


7. John Elway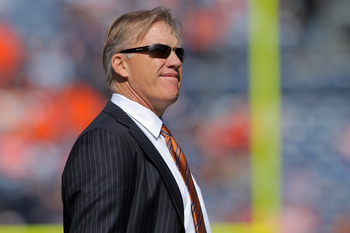 Doug Pensinger/Getty Images
Before there was Tim Tebow, there was John Elway.

Elway was a true professional that played the game of football the way it was supposed to be played. Elway carried himself humbly to the top of the league and is known as one of the best quarterbacks of all time.

Fans have seen Elway frustrated and irritated, but he's one of the few superstars that never snapped and went off the edge. Elway always had control over his temper and his teammates looked up to him when they needed a field general.
6. Reggie White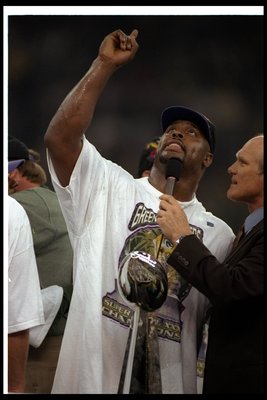 Al Bello/Getty Images
One of the greatest players in NFL history is one of the most humble players to ever take the field.

Reggie White was a player that never cussed during the game, and I remember hearing Mike Golic tell a story about White that defined his humility and physical prowess.

An offensive lineman was cussing him the entire game, and White told the lineman to stop cussing him, but the lineman remained relentless. White told him "Jesus was coming," and on the next play drove the offensive tackle all the way back into the quarterback causing a sack.
That lineman didn't make another sound the rest of the game.
5. Kurt Warner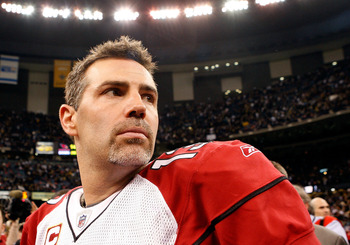 Ronald Martinez/Getty Images
Championship runs were never the most important aspect of Kurt Warner's life.

That title belongs to Jesus Christ, and Warner used the big stages that the Super Bowl provided him to share his love and faith.

You've heard the story before about him going from working in a grocery store to being one of the NFL's elite quarterbacks, and it's because of his humble upbringing that he was so beloved as a St. Louis Ram and Arizona Cardinal.
4. Troy Polamalu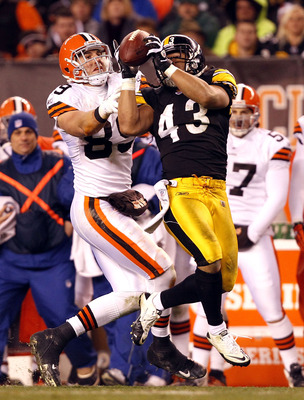 Matt Sullivan/Getty Images
Surprisingly, Tim Tebow might not be the most spiritual player in the NFL.

Troy Polamalu says a prayer before every play and has never been a player to hog the spotlight. After creating havoc for the opposing offense, Polamalu takes the humble approach and constantly deflects attention.

Polamalu is a class act and is one of the best safeties the NFL has ever seen.


3. Drew Brees
If you were oblivious to Drew Brees' character throughout his NFL career, your eyes were opened by Brees' locker room speech following his record-breaking performance on Monday Night Football.

After breaking Dan Marino's most passing yards in a single season record, Brees reflected the glory given to him and gave it to his team.
He made it a team record, and because of the leadership and unity possessed by Brees and the New Orleans Saints, that makes them even scarier on the field.

Since arriving at New Orleans, Brees has given back so much to the community and will be forever loved in the Bayou.
2. Tim Tebow
Tim Tebow brought a country to one knee with his inspirational play in 2011.

There might not be a more criticized player in the history of the NFL than Tebow, but he won over the entire country with his demeanor and his gutsy fourth quarter play.

Tebow had six fourth quarter comebacks and six game-winning drives. Whenever the media asked him about "Tebow time," Tebow always gave credit to the entire team and called it a team effort.

Tebow's personality and dedication to his Lord and Savior, Jesus Christ, was infectious and made fans downright fall in love with him.


1. Gale Sayers
Gale Sayers is the epitome of a humble football player.

Sayers wrote a book entitled I Am Third, in which he told the remarkable story of his friendship with Brian Piccolo. The title in itself shows how humble Sayers was, as it means God is first and his family is second.

The book had such an amazing story that they created a movie about it called Brian's Song. The movie showed how Sayers' good friend, Piccolo, was fighting off terminal cancer as he turned pro and battled Sayers for the starting tailback position.

Piccolo and Sayers became best friends and pushed one another to be the best that they could be. When Sayers accepted the NFL's Most Courageous Player award, he talked about his good friend Piccolo.
"I love Brian Piccolo, and I'd like all of you to love him," Sayers said. "When you hit your knees to pray tonight, please ask God to love him, too."
Keep Reading