Indianapolis Colts 2011 Season in Review: What Went Wrong
December 29, 2011
Rob Carr/Getty Images
The Colts season ended before it even began. Although Peyton Manning's neck hadn't healed from recent offseason surgery, his playing status had been held in limbo through most of the preseason.
This pissed off thousands of fantasy football players nationwide when about a week before the start of the regular season, it was announced that Peyton would be out indefinitely.
I have a couple friends who identify as Colts fans. They had no hope in Curtis Painter. The rest of the nation had no idea who the guy was. He soon became known as the long, blonde-haired guy who has thrown almost twice as many interceptions as touchdowns.
Although Painter has no business being in the NFL as a starting quarterback, you can't put the blame solely on him for the Colts downfall this season.
It starts with drafting. The Colts have blown a fair number of high picks in the last few seasons. Top picks like Jerry Hughes and Mike Pollak come to mind. A far greater number of lower round picks have gone on to do very little for the franchise as well. Compare that to the drafting through the early 2000's, when they found guys like Reggie Wayne or Dwight Freeney, and it's easy to see why the team is missing young playmakers on the roster.
The Colts offensive line has never been questioned in the Peyton Manning era. Manning gets the ball out so fast and directs his protection schemes so masterfully that he very rarely got hit. Peyton was sacked 16 times all of last year. This season, that number more than doubled for Indianapolis QBs.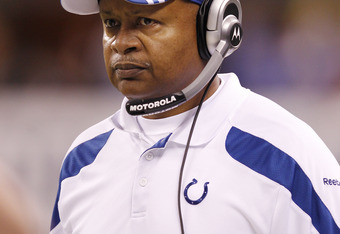 Joe Robbins/Getty Images
Th Colts running game took a hit too. They averaged 4.3 yards a carry in 2010. That number fell to 3.8 in 2011. This can be attributed to opponents loading up the box to stop the run, as very few teams feared the long ball from the Indy passing game.
Pierre Garcon continues to improve as the Colts' next top wide receiver. Despite inconsistent quarterback play, Garcon's reception numbers improved compared to last year. His yardage and touchdown numbers suffered due to the Colts' short, low risk/reward passing game. Reggie Wayne saw his numbers drop seriously in 2011. He went from well over 100 catches to under 80 this season. It's hard to tell whether age is catching up with Wayne. My guess is that his numbers will be up to their usual amount next season with a better passer.
Defensively, there really weren't any surprises by their lack of success here. When your offense goes three and out more times than any other year in the 21st century, the defense is going to break down. Dwight Freeney was still a monster, beating the league's best tackles on a regular basis. Robert Mathis saw his production drop. Why that happened to Mathis and not to Freeney can be attributed to the Colts playing from behind for most of the season. Mathis typically gets his sacks late in games, when the Colts would be protecting a lead, and often rushing the passer. With the 2011 team losing so often, opposing teams ran much more during the second half of games. This greatly limited the effectiveness of Mathis.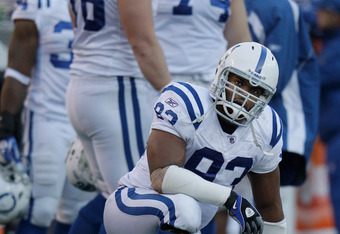 Rob Carr/Getty Images
Pat Angerer and Antoine Bethea quietly had good years. If the Colts can add to that young nucleus with more fast, good-tackling players, then the defense will be better. The Colts forced five fewer turnovers this season, another sign of playing from behind, as the opposition stays conservative.
It's hard to debate how many wins Peyton Manning adds to this team if healthy. But it's harder to believe they wouldn't be a playoff contender if number 18 was active. So what do they do with the Andrew Luck situation? I say they should absolutely pick him up if they can. Manning is due 28 million dollars in March, which ads to the growing pressure to trade him if the Colts can get Andrew Luck. Some team like the Redskins, Seahawks or 49ers may feel like they are a quarterback away from being really good, and would trade away good players/picks to get him. Redskins owner Dan Snyder would stop at nothing to get a quarterback, but I like San Fransisco, depending on if Alex Smith struggles in the postseason. The 49ers have a great offensive line, good running backs and a killer defense. They could trade a couple first-round picks and one of their many young talents on defense, and maybe Indy would bite at that offer.
Do they need to fire Jim Caldwell? I don't think so. Yes, he did a questionable job keeping his team motivated—they appeared to quit on him a couple times in the middle of the year. But he did win a couple games. He worked with a team that totally lost its identity and the face of its franchise the last 12 years. He's won a couple playoff games and has a fair amount of respect around the league. However, I do think he's on the hot seat. If Indy fails to win their division next season with either Manning or Luck under center, he could be looking for a new job.
Please leave a comment on either my writing or what you think about the 2011 Indianapolis Colts.