The TO No-Show: Whatever Happened to Terrell Owens Comeback?
December 28, 2011
After five teams and an impressive resume of on- and off-the-field problems, it appears that the NFL has finally given up on Terrell Owens.
Owens has been working himself back into shape after recovering from an April surgery on a torn anterior cruciate ligament. He has always been an athlete that keeps himself in incredible shape. I'm sure we all remember his famous interview with the media where he was working out shirtless in his driveway.
T.O. has never had any issues hiding what he is thinking. The media has always swarmed him when he decides to open his mouth because usually it will lead to some juicy headlines for them and some problems for whichever locker room he is in.
Now at age 37, Owens is trying to convince NFL teams that he can still play.
Owens and agent Drew Rosenhaus put together an open workout this past October. Not one NFL team decided to attend this workout. Regardless of the absence of scouts or coaches, Owens and Rosenhaus claimed they knew that some teams were still interested. 
Whether they knew something we didn't at the time or they are just plain delusional, Owens is currently still sitting at home on Sundays.
Could it be that Owens' off-the-field problems are just too much for teams now?
T.O. made headlines in October before his open workout when he was rushed to an L.A. hospital. It was reported that it was a prescription pill overdose, which gave us flashbacks to his incident in 2006. Owens and his camp quickly denied that it was a suicide attempt, even though the 911 call suggested otherwise.
On top of all that, we have seen Owens making consistent appearances on TMZ for his battles over child support and foreclosures on his flashy condos. Just this month, Owens dodged foreclosure on a condo in Dallas after selling it for $350,000 less than what he paid for it.  
Even though Owens has had no trouble making the front page of TMZ, I doubt this is the reason teams are staying away. Teams have taken and continue to take chances on players with off-the-field issues and legal troubles. I would bet that close to every team in the NFL has at least a couple guys that have criminal records or have been involved in some questionable off-the-field conduct. 
You would think that one team out there could use a receiver like Owens. He at least appears to be in good shape for his age and knows the game.
With the league continuing to become more and more about spreading out your receivers and throwing the ball downfield, teams are almost required to have three or four options. Yet not a single team has taken the chance on signing Owens to a cheap contract and seeing what he can do.
Owens and Rosenhaus may have been right about teams watching. 
The NFL is a brutally competitive league. We have seen that teams have the ability to be at the bottom of the league one year and jump to the playoffs the next. The parity of the league is what makes it so exciting, but it is also what makes teams scratch and claw for every edge they can get.
I have no doubt that almost every NFL team at least watched the tape of Terrell Owens. I'm sure that there have been several internal discussions behind closed doors about him over the course of the season. 
Still, not one team was willing to pull the trigger. 
There have been rumors.
One of the most recent was near the end of November, when Drew Rosenhaus was spotted on the New England Patriots' sidelines before their game against the Philadelphia Eagles. This all came after ESPN's Adam Schefter had reported that there was a team "very interested" in Owens earlier that day. 
If anyone makes sense, it would be the New England Patriots. They have never had any issues taking chances on guys that have had on- and off-the-field issues in the past. The Patriots organization believes that their locker room and mentality is enough to overcome one volatile personality.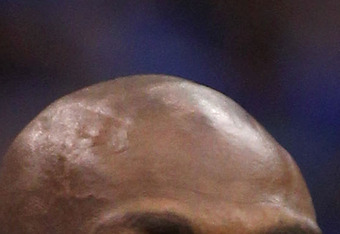 Mike Ehrmann/Getty Images
They've also shown in the past—most recently with Randy Moss—that if you aren't fitting in to what they are doing, they will get rid of you. 
The Patriots are always looking to add more weapons for quarterback Tom Brady. They are one of the best passing teams in the league, so you would think that there must have been some interest in Terrell Owens. Especially when they could have had him incredibly cheap and on a very team-friendly contract.
As we know, nothing came of it.
This snub by the Patriots says more to me than any other team turning Owens down. New England has a need at the wide receiver position. Everything was lined up for T.O. to be the perfect fit as one of Brady's new weapons. 
Yet, they didn't want him. 
What did Bill Belichick and company see that made them turn their nose up to Owens? It is exactly what they see in any other player they choose not to bring in. 
He wasn't worth their time.
The real reason that teams have turned away is simply because he isn't the receiver he used to be. Owens is 37 years old with a lot of mileage on those legs. He is no longer an elite deep threat, and his skill set is continuing to diminish.
Owens and Rosenhaus need to accept that "The T.O. Show" is over.