Is It Time to Jump Off the Tim Tebow Bandwagon?
December 27, 2011
Rick Stewart/Getty Images
I don't think anyone can argue that Denver Broncos QB Tim Tebow has been the most polarizing topic of discussion during the 2011 NFL season.
The Broncos started off the season 1-4 with no hope in sight.
In desperation and pressure from the fans, coach John Fox named Tim Tebow as the starter.  Since then, everyone has been on a wild roller-coaster ride.
Tebow is currently 7-3 as a starter this season, and the Broncos won six games in a row with Tebow leading the team.  
This kid has been under the microscope since he walked onto a NFL field.  
He is loved and cheered for in Denver like he's John Elway already.  Everywhere else, people question if he should be a quarterback in the NFL.
Recently, Denver has suffered tough losses to the New England Patriots and the Buffalo Bills.  These losses have shown the Broncos' defense falling apart and Tebow making mistakes that most people expected him to make.  
This is the time that people need to realize that Tebow is still developing as a NFL quarterback.  He still hasn't played a full 16 games yet in his career with the Broncos.  
But what Tebow has done this season has been magical.  He's taken on unfair expectations and met them with full force and respect.
However, he needs to work very hard to develop his skills if he wants to survive as a quarterback.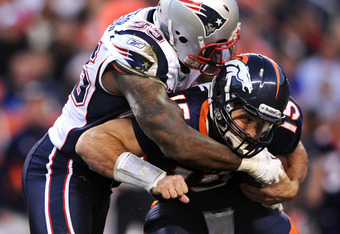 Patrick Smith/Getty Images
After throwing four interceptions in Denver's Christmas Eve loss to the Bills, is it time to jump off the Tim Tebow bandwagon? 
No way.
Both he and the Broncos are young and growing.  Give this team another season to develop and mature, and then judge whether the Broncos are a playoff team, or if Tebow should be a quarterback.  
I believe that Tebow can succeed.
I believe if John Elway does what he says and works with Tebow in the offseason, Tebow can and will have a great 2012 season. 
The Broncos still have one game left against the Chiefs, and if they win, they win the AFC West title.
One more win, and no one can doubt that the Broncos had a successful rebound season and Tebow was a big part of it.
Don't give up on the Tebow bandwagon yet.  It's only just begun to gain steam.