Why Saints QB Drew Brees Should Be in the Greatest of All-Time Conversation
December 26, 2011
Ronald Martinez/Getty Images
If you asked who is the greatest quarterback in the history of the NFL is, you're sure to get similar answers. Names like Dan Marino, Joe Montana, John Elway and Brett Favre are a few of the selective names that will pop up.
It may be time to add Drew Brees into that conversation as well.
The Saints quarterback has always been the type of player that many people consider elite but often gets overshadowed by the accomplishments of other players like Peyton Manning, Tom Brady and now Aaron Rodgers. 
But what Brees is doing this season puts him in a class of his own and only adds to his Hall of Fame resume.
In case you've been hypnotized by what the Green Bay Packers have been doing this year, Brees is only 305 passing yards away from breaking Dan Marino's single-season record of 5,084 yards—a record he could very well own by the end of tonight's game against the Atlanta Falcons.
He would also become just the second player in the history of the game to throw for over 5,000 yards in a single season and the first player to accomplish that feat twice. 
Brees nearly broke Marino's record in 2008, just to fall 15 yards short. Although Brees didn't break the record then, he threw for over 5,000 yards and didn't have a 1,000 yard receiver. A total of 17 players had receiving yards in 2008. That just shows how special this guy is.
This would put Brees in elite company and give him one of the greatest records a quarterback could ever own. It would also provide an argument that he has had the greatest season at the quarterback position in the history of the NFL.
But things get even more interesting.
Brees is only 193 passing yards behind Johnny Unitas for 12th all-time in career passing yards. He's only 505 behind Joe Montana for 11th all-time. As you continue to look up the list, he's only 11,429 passing yards behind John Elway for fourth all-time in career passing yards.
That may sound like a lot, but Brees is only 32 years old, in excellent shape and has thrown no less than 4,300 yards since 2006. If he continues this pace, he could be in the top five all-time for career passing yards by the time he turns 35 years old.
As far as touchdowns are concerned, he is only one behind Joe Montana for 10th all time with 272. He's only 28 touchdowns behind John Elway for fifth all-time which he should surpass next season with no problem. Bress has thrown no less than 33 touchdowns since 2008.
Again, he's only 32 years old and with Peyton Manning's future up in the air, he could pass the Colts quarterback for third all-time in career passing touchdowns. Manning does have a 127 touchdown lead over Brees but he's soon to be 36 and with his recent neck surgeries, nobody really knows what to expect.
Then you look a career completion percentage, where Brees has completed 65.9 percent of his passes. That's good for second all-time, only behind Chad Pennington, who has a 66.0 completion percentage.
Career passing yards per game, Brees averages 263.5 which is also good for second all-time. The guy who is first is Peyton Manning, and he averages 263.6.
So, let's recap shall we?
Brees will likely own the record for most passing yards in a season. He's the only quarterback ever to throw for 5,000 yards twice. He averages more passing yards a game than almost anybody and has one of the top completion percentages ever. And with him at the young age of 32 and the pace he's on, he has the opportunity to finish in the top five of every major statistical category for quarterbacks.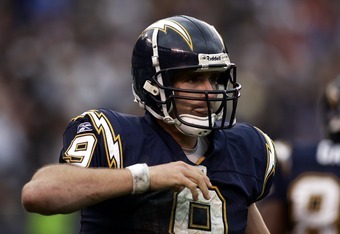 Donald Miralle/Getty Images
Then you throw in the fact he tore his labrum in his throwing shoulder in 2005 and did damage to his rotator cuff. There was a great chance he wasn't going to be able to play football again. After surgery and rehab, he led the league in passing yards with 4,418 the very next season.
Brees has been one of the most consistent quarterbacks since he's came in the league. He's broken NFL records and put up godly numbers every season. He also helped save a city that was going through a rough time by winning one of the most emotional Super Bowls ever.
The Saints quarterback may often get overlooked by a few other quarterbacks, but that should no longer be the case after this season.
When the greatest quarterbacks of all-time are mentioned, Brees name should begin popping up.

Randy Chambers is a B/R Featured Columnist that covers College Football and the NFL. You can contact him @Randy_Chambers or Randy.Chambers7@yahoo.com