Top 5 NFL Quarterbacks That Need More Weapons and the Draft Prospects That Fit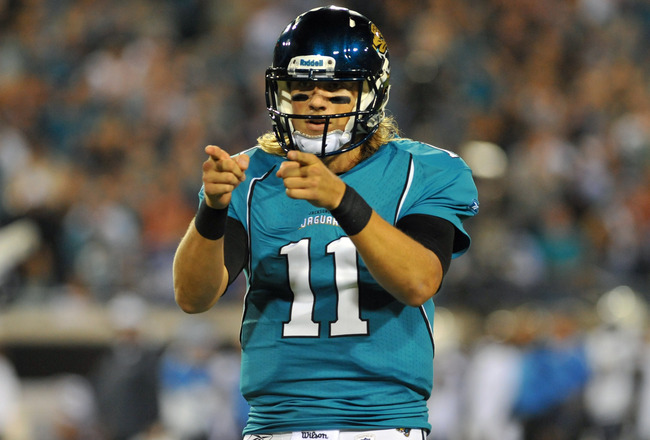 Al Messerschmidt/Getty Images
Quarterbacks can't do it all on their own, even though many NFL coaches would like them to. In order to be successful, quarterbacks need a check down at tight end, a scat back in third down situations, and multi-talented receivers that can bail them out of bad throws and pick up yards after the catch.
Each of these quarterbacks lacks at least one of these necessary 'weapons' at their disposal and will remain in obscurity until their teams address these needs.
They shoulder the blame, but if you're watching one of these players, maybe you should take a look at who they're throwing to before you toss them under the bus any time soon.
5. Christian Ponder, Minnesota Vikings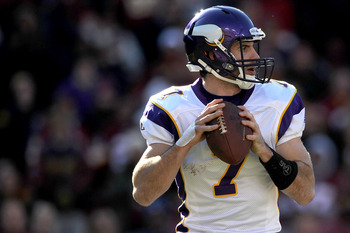 Patrick Smith/Getty Images
Christian Ponder has played quite well for the Vikings considering the situation he's been placed into as a rookie. With a 13:12 touchdown-to-interception ratio, Ponder has not played poorly at all.
However, Ponder could be helped tremendously by a possession receiver that is currently absent from this team. Starting receivers Percy Harvin and Devin Aromashodu are 5'11" and 6'2", respectively, and neither provide higher ability in jump ball scenarios.
Draft Prospects That Fit: WR Michael Floyd (Notre Dame), WR Alshon Jeffery (South Carolina), WR Brian Quick (Appalachian St.), WR Dwight Jones (North Carolina), WR Gerell Robinson (Arizona St.)
4. Tim Tebow, Denver Broncos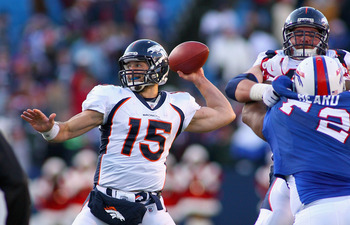 Rick Stewart/Getty Images
Tim Tebow led the Broncos on a magical run for a six-week stretch, but against better opponents, we've seen that he needs more help to be an effective quarterback.
Tebow has two playmaking receivers in Demaryius Thomas and Eric Decker, but neither is good enough to carry this passing attack. Although the Broncos will get versatile running back Knowshon Moreno back next season, they'll still lack a target at tight end and a solid slot receiver.
Draft Prospects That Fit: WR Nick Toon (Wisconsin), WR Juron Criner (Arizona), WR Marquis Maze (Alabama), WR Ryan Broyles (Oklahoma), TE Dwayne Allen (Clemson), TE Coby Fleener (Stanford), TE Michael Egnew (Missouri)
3. Sam Bradford, St. Louis Rams
Jay Drowns/Getty Images
Sam Bradford had a stellar rookie campaign, but he never took that second step during his sophomore season. Many have questioned his ability and health, but the real problem exists outside of his control.
He's gotten help from the arrival of Brandon Lloyd, but opposite of Lloyd is Brandon Gibson, and at tight end, Lance Kendricks has been more hype than production. Earlier in the season, no team was dropping more passes than the Rams. That's tough on a young quarterback, and it's an issue that must be solved through the draft.
Draft Prospects That Fit: WR Justin Blackmon (Oklahoma State), WR Alshon Jeffery (South Carolina), WR Mohamed Sanu (Rutgers), WR Juron Criner (Arizona), WR Jeff Fuller (Texas A&M), WR Jermaine Kearse (Washington), WR Jarrett Boykin (Virginia Tech), TE Tyler Eifert (Notre Dame), TE George Bryan (NC State)
2. Colt McCoy, Cleveland Browns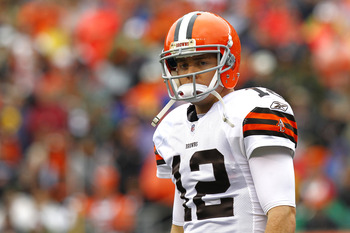 Tyler Barrick/Getty Images
Colt McCoy doesn't do anything spectacular at the quarterback position, but he is accurate and knows when to hit his check down. However, the Browns don't have a consistent receiver out of the backfield, and starting wideout Greg Little drops far too many passes.
Tight end Ben Watson is a solid target, but Josh Cribbs isn't the man you want to be your starting receiver. The Browns must look to the draft to find a legitimate threat to complement Greg Little.
Draft Prospects That Fit: WR Nick Toon (Wisconsin), WR Mohamed Sanu (Rutgers), WR Devier Posey (Ohio State), WR Marquis Maze (Alabama), WR Keshawn Martin (Michigan State), RB Trent Richardson (Alabama), RB Lamichael James (Oregon), RB Doug Martin (Boise State), RB Chris Polk (Washington), RB Jeff Demps (Florida)
1. Blaine Gabbert, Jacksonville Jaguars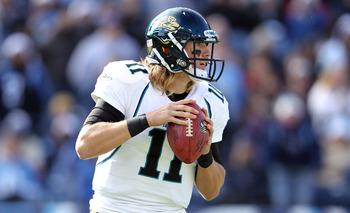 Andy Lyons/Getty Images
There is no doubt that Blaine Gabbert has been underwhelming in his short stint as an NFL quarterback, but it hasn't been without contribution from his poor stable of receivers.
Running back Maurice Jones-Drew and tight end Marcedes Lewis have been friendly to the rookie quarterback, but the team's starting receivers, Mike Thomas and Jarett Dillard, have been far from consistent. Both are small targets and lack the playmaking ability that Gabbert needs.
Draft Prospects That Fit: WR Justin Blackmon (Oklahoma State), WR Kendall Wright (Baylor), WR TJ Graham (NC State), WR Dwight Jones (North Carolina), WR Jeff Fuller (Texas A&M), WR Joe Adams (Arkansas), WR Greg Childs (Arkansas), WR Chris Owusu (Stanford), WR Travis Benjamin (Miami)
Keep Reading