Wes Welker: Why the New England Patriots Need to Pay the Man
December 22, 2011
Nick Laham/Getty Images
What team in their right mind would sign a 30-year-old, 5'9'' wide receiver with recent major reconstructive knee surgery to a long-term deal? 
Most would agree that after players hit the 30-year mark, their skills, particularly their quickness and speed, begin to decline.  Therefore, long-term extensions to players over that age are usually ill-advised and rarely beneficial for the teams involved, especially if that team is the New England Patriots. 
The Patriots have earned a reputation for being willing and able to let stars go without contracts because of their "next man up" philosophy—sometimes to a fault.  Take, for example, the cases of Asante Samuel and Deion Branch.
However, in this case, I believe that the New England Patriots have to ignore every word I just wrote and sign Wes Welker to a long-term contract following this season.  Simply put, Bob Kraft, Bill Belichick and the rest of the Patriots front office need to pay this man.
In his five years with the Patriots, Welker has only failed to eclipse the 100-catch mark for a season once, which was in 2010, a season that Welker began only months after undergoing major reconstructive knee surgery.  During this same five-year span, he had more catches than any other player has in the league and also ranks in the top five in receiving yards.
This season, at 30 years old, Welker continues to produce at a remarkable rate—sitting at 104 catches, 1,380 yards and nine touchdowns with two games remaining on the schedule.  In these last two games of the season, Welker needs only 104 receiving yards to become the single-season receiving yards record holder, passing Jerry Rice's mark of 1,484.
Because of his unique skill set—one based on quickness rather than speed and precision routes rather than size or strength—I do not believe that Welker's age going will cause his skills or his production to decline over the next few years.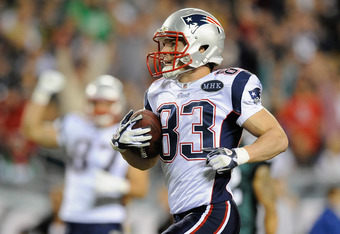 Patrick McDermott/Getty Images
While reports and rumors out of the Patriots' camp suggest that Welker could be headed for the Franchise Tag following this season, I believe that it is in the best interests of not only the Patriots, but also Wes Welker, to get a long-term deal completed before that happens.
On the Patriots' end of the deal, a strong argument could be made that, along with Rob Gronkowski and Aaron Hernandez, Welker remains the most important part of the New England offense and Tom Brady's favorite target.  Brady has targeted Welker 142 times, an average of essentially 10 targets per game and 37 targets more than the second most targeted receiver on the team, tight end Rob Gronkowski.
Welker also displays all the characteristics that Tom Brady and the Patriots offense value in receivers.  Welker runs quick, precise and sharp routes.  The struggles of Chad Ochocinco to thrive in 2011 and the Patriots' re-acquisition of Deion Branch in 2010 should show even those who are unfamiliar with the Patriots the value that Brady has in receivers who run great routes. 
Welker is unafraid to work the middle of the field, where he does most of his work, but can also excel stretching the field vertically, which was on display during Week 1 when Welker caught a 99-yard touchdown pass, tying the NFL record.
Welker also possesses sure hands—he has dropped only three passes on his 142 targets this season.  To go along with those sure hands, he is also Brady's most dependable target when looking for a first down.  Sixty-six of his receptions this year have given the Patriots a new set of downs, a number that leads the NFL.  Eighteen of those 66 first-down receptions, almost one-third, were caught on a third down, putting him in the top five in the NFL. 
No other Patriot is in the top ten.
Lastly for the Patriots, Wes Welker's and Tom Brady's career time lines seem to align perfectly.  At age 30, one would think that Welker has three, maybe four, productive years left in his career.  One could say the same about Tom Brady, who is 34 years old.  Signing Welker to a three- or four-year deal would mean that the Patriots could use that time to ride out the tail end of both careers and be able to move in a new direction all at once at the conclusion of both deals.
For Welker, simply put, there is no better situation that suits his skill set than being part of the New England Patriots.  Because of his age, Welker's window of opportunity to win a Super Bowl Championship becomes smaller with every year that passes, meaning that his best career move in that aspect would be to play for a team that enjoys success year in, year out. 
The Patriots have won eight out of the last 10 AFC East Championships, currently lead the AFC and have a strong chance of gaining not only a first-round bye in this year's playoffs, but also home-field advantage.
Arguably, there might also be no better quarterback that suits Welker's strengths better than Tom Brady.  I do not believe that Welker could enjoy as much success with any other quarterback in the league, especially if that quarterback's last name is not Brees or Rodgers. 
While Welker runs great routes, he thrives by creating small windows in which Brady can throw.  Because Brady's accuracy is so superb, Welker often enjoys the opportunity to catch balls in stride and be able to pick up many yards after the catch.  This season, Welker has 664 yards after catch, putting him four yards behind the league leader in that category (Darren Sproles).  Without a quarterback that is able to deliver balls for Welker in a position for him to run after the catch, Welker would not be nearly as effective as he is as a receiver.
The figurative marriage between Wes Welker and the New England Patriots needs to continue past the 2011 season because both the player and the organization are perfect complements for each other. 
One could argue that while the Patriots' offense might not be the same without Welker's services, Welker's production would not be the same outside of the Patriots' offense.  The best solution for both parties involved would be for the Patriots to sign Wes Welker to a three- or four-year contract, which would give him the financial respect he deserves for his years of hard work in the organization. 
It would also give Welker the option of retiring as a Patriot, something he also deserves after his five years of incredible production.
New England Patriots, please PAY THE MAN.