Yu Darvish Gives Texas Rangers the Most Depth in MLB
December 21, 2011
Donald Miralle/Getty Images
Yu might be coming to Texas. No, not you, Yu!
Sorry, but those jokes are going to be a premium around town as folks get excited about the Japanese phenom.
I said it before, and I stand by it: The Texas Rangers should not be scared to bid high.  
The Rangers won the bid for 25-year-old ace Yu Darvish Monday night, amidst claims that the Toronto Blue Jays had already won and that there was no way Texas would pony up over $50 million for an unproven commodity.
But they did, and they were able to win the rights for Darvish with a $51.7 million posting fee.
The move is one that is sure to be criticized and speculated by baseball executives and fans alike. But all that matters are results, and the Rangers have positioned themselves to have one of the deepest pitching staffs and starting lineups in all of baseball.
The Rangers have a distinct advantage in almost every category in their division, with the exception of first base and the lack of a proven ace. 
Albert Pujols and Jered Weaver fill those roles for the Los Angeles Angels of wherever-they're-from, and those guys are the only two players over whom the Rangers don't boast a distinct advantage when it comes to forecasting the 2012 season.
I'm going to throw out a word, and you are going to hear it multiple times next season: DEPTH
Depth in the starting rotation (7 guys). Depth in the bullpen. Depth in the outfield (4 proven starters, 5 if you include prospect Leonys Martin). Michael Young, who can play any infield position. Two catchers, and a multitude of options at designated hitter each night.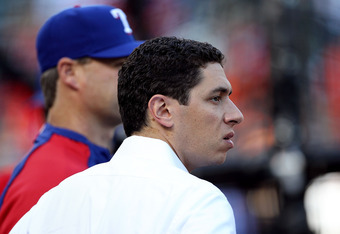 Ronald Martinez/Getty Images
Barring an injury to Darvish or any of the other slated starters, Scott Feldman and Alexi Ogando will be available to enter the rotation as needed. 
Heck, Joe Nathan and Mike Adams can both close, and Ogando will become one of the most versatile pitchers in the entire league with his ability to come in and throw 99 miles per hour in the eighth inning or make a spot start and give the team six strong innings.
Those who say $100 million-plus is ridiculous for an unproven starter have a case. But in Texas, "In JD (Jon Daniels) We Trust" has become the mantra after every move the team makes.
He personally scouted starts that Darvish made, and he understood that signing Nathan paved the way for flexibility in spending and returning the core of last season.
Now looking at the roster, what holes does the team have left to fill? Signing a left-handed reliever will likely cap the offseason slate, and veteran Darren Oliver might fit the bill.
But aside from that, Daniels understands the need for flexibility on both sides of the ball. Offensively, Ron Washington can still make moves to match up in National League parks. Defensive, he can set his rotation to give rest and maximize his pitchers' ability.     
Darvish doesn't make the Rangers the World Series favorites. Yet. But he only has to replace C.J. Wilson's production from the rotation's two or three spot.
If he can do that and figure out the jet stream in Texas, he might be the missing piece for a team one strike away from immortality twice last year. If not, at least they have options.