Green Bay Packers' Weaknesses Continue to Haunt Them as the Season Nears an End
December 19, 2011
Jamie Squire/Getty Images
At the end of October, the Green Bay Packers were 7-0 and looking dominant. It was then that I wrote an article proclaiming the "5 Hidden Weaknesses of the Green Bay Packers." Those weaknesses were, in order:
1. Jarrett Bush
2. Cullen Jenkins loss equaling no pass rush
3. Jermichael Finley
4. Marshall Newhouse
Many of the comments regarding this list were critical, but it is my contention that these were the weaknesses after Week 7, and even more troubling, they continue to be weaknesses at this late point in the season.
Jarrett Bush still cannot cover opposing receivers, whether it is a running back, tight end or wide receiver. He seems to be following by a few steps whenever he is in coverage. Granted, there are many other breakdowns in the secondary that have allowed opposing receivers to be wide open throughout this season. A lack of any sort of pass rush also contributes to this problem. Bush also had another holding call on punt coverage in Sunday's game.
Replacing Cullen Jenkins with an untested and injury riddled Mike Neal may be the one decision that could ultimately derail this team on their way to a possible Super Bowl repeat. It ranks up there with Thompson's decision to basically replace Mike Wahle and Marco Riviera with rookies and scrubs after the '04 season, leading to a disastrous 4-12 season in 2005.
Last year, Jenkins provided an inside push along with BJ Raji, allowing Clay Matthews to see less double teams and get pressure from the outside. Unfortunately, Jenkins' absence has lead to Raji looking less and less like a pass rusher, and also has lead to double and triple teams on Matthews throughout each and every game. With no other Packers getting pressure, quarterbacks have been allowed an extra second or two and thus have been able to pick the Packers defense apart.
Jermichael Finley is playing himself out of Green Bay. His all-too-often drops and self promotion are getting tired. His drops are usually costly, because they have come on third downs and even possible touchdowns. He continues to proclaim that all will be well, but history continues to repeat. His celebration act after finally catching a ball is ridiculous. Finley may be an elite talent, but until he can hang onto the ball, he hurts the team as much as he helps it and he is not in the conversation as best tight end in the league.
Marshall Newhouse is young and he will probably improve, but it is ludicrous to think he can be counted on going forward into the playoffs. Newhouse simply cannot block proven pass rushers one on one. Kansas City's Tamba Hali is the latest to beat Newhouse continuously, based on his three sacks in Sunday's game. He also was whipped at the line, leading to Sherrod's season ending injury.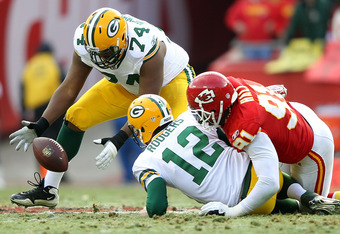 Jamie Squire/Getty Images
Mike McCarthy has done an amazing job during this streak of wins. The Packers always look prepared and usually play a fairly clean and mistake free football game. The problem with McCarthy is his lack of winning games in which the Packers fall behind in the fourth quarter. The most incredible stat during the 19-game win streak is that the Packers NEVER trailed in the fourth quarter in any of those games. While McCarthy does deserve credit, he deserves blame when his team continues to lose close games in which they trail late.
McCarthy also seems inept with many challenge decisions. Sunday's game was a perfect example. Kansas City's Leonard Pope fumbled into the end zone before he stepped out of bounds at the two-yard-line. The problem was the officials didn't see it and replays have proven the play was very close. The result of a challenge would have reversed the call and given Green Bay the ball on the 20-yard line. It would have also cost the Chiefs three points. McCarthy had plenty of time to review the play, but in the end was unable to pull the trigger.
In summing up Green Bay's season up until now, 13-1 is truly impressive. Not as impressive are the teams the Packers have beaten. Not counting the Saints, the Packers haven't played an elite team this year. Although a team can only play it's schedule, it is a concern entering the playoffs.
Furthermore, it seems the Packers have not made adjustments or added players to fix some of their weaknesses. They continue to generate no pass rush and also have difficulty providing adequate protection for Aaron Rodgers. Along with continued drops by receivers and McCarthy's poor record when losing late in games, the Packers could be in big trouble even in their first playoff game, regardless of who they play.