T.J. Yates, Caleb Hanie and Why Backup Quarterbacks Are Important
December 12, 2011
Andy Lyons/Getty Images
This season, a rash of injuries to the mid-tier of NFL quarterbacks has left the league as a desolate wilderness of second- and third-string quarterbacks.
This viral injury bug has hit the likes of Matt Schaub, Jay Cutler, Jason Campbell, Matt Cassel and even Peyton Manning.
Before this year, many teams didn't consider the importance of their backup quarterback.
NFL organizations have realized that, in fact, their backup quarterback is an important player.
No one would have believed that the fates of Houston, Chicago and Kansas City, three projected playoff teams, would come down to the likes of T.J. Yates, Caleb Hanie and Tyler Palko (respectively) in the same season.
While some of these signal-callers have failed in their efforts, there are a few backups who have stepped in and been very good.
Houston is fully committed to T.J. Yates as their quarterback and it's paid off. Yates led the Texans to a division-clinching win over the Cincinnati Bengals yesterday, leading an 80-yard touchdown drive with 2:33 left to win the game 20-19 in the waning seconds.
The rookie quarterback from UNC wasn't even the Texans' backup quarterback—he was the emergency third signal-caller. Either way, Yates got his chance and hasn't disappointed.
Houston is 3-0 with Yates as their starting quarterback. Coach Gary Kubiak has eased his rookie quarterback into the offense, raising his pass attempts from 15 in his first game (in which he relieved an injured Matt Leinart), 25 in his second game against Atlanta and finally 44 attempts yesterday against Cincinnati.
It's Week 14, the chips are on the table and Houston is all-in with their young quarterback.
In some other cities, the backup quarterback has faltered in the spotlight and the team is on the brink of imploding as the playoffs near.
Completely on the other side of the Yates spectrum stands Chicago quarterback Caleb Hanie.
Hanie, this season, is 0-3 in his starts and has driven the once 7-3 Bears into a telephone pole.
Yesterday, we saw Hanie's ineptitude when he could only score 10 points against a Broncos defense that allowed 32 points to Christian Ponder and the Vikings.
Last week, Hanie was even worse, tossing three interceptions and completing 11-of-24 passes for just 133 yards against the Chiefs.
With the injuries to Jay Cutler and Matt Forte, it's almost safe to say that the season is over in Chicago.
About as bad as Hanie is Tyler Palko of the Kansas City Chiefs; Palko had his number called when Chiefs starter Matt Cassel went down.
Palko is 1-3 as a starter and he's thrown just two touchdowns with seven interceptions.
The Pittsburgh graduate, Palko has been miserably bad this year and it's cost the Chiefs any hope of a playoff berth. Once 4-4, the Chiefs are now an awful 5-8 and they are way out of the playoff race.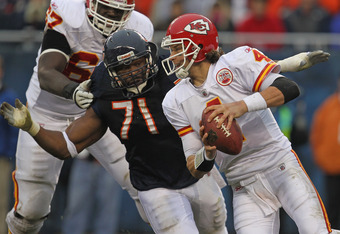 Jonathan Daniel/Getty Images
I won't even go into what's going on in Indianapolis, but after Peyton Manning went down for the season, the Colts have gone 0-13 and their best quarterback, Curtis Painter, has throw six touchdowns to nine interceptions and has completed just 54 percent of his passes.
That's pretty bad.
Either way, this season has proven that every team must have a legitimate backup plan if their starting quarterback gets injured. In the face of adversity, the Houston Texans were prepared while the Chicago Bears and Kansas City Chiefs (and Indianapolis Colts) were not. 
The Texans have never made the playoffs before, but now, behind fifth-round pick and rookie T.J. Yates, Houston will finally enjoy playoff football.