Top 5 Reasons Why Andrew Luck Will Fail to Meet Expectations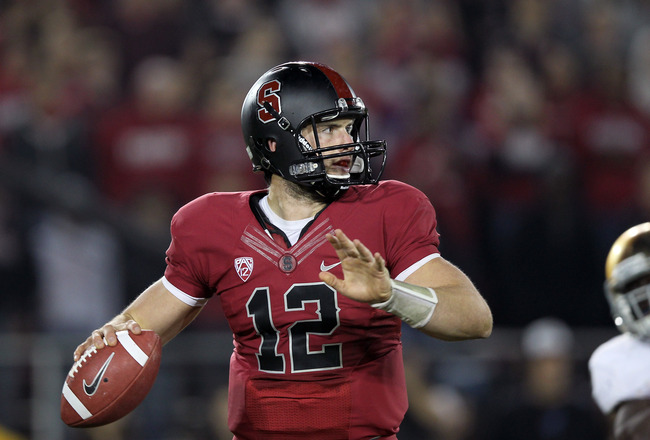 Ezra Shaw/Getty Images
Honestly, I don't even know how much I believe of the stuff I'm writing here but I felt that it had to be done. The love affair with Andrew Luck is absurd.
It's difficult to find one negative word about the guy. Phil Simms made the mistake of criticizing Luck and was immediately destroyed by every football writer and commentator in the country.
Someone has to criticize this guy at some point or to some extent. So here we go, the five reasons why he may fall short of whatever everyone thinks he will be in the NFL.
Too Much Hype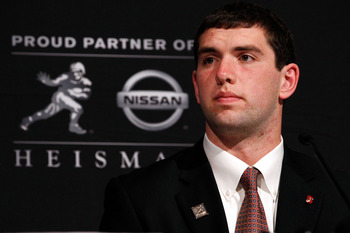 Jeff Zelevansky/Getty Images
The hype around Luck is stupid, and for this writer it peaked with Todd McShay and Mel Kiper Jr's latest "It's All About Luck: Ultimate Scouting Report" article. Better arm strength than Peyton Manning yet equally accurate. Tougher than Elway yet smarter and equally mobile. I'm not making this up, they actually wrote this stuff!
With those comparisons if he isn't an NFL MVP in three years and a multiple Superbowl champion in eight, than Luck will have failed to reach his expectations. Fans want their teams to lose for him. Players want their teams to lose for him. Luck could dominate in the NFL from day one and easily fall short of the impossible hype around him.
This isn't a knock on Luck as much as it is a knock on his hype. No one can be as good as some people expect Andrew Luck to be.
Surrounded by NFL Talent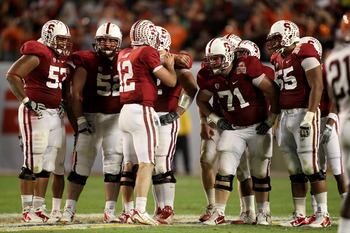 Streeter Lecka/Getty Images
Do the people around Luck make him look better or does Andrew Luck make everyone around him look better?
It's a question that needs to be raised. Luck has been surrounded by an undeniable amount of talent that the NFL has been recognizing (and drafting). At a quick glance, since his sophomore year Luck has been surrounded by: Jonathan Martin, first-round offensive tackle; David DeCastro, first-round offensive guard; Toby Gehart, second-round running back; Owen Marecic, fourth-round fullback; Chris Owusu, fourth or fifth-round wide receiver; Ryan Whalen, sixth-round wide receiver; and Jim Dray seventh-round tight end.
I understand that a lot of great NFL Quarterbacks were surrounded by a ton of talent in college but there are also a lot of guys who were overvalued because of the talent around them (Jamarcus Russell comes to mind). Two first-round offensive linemen, however, can absolutely make any college QB look a lot better.
So for the sake of argument, while Andrew Luck can still be great he may not be as good as everyone thinks because of the elite pieces around him.
Elite Coaching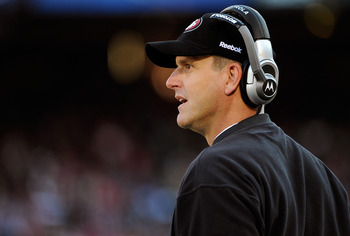 Thearon W. Henderson/Getty Images
People talk a lot about how much potential Luck has. How much better he will be. I'm wondering if he may not already be near his peak.
Among Pep Hamilton (current Offense Coordinator), David Shaw and Jim Harbaugh they had over 10 years of combined NFL experience all of whom were Quarterback Coaches! Not many college players are getting that type of coaching. Jim Harbaugh is already a great NFL coach, for god's sake.
So I think the question is worth being raised: Has this guy learned all there is to learn? I understand experience will get him a little better but in terms of being coached up this guy may be maxed out.
Looks Like He's Heading to Indy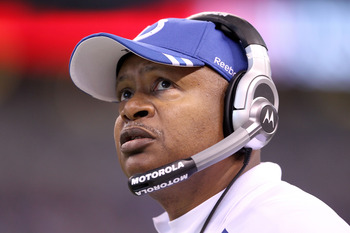 Andy Lyons/Getty Images
The Colts are Peyton Manning's team. They are built for him and built around him. With him they are an elite NFL team, without him...well looking a lot like 0-16. I understand Curtis Painter isn't all that good but I wonder how many quarterbacks there are who could win games with these Colts let alone make them elite.
The Colts team I see right now is built for only Peyton Manning and Andrew Luck's failure to be identical to Manning (which isn't a bad thing at all) will force the Colts to make changes. A real running game, and a defense that can play in situations other than when they have the lead come to mind as big changes the Colts need to make.
The team will have to change to some extent once Luck is brought in and that will take time. In that time, the Colts will lose games, Luck will feel pressure he hasn't ever felt before, and his ability to handle all that will be tested.
Going to Be Overshadowed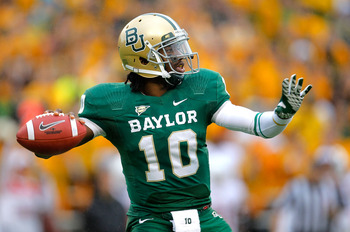 Sarah Glenn/Getty Images
When we look back on this draft Andrew Luck might just be viewed as the second best quarterback in his draft class.
Heisman Trophy Winner Robert Griffin III hasn't been surrounded by as much NFL talent and hasn't received as elite of coaching. He runs better than Luck and is heading to a better NFL team. Griffin is undeniably entering the NFL as a less refined prospect then Luck, but also statistically better than him. Griffin has the potential to get exponentially better. Luck may not.
Bold Prediction: Robert Griffin III will be the Offensive Rookie of the Year and some Colts fans will be unsure about their pick
Keep Reading

Indianapolis Colts: Like this team?