Tim Tebow Used by John Fox To Cool off Hot Seat of Denver Broncos Head Coach
December 9, 2011
Harry How/Getty Images
It's never easy being a new coach in a new town.
John Fox came into Denver attempting to turn around a 4-12 team.
A team anchored by Kyle Orton's impressive stats, and hardly anything to show for them.
Fox replaced a coach that managed to tear a franchise into so many pieces that nobody believed it could be repaired within the decade.
Instead of following the expected trend, Fox found a way—rather, was forced—to turn a franchise doomed to spiral into obscurity into a team with a winning tradition.
Fans from every corner of the country were screaming for Fox to change his quarterback.
Some screamed for Brady Quinn. Most screamed for that other guy. Almost all just wanted Orton to go.
And even more were already prepared for Fox to go as well.
Like I said, it's never easy being a new coach in a new town.
Unless, of course, that coach has Tim Tebow on their roster.
Halfway through Week 5's lack of a performance against San Diego, Fox made what now appears to be the best choice of his coaching career.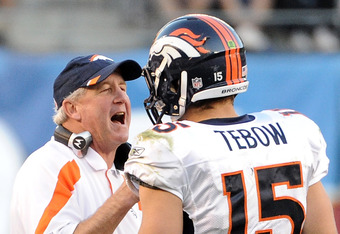 Harry How/Getty Images
He listened to the fans, he took a ridiculous risk and he started the guy whose name everybody was chanting.
Seven weeks later, Fox's hot seat has officially cooled.
With the help of his offensive coordinator, Mike McCoy, Fox designed an offense fit perfectly to the skill set and shortcomings of his second-year, passing-impaired quarterback.
If Fox's year—and the Broncos' record—continued on the path it formed in the first five weeks, Fox could have easily found himself on the golf course with Jack Del Rio by season's end. There's no way a coach that turns a 4-12 team into what would have been a 2-14 team gets to keep his job.
The Broncos were already in the process of rebuilding, had no idea who their next franchise quarterback could be and certainly had no qualms against trying another coach and system in 2012.
By bringing in Tebow and—more importantly—creating a system that he could succeed in, Fox has deterred the attention from what started as a serious disappointment and moved it towards what we now regard as TebowMania.
Now, instead of putting together his resume this winter for yet another franchise, Fox may be spending his time on the road in the playoffs.
Whether this team loses right away in the postseason, or takes home its third Lombardi Trophy, it's safe to say that Fox will have another run of things in 2012.
And unlike the current winning ways in Denver, Fox's removal from the hot seat can be attributed 100 percent to the all-encompassing effect Tebow has on the media, the league and Denver's entire organization.
Fox may not have sold us on his commitment to his young quarterback in the long run.
But I know that every time he cashes his paycheck in 2011 and 2012 he'll be a big fan of Team Tebow.