MLB: Marlins, A's and Phillies Should Get Together and Make This Big Deal
December 9, 2011
Kevin C. Cox/Getty Images
While everyone loves to play "GM" and concoct trades that move high profile players and rearrange the balance of power in baseball, those types of deals rarely happen. 
Teams don't like moving stars that often. The fans get annoyed, the media gets into a feeding frenzy and—in many cases—it's impossible to get the value for the players in question. 
When the Red Sox dealt Manny Ramirez in 2008, he was still one of the best right handed hitters in all of baseball. Yet because every team in baseball knew he wanted out of Boston and knew that Boston wanted to deal him, the best the Red Sox could get was Jason Bay. Bay was a nice player but Manny Ramirez was, at the time, a far better hitter. 
Yet as the baseball winter meetings reach a fever pitch with wheeling and dealing everywhere and rumors of trades and free agent signings seemingly crossing the twitter feeds every second, here's a mega deal that actually makes sense. 
1. The Miami Marlins want pitching. In spite of their acquisition of Mark Buehrle, the team still has plenty of pitchers with questionable health histories. 
2. The Miami Marlins have a very unhappy superstar caliber player in Hanley Ramirez who is not being shy about throwing a veritable cyber-tantrum since the team announced the signing of Jose Reyes and their intention to move Hanley to third base. 
3. The Philadelphia Phillies have an opening at shortstop. There were numerous rumors on Wednesday that veteran free agent shortstop Jimmy Rollins was going to re-sign with Philadelphia, but those rumors have since proved untrue. 
4. The Oakland A's seem desperate to gut their entire pitching staff and acquire as many top minor league players as possible.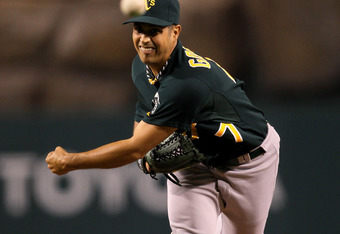 Stephen Dunn/Getty Images
Add all this up and here's what you've got. 
Miami sends disgruntled shortstop Hanley Ramirez to the Philadelphia Phillies. The Phillies then ship outfield prospect Domonic Brown and top pitching prospect Trevor May to the Oakland A's who then in turn ship left hander Gio Gonzalez to the Florida Marlins. 
Now before fans of all three of these teams jump down my throat allow me to clarify some of the logic behind such a deal. 
First of all, the Marlins would not be getting fair value for Hanley Ramirez. Ramirez is a player who has already shown he can be a dominant major league baseball player. That being said his attitude will hurt his trade value. In addition no trade is made in a vacuum. Moving Hanley's contract off the books and taking on the more affordable Gonzalez would allow Miami to pursue Prince Fielder with every bit as much cash as they threw at Pujols. 
For Philadelphia they get a player with a very, very high ceiling. Yes Ramirez has an attitude issue, but on a team with guys like Chase Utley, Shane Victorino, Ryan Howard and Roy Halladay, I'd think Ramirez would get a lot more internal team feedback. 
Ramirez at his best is as good if not better than any offensive player on the Phils currently. His combination of power and speed are lethal. If Ramirez can figure out a way to keep his mouth shut, his mind focused and eye on the ball, he's going to be good—very good.
As for Oakland, they get what they always seem to want, more young talent. Brown is a serious talent and May could be just the type of player that develops into a stud pitcher, who Oakland can then deal just when he looks to finding his major league groove.
This deal seems unlikely. Most deals like this don't happen, but it still seems to fulfill the needs of all three teams.