Seattle Mariners: 7 Steps to Rebuilding the Franchise into a Playoff Contender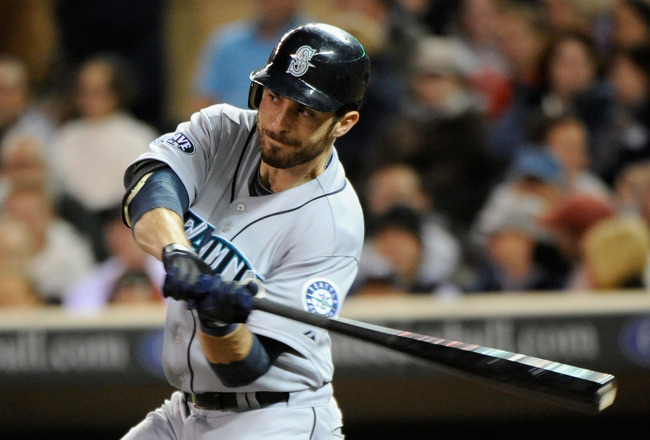 Hannah Foslien/Getty Images
A lot can be said about the hopes that the Seattle Mariners had going into the last season. They had promise of a hopeful year, young guns coming up through the system, as well as a dominant youthful one-two punch in their starting pitchers.
However, there are a few things the Mariners need to work on if they want to help not only the city of Seattle but their beloved baseball team.
Prince Fielder to Seattle? Wait a Minute.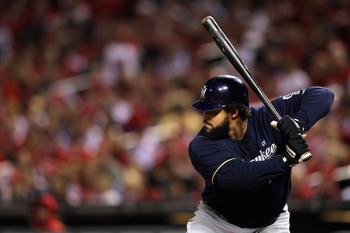 Fielder is one red hot candidate this off season
Jamie Squire/Getty Images
Yes, the Mariners have openly stated that they are going to put an offer on the table for Prince Fielder at the winter meetings. If the Mariners can nab Prince, it would be a great signing for the team as a whole.
Fielder led the Brew Crew to the playoffs last season, as he hit .299 with 170 hits, 38 home runs and 90 runs scored.
If Fielder does choose to come to Seattle, get ready for some huge impact and some very needed runs.
Felix Hernandez and His Pitching Staff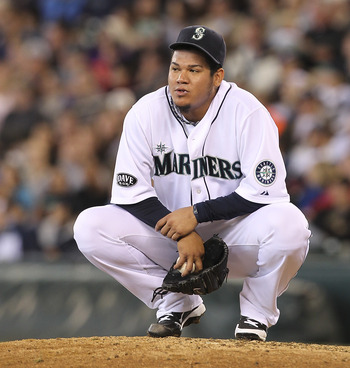 Mariners need to find ways to get more runs for the King
Otto Greule Jr/Getty Images
A lot can be said about what the Mariners had looked to build off of from last year's dominating performance by the 2010 CY Young Award winner, Felix Hernandez. However, they just could not find a way to help out with runs.
Hernandez finished with a 14-14 record and a 3.47 ERA.
If the Mariners do not find a way to improve their run support for their pitching staff, it may be difficult for them to see a light to the playoffs come the end of the season.
M's fans can celebrate, though, as they continue to have results pour in with huge pitching addition Michael Pineda. He pitched to a 9-10 record and a 3.74 ERA. He also quickly became someone that was taken under Hernandez's wing, as he learned much of what Hernandez knows at how to be dominant on the pitching mound. Could this be a sign of Felix finding someone to model just after him?
Vetrans Need Some Work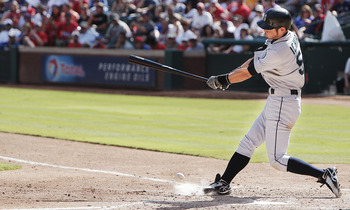 Area 51 needs a makeover
Brandon Wade/Getty Images
As we are kids growing up watching our favorite sports, we always find that one player that lights up our eyes. For some, it may be the kid, Ken Griffey Jr.; it maybe the dominant Randy Johnson; but to some of the new era of Mariners baseball, it's Ichiro Suzuki.
In 2011, Suzuki struggled, should I say, pretty badly. He hit only .272, with 184 hits in 677 at bats. He also missed out on his first 200-hit season after 10 consecutive years of doing so.
Although he struggled this past season with an injury at one moment, he still needs to find a way to fight off the struggles and get back to his dominant Ichiro that everyone knows.
If the Mariners want to improve, they must find a way to improve Ichiro and bring him back to his dominant leadoff position that he has been known to be in Seattle.
Fielding Crew Is Work in Progress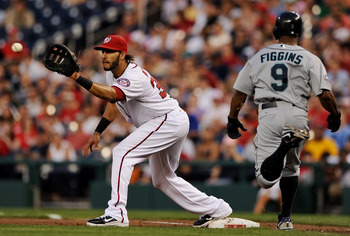 Chone Figgins committed 11 errors for the Mariners last season
Patrick Smith/Getty Images
There was a lot of hope for the Mariners staff that was there the previous year. However, not many of the players lived up to their hype. For instance, Chone Figgins struggled throughout the year. Multiple times he would struggle to get to the plays coming his way, only to see them slide right by him.
If the Mariners look to improve for the 2012 season, they must look to pick up a fielder or two during the offseason that will improve their team, especially in a pitcher's ballpark.
Offense Overall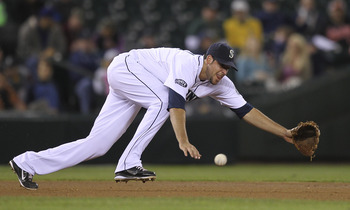 Otto Greule Jr/Getty Images
The Seattle Mariners should continue to look to improve their offensive strength. This has been a theme in my suggestions, but I feel this is a huge factor to make this team successful in the coming season.
They can improve their offense through big impact signings or sticking to whatever they have in their grasps and work their minor league system more in depth to bring up much deserving prospects.
Minor Leauge Prospects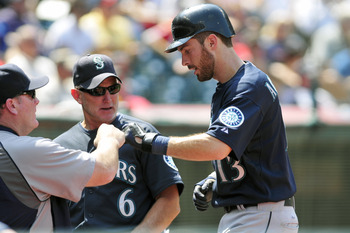 Young guys can benefit the team in the long run
Jason Miller/Getty Images
The young guns who are coming through the system is a key point for the team in 2012. The Mariners can expand their talent by looking to not only build up their roster but giving these young players a chance to shine in the big leagues.
For a team that has lost over 100 games multiple times in the past several years, getting a chance to show what these young boys can do could not hurt.
Yes, I'll Say It...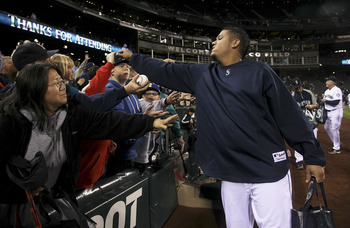 Along with Ichiro king Felix is the face of Seattle
Otto Greule Jr/Getty Images
With all that I have covered in my opinions, I feel that trading Felix Hernandez can improve this organization. I know this will take a lot of heat, but if we look at the past situations where the M's have made big trades, it has led them to big things.
Yes, I know Hernandez is the face of the organization right now; but with three years left on his contract, it can call for big things to happen with an organization that is looking to build on what they have. Hernandez cannot continue to led a team that struggles in the back end of the season, but what they can do is get some major players that will help them improve. If not right away but quickly over the years.
Keep Reading

Seattle Mariners: Like this team?